The Magazine of The University of Montana
Raising Montana
Scholarship Spurs Journalism Careers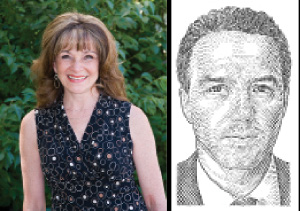 Maria Cole, recruitment manager in UM's Human Resource Services, started the Jeff Cole Memorial Scholarship in 2003 to honor her husband's memory and inspire the high standards in journalism Jeff exhibited as a Wall Street Journal reporter. Inset: Jeff Cole's WSJ byline illustration
Jeff Cole '80 was described as a sophisticated journalist in cowboy boots. Born in Butte, he was tough and competitive, but fair. His credibility, tenacity, and likeable personality earned him access to information from sources others would fail to crack.
Those characteristics led the UM School of Journalism graduate to a career at The Wall Street Journal.
It was those same traits that his wife, Maria Cole, had in mind when she, along with friends and family, established the Jeff Cole Memorial Scholarship in 2003. The intent of the $2,000 annual scholarship is to inspire the same high standards of journalism for students who have demonstrated Jeff's traits of tenacity, accuracy, eagerness to learn, and loyalty to the profession. Seven students have received the award since the scholarship was established.
Jeff was killed in a plane crash near Denver in 2001 while on assignment for WSJ, a month after he and Maria began building their dream home near Stevensville.
Maria, who was married to her "soul mate" for seventeen months after a long friendship, says her husband was "charismatic, gregarious, and a force of nature.
"Jeff had a way of connecting with people, and you felt like you were the only one in the world," Maria says. "He loved that connection with people and their stories because that is what he believed life was made of."
Chelsi Moy '04, the first student to receive the Jeff Cole Memorial Scholarship in journalism, says she didn't recognize the full meaning of the award until after she became a professional journalist.
"The many stories I've now heard about Jeff and the type
of reporter he was—the man from Montana who went to work for The Wall Street Journal—are an inspiration," says Moy, now the higher education reporter at the Missoulian, covering news about UM.
"As a Jeff Cole scholarship recipient, you would like to see yourself rise to the same level that he attained," Moy continues. "It has been over time that I realized the impact and significance of this award."
Maria also established a Jeff Cole Distinguished Lecture at UM to attract world-class financial journalists to campus each year. In March, Cole's former WSJ managing editor Paul Steiger, who is now editor-in-chief at the nonprofit ProPublica, gave the inaugural lecture and spent days on campus talking with faculty and students.
Each spring, Maria hosts an elaborate dinner at her picturesque log home on 20 acres for the Montana Kaimin staff. She says scholarship recipients have become family to her. The students bring their acoustic guitars, play games, tell stories, and spend time outdoors against a backdrop of the Bitterroot Mountains. A bocce ball competition on the front lawn is now a tradition, regardless of the weather.
Maria says it has been an amazing experience to spend so much time with the students, to stay in touch with them, and to follow their career progress.
Former Great Falls Tribune reporter Zachary Franz '07 called the scholarship a "huge honor."
"When you're young and starting out, it is hard to have confidence," Franz says. "The award was a big encouragement and allowed me to concentrate on journalism."
These are the stories that continue to inspire Maria Cole. They are proof that Jeff's legacy lives on at UM.
To learn more about the Jeff Cole Memorial Scholarship, or to make a contribution, visit www.SupportUM.org or call 800-443-2593.