The Magazine of The University of Montana
About Alumni
Keep Us Posted. Send your news to Betsy Holmquist, The University of Montana Alumni Association, Brantly Hall, Missoula, MT 59812. Go to www.grizalum.com and click on "Class Notes," fax your news to 406-243-4467, or call 1-877-UM-ALUMS (877-862-6867). Material in this issue reached our office by February 27, 2009.
Note: the year immediately following an alum's name indicates either an undergraduate degree year or attendance at UM. Graduate degrees from UM are indicated by initials.
Snowbirds/Sunbirds! Whenever you change your mailing address, please contact the alumni office. Let us know where you are and when. Thank you.
Bill Jones Receives Montana Alumni Award At Charter Day 2009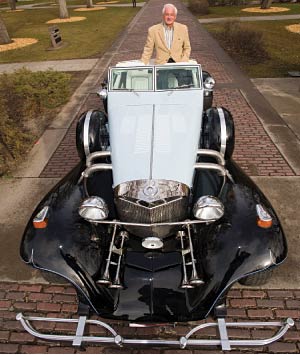 Bill Jones
If you've ever watched a UM Homecoming parade, you've most likely seen UM President George Dennison and his wife, Jane, wave from atop the rumble seat of a baby-blue 1984 Excalibur Roadster patterned after a1937 Mercedes Roadster. For years Missoulian William Evan "Bill" Jones has donated his Excalibur for just this occasion. His generosity in providing some of the parade's finest vintage cars is just one of the reasons UMAA honored Bill with its Montana Alumni Award at Charter Day. Other recipients of Charter Day awards are Jessie Davie, author of UM's first Greenhouse Gas Inventory, the ASUM Student Service Award; Phil Condon, environmental studies program associate professor, the Robert T. Pantzer Presidential Humanitarian Award; James and Joy Mariska, Billings, the Neil S. Bucklew Presidential Service Award; Jean Luckowski, School of Education professor, the Montana Faculty Service Award; Jakki Mohr, School of Business Administration professor, the George M. Dennison Presidential Faculty Award for Distinguished Accomplishment; and Jodi Johnson Moreau, the Alumni Association's off-campus events coordinator, the George M. Dennison Presidential Staff Award for Distinguished Accomplishment.
'40s
Joseph Saltsman '48, Chevy Chase, Md., sent a photo of two homes that used to be located on the Prescott property on campus. He writes, "There were three very modest houses (shacks we called them) about 50 yards north of the Prescott House."
Robert F. "Bob" Firehammer '49, Reno, Nev., received the Bronze Star on July 7, 2008, sixty-two years after his service with the U.S. infantry in Italy, France, and Germany. Bob previously received the Combat Infantry Badge and two Battle Stars. A Multiple Lines insurance adjuster for many years, Bob plans to attend his sixtieth UM class reunion in May.
'50s
James P. Lucas '50, J.D. '51, Miles City, received the 2008 Association of Community College Trustees Regional Trustee Leadership Award for the Western Region at the annual Community College Leadership Congress in New York City this past fall. Jim attended the congress with his wife,
Carol Dunstan Lucas '63, his daughter, Leslie Lucas Fitzpatrick '89, South Jordan, Utah, and MCC President Stefani Gray Hicswa '91. A practicing attorney in Miles City for more than fifty years, Jim has been a member of the MCC College Athletic Booster Club and a member and president of the College Board of Trustees and the College Endowment Board. Jim has served as Speaker of the Montana House of Representatives, a member of Kiwanis, a county attorney, and a Montana Ambassador. He also has been a member of the board of directors for Mountain States Legal Foundation (Denver), the Montana Chamber of Commerce, the UM Foundation, and the Burton K. Wheeler Center in Bozeman.
Alta BURLESON Foss Rabe '55 spent ten summers pursuing an education degree, while doing ranch work between all her classes. She taught school for eighteen years before receiving her UM degree and eighteen years after receiving it. From 1951 to 1968, Alta and her husband, Lester Foss, ranched at the Bar 93 on Bass Creek while Alta taught in Corvallis and Florence. She finished her teaching career at a four-room school at Acme, Wyo. Following Lester's death, Alta traveled the world and became an accomplished artist, specializing in oils and china paints. At seventy Alta married Allen Rabe. She and Allen square-danced, taught "55 Alive" workshops, wintered in Arizona, and eventually moved into assisted living in Sheridan, Wyo. After Allen died in 2002, Alta moved to Red Lodge to be near her daughter and son-in-law. At ninety-five Alta still plays a mean game of cribbage and enjoys visits from her family and friends.
Richard D. Woods '56, Chicago, has written Obituaries from the Saco Independent, Saco, Montana, 1912-1975. A retired college professor, Woods researched his family's history using newspaper microfilms of the Saco Independent that the Montana Historical Society Library loaned Chicago's Harold Washington Library. "I love obituaries," he says. "They give you a lot of the culture of a place." Woods is now writing about the railroads that crisscrossed northern Montana and the impact of the Works Progress Administration on the arts of Montana's northern tier.
'60s
The fortieth reunion of the class of 1969 will be held at Homecoming, October 9- 10. Contact the Office of Alumni Relations for further details.
Sydney Sherwood '65 and James G. Webb '66 were married January 3, 2009, in Tigard, Ore. Jim, a retired U.S. Air Force colonel, works as a defense contractor at Offutt Air Force Base in Omaha, Neb. Sydney, executive director of the Tigard Good Neighbor Center, also is the Tigard City Council president. Named a 2008 Woman of Achievement by the Oregon Commission for Women, Sydney was honored for securing affordable housing for families at risk and focusing federal attention on homelessness.
Barry M. Gough, M.A. '66, Victoria, British Columbia, has published Fortune's a River: The Collision of Empires in Northwest America with Harbour Publishing. Gough's work examines how British Columbia became British and how Oregon, Washington, and Alaska became American. The book was shortlisted for the 2008 Roderick Haig-Brown Regional Book Prize and was a finalist for the 2008 Writers' Trust Nereus Non-Fiction Prize. 
Gough was founding director of Canadian Studies at Wilfrid Laurier University and is a Fellow of the Royal Historical Society, Fellow of King's College London, and Life Member of the Association of Canadian Studies. He has written about the history of the Pacific Coast for almost four decades.
Einar O. Venvold, M.B.A. '69, wrote from Oslo, Norway, on Christmas Eve, "In 2009 it will be forty years since I graduated from the business school, probably as the first Norwegian with an M.B.A. from UM. I plan to come to Homecoming, where I know I will meet a few other U.S. friends from that time. I will be retired by then, after having worked around the globe for the last thirty years for Det Norske Veritas [an international risk management company], the last years heavily involved in China. Last week, for some strange reason, I was able to watch UM's last two football games from my living room in Oslo. Two years back I was running a management training program in Switzerland and was introduced to a Chinese professor, who in 1988 got her degree from UM. She had even had some of the same professors as I had in 1969. You talk about a small world. Her name is
Winter Nie, M.B.A. '88." [Nie is professor of operations and service management at IMD, an international business school in Lausanne, Switzerland.]
'70s
Thomas L. Brown, M.A. '71, an artist in Queenstown, New Zealand, had his painting Otago Winemakers selected for the nationwide exhibit "Looking Down the Barrel: The Face of New Zealand Wine." The exhibit honors the people and areas of New Zealand responsible for the country's famous wines. Tom has held exhibits in the United States, Peru, and New Zealand and recently was commissioned to paint two works for the coronation of King George Teupou V of Tonga. Tom and his wife, Elizabeth, invite UM and Montana friends to drop by their gallery in The Old Cheese Factory when traveling down under.
Michael M. Coonrod '72 has been on the piano faculty of the Interlochen Center for the Arts in Michigan since 1976. He has performed throughout the United States and Poland, specifically at the Chopin Academy of Music in Warsaw. Last December, Michael returned to UM to play music by Russian composers for the President's Lecture Series, "a significant professional return to my childhood home, and in honor of my piano teacher Lucien Hut," he writes. Michael and his wife, Jean Merce Coonrod '72, have three children: David, a landscaper with two children; Michelline, a dancer in Las Vegas; and Robert, a jazz guitarist/composer. Michael has three recordings to his credit, the most recent a two-CD set of solo piano music by Franz Schubert. Browse his Web site at www.michaelcoonrod.com.
Norene Howatt Peterson '73, her husband, Tom Peterson, Kathy Zarnick Jackson '82, and her husband, Tim Jackson '79, M.B.A. '81, traveled to Ireland last summer. Kathy (left) and Norene (right) are pictured below at the Stone Circle in Kenmare on the summer solstice, June 21. Norene writes, "Our Griz rain gear came in handy several times on the trip along with several Griz growls while Tim and Tom drove on the opposite side of the road." Norene and Kathy share a classroom and teach full time with the Billings Public Schools Adult Education Program. "Griz blood runs deep in our families," Norene writes. "The Jacksons have four daughters, two of whom attended UM. Kelly Jackson '06 lives in Whitefish, and Sandy Jackson will graduate in May 2009. Our son,
Brett Peterson '04, and his wife, Kristina Erickson Peterson '04, live in Polson. Brett works for UPS, and Kristina teaches at Two Eagle River School in Pablo."
Lavonne Brown Forman '74, Ismay, her children, Levi, Luke, and Lona, friends, and other family members have compiled and published Pomes by a Cow Psychologist, writings by and about her late husband, Mark Forman '74. Mark died in a ranch accident in March 2008, leaving behind a collection of poems that he began writing while taking poetry classes from UM's Richard Hugo. "'Pomes' was Mark's word to describe what he wrote," Lavonne explains, "a word that kept him and his work from being taken too seriously." Visit www.pomesbymark.com for more information.
Craig R. Kuchel '74, M.S. '77, a thirty-one year veteran biology teacher at Florence Carlton High School in Florence, received the Walmart Teacher of the Year Award in October. Craig teaches an advanced honors biology class, an advanced-placement section, and basic biology classes. He and his wife, Joan, who teaches at Missoula's Russell Elementary School, have two sons.
Pattie Cagney Sheehan '75 left a thirty-year career in advertising and marketing to open Second Act, a boutique in downtown Chicago that sells post-breast-surgery prostheses, mastectomy bras, and wigs. After the death of both parents from cancer, Pattie identified a need for cancer survivors to be served in a private setting, with respect and dignity. Visit her Web site at www.secondactchicago.com.
E.E. "Gene" Davis, Ph.D. '77, retired as professor emeritus from the Graduate Department of Educational Leadership and Instructional Design in the College of Education at Idaho State University. Gene is president/CEO of Leadership for Organizational Effectiveness, a national educational consulting firm. He has been a presenter at national, regional, and state conferences and has more than fifty publications addressing policy and practice in K-12 education. Gene established the Journal for Effective Schools, represented the United States as an educational emissary to study the Japanese education system, and was recognized as an Executive Educator 100. He has served on many boards, including the UM School of Education Advisory Board.
Joel L. Voytoski '77, M.Ed. '83, superintendent of the Evergreen School District in Kalispell, was named the 2009 Montana Superintendent of the Year. An educator for twenty-eight years, Joel attempts to devote the majority of his time to budget and policy, "the hallmarks of a superintendent's job," he says.
'80s
John T. McNay '80, M.A. '91, Fairfield, Ohio, recently published The Memoirs of Ambassador Henry F. Grady: From the Great War to the Cold War with the University of Missouri Press. An associate professor of history at the University of Cincinnati, John also has written Acheson and Empire: The British Accent in American Foreign Policy.
Colette Craighead Gross '81 writes, "A lifelong dream came true in June 2008 with the opening of my antique and home décor shop, The Shops at Station 8 in the historic Great Northern Train Depot in Columbia Falls. I feature Montana artists, jewelry, gifts, and antiques. My Whistlestop Café serves sandwiches, coffees, and desserts. A graphics department team from UM designed my Station 8 logo. Visit us in person or online at www.station8antiques.com."
Christine Congdon Howe '81, captain in the U.S. Navy and laboratory head at the U.S. Naval Hospital in Portsmouth, Va., began a five-month humanitarian mission in March as director of clinical support services aboard the hospital ship U.S.N.S. Comfort. The ship is visiting countries along the west coast of Central and South America providing medical care in conjunction with various relief agencies.
Susan Daven Harness '83, writes from Fort Collins, Colo., "I completed my master's degree in cultural anthropology at Colorado State University in 2006. Edwin Mellen Press will publish my thesis, Mixing Cultural Identities Through Transracial Adoption: Outcomes of the Indian Adoption Project (1958-1967) this summer. I enjoyed my years at UM and think fondly of the professors and students who enriched my life."
Joyce Helena Brusin, M.F.A. '85, works as a freelance essayist and technical writer in Missoula. She recently completed requirements for a Core Curriculum Certification in medical writing and editing from the American Medical Writers Association.
Tom Dimmer '85, Williamston, Mich., was named director of national individual sales by Renaissance Life and Health Insurance Company of America. A twenty-one-year veteran of sales and service, Tom has created pioneering dental benefit programs for a variety of markets. Named by Employee Benefit Advisor magazine as one of the best group dental representatives in the United States, Tom currently serves as vice president of the UMAA board of directors.
Nichole Mortensen Bergonzi-Goodyear '88, San Diego, is president, CEO, and co-founder of Brickfish, noted as one of the world's top technology startup companies by the Red Herring Global Award it received in January. "We are thrilled and grateful to have been chosen for this industry honor," says Nichole. "Since our inception we have worked to revolutionize online marketing, to help brands engage with their consumers in a highly effective way, and to track that interaction to educate brands on consumer behavior." UM alumni Kelly Kelleher '95 and her husband, Jeremy Wiles '99, also work at Brickfish. Kelly writes, "Nichole has made the uphill battle of working for a startup company one of the most rewarding experiences of both of our working careers. Past winners of the Red Herring Award include Google, Yahoo!, Skype, Netscape, Salesforce.com, and YouTube, so we're in good company!"
Jennifer Isern '89, Washington, D.C., received her doctorate in business administration, specializing in international management, from Nova Southeastern University in March 2008. For her dissertation, Jennifer researched competition in bank sectors in more than one hundred countries and analyzed the competitive effects of mobile banking, payment systems, and credit bureaus. Last fall she taught a graduate level course on finance-sector development at the Wilson School of Public and International Affairs at Princeton University.
'90s
Gregory J. Fine '94, Chicago, director of communications marketing and executive editor of FORUM magazine for the Association Forum of Chicagoland, was named the Angerosa Research Foundation's "2008 Publishing Trendsetter." Greg was noted for spearheading multiple new Web 2.0 social media initiatives, including a digital edition of FORUM, The FORUM Effect blog, a YouTube channel, and podcasts.
Braden Butterfield McKinley '96, Kendallville, Ind., writes, "In December 2008, I graduated from Ball State with my master's in nursing and will be a nurse practitioner in a local internal medicine practice. I also welcomed my second son, Andrew, who joins Matthew, now three."
Kerry Anderson Moore '97, M.A. '01, and husband, Bryce Moore '98, founded Context Furniture in Detroit, Mich. Their own pieces, based on the modernism movement and arts and crafts style, incorporate unconventional uses of materials, craftsmanship, and graphic accents. Kerry and Bryce plan to open a local furniture manufacturing center in Detroit where anyone with a design can make it a reality—on-site and affordably. In 2008 the couple sponsored a Design Democracy competition; the seven best designs were constructed and taken to the International Contemporary Furniture Fair in New York City. Articles on Context Furniture have appeared in many of the nation's top home and design magazines. To view their work, visit www.contextfurniture.com.
Matthew B. Hayhurst, J.D. '98, was recognized as a "Rising Star"—one of the top 2.5 percent of lawyers under the age of forty in the five-state Northern Rockies region—in Super Lawyers magazine. A shareholder in the Missoula law firm Boone Karlberg, Matt practices all types of law. "What I enjoy most about the work is how it changes every single day," Matt says. He and his wife, Lisa Miller Hayhurst '01, have two sons, Elliott and Charlie.
Jared Amoss '99 is general manager/operations of the Missoula Osprey Professional Baseball Club. A telemarketer for the Osprey during their 1999 inaugural season, Jared has been with the club ever since.
David H. Goodwin, M.S. '99, has received tenure at Denison University in Granville, Ohio. A member of the faculty since 2003, David teaches and does research on reconstructing evolutionary and environmental history from geochemical records archived in fossils and sediments. He is currently conducting research in South Africa, the Caribbean, and San Francisco Bay.
Danielle Fansler Gordon '99 and Cliff Gordon, Libby, were married on November 29, 2008. Danielle works for the U.S. Forest Service. She and Cliff own C & D Pest Control in Libby.
'00
Tiffany L. Rehbein '00, '06, M.A. '07, a teacher at East High School in Cheyenne, Wyo., was chosen as the winner of the 2008 National Council of English Leadership Development Award by the Wyoming Association of Teachers of English. Tiffany received the award in November at the National Council of Teachers of English Convention in San Antonio, Texas.
Steven K. Rinella, M.F.A. '00, is one of five winners of the Pacific Northwest Booksellers Association's 2009 Book Awards for American Buffalo: In Search of a Lost Icon. The book was inspired by a buffalo skull Steven found in 1999 in the Madison Mountains and by winning a lottery to hunt a wild buffalo in the Alaskan wilderness in 2005. "Few books of this or any year offer such an immediate and lasting connection with the reality of our long and often tragic interaction with the natural world," the PNBA release noted. Author of The Scavenger's Guide to Haute Cuisine, Steven also is a correspondent for Outside magazine, where he's been a frequent contributor since 2000. A native of Twin Lake, Mich., Steven splits his time between New York City and Alaska.
Doug Booth, M.S. '01, started Buckbean Brewing Company in Reno, Nev., in April 2008. Doug credits much of his inspiration for running a brewery to his visits to the Big Sky Brewing Company while attending UM. Doug's resource conservation degree—coupled with his Peace Corps service in Guatemala—keep him connected with ways to help the environment and local communities. In the first nine months of its existence, Buckbean donated money, time, and product to more than thirty nonprofits. Doug and his wife, Amy, are expecting their first child in July. Check out the award-winning microbrewery and listen to some beer tunes at www.buckbeanbeer.com.
Tyler Patrick Kimball '02, Seattle, is a writer turned glass artist whose works can be seen at the Emerson Center of the Arts and Culture in Bozeman [his hometown], the Livingston Center for Arts and Culture, the Pismo Gallery in Denver, and in several galleries in Seattle. Tyler has taken advanced glassblowing at Seattle's Pratt Fine Arts Center and Pilchuck Glass School. He will be on staff at Pilchuck as a poleturner this summer. Tyler also is a lead glassblower at Seattle's Glass Eye and Glassybaby. "I'm even thinking about writing a novel about the glassblowing scene in Seattle sometime down the line when my work with the actual material doesn't require my full attention," Tyler adds. Check out his Web site at www.tylerkimballglass.com.
Becca Ayn Deysach, M.S. '04, Portland, Ore., has opened her adventure-based writing business, Ibex Studios. She offers postcard prompts, wordsmithing services, and online or in-town workshops. "In 2005," Becca writes, "I was asked to design and teach a creative writing course for the [UM] Environmental [Studies} Program—and Writing the Wild was born. For three hours every week the world dropped away while ten of us connected with each other, our pasts, and our most creative selves by exploring, playing, writing, and sharing at the edge of the Clark Fork River." Check out her Web site at www.ibexstudios.com.
Kristin Jean Bieri '05 earned a doctorate in chiropractic from Life Chiropractic College West in Hayward, Calif. She accepted a position with Total Lifestyle Chiropractic on the eastern Gold Coast of Australia and will practice there for three years.
Meagan Brock '05, '06, and Jake Pipinich '06, Moore, Okla., plan to be married August 8, 2009, at Voles Garden in Oklahoma City. Jake will graduate from the Oklahoma City University School of Law in May. Meagan is a doctoral candidate in industrial/organizational psychology at the University of Oklahoma with an expected graduation date of May 2010. She currently works as an HR specialist at the State of Oklahoma Office of Personnel Management.
Dawson L. Dunning '05, Belgrade, won a Fulbright Fellowship to Victoria University of Wellington, New Zealand. This past winter he began the ten-month program to study and film two endangered species: the tuatara, a reptile that has been on earth for 200 million years; and the sooty shearwater, a seabird that has the longest known migration of any animal on the planet. He is working with Kristina M. Ramstad, Ph.D. '06, a tuatara expert whom he originally met while she earned a doctorate at UM. A graduate student in Montana State University's Science and Natural History Filmmaking program, Dawson was the first UM student to receive the $50,000 per year Jack Kent Cooke Graduate Scholarship. He also received Goldwater and Udall scholarships while at UM.
Jesse Robert Washburn '06, Lake Tapps, Wash., is a Peace Corps volunteer at Gbeogo School for the Deaf in Ghana, West Africa. His Peace Corps Partnership Project involved building dining tables and benches for the school's 300 students, who had nowhere to sit or eat. He is now helping set up a library/computer lab for the school, and needs computer equipment and books, in English, for all ages up to a sixth-grade reading level—children's encyclopedias, picture books, and popular children's classics. E-mail Jesse at juicew33@yahoo.com.
Kendra Kallevig '08, Washington, D.C., led the workshop "Grassroots Response to the International Climate Talks" at Power Shift '09 in the nation's capital in February. Kendra serves as program coordinator for SustainUS: The U.S. Youth Network for Sustainable Development. She also is helping organize the SustainUS delegation to the United Nations' climate negotiations in Copenhagen, Denmark, in December to finalize a post-Kyoto international climate treaty.
Births
Marcus Theodore Shimek to Brenda Shimek '00 and Cary Shimek, February 10, 2009, Missoula
Wyatt George Schuster to Ted G. Schuster '98 and Carrie Vogel Schuster, January 14, 2009, Missoula
Georgia Hazel to Yael Anne Livny '02 and D. Vincent Briggeman '96, December 3, 2008, Washington, D.C.
Bennett Owen Meier to Amanda Nelson Meier '04 and Bernie Meier, November 24, 2008, Longmont, CO
Finn Robert Beery to Katie Collins Beery '05 and
Derek S. Beery, M.A. '98, November 11, 2008, Port Angeles, WA
Michael Vincent Purpura to Geannine Theresa Rapp '92 and Michael J. Purpura, November 6, 2008, Great Falls
Keira Elizabeth Kelm to Kristin Nielsen Kelm '01 and Randy Kelm, October 28, 2008, Reserve
Quincey Margaret Higgins to Kevin T. Higgins '99 and Heather M. Higgins, October 7, 2008, Helena
In Memoriam
Hildegarde Weisberg Turner '27, Sequim, WA
Laura Jo Forhan Measure '32, Kalispell
Donna Hoover Metcalf '35, Washington, D.C.
Joseph Frank Crisafulli '38, Glendive
Mabelle Gould Hardy '38, Missoula
Catherine Mary Elder Hughes '38, Missoula
Mary Jane Browne Merhar '38, San Diego
William Albert Niemeyer '38, Hot Springs
Thomas Roy Hazelrigg '39, Olympia, WA
Marie Hedges McKimens '39, Bellevue, WA
Charles G. "Chawky" Miller '39, Missoula
E. Gardner Browlee, J.D. '40, Missoula
Gwen Benson Nottingham '40, Laurel
Cheryl Ratcliff Osterson '40,
Lake Havasu City, AZ
Orlo Johnson'41, Salmon, ID
Fred C. Merritt '41, Honolulu
Roma Fullberg Bacon '42, Missoula
Thomas C. Burgess '42, Lake Oswego, OR
Ross Eli Lemire '42, Billings
Arnold Bakken '43, Missoula
Louise Mornout Best '43, Pinehurst, ID
Gretchen Van Cleve Haynie '43, Billings
Janet J. Caras Kares '43, Missoula
David L. Lake '43, Kalispell
Edward V. Voldseth '44, Cedar Falls, IA
Jean Hample Woodlief '44, Louisville, KY
Dorothy Ficke Deschamps '45, Sun City, AZ
Beverly R. McDougal '45, Philipsburg
Randall W. Larson '46, Sumner, WA
Dan H. Lundgren '46, Kalispell
Margaret Trask Maitin '46, Belgrade
Ruth Anderson Nansel '47, Miles City
Hugh Martin Campbell '48, Phoenix
Byron Dodd '48, Missoula
Kay Korn Walterskirchen '48, Kalispell
Charles C. Williams '48, Anaconda
Robert Lee "Bob" Bracewell '49, Great Falls
John E. Grow '49, Oroville, CA
Joseph Anthony Jonutis '49, Billings
Charles D. Parker '49, Lolo
Paul E. Pflueger '49, Bellingham, WA
Peter H. Pomeroy '49, Okanogan, WA
Robert Vincent Willett, M.Ed. '49, Great Falls
Frank N. Gould Jr. '50, Moraga, CA
Duane J. Hoynes '50, M.A. '51, Fort Benton
David R. McDonald '50, Stevensville
Harry Thomsen '50, Colorado Springs, CO
Donald Hugh Welsh, M.A. '50, Glendive
George Wood '50, Missoula
Elizabeth Gopian Holt '51, Sioux Falls, SD
JoAnn Kinch Meide '51, Billings
Mary E. Hughes Oliver '51, J.D. '52, Freeland, WA
George F. Turman '51, Missoula
Melvin L. Yuhas '51, Alexandria, VA
James Ambrose French '52, Phoenix
Dona Jeane Skates Sherbeck '52, Polson
Terese L. Garrett, J.D. '53, Simi Valley, CA
Ralph Lynn Herriott, J.D. '53, Billings
Evelyn Herbig Holzknecht '53, Green Valley, AZ
Thomas Edward Kilpatrick '53, Bothell, WA
Otis Larry Packwood J.D. '53, Billings
Susan Kuehn Schwetz '53, Spokane, WA
Eileen Polk Wilson '53, Whitepine
C. "Pete" Albertson '54, Burlington, WA
William J. "B.J." Smith '54, Dillon
Margery Crockett Tede '54, San Francisco
Betty Elmore McCurdy '55, Houston
John Francis O'Malley '55, M.Ed. '62, Havre
Cresap Story "Sandy" McCracken '56, J.D. '58, Highwood
William E. Miller '56, Tehachapi, CA
Thomas E. Nelson '56, Billings
William E. Nelson '56, Lewiston, ID
Helen Kalanick Maxwell '57, Big Sandy
Van Roger Olsen '58, Rockville, MD
Thomas L. McEacheron '59, Santa Maria, CA
John E. "Jack" Fulkerson '60, Sidney
Ruby Quackenbush Lokensgard '60, Onalaska, WI
James L. Askin '61, Green Valley, AZ
Duane Wilfred Everard '61, Eugene, OR
Noreen Kiley Hosie '61, Lodi, CA
H.E. "Hal" Wight '61, Lake Havasu City, AZ
Julie Kay Raffety Carter '62, Tucson, AZ
Gail M. "Franke" Korman '62, Lolo
Linda Kammerzell Aasheim '63, Lakeside
Richard Robert Rognas '63, Lewiston, ID
Fred Whitmer, M.Ed. '63, Woodenville, WA
Earl F. Bouse Jr. '64, Walnut Creek, CA
Wendie Ann Wilson Scott '64, Tucson, AZ
Edward A. Stewart '64, San Francisco
Robert A. Bennett '65, M.S. '73, Cheyenne, WY
Lowell E. Larson '65, '70, Federal Way, WA
Kenneth Waite Hurt '66, St. Ignatius
Emily Sterba Leighty '66, Whitefish
George C. "Chuck" Watters '66, Helena
William G. Burns '67, Guttenberg, IA
Archie M. Quarrier '67, Charlottsville, VA
Raymond J. Erickson '68, Florence
Emelia Entzel Huber '68, Libby
Donna Marie Pentz Schmidt '68, M.A. '75, Castlegar, BC
Lloyd Michael Coon '69, M.B.A. '77, Malta
Patrick M. Springer, J.D. '69, Kalispell
Royal Lysle Paus '70, Helena
Jerry Frank Brumwell '71, M.Ed. '77, Hamilton
Ross William Davidson '71, Billings
Michael Dennis Higgins '72, Lakeland, MN
Len J. LaBuff '73, Missoula
James Donald Schultz, M.Ed. '73, Glendive
Janice Lind Woolston '73, Billings
John Thomas Prothero '74, Butte
Patti L. Usrey Blodgett '75, Polson
George Anthony Caffrey '76, Columbia Falls
Leo P. Joron '76, Hamilton
William H. Mast Jr. '76, Missoula
Roger D. Page, Ph.D. '76, Sea Tac, WA
Stephen James Sparhawk '77, Billings
Terry Edward Whitright '77, Browning
Lawrence M. Hart '79, St. Peters, MO
Robert P. Holden '79, M.Ed. '92, Missoula
Gregory A. Stoick '80, Kalispell
Linda Myers Blehm '82, Billings
Ron Roger Hayes, M.A. '84, Boise, ID
Mary M. Leeder Hockel '82, Bozeman
Therese A. Ferkovich Hoss '82, Oceanside, CA
Nancy A. Thibault '83, Las Vegas
Michael John Eve '85, Whitefish
John Florian McCann '86, '88, Lake Forest Park, WA
Brian Russell Kunn '88, Billings
Garnet R. "Gary" Derby '89, Missoula
Douglas M. Gelvick '90, Kalispell
Dede Hathhorn Eitel '91, Belgrade
Michael L. Nevers, M.F.A. '93, Costa Mesa, CA
Arthur G. Birkhimer Jr. '95, Kalispell
Noah James Ginnings '08, Missoula
Walter D. Coleman, Missoula
Betty Ann Daly Conrad, Portland, OR
Jerry Cotter, Hurst, TX
Bernice Warner Dignan, Great Falls
Michael Dennis Elhard, Cut Bank
Mary Therese Farrell, Spokane, WA
Craig J. Foley, Butte
Evelyn McPherson Lindblad Folland, Butte
Paul Robert Friedrich, Florence
Dale Ross Gyles Jr., Great Falls
Russell Charles Hagan, Butte
Kennart C. Irgens, Cut Bank
Michele Jacobson, Honolulu
Irene M. Joshi, Seattle
H. Rodney Kempel, Mesa, AZ
Eugene Kennedy, Polson
Nicia Osness LePiane, Missoula
Linda Miller Bennett Llewellyn, Florence
Robert Bennett Logan, Helena
John L. Magaret, Missoula
Ada Grace Neikirk Marchwich, East Helena
Timothy John Marron, Billings
Jean Allen McGrew, Sammamish, WA
Marie M. Borberg Miller, Billings
Lynn D. Montgomery, Missoula
Gladys R. Hill Naasz, Glasgow
Margery Wilding Papich, Albuquerque, NM
Loree Dal Porto Payne, Billings
Jerry Allen Petersen, Las Vegas
K. Maxine Scribner Peterson, Great Falls
Justin Michael Pettersen, Missoula
Harold Marvi Reddick, Missoula
Ardeline Nelson Reuter, Wolf Point
Robert George Schipf, Missoula
Wally Schwank, Lake Forest, CA
Dorothy Benish Stuart, Helena
Bertrand Dee Tanner, Mendon, UT
Virginia Christiansen Thompson, Belgrade
Vince Clark Vargo, Montana City
Eleanor Potter Vietor, Philipsburg
Walter L. Warren, Hamilton
Jerry Winchell, Billings
Evelyn Jane Wright, Columbia Falls