The Magazine of The University of Montana
Around the Oval
'Grateful Nation' Gaining Ground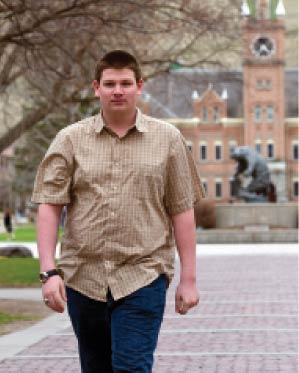 Dylan Hyland, a junior at Missoula's Loyola High School, plans to attend UM on a Grateful Nation scholarship in 2010. He plans to study criminology.
A nonprofit organization that offers full college scholarships and outreach services to children of Montana soldiers killed in Iraq and Afghanistan is gaining recognition after receiving national exposure recently on NBC Nightly News with Brian Williams.
David Bell, an insurance executive and 1996 UM graduate, and John McCarrick, a New York attorney, founded Grateful Nation in 2007 as a way to give back to fallen soldiers and their families. Their pilot program was created in Montana with the goal of eventual implementation in all fifty states.
On March 31, an NBC news segment featured interviews with widows and children of Montana soldiers recently killed, as well as a teenage recipient of a Grateful Nation scholarship who already is enrolled in the program.
The new program, which can be used to attend any school in the Montana University System, is administered at UM by Teresa Branch, vice president for Student Affairs. Program funds are managed by the UM Foundation.
UM President George Dennison says, "Grateful Nation offers an important service for the children of Americans who have made the greatest sacrifice for their country. We view it as a privilege for the University to participate in this effort. I can think of nothing more appropriate than a guarantee of education for the children of fallen heroes."
Bell says Montana has lost more soldiers per capita than any other state. Only about 10 percent of U.S. soldiers currently deployed in Iraq and Afghanistan have a bachelor's degree, and only 4 percent of all enlisted soldiers have earned a bachelor's degree or higher. Children whose parents attended college are more likely to pursue higher education.
"

This innovative scholarship and outreach program is a first-of-its-kind for children of Montana soldiers who have paid the ultimate price. These children will now have access to the financial resources and help with the academic requirements and mindset to attend college in Montana.

–Gov. Schweitzer

"
"The low college attendance by our infantry troops, who are the most likely to be killed in the line of duty, and the reality of a single parent left to deal with the financial and socioeconomic issues of raising a child alone, create a bitter irony," Bell says. "When an American soldier pays the ultimate price for our country, the soldier's children are effectively sentenced to a life without the education and tools needed to help them realize the American dream."
He says Grateful Nation is changing this with a unique program that fosters a lifelong connection between universities and the surviving families of America's fallen heroes. When a Montana soldier is killed, the Montana University System facilitates a connection between the surviving parent and one of the state universities.
Children under age twelve and their parents are brought to campuses several times a year for events to help them become part of the academic and social community. The university system contacts teachers of elementary schoolchildren with news of the scholarships, then monitors the students' academic and social progress.
Bell says when children reach middle school, they are assigned an academic student tutor and a faculty mentor from their chosen university. These members of the university community tutor and counsel enrolled students through high school, preparing them both academically and emotionally to meet the challenges of a successful college experience.
Cindy McCain, wife of Arizona Sen. John McCain, joined the Grateful Nation board of directors last year after learning of the nonprofit, which is neither political nor partisan. The organization has received enthusiastic bipartisan support from political leaders, including Montana Sens. Max Baucus and Jon Tester, Rep. Denny Rehberg, and Gov. Brian Schweitzer.
"We greatly appreciate the opportunities being created by Grateful Nation Montana," Schweitzer says. "This innovative scholarship and outreach program is a first-of-its-kind for children of Montana soldiers who have paid the ultimate price. These children will now have access to the financial resources and help with the academic requirements and mindset to attend college in Montana."
Grateful Nation now is conducting a fundraising campaign to underwrite current and future scholarships. A full description of Grateful Nation Montana's mission and activities can be found on the organization's Web site at www.gratefulnationmontana.com.
Trial By Twitter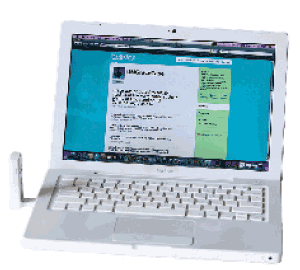 Students from UM's School of Journalism and School of Law had an unusual classroom this semester—the courtroom of the most extensive environmental criminal trial in U.S. history, taking place right here in Missoula.
The trial began in February for W.R. Grace & Co. and five former executives and employees charged with knowingly endangering lives by hiding the health risks of the asbestos-contaminated vermiculite ore the company mined in Libby from 1963 to 1990.
In a class called the Grace Case Project, thirteen journalism students and seventeen law students joined forces to document this historic trial by way of a blog and a social networking Web site called Twitter—a sort of Internet-age telegraph system.
The students use Twitter to disseminate brief updates of up to 140 characters—called "tweets"—via laptops from the courtroom. Depending on the intensity of the trial, the students' tweets can come as frequently as five per minute, but average about one every ten minutes. As a result, the proceedings are immediately accessible to the public—something never seen before in legal journalism. "It allows you to feel the trial in a different way," says Andrew King-Ries, assistant professor of law and co-teacher of the class. "It's a much more intimate experience."
On the blog, the journalism students provide gavel-to-gavel coverage of case developments alongside the law students' explanations of the legal twists and turns. Background stories on issues surrounding the case and profiles of key players also are on the blog.
Assistant Professor Nadia White teaches the journalism portion of the class. White is excited about the virtual seat in the courtroom this project offers communities affected by vermiculite ore from Libby. In their twenty-seven-year management of the mine, W.R. Grace shipped contaminated vermiculite to 236 locations in thirty-nine states, from Hawaii to Massachusetts.
"We hope to offer access to the trial to the far-flung communities that handled W.R. Grace ore," White says. "Asbestos-contaminated ore was shipped throughout the country from Montana. We'd like to give people in those communities a chance to peer back into this state to decide for themselves whether justice is being served."
The project already has garnered a lot of attention. At press time the blog has received more than 74,000 page views, with an average browsing time of almost six minutes. The Web sites of the Los Angeles Times, the Associated Press, The Spokesman Review and other news organizations have linked to the blog, and two Libby papers are using the articles to keep their readers in touch with the trial. An online reporter for McClatchy newspapers calls the students' innovative reporting "the future of legal coverage."
To view UM student coverage of the W.R. Grace trial, visit http://blog.umt.edu/gracecase and http://twitter.com/UMGraceCase.
Library Lands Historic Collection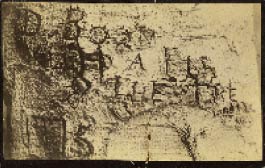 A postcard of a carving in a tree found in Sullivan County, Tenn. The carving reads, "D. Boon Killed a Bar [sic] on this tree 1775." The postcard belonged to Theodore Roosevelt and was given to the Boone and Crockett Club by his son, Archibald B. Roosevelt.
When Theodore Roosevelt and his friends observed declining wildlife populations back in 1887, they responded by founding the Boone and Crockett Club, which has since become the oldest national wildlife conservation organization in North America.
Besides being involved with multitudes of conservation efforts and maintaining the hunting records of North American big game, the club has amassed a huge volume of historic files, letters, and photographs during its 122-year run—enough to fill about 150 boxes. And now this massive collection has been donated to UM's Maureen and Mike Mansfield Library.
UM Archivist Donna McCrea says the University library has sought the prestigious collection since the Boone and Crockett Club moved its headquarters from Virginia to Missoula in 1993.
"We are thrilled this material is coming to The University of Montana," McCrea says. "This is a collection of national significance, and we're proud the club chose to place their records at UM."
McCrea says no one knows what hidden treasures the collection might contain. "Part of the reason they turned things over to us is to really find out what they have," she says. "It's a big collection, and it may take us a year to really go through it and get it fully organized and cataloged."
Boone and Crockett historian Leonard Wurman says the club researched a number of nationally acknowledged archival institutions and was delighted to find the one it needed right in its own backyard in Missoula. "It is important to the club that these materials be easily available to those researching America's conservation history," Wurman says.
Bonnie Allen, UM's dean of libraries, says the collaboration between the library and the Boone and Crockett Club is a natural fit.
McCrea and her staff packed and moved the material March 11-13 from the club headquarters at Missoula's Old Milwaukee Railroad Depot building to the library's Archives and Special Collections. Materials were placed in special acid-free boxes.
Notable and Quotable
Craig Barrett, chairman of the board for technology giant Intel Corp., will speak at UM's 112th Commencement ceremonies Saturday, May 16, at the Adams Center. He will speak at the 9:30 a.m. ceremony for the College of Arts and Sciences and the College of Technology and again during the 2 p.m. ceremony for the professional schools of business administration, fine arts, journalism, and education, the Colleges of Forestry and Conservation, and the College of Health Professions and Biomedical Sciences. UM will present two honorary doctorate degrees during the Commencement ceremonies as well. Caleb Shields, a resident of the Fort Peck Reservation, will receive an honorary Doctor of Humane Letters degree during the morning ceremony, and Phyllis Washington of Missoula will receive an honorary Doctor of Education degree during the afternoon ceremony. New figures rank UM No. 10 in the nation for producing Peace Corps volunteers. The 2009 list ranks medium-sized colleges and universities with enrollments between 5,001 and 15,000. UM now has thirty alumni serving in the Peace Corps. Last year, the University was ranked seventeenth nationally, with twenty-three volunteers serving abroad. This year's improved ranking places UM ahead of universities such as Brown, Notre Dame, and Yale. George Washington University topped the list with fifty-seven volunteers. In March UM announced the creation of one of the nation's first undergraduate degree programs devoted to the challenges and opportunities presented by global climate change. The new minor will combine rigorous training in sciences with course work in ethics and policy to offer students a unique, multidisciplinary understanding of climate change. Students will examine the scientific and social dimensions of global climate change, as well as explore potential solutions. "The climate change topic is rapidly evolving from only an earth science issue to a technological, economic, and sociological issue for humanity," says UM Regents Professor of Ecology Steve Running, who directs the new program. "We have designed this broad interdisciplinary curriculum to reflect this expansion of focus." Students pursuing the minor will take an interdisciplinary introductory course and six credits in each of three areas of study: climate change science, climate change and society, and climate change solutions.
The President's Corner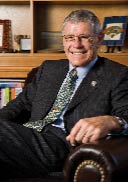 Nearly two decades ago, while contemplating the news that someone had nominated me for the Presidency of The University of Montana, I pulled from the Library shelf my dog-eared copy of Norman Maclean's A River Runs Through It and tried to read just a few lines to get the feel of Montana again. Jane and I had moved to Michigan three years earlier, an area of the country we increasingly considered "Back East." However, as happens with most people, I found myself some hours later finishing the novella yet one more time. Maclean, Montana, rivers, and fly fishing stir images and emotions deeply embedded in identity and personality. Adding Griz football and community engagement creates a context for the new issue of the Montanan.
As with all earlier issues, this one focuses on the people who shape Missoula and The University of Montana. Students, faculty, staff, community folks, and new migrants come to Missoula because of the magical allure of free-flowing rivers, magnificent scenery, world-class fly fishing, and top-notch academic programs, and many find it nearly impossible to leave. Those who do leave rarely forget Missoula and the University, but instead return as often as they can. Since the middle of the decade of the 1980s, Griz football has added to the mix. Finally, the thriving sense of engagement in Missoula and on the campus binds people even more closely within a truly amazing city close-knit with a wonderful University.
As you read through this issue, think again of the people you have met because of your decision to attend the University, join the community of scholars and engaged staff, or live in this welcoming community. They come from all points of the compass and all parts of the world, and add to the diversity that infuses this community. We usually take for granted the great treasures of life, as Jane and I discovered when we moved to Michigan. We enjoyed life in Kalamazoo, Michigan, and at Western Michigan University, although we never felt quite the same sense of engagement and community that we experience in Missoula and on The University of Montana campus. Even after nearly two decades, the feeling of having come home remains fresh and tangible. In Norman Maclean's unforgettable description of the lesson he and his brother learned while growing up in Missoula:
The world is full of bastards, the number increasing rapidly
the further one gets from Missoula, Montana.
Nonetheless, having earned acceptance into the Missoula and UM family, the weary world traveler meets in the most unexpected places the familiar and heartfelt "Go Griz" greeting of welcome.


George M. Dennison, '62, '63
President and Professor of History
Recruiting Goes On The Road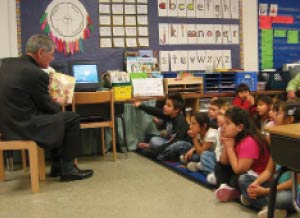 President Dennison reads The Great Monte Mystery to a group of Browning first-graders in January.
From the snowy foothills of the Rocky Mountains in the tiny reservation town of Browning to the sparkling skyline of Chicago, and its affluent suburbs, UM went recruiting for students this winter.
These weren't your average recruiting trips of sending one recruiter to a college fair. These were led by President George Dennison, and UM was the only guest at schools visited. Others on the UM team included Executive Vice President Jim Foley, Vice President for Student Affairs Teresa Branch, chief recruiters Jed Liston and Juana Alcala, and faculty favorites such as Garon Smith, chemistry professor and 2008 Montana Professor of the Year, and Dan Pletscher, professor and director of the Wildlife Biology Program.
The UM contingent spread some Griz cheer with high school guidance counselors, principals, teachers, and prospective students and their families during a series of breakfasts, lunches, and receptions hosted by the University in each community.
It's not typical for presidents to go on the road recruiting, but Dennison has fallen into a routine he enjoys of visiting high schools and talking to students about his days in college and the reasons they need to protect their higher education options. One guidance counselor in suburban Chicago remarked that it was only the second or third time she'd seen a university president out recruiting in the more than twenty years she'd been on the job.
It's even more unusual for a university president to visit a first-grade class and read to students, as Dennison did in January. Believing it's never too early to start recruiting, Dennison brought a Monte book with him to read to children in Browning.
Over the past three years, Dennison and his recruiting squad have visited high schools in each of the following cities at least once: Kalispell, Columbia Falls, Whitefish, Bigfork, Great Falls, Livingston, Billings, Butte, Anaconda, Miles City, Glendive, Helena, Lewistown, Browning, Spokane, and Chicago.
Meet Grizwald,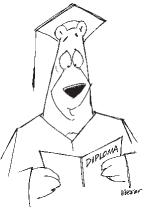 UM's cartoon bear. In frequent issues of the Montanan, we provide a cartoon featuring Grizwald in need of a caption. Then it's up to you, our readers, to send in your most original and creative ideas. The winning contestant will receive a Griz stadium blanket. Send submissions to: themontanan@umontana.edu.
Commencement
3,148:
Number of degrees to be awarded at 2009 UM Commencement.
633
: Number of graduates in 1949.
49
: Number of graduates in 1919.
2
: Number of people in first graduating class, comprising Eloise Knowles and Ella Robb Glenny, in 1898. Both diplomas, presented by first UM President Oscar J. Craig, are now stored on campus.
112
: Number of Commencement ceremonies in UM's history.
7
: Number of locations UM has held Commencement within the last century.
129
: Number of honorary doctorates distributed in UM history.
120
: Minimum number of semester credits required to graduate from UM.
30
: Number of graduation ceremonies held the weekend of Commencement.
$19
: Current cost of a graduation gown.
205
: Number of students graduating this year from UM's largest professional school, the School of Business Administration. –Ashley Zuelke
Above, right: An elephant herd's matriarch, the lead elephant, eyes UM students in the back of a Land Rover as she cautiously leads her herd across a road in Tarangire National Park. Herds like this can comprise up to 300 individual elephants within Tarangire's protected borders.

Web Exclusive Photo Gallery
image #1 image #2 image #3 image #4 image #5 image #6 image #7 image #8 image #9 image #10
Somewhere between watching a zebra give birth on the flat sun-beaten floor of the world's largest unbroken caldera, Ngorongoro Crater, and wading into the warm coastal waters of the Indian Ocean to taste the locally grown seaweed, it hit UM junior Ann Tezak that this was why she decided to study anthropology at UM.
"I had dreamt of going to Africa ever since I was little," Tezak says. "I remember thinking that I couldn't believe it (when she heard her class was going on the trip). It was a dream come true."
Tezak was one of nine UM students who traveled to Tanzania and Zanzibar on a trip led by anthropology Lecturer Garry Kerr and Professor Kelly Dixon during the University's 2009 Wintersession.
The two-and-a-half-week trip was designed to give the group of anthropology students a firsthand look at the culture, the people, and the environment of historical and contemporary East Africa. A firsthand look was exactly what they got.
For four nights, the group camped in the heart of Serengeti National Park surrounded by the hundreds of thousands of wildebeests and zebras trekking south in their annual Great Migration. During daily excursions, the group saw tree-climbing lions, lounging leopards, dust-throwing elephants, and roiling pools of hippos, just to name a few species. One morning, the group rose well before dawn, climbed into an oversized basket, and watched the dawning Serengeti sun illuminate the landscape from the perch of a hot air balloon.
While visiting a Masai village just south of Tarangire National Park, the women from the UM group dressed in traditional clothing, took part in a cultural song and dance, and then helped the native women cake the outside of a hut with a warm mixture of cow-dung and mud.
"It seemed like everything happened right for us," Kerr says. "There were a million new experiences, a million new animals, and the students learned a million new things. It went better than I could have ever forecasted or expected."
Since their return, the group have presented their experience during UM's International Week and held a brown bag luncheon for International Programs. Because of the success of the trip, which was funded in part by UM's president's and provost's Offices and International Programs, Kerr and Dixon have begun making plans for a return trip next winter. They plan to visit places such as Gombe National Park and Kenya that they missed on the first trip. –Nathan Rott
Where's Your GRIZ Been?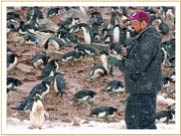 John Carlson '88 sports a UM hat while counting Adelie Penguins on Bongrain Point, Porquoi Pas Island, in Antarctica this past winter. Carlson spends a few weeks each year working with Oceanites, a nonprofit science and educational foundation that fosters the conservation of the world's oceans, islands, and their wildlife. "This year I was able to keep track of the Griz in the playoffs from south of the Antarctic Circle. Go Griz!" he writes.
Congratulations, John. You've won a $50 gift card to The Bookstore at UM.
Do you have a photo of yourself wearing your Griz gear in an amazing place? If so, send it along with a brief description to: themontanan@umontana.edu. Winners will receive a $50 gift card to The Bookstore at UM and see their winning photo published in the Montanan. To be considered, photos must be in focus with the UM or Griz logo clearly visible.
Written In Bone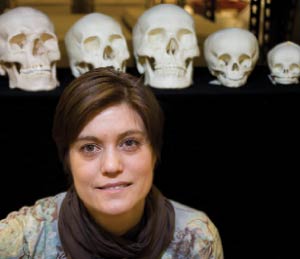 UM anthropologist Ashley McKeown's research is now part of an exhibit at the Smithsonian Institution's National Museum of Natural History.
UM forensic anthropologist Ashley McKeown has spent much of her career uncovering the mysteries hidden in old bones. She was part of a team that found evidence of the first surgery performed in the English colonies—a trepanation, in which the skull is drilled to relieve pressure on the brain—and now some of her related work is part of an exhibit at one of America's premier museums, the Smithsonian Institution's National Museum of Natural History.
"Written in Bone: Forensic Files of the Seventeenth-Century Chesapeake" is on display at the Washington, D.C., museum through February 6, 2011. It incorporates about 340 objects, artifacts, and human bones from the museum's collection, as well as loans from more than twenty archaeological organizations, telling the story of how early colonists in the Chesapeake region lived and died 400 years ago.
"It was a great honor to attend the opening ceremony of the exhibit and see my research featured," McKeown says. "The exhibit is a wonderful opportunity to learn about the real work and science of forensic anthropology, which is nothing like what we see on TV."
Founded in 1607, Jamestown was the first permanent English colony in the New World. During a three-year postdoctoral fellowship before joining the UM faculty, McKeown worked with a team that excavated and analyzed more than seventy-five burials at Jamestown. Her work revealed the bone biographies of some of the earliest colonists.
McKeown, a UM anthropology assistant professor, helped excavate and analyze the remains of important individuals such as Capt. Bartholomew Gosnold, one of the leaders of the Jamestown expedition and the explorer who named Martha's Vineyard after his daughter. Gosnold died in Jamestown in 1607. In 2003 his grave was found just outside the original James Fort palisade.
McKeown also studied the skeleton of a young woman found buried under a theater in Williamsburg, Va., and, based on tooth modification, was able to determine that she was an enslaved African from the central West African coast.
The interpretation of the lives of seventeenth century colonists, both the famous and the mundane, are presented in the wide-ranging exhibition that seeks to inform visitors about life and death in the early Chesapeake, an area that gave rise to many of the nation's most famous leaders. View more information online at http://anthropology.si.edu/writteninbone.
Agreement Preserves Detention Camp History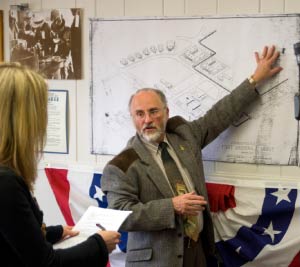 Historical Museum at Fort Missoula Director Robert Brown discusses the preservation site with media.
With the United States' Entry Into World War II, sleepy Fort Missoula became home to about 1,000 Italian nationals, a similar number of Japanese and Peruvian-Japanese aliens, and a few Germans. They were housed in the fort's Alien Detention Camp from 1941 to 1944.
The inmates were all men, and none were American citizens. The forced detention of these people in Western Montana created a strange and fascinating chapter in Missoula history. And now that history will be protected by a new agreement among UM, Missoula County, and the Historical Museum at Fort Missoula.
The parties in the agreement all own property once used for the camp, and they have signed a memorandum of understanding to preserve, interpret, and maintain the former camp barracks area. In addition, they will cooperate to obtain National Landmark Status for Fort Missoula. Then in 2011 they will jointly sponsor a conference about the alien internment period to coincide with the seventieth anniversary of the United States' entry into World War II.
"We feel a responsibility to preserve this historic area and what occurred there for the benefit of future generations," UM President George Dennison says. "Scholars still work to unravel the full story of the camp. Certainly some of the detainments must have seemed unavoidable, while others remain very much in doubt, suggesting lessons for leaders, now and in the future."
UM and the Historical Museum at Fort Missoula will create learning opportunities for students and the public, including classroom education, fieldwork, distance learning, and internships. The University and the museum already have a long history of working together. Robert Brown, the museum's executive director, is an affiliate faculty member in UM's Department of History, and the museum offers internships for UM history students.
The Historical Museum at Fort Missoula now occupies what was the Alien Detention Camp headquarters. UM owns a few buildings left from the camp era that now are used for storage or University research.
UM COMMERCIALS TAKE GOLD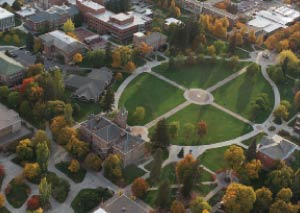 An aerial shot of the Oval as seen in one of the winning commercials.
New video advertisements promoting UM sports and campus lifestyle have taken top honors in recent national and regional competitions, continuing an award-winning streak for the University's commercial series started several years ago.
A video that helps rev up more than 25,000 Griz fans before their football team hits the field in Washington-Grizzly Stadium struck gold twice in separate 2008 awards competitions. Known to many as the "football tunnel run" and to others as "Griz Nation," the three-minute video shows the Montana Grizzlies prepping for games. It is shown on the scoreboard's jumbo screen before kickoff.
The football video won a Gold award at the regional Council for Advancement and Support of Education's District VIII competition and a Gold award from the national Admissions Marketing Awards Competition. Two additional ads, one promoting Lady Griz basketball and the other illustrating life in Missoula and at UM, won Bronze awards in the CASE District VIII competition.
The Montana-based Chisel Industries produced the commercials. These most recent honors add to a long string of state, regional, and national awards for the commercial series over the last three years.
UM Executive Vice President Jim Foley, who heads the commercial-making effort on campus, says it's a collaborative venture. "Working together with administrators, faculty, staff, and students makes it clear that the future of UM continues to hold great opportunities.
"We have wonderful people on this campus with real talent and true concern for this community and state who continue to be leaders in higher education."
In addition, several of the University's recruiting materials and institutional publications won awards in both competitions.
The 2007 President's Report and the Research View newsletter each won Silver awards from the national Admissions Marketing Awards Competition, while Vision, a research magazine published once a year, received a Merit award. All three publications were produced by the University Relations staff.
UM's writing also captured the attention of CASE District VIII judges, who awarded Silvers to Enrollment Services for copy in its viewbook and recruiting brochure and to freelance writer Deborah Richie Oberbillig for a story on wildlife biology Professor Scott Mills' research on snowshoe hares that appeared in the 2008 Vision. University Relations Senior News Editor Cary Shimek won a Bronze award for a story on biology Professor Ken Dial and his major new theory of bird evolution that appeared in the 2008 Vision. Montanan Editor-in-Chief Brianne Burrowes received the CASE Rising Star Award in communications. The award recognizes a young professional with three to five years experience in the education advancement professions whose early success bodes well for future leadership and achievement.
In addition, Enrollment Services won a CASE Bronze award for its Undergraduate Admissions Web site. The department also won a Bronze award from the Admissions Marketing Competition for its Total Recruitment Package.
CASE District VIII comprises the U.S. states of Montana, Idaho, Washington, Oregon, and Alaska, as well as the Canadian provinces of British Columbia, Alberta, Saskatchewan, and Manitoba.
A Story of Success
UM: The Story Begins
An album produced from Bill Harley's 2007 UM performances won a Grammy in February.
Audiences at UM's University Theatre were treated to the talents of nationally renowned singer and storyteller Bill Harley in June 2007 during his first live recordings for a television and radio program. Harley is a family entertainer known for delighting children and adults alike with his stories and songs that paint a vibrant and hilarious picture about growing up and family life.
The TV version of the performances—"Yes to Running! Bill Harley Live"—premiered in February 2008 on Montana PBS. The show was a joint production of UM-based Montana PBS station KUFM-TV and Montana Public Radio station KUFM-FM. Public television stations across the country were offered the show for airing in fall 2008, and it was broadcast nationwide.
A double CD of the concert also was produced. Daniel Dauterive, KUFM-TV operations director, originated the idea of recording the popular performer and was co-producer of the album with Harley. Michael Marsolek, MTPR program director, coordinated the audio for Harley's two live concerts at UM and engineered the recording.
Los Angeles: The Rest of the Story
When Grammy Award nominations were announced December 3, 2008, in Los Angeles, the double CD album produced from those 2007 live performances at UM was among those listed in the category for Best Spoken Word Album for Children. The album—"Yes to Running: Bill Harley Live"—took the award at the Los Angeles Grammy presentations on February 8, 2009.
"The success of the CD is an example of a total team effort, from Bill Harley, Montana Public Radio, and Montana Public Television to the theater audiences made up from the Missoula community," Dauterive says. "I wish I could give a big Grammy statue to the city of Missoula and the state of Montana."
Friend Us On Facebook
Get ready for an all-new Montanan experience that allows you to stay better connected with your alma mater. Join the Montanan (Wherever I Am) Facebook group by searching "Montanan Wherever I Am," and receive updates about your favorite magazine. You also can submit a Class Note, tell us where you've worn your Griz gear, and have instant access to the Montanan staff. We'll see you in cyberspace!
GrizNation
Lady Griz 2009 Big Sky Conference Champs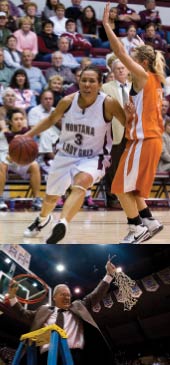 Robin Selvig (bottom) holds a piece of the winning net after the team's Big Sky Conference tournament victory; Senior Guard Mandy Morales (top) was the highest Lady Griz scorer this season.
You can be certain that every women's basketball team in the Big Sky Conference uses UM Coach Robin Selvig and his Lady Griz as the blueprint of a truly successful basketball program. From season to season, Montana consistently finds itself at the top of its conference. The success of the Lady Griz's 2008-09 campaign and the milestones reached are yet another example of that fact. Coach Selvig surpassed 700 career wins in his thirty-first season as UM's coach, becoming the fifth fastest coach in NCAA men's or women's basketball history to reach 700 victories. He finished the year with 725 wins.
The Lady Griz went 28-5 in 2008-09 to match a program record for single-season wins. Montana won the Big Sky's regular-season title with a 15-1 league record, hosted and won the conference tournament, and advanced to the program's eighteenth NCAA tournament. Sadly, success in the tourney was not to be as Montana lost its first-round game to Pittsburgh, 64-35, in Seattle. But that one disappointment aside, it was a very good season.
At the helm of this team was a talented senior class led by guard Mandy Morales, who had a stellar career at UM. She was named an honorable mention Associated Press All-American this season, making Lady Griz history by becoming the program's first four-time honorable mention All-American. Morales led Montana to 101 wins in her four years and finished with 1,959 points and 587 assists, which rank second and tied for second respectively on the Lady Griz career lists. Morales also was a four-time unanimous first team All-Big Sky Conference selection and the Big Sky tournament MVP as a junior and senior.
Fellow seniors Sonja Rogers and Brittany Lohman brought a lot to the team as well. Rogers was always a threat from three-point range, leading the team with seventy-one treys on the season and averaging 13.6 points a game to be the second-highest scorer on the team. Morales was the highest, averaging 16.9. As a center, Lohman provided a solid defensive presence in the key, was the second-highest rebounder on the team, and fourth in scoring, averaging 7.3 points per contest. Younger players like sophomore forward Sarah Ena, who averaged 10.7 points and led the team in rebounding, ensure Montana will be strong again next season.
While the men didn't make it to post-season tournament play this year, the Grizzlies celebrated some success, finishing in a tie with Portland State for second in the Big Sky Conference, going 11-5 in league, and 17-12 overall. Guard Anthony Johnson a junior from Tacoma, Wash., was voted the Big Sky's "Newcomer of the Year." Johnson is the first Grizzly player to lead the league in scoring since forward Kevin Kearney averaged 18.3 points per contest in 1991. Johnson averaged 21.4 points in conference play. He also was a unanimous selection for first team All-Big Sky honors, while senior forward Jordan Hasquet was named to the second team. Hasquet, a Missoula native, ended his career ranked seventh in school history in scoring (1,396 points) and three-pointers made (152), and is eighth in career rebounds with 718. Hasquet also finished fourth in the league in rebounding in 2008-09, and for the third season in a row, he led Montana in that category.
A Royal Flush For UM Athlete Scholarships
More than 170 Griz fans around the state anted up in February and March to raise $50,000 for UM student-athlete scholarships during the 2009 Grizzly Scholarship Association Poker Shootout.
The tournament began with qualifying rounds in Cut Bank, Hamilton, Kalispell, Missoula, Helena, and Butte.
The top three finishers from each event advanced to the championship game. Several other participants paid a special buy-in to reach the final round, which was held at The Press Box in Missoula on March 15.
Eighty-nine competitors played their hand at the championship table, where Max Martin of Shelby out-bluffed his opponents to take the top prize. With the win he earned a $10,000 seat at the 2009 World Series of Poker in Las Vegas.
But the real winners of the second annual event are UM's student-athletes. The money raised during the poker shootout will fund scholarships for students who wear the Grizzly uniform.
GSA Executive Director Greg Sundberg says the poker shootout once again succeeded at rallying UM's statewide community in support of the Griz.
"It's a great event where our participants have a lot of fun and at the same time raise valuable funds for the GSA," he says.
The 2010 GSA Poker Shootout is already in the works. Qualifying tournaments are scheduled around the state in January and February, with the championship round slated for March 14 in Missoula.