The Magazine of The University of Montana
Letters to the Editor
HIGHER EDUCATION AT A HIGHER COST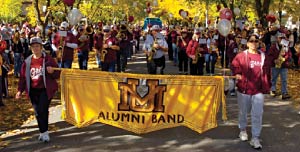 The Alumni Band celebrated its twentieth birthday during the 2008 Homecoming parade.
I found it interesting to read the article concerning the struggles of paying for a Montana education these days. I think it is very possible to go to school without incurring student loans. You have to adjust your quality of life and comfort level and be dedicated to your "cause"—education— without the burden of loans. I noticed Kendra, from the article, was fueling up a fairly new car to commute outside of town where the rent was cheaper. If you add up the monthly cost of driving a newer car (insurance, payments, etc.), it's a killer. A part-time or nearly full-time job is an important part of the process, too. I found work made me budget my time, so I actually accomplished more during the times I studied.
I lived close to campus in a bedroom of an elderly woman's basement. There was barely a shower—let alone a bathroom—but it was cheap. I purchased a meal plan at the food service, so I could load up on calories every once in awhile. I worked as a volunteer wrestling coach at a local high school, a waiter at a casino restaurant, and a seasonal worker for UPS, off-loading trucks during Christmas. One weekend a month I drove a beat-up, rusty Chevy Chevette to Billings for my U.S. Marine Reserve training.
What a relief to graduate with no student loans and start my career as a Marine officer debt-free. Now my son is attending UM, and although he's not living quite the spartan life I did, he is working a part-time job (he heard all the stories) and trying to make ends meet. Good article, thanks. Go Griz.
Lt. Col. Ted Adams '92
U.S.M.C.
Kunar Province, Afghanistan
BAND ON A BUDGET
I enjoyed your article on the UM Alumni Band.
On page twenty-two of the magazine, a sentence states: "Because of a hiatus in the UM Marching Band program during the late '60s and early '70s, the Alumni Band has few members from those years."
I was heavily invested in the music program and music department in the years 1969-1973, although I was a double major in history and political science.
The Marching Band was alive and well at least through the fall of 1970. (I went to the Camelia Bowl in Sacramento with the Marching Band in December 1969.) After Lance Boyd created UM's Jazz Program, the Marching Band lost its director due to budgetary constraints that precluded the hiring of a new director. We only had two directors who were responsible for the wind ensembles.
UM ceased sponsoring a Homecoming parade in either 1971 or 1972 (one of those two years, although I don't have my old Missoulian or Kaimin articles to recall). At that point, I, along with some other Marching Band folks, organized a Homecoming parade that was meek in size but strong in spirit.
These were strange times in the early 1970s, with budget cuts and students who were not interested in the Marching Band for many reasons—some students even told me that the Marching Band reminded them of a military force and rejected performing in this organization. Also, the Marching Band and some music department funding was funneled through student activities. There were heated debates at those student government meetings regarding whether to fund football or the arts.
Nonetheless, both the concert and jazz bands developed into vibrant organizations, touring and performing around the state in spite of the budget constraints.
It is always a pleasure to return to campus to see how well the music department and its programs have flourished throughout the years.
Thanks again for a great article!
Steve Armstrong '73
Via e-mail

MONTANA ON MY MIND
Congratulations on a beautiful Montanan!
I wish I could have been there for Homecoming and marched with the band. (I played drums.) I also wish I could have visited the new J-School (Don Anderson Hall). Maybe in 2010 I can do both!
Verna Green Smith '40
St. Louis, Missouri

TALKING ABOUT MY GENERATION
My husband, Bill Thomas, class of 1951, was the first to look at the Montanan when it arrived. He announced, "Your picture is in it." I laughed and said, "Sure!" Surprise, there it was on the last page in Artifacts ("Greek Through the Generations," winter 2009). I am the third Tri Delt from the left, Patricia (Pat) Evans, class of 1952. The other three are Margaret O'Leary, Norma Bell, and Joan Gibson. Both Norma and Joan are deceased. Margaret (O'Leary) Wolpest lives in Anaconda, and I live in Bozeman.
Patricia Evans Thomas '52
Bozeman

WANTED: YOUR OPINION
The Montanan welcomes letters to the editor. Please sign and include your graduating year or years of attendance, home address, and phone number or e-mail address.
Send them to: Montanan Editor,
325 Brantly Hall, Missoula, MT 59812
or themontanan@umontana.edu.

Because of space limitations, we are not able to include all letters sent to us. Letters may be edited for length or clarity. While universities are places of discussion where good people do not always agree, letters deemed potentially libelous or that malign a person or group will not be published. Opinions expressed in the Montanan do not necessarily reflect those of The University of Montana.