The Magazine of The University of Montana
UM FOUNDATION
Getting A Leg Up: Business class fosters professional connections in Northwest cities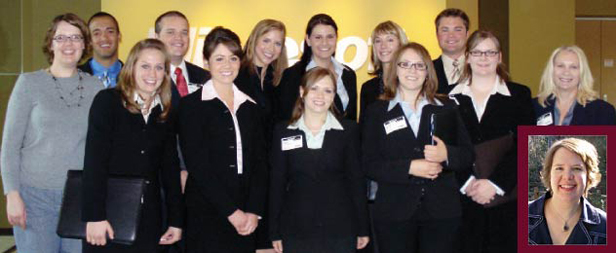 Above: The 2008 Marketing Field Experience class visits Microsoft in Seattle to network with professionals; Inset: Swartz Dilloo helped create the class.
Kari Swartz Dilloo recalls graduating as a marketing student at UM in 1997 and then heading for Seattle—even though she knew just two people there and didn't have a job waiting.
The adjustment and transition was tough, but through hard work and perseverance, Swartz Dilloo carved out a career in public relations. After spotting a classified ad, she landed her first job at the marketing and communications firm Publicis. Over the years, her responsibilities and experience increased. She currently serves as a group public relations manager for Microsoft's Xbox 360 games and entertainment system.
Given her strong ties to UM, Swartz Dilloo wanted to help new Grizzly graduates make an easier transition from UM classrooms and small Montana towns to careers in cities outside the state. So she and other members of the UM School of Business Administration's Marketing & Management Advisory Board met with several members of the school's faculty. They devised a summer class, Marketing Field Experience, which debuted in 2007.
The course has since helped UM students meet and network with professionals—many of whom are UM grads at companies in Portland, Spokane, and Seattle, cities where they might one day secure employment. The students research the companies, polish their résumés, and practice their interviewing skills under the direction of School of Business Administration Adjunct Instructor Sherry Liikala.
After much preparation, the students travel to Seattle and Portland. Swartz Dilloo arranges sessions with executives, recruiters, and employees who are still new in their careers. Discussion topics include what goes into an average workday, what executives look for in new hires, how to make a good impression, and what career paths are available. The students forge contacts with key people in each community.
"(Students) are able to establish important links with the people they meet," Swartz Dilloo says. "Good first impressions, especially in business, really can help open doors."
In addition to time at Microsoft, the students will visit professionals at Edelman, a global public relations firm that also is one of Swartz Dilloo's previous employers.
"It feels so gratifying when the students tell you how this course has 'changed their lives,'" Swartz Dilloo says. "That's the motivation, when you see your work make a difference on a very personal and individual level."
Liikala also counsels the students on the importance of follow-up, requiring them to send thank-you notes and often Griz gear to the people they have met on the trip.
UM's business school and the students have benefited greatly from this field experience course, says Jeff Shay, chair of the Department of Management and Marketing.
"Kari was one of three [marketing & management advisory] board members who took a leadership role in making the course happen," Shay says. "Over the past three years, many students enrolled in the course have been offered and have taken jobs at the companies they visit.
"Without her professional connections, the whole Seattle portion of the trip would not be possible. We are truly fortunate to have Kari as an engaged member of our board." 
Swartz Dilloo says her key focus on the board has been to help students successfully jump into their first careers after graduating from UM.
"The work I've been fortunate enough to do on the advisory board for the last six years has made me feel like I've really been able to make a positive impact," she says.
—Pamela J. Podger