The Magazine of The University of Montana
Bookshelf
By Ginny Merriam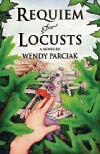 Requiem for Locusts
By Wendy Parciak
Two Canoes Press, 2008, 432 pages, $27.95

In Missoula resident Wendy Parciak's first novel, a mentally ill young woman, Marzita, is a newcomer to her Locust Street neighborhood. Marzita doesn't follow the social conventions that keep her neighbors behind their doors and fences. She brings the diverse characters around her out of themselves, and they begin to communicate. Parciak's sister lives with a mental illness, so her understanding is firsthand. Parciak earned a doctorate in ecology at UM and has worked as a wilderness ranger and a biologist. Her novel is a recent Montana Book Award Honor Book.

Wild River Pioneers: Adventures in the Middle Fork of the Flathead, Great Bear Wilderness and Glacier National Park
By John Fraley
Big Mountain Publishing, 2008, 230 pages

You don't have to have bushwhacked through devil's club and alders or forded the Middle Fork of the Flathead River with your blue jeans tied around your neck to enjoy John Fraley's stories from the wild region. Fraley, who earned fish and wildlife management degrees from both major Montana universities and has worked in the field for thirty years, tells historical stories of Lake McDonald homesteader George Snyder, Nyack Flats bootlegger Josephine Doody, and others.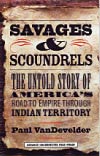 Savages & Scoundrels: The Untold Story of America's Road to Empire Through Indian Territory
By Paul VanDevelder
Yale University Press, 2009, 305 pages, $26

Journalist Paul VanDevelder sets out to tell the story of the American government's immoral treatment of the Native Americans who lived here first. Already praised by Montana writer William Kittredge as an "exceptionally meaningful and useful account," the forthcoming book uses an 1851 federal treaty with a dozen tribes as its jumping-off point. The treaty gave the tribes perpetual ownership of 1.1 million square miles of the West, but the government soon broke its promise and then did so again throughout history, which resonates even today, VanDevelder writes. He is a UM School of Journalism graduate.

The Outdoor Dutch Oven Cookbook, Second Edition
By Sheila Mills
The McGraw-Hill Companies, 2008, 200 pages, $18.95

Those of us who still cook out of Sheila Mills' first book of Dutch oven recipes will greet a second edition with open pots. Sheila and her husband, Dave, live in Boise and have operated Rocky Mountain River Tours on the Middle Fork of Idaho's Salmon River for thirty-two years. But you don't have to be afloat to make Aioli Centennial Chicken or Yampa River Trapper's Pie. Her food is great at home, too. She grew up in Glendive and earned an undergraduate degree at UM in 1967.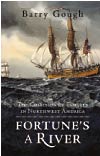 Fortune's a River: The Collision of Empires in Northwest America
By Barry Gough
Harbour Publishing, 2008, 414 pages, $34.95

Historian and Canadian Studies professor Barry Gough looks at the struggle between Great Britain and the United States for ownership of British Columbia in the late 1700s and early 1800s. The historical characters in the international drama include Alexander Mackenzie and David Thomson against rivals Thomas Jefferson, Meriwether Lewis, and William Clark. Gough, a UM alum, was the founding director of Canadian Studies at Wilfrid Laurier University in Waterloo, Ontario.
If you are a UM alum with a recent book release, don't forget about your alma mater. To be considered for Bookshelf, you must send a copy of the book, along with any press materials and contact information, to: Montanan, University Relations, 325 Brantly Hall, Missoula, MT 59812. Submission of materials does not guarantee that your work will be featured.