The Magazine of The University of Montana
A Leg To Stand On
Below-the-Knee Amputee Megan Fisher '06 Overcomes Daunting Odds to Become World Champion
Story by Chad Dundas | Photos by Todd Goodrich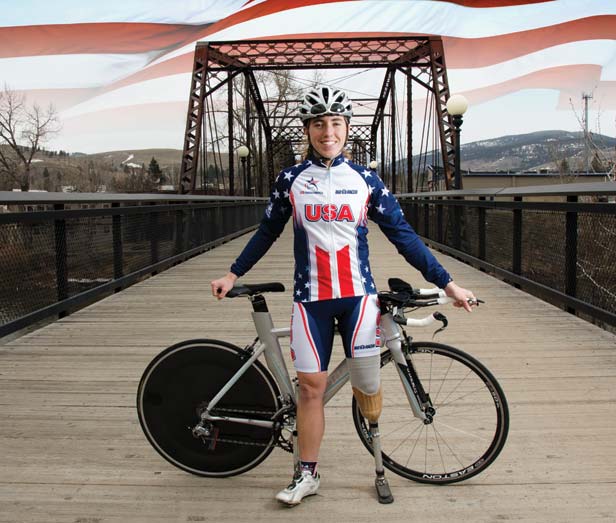 Megan Fisher, who had the lower part of her left leg amputated after a horrific car accident, hopes to represent the United States in paracycling at the 2012 Paralympic Games in London.
There was a time in early 2006 when Megan Fisher gave up on walking.
It was January, midway through her senior year at The University of Montana. While hiking in the hills outside Missoula, she suddenly found herself in so much pain that she decided she needed a few days off her feet. She went home and lay down on the couch to rest, waiting for the agony to subside. When it didn't, she barely got up again for almost three months.
Fisher, a former walk-on with the UM tennis team, was four years removed from the freak car accident that took the life of her best friend and caused her to lose the lower half of her left leg. She had already overcome so much—the wreck, the coma, two separate amputations, the realization that her life would never be the same again, and then finding the determination to live it anyway—that this latest setback must have been particularly crushing.
Seeing her now, it's almost impossible to imagine. The 2011 version of Megan Fisher—the six-time world champion paratriathlete and cyclist—is so upbeat and positive, so fiercely independent that it's difficult to conceive of an obstacle she couldn't overcome. Currently a member of the United States National Paracycling team and gunning for a trip to the 2012 Paralympics in London, you can't spend more than a few minutes talking with her without coming away struck by her unique strength and candidness.
In 2006 however, Fisher was still in the process of teaching herself how to be an athlete again, and as a woman who had always self-identified as an active person with a relentless competitive streak, nothing scared her more than the idea of being helpless.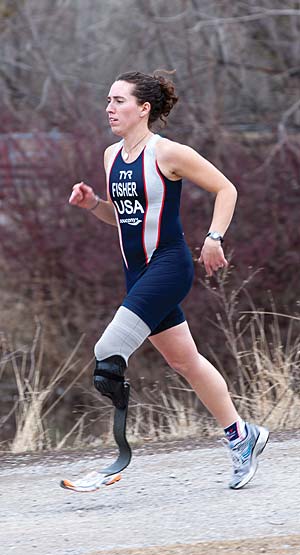 Fisher runs on the Riverfront Trail along the Clark Fork River in Missoula. At her fastest, she can cover a mile in six minutes, thirty seconds.
Doctors she saw couldn't give her any answers. When she did leave the house, she hobbled around on crutches.
"I had amazing shoulders," Fisher jokes, cracking the sly, dry smile that seems to be her modus operandi for navigating the able-bodied world. "But it hurt too much to walk. No one here in Missoula could help me. In fact, I had a [doctor] in Missoula tell me I might never walk again. I ended up looking into wheelchairs. I mean, I was twenty-two years old. That's hard."
The thing that finally got her off the couch was her impending college graduation that May. The idea of not being able to participate—or worse yet, wheeling across the stage—must have offended Fisher's athletic sensibilities. No, she decided that wasn't going to be good enough. She decided that when they called her name as part of the Class of 2006, she was going to walk out there and grab that piece of paper saying she'd successfully completed her degree in athletic training.
Most everybody in her life knows what it means when Fisher sets her mind to something.
"It's just her unstoppable drive," explains longtime friend Emily Garlough. "If she gets an idea in her head that she's going to do something…you really can't stop that kid."
The weekend before Commencement, Fisher flew back home to Chicago and saw Dr. John Angelico, the prosthetist who'd been working with her since just after the initial accident in 2002. Angelico came into the office on a Saturday, and together they worked to solve the problem. The answer they came up with on the fly—tweaking her prosthetic leg just so—wasn't perfect, she admits. She was a little unsteady on her feet, her gait perhaps a little awkward, but a week later Fisher walked with the rest of her class at graduation.
"That's a small thing," she says now, "but when you consider that when I was nineteen I was told that my pupils were fixed and dilated and I wasn't moving [and] my mom had to give the order to donate my organs if I died—to think that I walked across that stage—it's huge."
Fisher doesn't remember the accident itself but retains clear memories of just about everything else. She remembers the name of the emergency helicopter pilot who flew her to Rapid City (S.D.) Regional Hospital after the crash, which floor her room was on, and the names of the doctors and nurses who treated her there for the next five weeks. She remembers that the first people to arrive on the scene of the wreck assumed Fisher and her best friend, Sara Jackson, were already dead, and she remembers the name of the woman who didn't believe it, crawled into the car and pulled them out, almost certainly saving Fisher's life. She remembers the date, of course—June 30, 2002—what the weather was like, and how many miles they had to go before their next stop.
More than anything, she says she remembers being happy.
| | | |
| --- | --- | --- |
| " | It's just her unstoppable drive. If she gets an idea in her head that she's going to do something… you really can't stop that kid. | " |
"I had never been happier in my life," she says. "I was playing college tennis, I was going to live with my soulmate, and it was a beautiful day. Everything seemed golden, and then at that very moment, everything, absolutely everything, was taken away."
Fisher had completed a relatively successful freshman season playing for the Grizzlies, and then she and Jackson had both spent the summer in Chicago teaching tennis at a local country club. On this day in June they were driving back to Missoula to sign the lease on a new apartment. Jackson was going to study English, and Fisher had hopes of earning an athletic scholarship. They were halfway across South Dakota when, with Jackson behind the wheel, Fisher decided to rest her eyes for a while.
"The next thing I remember, when I opened them I was in the ICU…," she says. "My life was kind of like a strobe light. It switches on, and then it's off. Sometimes it's really quick and you just catch a glimpse and you have no idea what it means."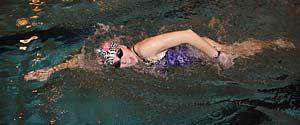 Fisher trains at UM's Grizzly Pool. She doesn't use a prosthetic while swimming.
The car had rolled eight and a half times before coming to rest upside down on the median of Interstate 90. Jackson did not survive. Fisher suffered brain damage and severe injuries to her left foot. She had emergency surgery to relieve the pressure in her head and then spent ten days in and out of consciousness before she was finally stable enough to move out of intensive care. The hospital kept her another three and a half weeks before turning her over to the care of her family. She says it wasn't until she got home that she realized what a truly long road she had in front of her.
"When you're in the hospital it's pretty easy to fall into a routine," she says. "They bring your lunch, they bring your medications…you can kind of check out. When you go home, that's when I started to realize how rough it was going to be. All my friends had gone off to college, and I couldn't do anything."
She fought major bouts with depression but found comfort in a familiar place: tennis. A friend from the Chicago tennis community got her back out on the court teaching fundamentals to children before she could even walk again—instead just wheeling around in front of the net in an office chair. Her recovery, she says, was baby steps.
"Eventually I got a [prosthetic] leg, and I could stand up and teach, and then I could walk around and teach. It was just small, little changes here and there."
Back on her feet and re-enrolled at UM the following spring, Fisher still wasn't satisfied. She describes the original prosthetic doctors gave her as "like a ski boot, a clamshell-type situation" and says the mass of tissue and scarring around her left foot was completely nonfunctional. Her mobility was severely limited; she couldn't walk more than the length of a football field without "pain that felt like there were bones sticking through the bottom of my foot."
It was not a life she knew how to lead. Fisher was twenty years old, a lifelong athlete. She wanted to be mobile, to be active. She wanted to have fun. So eleven months after the accident, Fisher opted for a second surgery, this time allowing doctors to amputate her left leg below the knee. It was an aggressive treatment. She could have proceeded more cautiously, but for a college sophomore who didn't just want to walk without hurting, but wanted to run—fast—it seemed like the only option.
| | | |
| --- | --- | --- |
| " | I can ski—I cross-country ski and downhill ski—I can snowboard, I can rollerblade. I ride my bike, I mountain bike, I kayak, I rock climb. Anything every body else does, I do it, too. | " |
"I didn't want to spend my younger years dealing with pain," she says. "With each level of amputation it just would have been a long experimental process. I just wanted to live my life. I wanted to stop being sad and turn the corner. So I chose to go for [below-the-knee] amputation because that's where the [prosthetic] technology is."
The second surgery gave Fisher and Dr. Angelico more options for better prosthetics, and it gave her the ability and confidence to move toward recovery with far less pain. One day, back in the hallway of her dorm at UM, she even tried running. "I think it was more akin to an old man's shuffle," she says, but points out that with both feet off the ground, she'd met the dictionary definition of the word. That was good enough for a first try.
It was not good enough for long.
A little less than a year after her second amputation and with zero experience, Fisher signed up for the Grizzly Triathlon, the annual short-course "sprint" event held in the Grizzly Pool and around the UM campus. She admits she had no idea what she was getting into, but says she saw the triathlon as something she needed to do to prove a point to herself—that she was capable, durable, and able to accomplish things on one leg she'd never tried with two.
"I thought, 'Well, here goes nothing,'" she says. "I'd never swam 20,000 yards in a row. I'd never biked 20K in a row; I had to borrow someone's bike. I think I definitely did an old man's shuffle for the running part, because I didn't have my running leg [yet]; I just had my old walking leg. It was not graceful, but my one goal was not to finish last. I figured that was reasonable. Actually, I was not last, I was seventh from last. Lo and behold, after that, I became a triathlete."
A world champion triathlete, to be more specific.
Fisher went on to capture world titles in her division in the grueling, off-road Xterra triathlon series—which includes open water swimming, mountain biking and trail running—in 2008 and 2009. She won world paratriathlon championships sanctioned by the International Triathlon Union in 2009 in Australia and 2010 in Budapest, Hungary. Not bad for someone who readily describes herself as "a five-foot nothing, one-legged girl."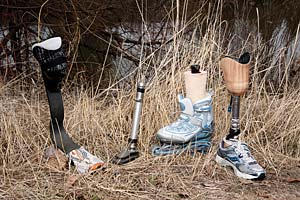 Fisher uses four different prosthetics: one for running, one for cycling, one for rollerblading, and one for walking.
In fact, it's more accurate to describe Fisher as a four-legged girl. That's how many different prosthetics she currently uses—running up a bill of nearly $30,000 last year, she says. She has a running leg, a biking leg, a walking leg, and even a leg she uses primarily for rollerblading. Her newest running leg, a graceful, L-shaped carbon paddle she's very protective of, was specially built for her by Angelico in Chicago during 2010. The first time she took it out for a test drive, she says she clocked a mile in six minutes, thirty seconds. That, she proudly reports, is as fast as she's run since high school.
"I can ski—I cross-country ski and downhill ski—I can snowboard, I can rollerblade," she says. "I ride my bike, I mountain bike, I kayak, I rock climb. Anything everybody else does, I do it, too. I play kickball. I can go on a swing, I can hopscotch, jump rope, play basketball, teach tennis. I can do anything, and that's because of [Angelico and his staff]. It's a huge thing when you hurt. Living your life in pain is horrible. They allowed me to live my life without pain, so I can just be me."
Fisher even spent a few months practicing with UM's Betterside women's rugby team, something she says she never would have dreamed of doing as a self-described "delicate little flower" of a tennis player. Given a couple of years to think about it, she looks back on her initial experience at the Grizzly Triathlon as "hugely transformational" and admits all the accolades she's racked up since then are a direct result of the pure, unadulterated stubbornness it took to sign up for that first event.
"I prefer [to call her] tenacious," says Rick Babington, Fisher's coach on the U.S. National Paracycling team, for which she captured gold medals last year in time trials and road racing. "She's driven, definitely. The success that she's had has fueled that even further…the more she wins, the more she wants to win in bigger events [and] the ultimate goal, of course, is the Paralympic Games."
To get there—even though she hit her mark at the time trials in Montreal in 2010—Fisher will still have to qualify again this year at an event sanctioned by the International Cycling Union. She chose to pursue only cycling this year because triathlon won't be a medaled event at the Paralympics until 2016 in Rio de Janeiro.
"I keep getting glimpses of what it would be like to be at the Paralympics, but I won't know unless I actually go there," she says. "It's such an honor to put on the stars and stripes and go to the start line and represent your country. Then, if you're lucky enough to win and stand at the top of the podium and hear your national anthem being played—it is magical. It is."
Fisher currently is dealing with a hip injury, so she says she's not making "any extravagant promises" about what the future holds. Still, she's going to try her best.
Everyone who knows Megan Fisher understands what that means.
"I think I'm a positive person because I'm stubborn. I've always been stubborn," Fisher says. "I refused to let this beat me; being sad stinks...I mean, it stinks to be disabled. Shoot, it stinks to be abled. We all get happy and we all get sad. I just choose to be happy."
---
Web exclusive Q&A with Megan Fisher
So, you're working, teaching classes, and going to school. How are you juggling it all, especially trying to balance it with any kind of training regimen?
It is a lot, but many Missoulians find that it's a patchwork quilt that you have to weave together. This is such a wonderful place to live, but finding a full-time job here is difficult. I'm very grateful to Peak Performance, and I'm an adjunct instructor at the University, so I teach classes there. I've taught swimming, tennis, mountain biking, weight training, and I've been a teacher's assistant. I work for Aerie Backcountry Medicine, and I teach classes for them primarily in the summertime, when school's not in session and when other athletic events are not taking place. How do I find the time? Something's got to give at all times. I think for triathletes in general it's a balancing act to find ways to make yourself competitive in three sports. Even if you're just cycling it's really hard because the rest component to training is paramount. They're finding more and more that the time you spend off your feet and the time you spend with your feet up is what's important. If you can be sleeping, that's even better…When you go to the Olympic training centers, it drives that home.
What are the Olympic training centers like?
The Olympic training centers sound exotic and wonderful—and they are—but they're also remarkably boring in that they're meant to be just that, a training facility. You wake up in the morning so you can eat and fuel yourself and go get changed and then you roll out for your morning ride. You go ride for three hours, depending on the day and the workout. You turn yourself inside out on that ride and then you come back and shower and eat again as quickly as you can after that ride. If you have to seek sports medicine [you do that], and then there's really not much more time [before] you get dressed to go out again for your afternoon spin. Sometimes that afternoon ride is also challenging, but more often than not it's just to kind of flush out your legs and keep things moving. Again, it depends on the training block. Then you come back and shower, and then you eat and then maybe you watch a little TV, but really you're just kind of wiped, so that's it.
But you see dramatic changes in yourself. After a week of being at the training center you come home and your legs feel like they're jet powered. I just feel like they're ready to explode. Anything I do around here just seems easy all of a sudden. I can just fly; it's easy. Then of course that training goes away, because you can't stay like that forever. But hopefully during that whole process you get better.
So where is your focus at right now? Are you focused mainly on cycling?
I'm focusing on cycling because cycling is more established in the Paralympic community. It was one of the first Paralympic sports and it's one of the largest. Paratriathlon just got accepted this past fall into the Paralympic Games. It's very, very new. It will be an exhibition sport in London [in 2012] and it will be a medaled sport in 2016 in Rio de Janeiro. So some of the benefits of being affiliated and earning a spot on the Paralympic Cycling Team [are], for one, there's funding. It's not like Olympic and Paralympic sports in other countries—England, for instance—where it's a government-funded endeavor. Our Olympic teams and Paralympic teams are privately sponsored…We don't get the funding that other sports get, so there is more funding for cycling than there is for triathlon. Triathlon has a smaller sliver of that pie.
You're on the team, but does that mean that you're already automatically going to London next year or do you still have to qualify?
I'm not qualified for London yet; I'm on the national team right now. Each year we have a qualification process. You try to meet a standard that was set the previous year. At the previous year's world championships the best of the best went out and threw out some times. We have to match up to those times of last year. It's always hard because all the courses are different. It's difficult to hit times, depending on the course and conditions—is it windy, is it wet, what have you.
Do you have a number of opportunities to do that or is there one big event where you have to qualify?
It has to be at a UCI [International Cycling Union]-sanctioned event. I can't just go out to Mullan Road and try to set a land speed record. That won't work. I met my time standard last year in Montreal. Actually, on the Formula One race track. It was pretty awesome. That was a really cool place to race. It's on an island in the middle of the St. Lawrence River. I can't imagine racecars hitting those turns, because some of them are just hairpin turns and the course isn't that large. Even on a bike—flying in and trying to hit a hairpin turn and keep your momentum—wow, it's challenging. I was fortunate enough to meet my time standard at that event. As I was going around that course though, at times, I found myself wanting to make those racecar noises, you know? Vrooom-vroom.
Going to London, would that be tops for you? How would that compare to your other world championships?
It's hard to say. I've never been a part of something that huge. I think that it'd probably be the paramount of my racing career. Right now I have six world championships, so I've had the opportunity to participate in some pretty spectacular events. I got to race in London last year when the U.S. Paratriathlon team was asked to send a few representatives over in an effort to gain entry into the Paralympics. We sent the national team over to say, 'Hey look, we actually have some athletes and we're legitimate athletes, not just newbies.' So that was really cool.
I keep getting glimpses of what it would be like to be at the Paralympics, but I won't know unless I actually go there. I would like to earn a position on that team. It's difficult to do that…there aren't races every weekend, and if you're out there trying to juggle a job and training, getting time off to go to those races, it's a struggle and it's not one I take lightly.