The Magazine of The University of Montana
About Alumni
'40s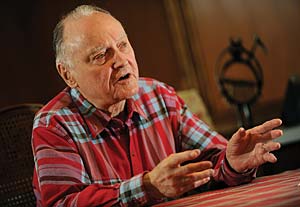 Stuart Conner, recipient of the Outstanding Individual Achievement in Archaeology Award
Photo by David Grubbs/Billings Gazette
Stuart Conner, J.D. '49, Billings, has received the Montana Historical Society's Outstanding Individual Achievement in Archaeology Award. The award, presented by Montana Lieutenant Governor John Bohlinger during a January ceremony in Helena, recognizes Stu's dedication to recording and preserving archaeological artifacts and sites. "Amongst archaeologists in Montana, Stu Conner is known as the guy in Billings who knows more about Montana rock art and other sites in the state than anyone else," MHS said in recognizing him. "'You should talk to Stu' is a common response to questions about the history of Montana archaeology." Stu was nominated for the award by the Montana State Historic Preservation Office. He has completed comprehensive surveys of more than 200 sites, written dozens of papers and articles, and shared his expertise with many professional archaeologists and ethnologists. He also helped found the Montana Archaeological Society in 1958. Fresh out of law school at UM, he spent four years tracking Communist Party members with the FBI, then was a special assistant to the New Hampshire attorney general before moving back to Montana in 1955. Growing up in Livingston, Stu had never heard of buffalo jumps, but learned about them as a young lawyer in Billings. "I had no idea there was such a thing in the world," he recently told the Billings Gazette, "and my reaction was—we've got to record them." He credits his background as a lawyer and FBI agent with giving him the skills to record archaeological sites. He retired from the Crowley Law Firm in 1986 and now, at age eighty-six, says he has enough archaeological projects to last him two lifetimes.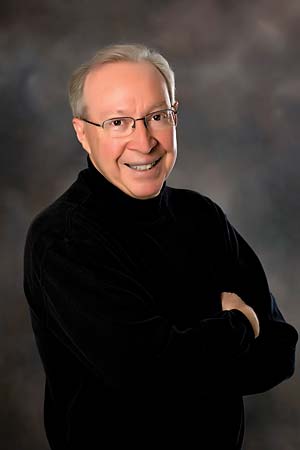 Pettit
Lawrence K. Pettit '59, Helena, published a memoir, If You Live by the Sword: Politics in the Making and Unmaking of a University President. Pittsburgh Magazine says the book is compelling and "reads like [a] tragicomic novel." Born in Lewistown, Larry became a professor, political insider, and top administrator at institutions in the Montana University System and Indiana University of Pennsylvania. Larry started out in politics as ASUM president during 1958-59, then was a political science professor at Montana State University in 1972 when he left to manage the successful gubernatorial campaign of Thomas L. Judge. The two-term governor endorsed Larry as Montana's first commissioner of higher education, where he served an often-controversial five and a half years. He then worked as a university president or chancellor in four states, retiring from IUP in 2003 amid yet more controversies. Larry addresses them head-on in his memoir of dual careers in politics and higher education. Missoulian state bureau reporter Chuck Johnson says the book provides "interesting insights into this state's modern progressive era in the 1970s and its politics and higher education." Visit www.lawrencekpettit.com.
ALUMNI EVENTS
For more details, call the Office of Alumni Relations, 877-UM-ALUMS, or visit www.GrizAlum.com.
MAY
2 Inauguration of UM President Royce Engstrom. Installation ceremony, luncheon, guest speakers. www.umt.edu/president
5 Senior Send-Off
12-14 Commencement reunions, classes of 1941, 1951, 1961
20 Portland event: Meet the new president of The University of Montana
JUNE
10-23 International Travel: Passage to the Norwegian Fjords, cruise from London to Copenhagen
JULY
21 Seventh annual UM Alumni Night with the Missoula Osprey
SEPTEMBER
25 Homecoming 2011 (Sept. 25-Oct. 1)
25 Homecoming kickoff celebration, 1-3 p.m., Southgate Mall
28 UM dorm and office decorating contests, 2:30 p.m.
29 House of Delegates annual meeting, all day
Homecoming buffet dinner, 5 p.m., Food Zoo
30 Davidson Honors College all-class reunion, all day
30 Class of 1971 reunion luncheon, 11 a.m.
House of Delegates breakfast and wrap-up, 8 a.m., Holiday Inn Downtown at the Park
Hello Walk, 1 p.m.
UM department open houses and receptions, 2-5:30 p.m.
Distinguished Alumni Awards ceremony and reception, 6 p.m.
Pep Rally, 8 p.m.
All-Alumni Social and Dance
OCTOBER
1 Homecoming Hustle—5K Race, 9:45 a.m., Higgins and Broadway
Homecoming Parade, 10 a.m., Higgins and University
Homecoming TV Tailgate, 11 a.m.-5 p.m., East Auxiliary Gym, Adams Center
Montana Grizzlies vs. University of Northern Colorado Bears,
1:05 p.m., Washington-Grizzly Stadium
Honors Student Association Fall Ball, 9 p.m., University Center Ballroom
2-15 International Travel: Mediterranean Pearls, cruise from Venice to Istanbul
NOVEMBER
4-5 UM military reunion and Grateful Nation Memorial unveiling (in conjunction with UM Athletics' Military Appreciation Day)
'50s
Boyd Baldwin '54, Hampstead, N.C., and Don Clark '54, Carolina Shores, N.C., met for lunch in Wilmington, N.C., after being out of touch since May 1954, when they last saw each other in Missoula. "We had a lot of catching up to do on the past fifty-six years," Don said.
Dick Spalding '55, Billings, was on a beach in Krabi, Thailand, when he ran into four recent UM graduates and had an impromptu Griz Nation get-together. "They—of course—recognized the shirt," Dick writes. "They were traveling the world before serious life begins. One of the couples got engaged two days before."
Dennis Tate '58, Missoula, recently completed his second book, The Good Times Book, a compilation of stories and events from his life. Dennis gave copies to his children and grandchildren. His first book was Rebels, Saints and Sinners: An Ancestral History of the Southern United States.
'60s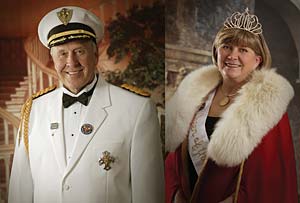 Ericksons
Leif Bart Erickson '64, J.D. '67, and Carole Hedlund Erickson '68, Whitefish, were crowned king and queen of the Whitefish Winter Carnival. As King Ullr LII and Queen of the Snows, Bart and Carole presided over festivities, including the grand parade on February 5. The couple met at UM and have been married since 1967.
Amy Lortin Abercrombie '62, New Marshfield, Ohio, published her grandmother's novel, The Other House, and produced an independent, full-length movie of the story, which is set in New Hampshire in 1885. Amy's grandmother, Rebecca Hooper Eastman, died in 1937. One reviewer called the tale "an absorbing family drama…in the tradition of Jane Austen." Visit www.theotherhousemovie.com.
Gary Smith '62, Kalispell, was inducted into the Whitefish High School Hall of Fame. Gary earned all-conference honors twice during three seasons with the Montana Grizzlies football team.
Thomas D. Croci '65, Mill Neck, N.Y., received the 2011 Outstanding Service Award from Adelphi University in New York in April. Tom is vice president and treasurer of the Christopher D. Smithers Foundation.
Donalee Beary LaBar '65, Missoula, received the UMAA Montana Alumni Award during the Charter Day ceremony Feb. 17 in the University Center Ballroom. Charter Day marks the day in 1893 that the University was chartered by the Montana Legislature. "Fifty years ago, I chose to go to The University of Montana, then Montana State University, because it was as far away from my hometown of Hardin as I could get without paying out-of-state tuition," LaBar said during her acceptance speech. "This distance made it certain that I could only return home for major holidays. Often in the winter, we would take the train between Billings and Missoula, which was a fun-filled ride with the cars overflowing with wall-to-wall students. The mountain passes were often treacherous, Bozeman and Pipestone on one route and MacDonald Pass on the other. But all those conditions worked well in encouraging students to become a part of campus life here in Missoula. And to be a part, one had to be involved. This involvement remained with us throughout our lives."
Larry Anderson '67, Missoula, recently retired as northwest Montana field director for U.S. Representative Denny Rehberg. Larry is a former Missoula city administrator, city councilman, and county commissioner.
Roger Bergstrom '67 retired after thirty-four years in law enforcement—twelve with the U.S. Forest Service and twenty-two with the Whitefish Police Department.
Rodger Young '68, Southfield, Mich., was named to "Best Lawyers in America 2010" and "Chambers USA: America's Leading Lawyers for Business 2010." President George W. Bush appointed Rodger to serve as U.S. representative to the United Nations General Assembly.
'70s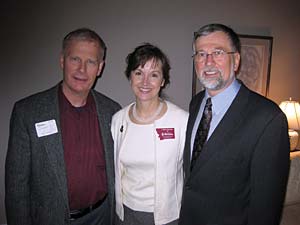 Colleen L. McGuire '79 accepted her 2010 Distinguished Alumni Award at a private ceremony in Washington, D.C., in December. Among those in attendance were 2005 DAA recipient James Grady '72, left, and UM President Royce Engstrom, right. Colleen is the first Montana woman to achieve the rank of brigadier general and the first woman ever to become provost marshal general of the U.S. Army and commanding general of the Army Criminal Investigation Command.
Mark Majerus '70, M.S. '72, Bridger, has published Forage and Reclamation Grasses of the Northern Great Plains and Rocky Mountains, an illustrated guide to the commercially traded native and introduced grass species in the region. Mark recently retired from thirty-two years of service at the U.S. Department of Agriculture's Natural Resources Conservation Service, where he helped develop native plants for conservation practices in Montana and Wyoming. He also consulted on native seed collection, plant evaluation, and seed production in northern China and Mongolia. Visit his website at www.nativeadvice.com.
Kathleen Toftely Farmer '71, Imperial, Calif., has retired as chief financial officer of El Centro Regional Medical Center after twenty-four years of service. Kathy and her husband, Jerry, recently purchased a home in Chandler, Ariz., and have been taking golf lessons.
Derek Craighead '72, M.S. '80, and his wife, Sophie, were recognized as Outstanding Conservationists of the Year by the Jackson Hole Conservation Alliance for their lifetime commitment to conservation. Derek is the founder, president, and executive director of Craighead Beringia South, a research and advocacy organization for Wyoming wildlife.
Monte Dolack '74, Missoula, had twenty-four fine art posters displayed in The Art of Trees: A Forest Gallery, a United Nations exhibit in Geneva, Switzerland. The exhibit at the Palais des Nations celebrated the International Year of the Forests.
Edward Flood '74, Toronto, Ontario, is the new chairman of Byron Capital Markets. Ed has spent thirty-five years in investment banking, most recently as chairman of Western Uranium Corporation.
Jeff Hagener '76, Helena, has joined the Montana Wildlife Federation as director of development. He previously was director of the state Department of Fish, Wildlife and Parks.
Philip A. May, Ph.D. '76, Albuquerque, N.M., delivered the University of New Mexico's 56th Annual Research Lecture, one of the highest faculty honors. Philip has been a professor of sociology at UNM for thirty-three years. His lecture was titled "Adventures in Public Health Research: Four Decades of Shoe-Leather Epidemiology and Prevention."
Carolyn Riehl Mirich '77, Missoula, spearheaded a drive to save the old asylum cemetery at the state hospital in Sparks, Nev. Due to the efforts of Carolyn and other preservationists, the 2009 Nevada Legislature passed a bill designating the cemetery as historic and preventing its destruction. A monument erected in January marks the Northern Nevada Adult Mental Health Services Cemetery.
Mark Osteen '77, M.A. '82, Baltimore, published a memoir, One of Us: A Family's Life with Autism. The book is a deeply personal narrative about the struggles and triumphs Mark and his wife, Leslie Gilden '81, have faced raising their severely autistic son, Cameron. Temple Grandin endorsed the book, saying, "It should be read by psychologists, family therapists, and others who are helping families to cope." Mark is an English professor at Loyola University Maryland.
John Herrlin '79, Mendham, N.J., is the new head of U.S. oil and gas equity research for Societe Generale Corporate & Investment Banking in New York City. He previously worked for Alpha One Capital Partners and Merrill Lynch, where he was Institutional Investor Magazine's top-ranked oil and gas analyst for six years.
'80s

Clary
Michael Clary '87 was part of the officiating crew at the Football Championship Subdivision championship game in Frisco, Texas, on January 7. He was the field judge on Eastern Washington University's sideline during the Eagles' 20-19 come-from-behind victory over the University of Delaware. "I was very excited and honored to work that game," the Ronan native says. "It's the best you can do at this level. And no college official can do it by themselves. I've got a lot of people who support me, especially my wife, Laura, and daughter, Rhiannon." Michael, a director at the Federal Reserve Bank in Atlanta, works about twelve games per season for the Southern Conference, an FCS powerhouse that features teams such as Appalachian State, Georgia Southern, and Wofford. Michael says once the title game started, it was just like any other television game. But what set it apart were all of the events leading up to kickoff. "For example, Vice President Joe Biden was there," Michael says, "so we had bomb-sniffing dogs going through our locker room." Michael says he "lives and dies" for the Griz and calls his father in Ronan to check the scores right after he's done officiating games on fall Saturdays. He doesn't get to see the Griz play often, but plans to be in Knoxville, Tenn., when the Griz battle the Vols to open the 2011 season.
Dan Boucher '80, J.D. '84, is the new district judge in Havre. He was appointed to the position by Montana Governor Brian Schweitzer.
William McGlynn '80, M.B.A. '81, Boise, Idaho, was a speaker for the Harold and Priscilla Gilkey Executive Lecture Series at UM's School of Business Administration in November. Bill's lecture was titled "Technology and Market Disruptions: A UM Graduate's Experiences on the Bleeding Edge of Technology." After twenty-four years as a senior executive at Hewlett-Packard, he now is CEO of Memjet.
Mary Huffman '81, Lyons, Colo., recently completed a doctorate in forest sciences at Colorado State University. Mary's dissertation was titled "Community-Based Fire Management in La Sepultura Biosphere Reserve, Chiapas, Mexico." She works for the Nature Conservancy's North American Fire Team.
Tracy Turbak '82 is the new director of finance for the city of Sioux Falls, S.D.
Patricia Conner '84 is the new director of the Utah Health Insurance Exchange. She previously worked for Ceridian Corporation in South Jordan, Utah, where she was an account executive and senior manager of the Health and Welfare Relationship Management team.
Doug Decker '85, Portland, Ore., is the new state forester with the Oregon Department of Forestry. He began with the agency in 1987 as a public affairs specialist and most recently was acting chief of the state forests division. The state forester serves as director for the department, whose services include managing forests, fighting wildfires, and enforcing natural resource laws.
Tracy Wilson Huggins '85 was named the 2010 Woman of Influence by Commercial Real Estate Women Denver. Tracy is executive director of the Denver Urban Renewal Authority. In selecting her from sixteen award nominees and four finalists, CREW Denver said, "Under Tracy's leadership, DURA has managed to take the most difficult projects under the most difficult economic circumstances and find a way to make them happen."
James Dillon '86 is a managing partner with Dillon-Umbaugh Wealth Management in Plymouth, Ind. Jim lives in Granger, Ind., with his wife, Laurie Diane, and son, Matt.
Vincent Pinto '86 is a professional naturalist and outdoor educator in southeastern Arizona. In 1993, he formed his own outdoor environmental school, Ravens-Way Wild Journeys. Vince and his wife, Claudia, lead nature adventures and teach Earth stewardship and wilderness survival skills to all ages. Ravens-Way is based on a forty-two-acre nature sanctuary near Lake Patagonia and on fifty wild acres in the foothills of the Chiricahua Mountains. Vince offers UM alumni a ten percent discount on all Ravens-Way programs. Visit www.ravensnatureschool.com.
Nichole Mortenson Goodyear '88, San Diego, is founder and CEO of the 2005 startup Brickfish, which has thirty employees and sales offices in Los Angeles, Seattle, San Francisco, New York, Chicago, and Atlanta. Brickfish is a technology platform that powers social media for Fortune 1000 companies and their marketing agencies. Nichole and Brickfish were finalists in three categories of the 2010 Stevie Awards for Women in Business.
Jeleen Fish Guttenberg '88, Seattle, has joined the law firm of Bracewell & Giuliani. Her practice is focused on applying the fiduciary responsibility provisions and prohibited transaction rules of the Employee Retirement Income Security Act.
Kevin McRae '88, Helena, is the associate commissioner of higher education for communications and resources in the Montana University System. Kevin is married to Beth McLaughlin '90, who is director of court services for the Montana Supreme Court and state judicial branch. They have two daughters, Clara and Eliza.
Eric Troyer '88, Fairbanks, Alaska, was described in a recent newspaper article as "Fairbanks' staunchest trail advocate." He is vice president of the Interior Trails Preservation Coalition and has worked to make the Equinox Marathon Trail safer. He also is editor of the Alaska Trails newsletter and Interior Trails Quarterly.
Jennifer Eris Young
'88 has worked for the Kalispell Parks and Recreation Department for twenty-one years. As recreation superintendent, she organizes the Picnic in the Park summer concert series, children's sports activities, and an after-school program. Jennifer and her husband, Steve Berglund, and their children live in Kalispell.
Nancy Skinner '89 was named superintendent of Fossil Butte National Monument near Kemmerer, Wyo. An employee with the National Park Service, Nancy previously was superintendent of Navajo National Monument in Arizona.
'90s
David Marshall '90, Belle Haven, Va., published a book, The Clam Hunter, about the art of clamming and the challenges of making a living on the water. The book has been described as a combination of memoir, nature lesson, philosophy, and appreciation of the Eastern shore. David sees the clam as "an ambassador to the isolated and yet disappearing world of the tidal salt marsh."
Thomas Whitford '86, M.S. '91, Republic, Wash., is the new district ranger for the Republic District of the Colville National Forest. Tom has been with the agency for twenty years, most recently at Custer National Forest in Billings.
Dave Hays '92, Fort Jones, Calif., recently transferred from the Bureau of Land Management to the U.S. Forest Service, accepting a job as district ranger of the Klamath National Forest. He can be reached at fishin_dave_h@yahoo.com.
Kelli Criner Sanders '92 and Melissa Alder '93 became business partners after meeting as freshmen at UM. According to their website, "On the first day, Kelli peeked her head into Melissa's room and introduced herself. They became instant friends and have been inseparable ever since." The duo decided to become business majors, then opened an outdoor gear store together in 1996. Freeheel & Wheel in West Yellowstone sells, rents, and tunes skis and bikes. The shop also sells clothing and features a coffee bar. Visit them online at www.freeheelandwheel.com.
Edward Tinsley '92, M.P.A. '07, Helena, is director of Montana Disaster and Emergency Services in the Montana Department of Military Affairs. Ed served as a Lewis and Clark County commissioner from 2002 to 2008 and as sergeant-at-arms in the 61st Montana Legislature.
Joseph Alexander '93, Cody, Wyo., is the new supervisor for the Shoshone National Forest near Yellowstone. "I feel like I have the best job in the agency," Joe told the Billings Gazette. "This is a great forest and a great place to live and raise my family."
Nancy Stouffer Banister '94 is the new sports reporter at the Kemmerer (Wyo.) Gazette.
Mike Frank, J.D. '95, Helena, is the new president and chief executive officer of Blue Cross and Blue Shield of Montana. He previously was the company's chief operating officer.
Joanne Puccinelli, M.Ed. '95, Lolo, published a children's book, Naughty Nello and the Sausages, about a boy who learns about his Italian heritage.
Matt Clark '96, Missoula, and Mike Trevathan '99, Thousand Oaks, Calif., were inducted into the Canadian Football League's British Columbia Lions Hall of Fame. Matt and Mike were Grizzly receivers for UM during 1987-90.
Bradley Fogo '96, San Francisco, received the 2010-11 PDK International Outstanding Doctoral Dissertation Award. Bradley is a postdoctoral fellow in Stanford University's Teacher Education Program. His dissertation, "What Every Student Should Know and Be Able to Do: The Making of California's Framework, Standards, and Tests for History-Social Science," will be published in the May issue of Kappan magazine. The award from the PDK Educational Foundation includes a $5,000 cash prize.
Paul Galasso '97 and Evelyn Galasso '96 recently moved to Manila, Philippines, to start Flex Point Outsourcing, a company that assists small businesses and entrepreneurs in the United States and Canada. A business process outsourcing center, Flex Point handles back-office tasks such as customer service, online order management, and graphic design. Business graduates Paul and Evelyn provide their employees with above-average wages and extensive training. Their daughter, Rachel, will start school at UM in September.
David D. Carlson '98, Boise, Idaho, started Think Green, Inc., a lawn sprinkler installation company, in 1990 after his business plan won first place in a UM competition. After twenty-one years in business, David's company has grown into a diversified landscape design and construction firm with twelve employees.
Justin Dean '98, Taos, N.M., co-released a live music CD, The High Desert Acoustic Duo. The album is a mix of traditional bluegrass, old-time, Eastern European, and Celtic tunes, with original lyrics by Justin. Another song he wrote, "Small Japanese Truck," from his 2008 solo album, was picked up by National Public Radio's Car Talk show. When not making music, he works as a wilderness ranger for the Bureau of Land Management.
Jennifer Hensley '98, Helena, has been appointed commissioner of political practices for the state of Montana.
Ian McCluskey, M.S. '98, Portland, Ore., is executive director of NW Documentary, an organization he founded in 2003 to help people make their own documentary films. NW Documentary's efforts have collected seven regional Emmys. A former producer for Oregon Public Broadcasting, Ian also has produced two feature-length films: Sun Gu Ja, about Koreans in America, and Eloquent Nude, about photographer Edward Weston. The latter won numerous awards on the film festival circuit.
Josh Corey, M.A. and M.F.A. '99, Evanston, Ill., won the 2010 Dorset Prize from Tupelo Press for his third book of poetry, Severance Songs. Josh is the Gustav E. Beerly Jr. Assistant Professor of English at Lake Forest College in Illinois.
Joe Harlan, M.S. '99, is the new dean of physical education and athletic director at Rio Hondo College in Whittier, Calif. He previously was athletic director at the University of Wisconsin-Stout.
Heather Hooks Ohs '99, Billings, is state manager of Montana's new Make-A-Wish Foundation office. Heather joined the foundation after working with the National Multiple Sclerosis Society for eight years. The Make-A-Wish Foundation is a nonprofit organization that grants wishes to children with life-threatening medical conditions. Heather says this is the first time Montana has had its own Make-A-Wish office. "We are excited to start spreading more magic in the Treasure State," she says. "We encourage others to join us in fulfilling our mission by referring a child or donating your time, talents, and resources." Visit www.montana.wish.org.
Benjamin Romans '99, Boise, Idaho, has published Montana's Best Fly Fishing, a 283-page illustrated guidebook to boat launches, access points, and fly patterns for the major rivers in the state. "Montana really has it all," Ben told the Bozeman Daily Chronicle. "Really great freestone rivers, really great tailwaters; there is no other place like it."
Jesse Zentz '99, M.A. '01, is the new sports editor at the Helena Independent Record. He previously was with the Idaho Statesman in Boise, Idaho, for eight years.
'00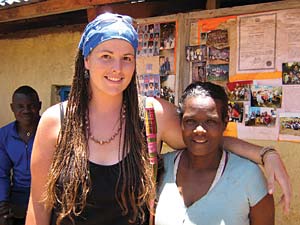 Lee Koelzer '06, Three Forks, is living in Uganda, where she is a program officer for a nonprofit, nongovernmental organization called The Real Uganda, which places volunteers into Ugandan communities. Lee also co-founded her own NGO in 2006, Grassroots Uganda, which teaches women sewing, handicrafts, and other basic skills. The group formed an artist co-op to sell the women's crafts, with all profits returning to the community. To see the crafts and learn more, visit www.grassroots-uganda.com.
Joan Mattelin Garrett '00, M.Ed. '08, married Matt Garrett of Little Rock, Ark., on September 11, 2010, at University Congregational Church in Missoula. Joan teaches kindergarten at Woodman Elementary School near Lolo. The couple were introduced by Joan's college roommate and eagerly await the start of Arkansas Razorbacks and Montana Grizzlies football.
Hilary Hutcheson '00, Columbia Falls, is co-host of a new regional fly-fishing show, Trout TV, which airs on more than thirty-five broadcast channels in the West, including Montana CBS affiliates. In 2008, Hilary and her husband, Shane Hutcheson '02, started a public relations company, Outside Media.
Tracy Ann Mangold '00 lives in Combined Locks, Wis., with her husband, Jess Mangold '01, and their daughter, AnneShirley. Tracy started a freelance writing business, InkyTwig, in 2008 so she could work from home. She is organizing a fall 2011 alumni reunion for her journalism classmates.
Nicole Miller Ver '01, Three Rivers, Calif., is the new chair of the Arnold Rim Trail Association in Calaveras County, Calif.
Mary Anne Hitt '02, Shepherdstown, W.V., is the new director of the Sierra Club Beyond Coal Campaign in West Virginia.
Parker Bixby, M.A. '03, directs the Mercer Island (Wash.) High School marching band, which was invited to the 2011 New Year's Day Parade in London. Two-hundred band members performed Emerson, Lake & Palmer's "Karn Evil 9" while marching through Picadilly Circus and Trafalgar Square. The band also will perform in the 2012 Rose Parade in Pasadena, Calif.
Kelli Rosen Gibbs '03 has joined the Lakewood Health System in Staples, Minn., as a physician assistant-certified.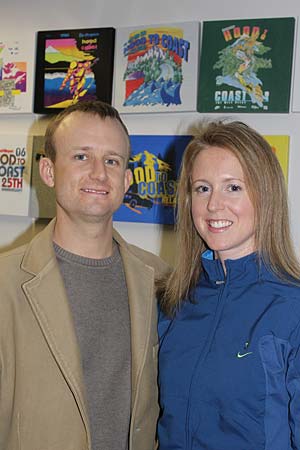 Jude Hubber '04 and Felicia Foote Hubber '05, Portland, Ore., premiered a documentary film, Hood to Coast, about the world's largest relay race. More than 15,000 people annually participate in the 197-mile Hood to Coast Relay, which goes from the top of Oregon's tallest peak, Mount Hood, to the Pacific Ocean in Seaside, Ore. Jude is the relay's director of marketing and public relations and Felicia is race director. Learn more at www.hoodtocoastmovie.com.
Shelby Moody '03 directed a play, Blithe Spirit, for the Bigfork Community Players in February. She works in the theater and business departments at Flathead High School in Kalispell.
Jessica Calys '07, Overland Park, Kan., was recognized by the Wyandot Center board of directors for meeting statewide best practices standards with her case management team. The center is Wyandotte County's community mental health facility, and Jessica is service coordinator of its vocational team.
Katrin Madayag-Ard '08, Madison, Wis., has been promoted to organizational research manager at the Greater Madison Convention and Visitors Bureau. Katrin also plays for the Unholy Rollers of the Mad Rollin' Dolls roller derby league.
Nicole Howe '08, Kalispell, has opened a Cold Stone Creamery franchise in Kalispell.
Logan Baker, J.D. '09, specializes in taxation and estate planning at the law firm of Primmer Piper Eggleston & Cramer in Burlington, Vt. He previously was a law clerk for the U.S. Senate Finance Committee.
Kathlean C. Maher '09, Helena, has joined the Cooperative Health Center as a registered nurse. She previously worked at the Lewis and Clark County Jail and the Center for Mental Health.
Sam Rostad '10 rows crew for Sidney-Sussex College at Cambridge in England, where he's studying for a master's degree in history. Sam sported his Griz sweatshirt during a chilly outing on the River Cam. His father, Carl Rostad '77 sent the photo with a note: "Sam finishes at Cambridge in August and then is going to Notre Dame to start on a Ph.D. The real world is just a distant dream. His parents' dream, not Sam's. He wants to stay in school forever."
Keith E. Steele '10, Seattle, was valedictorian of his class in December at Naval Nuclear Power Training Command School. Keith now is training as a machinist's mate in Charleston, S.C., where he was promoted to petty officer, third class. He joined the Navy in July 2010.
IN MEMORIAM
To be included in "In Memoriam," the UM Office of Alumni Relations requires a newspaper obituary or a letter of notification from the immediate family. We extend sympathy to the families of the following alumni, faculty, and friends. Names without class or degree years include UM alumni, employees, and friends. Material on this page reached our office by March 3, 2011.
'30s
GEORGE E. MARKIN '32, Helena
RUSSELL D. KINNEY '33, Missoula
LEWIS GOMAVITZ '35, Camarillo, CA
EMMA L. VAN DEUSEN BARKHOFF '37, Edmonds, WA
HORACE EVAN JONES '38, Tualatin, OR
BENJAMIN E. BERG JR. '38, J.D. '41, Bozeman
LLOYD "CRIP" G. CRIPPEN '39, Butte
MILDRED JANES CROMWELL MORRELL '39, Missoula
LESLIE HAMILTON PETERS '39, Boise, ID MARY KATHERINE MEE VOGET '39, Portland, OR
'40s
ERNEST RUBEN BOYER '40, Auburn, WA JOSEPH W. CLEMOW '40, Athens, GA
CLARENCE PERRY GRAHAM '40, West Palm Beach, FL
RAYMOND LEO HOWERTON '40, Portland, OR
ANNABEL VANCLEVE OLSEN '40, Helena
DOROTHY C. PARSONS RIND '40, Torrance, CA
NORMA N. WHEATLEY BATHURST '41, Bismarck, ND
DERALD D. DOKTER '41, Bradenton, FL
SIDNEY L. GROFF '41, M.A. '54, Butte
W. STANTON HALVERSON '41, Thayne, WY
EDGAR DWIGHT MILLEGAN '41, Santa Barbara, CA
JOSEPH HARRIS '42, Butte EILEEN SULLIVAN COMBO '44, Boise, ID
ENNOLA CAMPBELL BAGGENSTOSS '45, Choteau
JOHN "JACK" R. HALSETH '46, Great Falls EUGENE LEE PITTS '46, Dixon
JOHN "JR" RUSSELL CALFEE '47, Desert Hot Springs, CA
JOHN LEE DELANO '47, Helena
DAVID L. JONES '48, Helena
RAYMOND DONALD RYAN '48, J.D. '70, Big Sky
VIRGINIA "HONEY" PEARSON ASHER '49, Eugene, OR
DALE BLACKLER '49, Missoula DUANE E. COLLISON '49, Great Falls MYRTLE HAMMELL COX '49, Santa Rosa, CA GARDNER CROMWELL '49, J.D. '50, St. Maries, ID
JOHN "JACK" EDWARD DARHAM '49, Rapid City, S.D.
ROBERT D. HAYTON '49, Danbury, CT PENNY "RUTH MARY" MCMANUS MOORE '49,Helena
'50s
RICHARD L. CARTER '50, M.S. '51, Frenchtown HERBERT L. COLLINS '50, Butte
JOHN A. FRANKOVICH '50, J.D. '55, Tucson, AZ
ALBERT J. GALEN '50, J.D. '52, Covina, CA WILLIAM LARRY HOGAN '50, Billings ALETA HANSEN HUSTED, J.D. '50, Stockton, CA ARTHUR FRANCIS SMITH '50, Orem, UT
RUDY TRAMELLI '50, Great Falls JOHN W. BRADFORD '51, Red Lodge
SHERMAN THOMAS DARLAND '51, J.D. '52, Plentywood
NOEL D. FURLONG '51, M.Ed. '64, Kalispell
HAROLD HUBERT HERBIG '51, Missoula
LOWELL L. MAYFIELD '51, Monrovia, CA
JOHN M. SCALISE '51, Portland, OR
MARGIE J. HUGHES WILKINS '51, Lewistown
MARILYN ANN ALGUIRE BROWN '52, Billings
BONNIE M. ALBRIGHT HAYTON '52, Danbury, CT
VERNON K. JOHNSON '52, Bozeman
EARL DEWEY SANDVIG JR. '52, Missoula
MARGARET M. WALSH, M.Ed. '52, Great Falls
MARGARET O'LEARY WOLPERT '52, Anaconda
MARION "BILLIE" THOMPSON ARNDT '53, Manteca, CA
RAYMOND CHARLES FELDT '53, Albuquerque, NM
ROBERT WALDO SHERMAN '53, Walla Walla, WA
DONALD GENE SMADING '53, M.Ed. '57, Cumming, GA
PATRICIA M. WOODCOCK BERGSING '54, San Carlos, CA
FRED L. LEHMAN '54, Missoula JOHN "GUS" NASH '54, M.S. '58, Missoula
SHEILIA JEAN LOWNEY RIPKE '54, M.A. '58, Chico
WALTER "PAT" WARREN EYER '55,Whidbey Island, WA WILLIAM O. COFFEE '56, Missoula
ESTELLE MARIE STEVENS HUEY, M.Ed. '56, Tonganoxie, KS
PATRICIA ANDERSON STANCHFIELD '56, Missoula
ROBERT VERN CARRUTHERS '57, Montrose, CO
JAMES R. HOWETH '57, Helena
SHEILA MARIE SULLIVAN '57, Helena
ANTHONY M. BROWN, Ph.D. '58, Butte
THOMAS PATRICK DOOHAN SR. '58, M.Ed. '71, Nine Mile Falls, WA
JOSEPH SAMUEL GASSER JR. '58, Avondale, AZ SHIRLEY ANN FORSNESS JOHNSON '58,
M.Ed '74, Great Falls ROBERT BARTON MURRAY '58, Billings PATRICK JOHN CONROY, M.Ed. '59, Judith Gap JAMES D. CREELMAN '59, M.B.A. '60, Bigfork BILL G. HAND SR. '59, Bullhead City, AZ
'60s
HOWARD JOHN BEAR '60, Montgomery, AL ANN L. KELSO CULBERTSON '60, Bellingham,
WA RUTH E. DAVIS '60, Kalispell
EDWARD KENDALL "KEN" KUHR '60, Chinook and Billings
FRED MUMBOWER '60, Columbia Falls
RAYMOND LEE KAMRATH '61, Easton, MD
GERALDINE R. HAINES MACLAY '61, Perris, CA
BRUCE WARREN NEWGARD '61, Silverdale, WA
GERALD V. PARKER '61, Seeley Lake
LOUISE A. JOHNSON ROSS '62, Missoula
CHARLES KIRK BULS '63, Missoula
MARGARET K. MURPHY JERRIM '63, M.Ed. '76, Missoula
HAROLD "HAL" J. FRASER JR. '64, Missoula JOHN RAY GORDON '64, J.D. '67, Missoula
ELLEN A. THORWARDSON VANDENBURGH '64, Fullerton, CA
GARY EKEGREN '65, M.Ed. '74, Missoula ROBERT L. LAMBERSON, M.Ed. '65, White
Sulphur Springs
HOWARD ROY PIRCH '65, Aurora, CO
DOUGLAS ALAN BUCKINGHAM '66, Billings
JOHN B. JUNGERS '66, Seeley Lake
THOMAS RONEY WHIDDON JR. '68, M.Ed. '75, Turah
ROGER RAY REICHMAN '69, Sedan
'70s
PATRICIA JEAN CYR '70, Missoula JOHN R. GILBERT '70, Great Falls
SUSAN HONEYCHURCH MORHOUSE '70, Ticonderoga, NY
MICHAEL WILLIAM OVERBECK '70, Montgomery, TX
INGA LOUISA TRAUTMANN RIDDLE '70, Missoula
ANTHONY DOMINIC TOGNETTI '70, Billings ROLLAND CLARENCE COLLINS, M.B.A. '71,
Alexandria, VA JOHN JOSEPH GREGOR '71, Missoula
JANE C. CANTON THOMPSON '71, M.A. '74, Stevensville
LINDA JANE WEIKEL PHILLIPS '72, Eagle, ID GAYLE K. EVANS SCHACK '72, Salem, OR
MICHAEL CHARLES ROBERT MCKENZIE '74, Miles City
WILLIAM R. "BUD" MOORE, Hon. Ph.D. '74, Condon
MARILYN AGNES TRACY STANLEY '74, '75, Glendale, AZ
DARRYL MONROE GRAY "MAH-KA-CEES" '75, Great Falls
JAMES MURRAY JOHNSTON JR. '76, White Sulphur Springs
MARGEE ANN DRISCOLL WILLIS '76, Missoula JOSEPHINE CAMPBELL WALDBILLIG '77,
Missoula RONALD O. BAIRD '77, Nashville, TN DONNELL DELAYNE MILLS '78, Mesa, AZ
'80s
JOHN JAMES LOVE '80, Mendota Heights, MN JAMES ROBERT PETERSON '83, Idaho Falls, ID
BARBARA J. FISHER-SENGER, M.Ed. '83, Great Falls
WAYNE E. SLETTEN '83, Great Falls LAURA ANN HARRISON, M.P.A. '84, Las Vegas
SUSAN LEE DARK-SPENCER, M.A. '86, New Orleans
'90s
BARBARA KAYE HAY BENNETTS '90, Elmo SHELLY KAY CLAPSHAW MAHONEY '91,
Great Falls DONALD JOHN MAHONEY '91, Great Falls
KERRY THOMSON HENDRICKSON '92, M.A. '01, Flagstaff, AZ
ANDREA J. NOICE HOVE VANDYKE '92, Kalispell
DAVID ALLEN DENNIS '93, Missoula
JEFFREY FRANCIS ST. PETER '93, Pendleton, OR
MARIA SARAH GARRETT '95, Chicago
ELAINE "PATTY" PATRICE MCCLENAHAN '95, Columbia Falls
'00s
BENJAMIN THOMAS JOHNSON '03, Ukiah, OR SCOTT ALLEN MEYER '03, Kalispell
MICHAEL DURAN COURCHENE '06, Missoula RACHEL LYNN MILLHOUSE '08, Missoula TIMOTHY JOHN SCHAFF '08, Victor KATIE ELIZABETH JIVIDEN '11, Missoula
FRIENDS
JANE BARKER ALLEN, Escondido, CA
ROBERTA M. JOHNSON ANDERSON, Seattle
CHESLEY W. ANGLE, Kennesaw, GA
DEWEY FLOYD BAKER, Stevensville
ROBERT BAUER, Missoula
PAUL JOSEPH BECCARI, Bonner
FRANCIS BAGNALL BESSAC, Missoula
ARLYSS LLEWELLYN BOLICH, Missoula
DOUGLAS B. BROOKS, Kentwood, MI
JOHN "SKIP" H. BUCK, Scottsdale, AZ
JEANNE HONEY BURY, Helena
KERRIE BYRNE, Whitefish
ARVA ISABELLE WILLIAMS COFFEY, Spokane, WA
CLAIRE-ELIZABETH COLLIER, Portland, OR
ALBERT ARISTIDES CROONENBERGHS, Missoula
MARJORIE ELLEN KEITH CURRY, Spearfish, SD
THOMAS DANIEL DUFF, Great Falls
JANE BARNARD DUGANZ, Phoenix, AZ
DAVID WARREN EASTLUND, Watford City, ND
ARCHIE J. ELLIOT, Billings
ROBERT THOMAS "ROBIN" EVANS II, Seattle
ALVINA KENNEDY FIRST RIDER, Browning
ROBERT L. FOREMAN, Missoula
SHERILYN LEE "SHERI" PAVESI FOX, Helena
PETE FRITZ, Missoula
ALAN ANDREW GABSTER, Missoula
JEAN SHUMATE GALUSHA,
Steamboat Springs, CO
PATRICIA "PADDY" DWYER GROFF, Lolo
BRUCE HAMILTON, Helena
KEITH B. "MICK" HAMILTON, Helena
LEONA G. PETERSON HAMMA, Missoula
ALICIA ROSE HENSON, Missoula
RUSYL HILLSTROM, Scobey
ANNABELLE ELIZABETH JENKINS HJORT,
Plentywood
JOHN DANIEL HUBER, Butte
ALFRED LLOYD HUGHES, Melbourne, FL
ANNA MAE MCALEAR JEAKINS HUGHES,
Missoula
ELIZABETH DENNON KALTREIDER,
Bainbridge Island, WA ROBERTA A. METCALF KARREN, Jensen, UT GRAHAM THOMAS KEELER, Helena EDWARD J. KELLER, Missoula JUANITA E. LEVITT, Great Falls JAMES ALEXANDER LYNCH, Anaconda
DAVID MACDIARMID, Elk Grove, CA
EARLING ROALD MADSEN, Bellevue, WA
JERALD D. MCDONALD, Columbia Falls
MAVIS J. ROUBAL MCKELVEY, Missoula
GERALDINE CLAIRE TESKEY MCLAUGHLIN,
Missoula
MARY LOU HARTSELL MEGERTH, Billings
ROSE DOLORES MENDOZA, Billings
GALE E. MILLER, Great Falls
JOHN DEWAYNE MORROW, Lakeside
EDWARD E. MOSIER, Missoula
RAYMOND P. MURPHY, Alexandria, VA
ROBERT CHARLES RICE, Somers
DONNA F. MORAN RYDBERG FOX MYERS,
Billings
THEODORE LELAND NAUGLE '58, Sparks, NV
KEITH W. NELSON, Polson
JENNIFER KAYLIN "JENNA" NESS, Missoula
SYLVIA WELCH NOEL, Lewistown
RONALD VICTOR NORD
DALE LEE PAULSON, Stevensville
RAYMOND GEORGE PARSONS, Hamilton
BETTY WILCOX PATTEN, Missoula
JOE PAVELICH, Hot Springs
WILLIAM ROBERT PIATT, Ridgecrest, CA
KATHERINE KIRWAN REILLEY, Polson
DONALD JAMES RICHARDSON, Missoula
THOMAS MICHAEL RIPPON, Missoula
RICHARD LEE ROBERTSON, Port Orchard, WA
SANDRA KAY MILNE SCHLOSS, Orofino, ID
LORRAINE KATHERINE FORSCH SCHMITT,
Missoula
JERRY SCHMITZ, Kingman, AZ
TODD ROBERT SHERWOOD, Victor
JOHN BRUCE "JB" SHOEMAKER, Hamilton
KAREN L. PETERSON SILLERUD, Glasgow
WILLIAM H. SLOANE, Louisville, KY
LILLIAN MARIE WEDUM SNYDER, Fresno, CA
DONNA SPEARMAN, Rock Creek
KENNETH ALLEN SQUIRES, Helena
ROBERT JOHN STRNOD, Butte
PETER TEEL, Boston
RAYMOND G. THICK, Polson
RICHARD TRINASTICH, Columbia Falls
JOHN "JACK" TRUZZOLINO, Bigfork
LINDA MARIE LEEDS VANDE VEN, Plainfield, IL
JAMES "WINDY" WARREN WEDIN, Ramsay
LILIANE MEYER WELCH, Luxembourg
CATHERINE SANDRA GOUDIE WILSON,
Kalispell WILLIAM SHAWN WOODRUM, Missoula FRED ROGER YALE, Denton, TX BERNA JEANE HERBIG YAMAMOTO, Honolulu