The Magazine of The University of Montana
AROUND THE OVAL
An Unexpected Dance
Lady Griz take Wild Ride to NCAA Tournament

The Montana Lady Griz won the Big Sky Conference tournament championship and faced the UCLA Bruins in the first round of the NCAA Women's Basketball Tournament in Spokane, Wash. The Lady Griz fell, 55-47. Above: Lady Griz coach Robin Selvig
Photos by Steven Navratil
It's a first-round game in the NCAA Women's Basketball Tournament. The site is the McCarthey Athletic Center on the campus of Gonzaga University in Spokane, Wash. There is 1:16 left to play, and the Montana Lady Griz trail by four points to the UCLA Bruins of the Pac-10 Conference.
If you had told longtime Lady Griz coach Robin Selvig early in the season this is the situation his team would find itself in come March, he probably would have looked at you funny.
"I might have thought you'd been drinking," he says.
After losing eight of their first eleven games of the season, it's rather easy to understand Selvig's outlook. But the team kept its trademark positive attitude, relied on excellent defense, and played its best when it mattered most—winning the Big Sky Conference tournament championship and earning the program's nineteenth berth in the NCAA Tournament.
UM lost to UCLA, 55-47, but the roller-coaster ride they took to the Big Dance is how this Lady Griz squad will be remembered.
Selvig admits he wasn't at all surprised by the team's 3-8 record to start the season, citing a strong schedule against quality opponents.
"A lot of those losses were close, too," Selvig says. "We stressed that the ladies stay focused on improving, and that's what they did."
Uncharacteristically inconsistent in the friendly confines of Dahlberg Arena, the Lady Griz were road warriors throughout league games, posting a 6-2 record away from Missoula. The success they had on the road gave them the confidence needed to make a run in the Big Sky tournament, hosted by regular-season champion Portland State.
"We definitely had no fear of playing on the road," Selvig says. "The team had a strong mental approach, and they sure showed me what they were made of in Portland."
UM beat Idaho State in the quarterfinals and dispatched Northern Colorado in the semifinals to earn a berth in the championship against top-seeded Portland State.
The Lady Griz trailed by six points with eight minutes remaining, but scored the next twelve points and held off the Vikings late to win, 62-58. UM senior Stephanie Stender of Sheridan, Wyo., was named the tournament's most valuable player.
"We were so excited," Selvig says of the win over the Vikings. "It was very emotional. No one championship is more important than any other. But to the outside world, this team's expectations weren't the same as teams I've had in the past. We felt they could win it, and they did. So maybe there were a few more tears shed after this one."
Then it was on to Spokane and the NCAA Tournament, where the fourteenth-seeded Lady Griz drew third-seeded UCLA, which lost only four games all season. UM struggled in its past three trips to the Big Dance, and no fourteen-seed has ever beaten a three-seed in the history of the women's tournament.
Despite of all that, Selvig—and his team—knew they had a chance. And they were spot on.
"You have to believe," Selvig says. "We were playing well, and we had gotten good defensively. If you can defend, you can hang around in those games."
But it wasn't meant to be, and UM's season came to an end at the hands of the Bruins.
"I couldn't be prouder of this team," Selvig says. "They went through a lot of adversity and kept a fired-up attitude through every practice and every game. They made a believer out of me."
The President's Perspective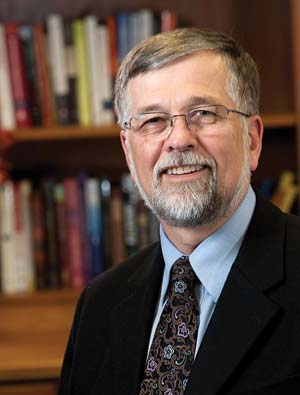 We are right around the corner from Commencement, the most important day in the annual cycle of University life. Commencement is a day of celebration for graduates, family, and friends. Upon Commencement, we send our graduates off to careers, adventures, or additional education. Because of the hard work of faculty, staff, administrators, and the students themselves, UM graduates are equipped to become citizens and leaders in today's world.
In these past six months, we have focused intently on bringing clarity of direction to The University of Montana. That effort resulted in a new strategic plan called UM 2020: Building a University for the Global Century. The plan is centered around the five Strategic Issues described in the column to the left. These issues reflect the central role of higher education in the economic, social, and cultural development of our state, nation, and world. Within this edition of the Montanan, you will see the Strategic Issues illustrated with examples from our students and faculty.
I believe there has never been a time when higher education was more important. Whether you think of the impact of education on the individual or on societies, the Global Century depends critically upon higher education for people, ideas, and leadership. The University of Montana is a special place and is poised to make a distinctive contribution to the Global Century. We must combine a sense of urgency, an explosion of creativity, and a celebration of accomplishment to the Strategic Issues defined in UM 2020.
This is an exciting time for higher education and for the University. We can take pride in our past accomplishments and look forward to a promising future. Thank you for your support and interest!

Royce C. Engstrom
President
UM 2020:Building a University for the Global Century
Strategic Issues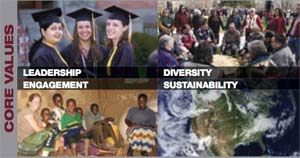 Partnering for Student Success The University will help its students succeed academically and personally so they graduate well-prepared for their careers or further education. This involves preparing students to attend and transition to UM, integrating the early college curriculum, engaging students, strengthening student support, and improving employee development. A new Partnering for Student Success Program works to increase retention and graduation rates.

Education for the Global Century UM will offer an educational experience at all degree levels that provides graduates the foundation to make positive impacts on a world that is increasingly interconnected. This includes strengthening foundational academic programs, improving two-year programming, creating a Global Leadership Institute, and boosting discovery and innovation through graduate education. This theme offers strategies that help students become engaged global citizens.

Discovery and Creativity to Serve Montana and the World The University will transform discovery and creativity into applications and experiences in ways that benefit the state, region, nation, and world. This will enhance faculty and student research, expand knowledge and cultural richness through creative research, and advance innovation, business opportunities, and job creation. Scholarship, research, and creative work are recognized as essential components of campus life.

Dynamic Learning Environment UM will enhance its character as a place where people are passionate about learning, discovery, and growth. Strategies will include integrating UM's unique mountain setting into instruction and discovery, recruiting and developing the highest-quality students and employees, providing programs of distinction and worldwide partnerships, and using technology practices that optimize learning and model sustainability.

The Planning-Assessment Continuum The University will model transparency, systematic communication, and sound decision-making to ensure that resources are marshaled to achieve UM's mission. This theme describes a system for data-driven decisions and goal-setting. It promotes participation, linked plans and resources, and objective and timely assessment of outcomes to demonstrate that campus does the right things for the right reasons.
Meet Grizwald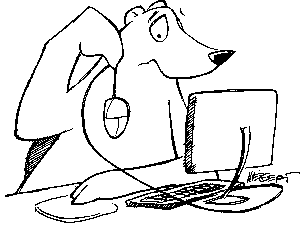 UM's cartoon bear. In frequent issues of the Montanan, we provide a drawing of Grizwald that needs a creative, original caption. It's up to you, our readers, to provide it. The winning contestant will receive a Griz stadium blanket. Send submissions to themontanan@umontana.edu.
Voices from a Benghazi rally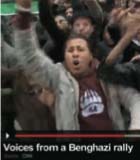 This is a screen grab from a video that appeared on www.cnn.com on February 24. The segment was filmed in Benghazi, Libya, and is titled Voices from a Benghazi Rally. The video shows thousands of Libyans at a demonstration, and at the fifty-four-second mark the camera focuses on a protester wearing a UM sweatshirt. The video went viral on social networking sites, with some people even using the image as their profile picture on Facebook. The video can be seen at www.cnn.com/video/#/video/world/2011/02/24/wedeman.benghazi.voices.cnn.
Meiers give $3 million to renowned UM program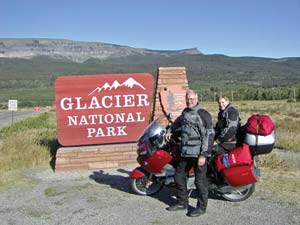 Joel and Patricia Meier
One of UM's premier programs will receive a significant boost from a former associate dean of the College of Forestry and Conservation and his wife. Joel and Patricia Meier of Denver have included a $3 million provision in their wills to endow a chair in Parks, Tourism, and Recreation Management.
"The Patricia and Joel Meier Wildland Recreation Management Chair will allow us to attract a leader in what already is a nationally renowned program at UM," President Royce Engstrom says. "We are grateful for Joel and Patti Meier's generosity. It certainly will help UM better serve students and the world."
Joel Meier, who became a professor emeritus at UM after twenty-four years of service, joined the faculty in 1970. At the time, recreation management was part of the Department of Health, Physical Education, and Recreation [HPER] in the School of Education. The program moved to the School of Forestry, and Meier served as its chair. He later was associate dean of the School of Forestry. Meier left UM to chair the Department of Recreation and Park Administration at Indiana University. The Meiers retired in Denver.
"Patti and I loved the University, as well as Missoula's geographic location and Montana's great outdoors," Meier says. "My faculty colleagues were very supportive, mentored me, and helped me grow professionally. Also, I greatly enjoyed working with my students who were preparing for future careers in managing outdoor recreation opportunities and our nation's magnificent natural resources. Now Patti and I want to give back to the institution and a program that has meant so much to us."
The UM Parks, Tourism, and Recreation Management program prepares students for careers with land management agencies, nonprofits, and nature-based tourism, as well as graduate studies in these related areas.
"The college's leadership in recreation resource management started when Joel was a member of our faculty twenty years ago," says James Burchfield, interim dean of UM's College of Forestry and Conservation. "This generous gift will ensure our students can actively engage with the best faculty in the best environment to learn how to protect and enjoy our natural legacy."
The Meiers are world travelers who enjoy backpacking, mountaineering, whitewater and ocean kayaking, and skiing. They have trekked through Nepal, New Zealand, and many other places and have kayaked most of the rivers in the western U.S.
Meier will give this year's College of Forestry and Conservation commencement address May 14.
Business Students Chat Up Warren Buffett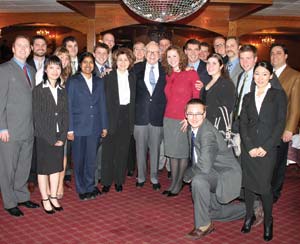 UM students pose for a photo with investor Warren Buffett at Piccolo Pete's restaurant in Omaha, Neb.
Photo courtesy of Ryan Coleman
Piccolo Pete's isn't a five-star restaurant. In fact, it may not have any stars at all. But it's legendary investor Warren Buffett's favorite restaurant in Omaha, Neb., and it's where students from UM's Master of Business Administration and Accountancy programs ate lunch with him in March.
Buffett's restaurant choice reflects his personality: down to earth. Students were impressed by how modestly Buffett seems to live and how humbly he spoke during the 150-minute question-and-answer session they attended before lunch.
UM student Ryan Coleman says Buffett's answers reminded him of conversations he's had with his dad about business. Buffett advised students to make sure they love the work they're doing. "His value system is no different from our own," Coleman says.
More than 200 schools apply to meet with Buffett each year, and UM was lucky enough to be among those accepted. U.S. Senator Max Baucus invited Buffett to be the keynote speaker at the Montana Economic Development Summit, held at Montana Tech of UM in Butte this past September. It was there Buffett extended the invitation to UM students to visit with him during spring semester.
UM shared the day in Omaha with students from seven other universities. During the question-and-answer session, UM students were able to ask two questions of Buffett.
Casey Chumrau, one of the few females to ask a question during the session, impressed her peers when she asked Buffett about ethics in the companies in which he has a stake.
"I think all of the students [from other schools] were surprised at how well UM students were versed," Coleman says. "I don't think students from a lot of big schools usually ask questions about ethics. Kids from Montana have a very different outlook on why we have business and why we do what we do."
After meeting with Buffett, UM students took a trip to the Board of Trade and the Federal Reserve Bank in Kansas City, Mo. They also scored an impromptu meeting with Thomas Hoenig, president and CEO of the Federal Reserve Bank, for about an hour. Coleman said Hoenig candidly answered any questions the students had.
"It wasn't your typical politician-type stuff," Coleman says. "[He talked about] all aspects of the economy, and where he thinks [the country] is going," Coleman says.
The students were grateful for what could be a once-in-a-lifetime opportunity. They also were glad they could dispel some of the myths about Montana, and show other schools in attendance that they're prepared to compete in the business world.
Talking about UM's M.B.A. program, "It's very undervalued," UM student Michael Manhardt says, "but it is of significant value compared to other M.B.A. programs."
—Colette Maddock
Where's Your GRIZ Been?
Where's Your GRIZ Been?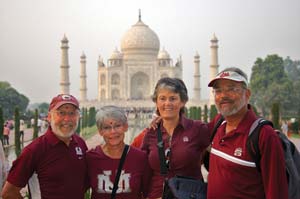 Linda Halstead-Acharya '79, second from right, sports her Griz gear in front of the Taj Mahal in India this past fall. "Though the background in this photo almost appears surreal, we are in fact standing in front of the Taj Mahal," Halstead-Acharya says. "And yes, it does seem surreal, even when you're right there!" She and her husband, India native Bharat Acharya '75, right, were joined on the trip by Tom and Jan Angstman. Tom is a 1968 graduate of UM, and Jan is one of its most devoted fans. Congratulations, Linda. You have won a $50 gift card for The Bookstore at UM.
Do you have a photo of yourself wearing your Griz gear in an amazing place or while on an incredible adventure? If so, send it along with a brief description to themontanan@umontana.edu. Winners will see their photo published in the Montanan and will receive a $50 gift card to The Bookstore at UM. To be considered, photos must be in focus with the UM or Griz logo clearly visible.
The Bottom Line:
65
Number of Japanese students at UM profoundly affected by recent natural disasters in their country. To donate to the Foreign Student Assistance Fund, visit www.SupportUM.com.
100
Years since the UM School of Law opened
2
Semesters in a row UM enrollment has surpassed 15,000 students
14
Doctoral degrees UM students earned during autumn semester 2010
102,455
Seats in Neyland Stadium at the University of Tennessee, where the Griz open the 2011 football season in September
8
U.S. News & World Report ranks UM one of the eight "Best Colleges for Winter Enthusiasts"
Mariani Makes Marc in NFL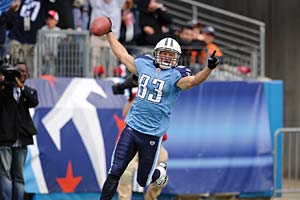 Former UM star Marc Mariani set two franchise records and scored two touchdowns as a return specialist for the NFL's Tennessee Titans.
Photo courtesy of the Tennessee Titans
When Marc Mariani walked on to the Montana Grizzlies football team, he was so far down on the depth chart he didn't even have a jersey number.
"When you are given your gear," Mariani says, "it all matches up with your jersey number. But since I didn't have an assigned jersey, I was number 100.
"That was a good, fun start to my career," he recalls with a chuckle.
He earned the right to wear number 80 the following fall and had a record-setting career as a wide receiver and return specialist, leading the Griz to national championship game appearances as a junior and senior.
Now in the NFL, Mariani dons number 83 for the Tennessee Titans, who drafted the Havre native in the seventh round with the 222nd pick in 2010.
As a rookie, he took the league by storm.
He scored two touchdowns—one on a kickoff return and another on a punt return. (Only one other player in the league did that last season.) He set two franchise records—most combined punt and kickoff return yards, and most kickoff return yards. The latter had stood since 1963. He was one of just four rookies picked for the Pro Bowl, the NFL's all-star game in Hawaii. For good measure, and to prove he belonged on the same field as the NFL's elite, he set two more records during the game.
"It hasn't even sunk in yet," Mariani says of his whirlwind season. "I've just been enjoying the ride. I've been blessed with a great opportunity, and I ran with it. Literally."
His first NFL touchdown came against the Denver Broncos in the fourth game of the season. He took a kickoff ninety-eight yards for the score.
"A dream come true," Mariani says. "And it happened in the fourth game. I didn't return a kickoff for a touchdown until my fourth year with the Griz."
He struck again against the Washington Redskins in Week 11, this time on an eighty-seven-yard punt return.
The Titans missed the playoffs, but Mariani's season wasn't over. One day while stuck in traffic in Nashville, Tenn., Mariani got a call from Titans head coach Jeff Fisher. He told Mariani that he'd been chosen for the Pro Bowl.
"It was like time stopped," Mariani says of the call, which was videotaped from Fisher's office. (A link to the video can be found on the Montanan website.) "To be selected, to know you have that respect around the league, to achieve that individual goal was way beyond expectations."
Mariani took his family and a group of close friends to Hawaii, and a large contingent of fans from Montana made the trip, too.
"It seemed like the whole town of Havre was there," Mariani says. "They were all sitting in the same section and wearing red 'Mariani' shirts. Pretty cool stuff."
Mariani played well, too, returning nine kickoffs for 326 yards, both records.
He spent some of his offseason in Montana, including a marathon autograph session in his hometown that lasted nearly fourteen hours.
"It was exhausting," Mariani says. "But to see all those people who have your back, to share it with them, it means a lot, and I don't take it lightly. Montana is my home, and I'm glad I can make the people proud."
Brian Qvale: By the Numbers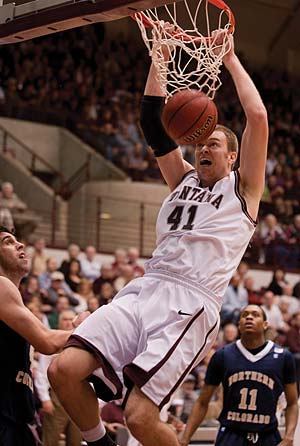 Brian Qvale
Photo by Todd Goodrich
The Montana Grizzlies nearly made a repeat trip to the NCAA Men's Basketball Tournament, but fell in the Big Sky Conference championship to the Northern Colorado Bears. UM's success came in large part due to the team's lone senior, Brian Qvale of Williston, N.D. A six-foot-eleven shot-blocker extraordinaire, Qvale was the Big Sky's Defensive Player of the Year and a collegeinsider.com Mid-Major All-American. He'll go down as one of the best big men in UM history. Here's why:

247: Career blocked shots, a UM and Big Sky Conference record (The old records were held by former Griz Daren Engellant.)
95: Blocked shots this season, a UM and Big Sky Conference record
22: Career blocked shots in Big Sky tournament games, a record
721: Career rebounds, eighth in UM history
1,046: Career points, tied for twenty-first in UM history
Notable and Quotable
The inauguration of new UM President Royce C. Engstrom took place May 2. The theme for the event was "Building a University for the Global Century." Look for coverage in the fall issue of the Montanan.
Tom Brokaw, one of the most trusted and respected figures in broadcast journalism, will speak at UM's 114th Commencement ceremonies on May 14. The main ceremony will be held at Washington-Grizzly Stadium.
Dozens of current and alumni members of the Montana Alpha chapter of the Phi Delta Theta Fraternity held a ceremony in January to mark its recolonization at UM. Phi Delta Theta was originally established at UM in 1921, and the fraternity initiated more than 1,500 members before closing its doors in 2002. Members hope to become a chartered chapter with fifty members in time for Homecoming this fall.
The Prague Quadrennial is the largest exhibition for theater design in the world, and it will have a UM flavor this year. As its name suggests, the PQ takes place in Prague, Czech Republic, every four years. The June event marks the only time that theater design—not performance—takes center stage. UM's School of Theatre & Dance was chosen to construct the U.S.'s PQ 2011 entry. Faculty members Mike Monsos and Alessia Carpoca, with the help of students, built the set, which took shape as a warehouse. It is titled Theatre from the Fringe. The group spent all of autumn semester and part of spring working around the clock to finish what Monsos describes as "a themed museum that houses pictures, models, renderings, and props—all chosen specifically for the exhibition."
The Montanan won a Gold award for general excellence from the regional Council for Advancement and Support of Education. The CASE Gold was awarded in the print general-interest magazines category for the three 2010 issues of the Montanan. It's the highest general excellence win for the magazine.
Lights, Camera, Action: Winter in the Blood Film Project Starts to Take Shape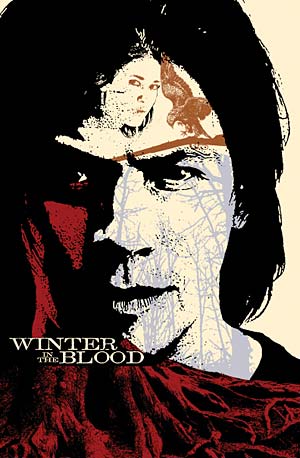 Artwork by Jaime Cervantes
There are many reasons why Andrew Smith took on the task of turning the acclaimed novel Winter in the Blood into a feature film.
The author, the late James Welch, was a lifelong friend and mentor. Smith says he grew up reading the book, so it's been under his skin for a long time. He says it's a masterwork that is well known in the West—and deeply influential among writers—but a film can help bring it to a larger audience. He thinks the film can promote Welch's remarkable vision, voice, and ideas.
"And," he says, "it's just going to make a damn good movie."
The movie is scheduled to be filmed this summer on Montana's Hi-Line and will be co-directed by Smith, an associate professor in UM's School of Media Arts, and his twin brother, Alex. It will be the second feature film the Missoula-area natives have co-directed. The first was 2002's The Slaughter Rule, which premiered at the Sundance Film Festival, opened in theaters across the country, and won numerous awards.
Winter in the Blood, first published in 1974, is set on and around the Fort Belknap Reservation and concerns a young Native American rancher facing harsh realities and searching to find his true identity. It will translate amazingly to the screen, says the author's widow, Lois Welch.
"It's a very cinematic book, very visual," says Welch, a UM professor emerita who chaired the Department of English and directed the Creative Writing Program. "I've been working with the twins on this project for three years, and I was looking at the script the whole time. I see how it's working and I think it will work well."
The project's ties to UM run deep. Born in Browning, James Welch earned a bachelor's degree at UM and studied poetry under Richard Hugo in the Creative Writing Program. Ken White, who co-wrote the script, earned his M.F.A. in poetry at UM. Lily Gladstone, who landed a key role in the film, and Rene Haynes, the casting director, also graduated from UM. Students of Smith, both current and former, are working on the project in various capacities; the Media Arts program has created internships to grant credit for certain students' work on the film.
As Davidson Honors College Dean James McKusick told Smith, "This thing has Grizzly DNA all over it."
The filmmakers have also forged a partnership with Longhouse Media, a nonprofit based in Seattle. Its mission is to find internships and educational opportunities in media for Native American youth. Smith expects six to ten Native Americans to land internships on the film.
"That's a significant piece of cultural exchange that pays tribute to Jim Welch's legacy," Smith says. "One of the most powerful things about Jim's writing is that it has empowered many others from isolated and neglected places to believe that their stories are necessary to tell."
If everything goes according to plan, Smith hopes to premiere Winter in the Blood at the Sundance Film Festival in January 2012.
"It's a combination of pressure and honor to be shepherding this project," Smith says. "I've had people come up to me and say, 'Be careful with this property. Be careful with this story because it means a lot to us.'
"But people have told us they think we are a good fit for this," he says. "There is some pressure out there, but more and more I feel like it's simply an honor to be able to move this project forward."
For more information, visit www.winterinthebloodfilm.com.
Students Study Climate Change in Vietnam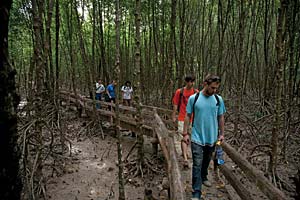 UM students explore the mangroves of Cape Ca Mau National Park, located on the southernmost tip of Vietnam.
Photo by Kevin Radley
What do Vietnam and Montana have in common?
Not much, you say? Well, it turns out they are related in more ways than might be expected, especially when it comes to concerns about water, agriculture, ecotourism, and forestry.
During the past winter break, nine students and two faculty members from UM experienced climate change firsthand in Vietnam, a low-lying coastal country expected to be drastically affected by climate change in the coming years.
Nicky Phear, coordinator of UM's Climate Change Studies Program and a faculty member who went on the trip, thinks it was a worthwhile experience because the group was able to see climate change up close and in a different cultural setting. Students listened to lectures and presentations, but also spent a large portion of the trip in the field with people directly affected by climate change.
"Hearing [farmers] talk about how flooding and droughts affect their farm and [their] concerns about the rising sea level makes the learning that much more real," Phear says.
Trina Jones, a graduate student in UM's Environmental Studies Program, was impressed with how actively Vietnam's government is addressing climate change.
"It's really forward-thinking to want to incorporate preparation for climate change in all of their government activities," she says.
She also was taken aback by reactions Vietnamese people had to climate change.
"Their willingness to look for solutions instead of bickering about whether there's a problem," she says, "is different from attitudes people have about the issue in the U.S."
UM is one of just two schools in the country to offer a minor in climate change studies, and the only school that has gone to Vietnam to study the effects.
The goal of the six-credit course was to provide students with an opportunity to go to a country where climate change effects can be seen and to apply what they learned to their studies on the environment in Montana.
Through a grant awarded by the U.S. Department of State, the Maureen and Mike Mansfield Center at UM partnered with Can Tho University in the Mekong Delta of Vietnam to facilitate the study-abroad trip. CTU provided UM with a list of possible field-study sites the UM group might be interested in, and representatives from UM went to Vietnam to scope out the sites and prepare a useful curriculum for the students.
Jones says the trip was invaluable to her learning experience.
"You learn so much more about the course material when you're actually in a country affected by it than you ever could at home," she says. —Colette Maddock
Adventures of the Mind Brings Young Leaders to UM
Montana has long been a stronghold of exploration and discovery: From Lewis and Clark's journey through the region's rugged terrain to Jeannette Rankin's election to Congress three years before women had the right to vote, the state has always cherished innovation and personal achievement.
It's this spirit that will have UM buzzing with young leaders and great achievers this summer when the Adventures of the Mind Mentoring Summit comes to campus June 22-26.
Every two years Adventures of the Mind brings together exceptional high school students and great thinkers and achievers for four days of mentoring and exploration. During the UM summit, the 150 to 200 students in attendance will be paired with high-achieving mentors, such as a Google innovator, an award-winning author, and a New Yorker cartoonist.
Founder Victoria Gray worked with major sponsors Dennis and Phyllis Washington to bring this year's summit to Montana. While at UM, attendees also will explore Missoula and the surrounding area.
Gray says she had the idea for Adventures of the Mind about ten years ago, just as the tech boom gained speed in America. "I saw how people were leaning toward the 'Facebook model,' texting, and that it's more important than ever for face-to-face contact," she says.
Though the program only accepts the best and the brightest students—"one in a hundred or one in a thousand," according to Gray—the students don't necessarily look that way on paper. Adventures of the Mind searches beyond traditional achievement benchmarks, such as grades and test scores, and selects attendees based on nominations from educators who know students with exceptional potential, despite obstacles such as learning disabilities or socioeconomic status.
Adventures of the Mind also recruits runners-up in national competitions, such as the Presidential Scholars Program, as these students often are just as talented as the winners but don't receive the same recognition, Gray says.
"The students we select can't just have potential—they must have real potential to do something with their life and with the world," she says.
Facetime: HOLLY PICKETT '02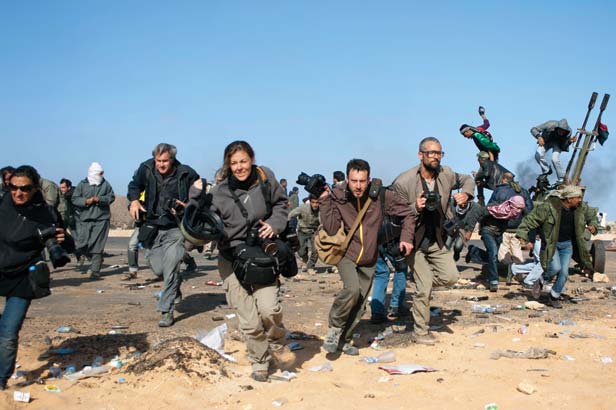 Holly Pickett, third from left, is among a group of photographers running for cover during a bombing run by Libyan government planes at a checkpoint near an oil refinery March 11. Pickett told www.msnbc.com it was the most chaotic, intense situation she has ever been in. "Bullets were whizzing past us. You could see the dust stirring on the ground from bullets zipping past our legs. I've never taken this much fire before." New York Times photographers Tyler Hicks, right, and Lynsey Addario, far left, along with Times correspondents Stephen Farrell and Anthony Shadid (not pictured), were captured by Libyan leader Muammar el-Qaddafi's forces March 15. They were released unharmed four days later.
Photo by Paul Conroy/Reuters
Holly Pickett graduated from UM in 2002 with a double major in photojournalism and history and a minor in German. The Butte native credits her grandfather, who worked as a photographer and painter, and her aunt, who works at the Billings Gazette newspaper, for her early interest in the combination of art and news. Drawn to history, other languages and cultures, travel, and news around the world, she put her degrees to work as a freelance foreign photojournalist based in Cairo, Egypt, for the past three years. She started her journalism career in Athens, Ga., where she interned at the Athens Banner Herald. She went on to intern at the Chattanooga Times-Free Press, Missoulian, and the Spokesman-Review in Spokane, Wash., where she eventually landed a full-time job. After working there for five years, Pickett moved to Cairo and has since worked in Afghanistan, Iraq, Yemen, Gaza, and Libya. Her photos have appeared in The New York Times, Time, Newsweek, Elle, Christian Science Monitor, and The Los Angeles Times, among others.
Why did you decide to move to Egypt?
I always saw myself going overseas; it was just a matter of when that would happen. When I decided it was time to leave the Spokesman-Review to freelance, I came to Egypt because I was interested in the Middle East, and Cairo is centrally located. It was a logical choice. Cairo is a natural hub for many foreigners in the region, including a huge number of journalists.
What are some of the challenges you've faced as a female journalist in Egypt, and how have you learned to protect yourself?
It is difficult to work here. There is quite a bit of harassment of women in Cairo. I respond to each situation differently, but I try to head off problems by wearing conservative clothing and trying not to put myself in situations where there is no escape. I've had to adjust to working in war zones and extremely conservative societies as well.
Do you generally feel safe in Egypt?
Yes, I do. Cairo has become more unpredictable in the past few months, and it is more difficult to live and work as a foreigner here now, but generally I feel safe.
What has been the most challenging part of covering the uprisings in Egypt and Tunisia?
The uprisings have been so unpredictable and chaotic. I've really had to take all possible precautions, and the biggest thing has been trying not to walk into a bad situation that I can't get out of. I saw a side of Cairo I've never seen before, and it was pretty shocking.
How is covering news in the Middle East different from covering news in the U.S.?
There are language and cultural barriers that aren't there as often in the U.S. People respond to cameras and journalists differently than they do in the U.S. But I approach stories much the same way I would anywhere, trying to gain people's trust and trying to give them a chance to share something about themselves.
Can you describe a typical day in your life?
It is different every day. Every story is different. While working on news stories like the ones in Tunisia and Egypt, I would start the day talking to other journalists to see if there were any new developments. Then I would go out and shoot. At the end of the day, I would edit, caption, and transmit photos, then eat dinner, then bed.
What is the most rewarding part of your job?
I have had the privilege to see many amazing events and meet incredible people because of my job. I am always learning something new.
Do you plan on staying in Egypt for the foreseeable future?
Yes. I will stay for now. Egypt still feels like it is in the throes of the revolution, and it is really exciting to document this amazing, historic event.
—Interview by Colette Maddock