The Magazine of The University of Montana
About Alumni
Keep Us Posted. Send your news to The University of Montana Alumni Association, Brantly Hall, Missoula, MT 59812. Go to www.grizalum.com and click on "Submit a Class Note," fax your news to 406-243-4467, or call 1-877-UM-ALUMS (877-862-5867). Material in this issue reached our office by February 28, 2012.
Note: The year immediately following an alum's name indicates either an undergraduate degree year or attendance at UM. Graduate degrees from UM are indicated by initials.
Snowbirds/Sunbirds—Anyone! Whenever you change your mailing address, please contact the alumni office.
Let us know where you are and when. Thank you.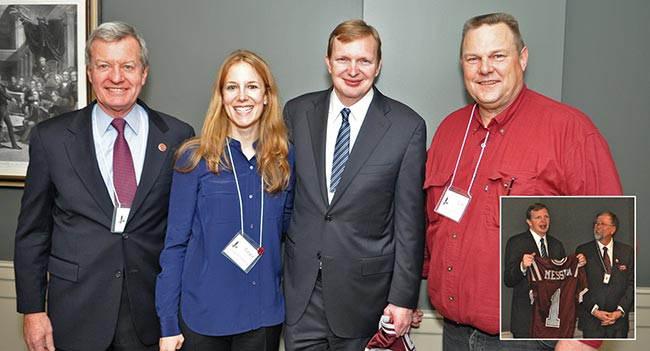 "We would have a difficult time finding a more dedicated ambassador for the University," UM President Royce Engstrom says. "Jim is such a die-hard Grizzly fan that we gave him his own Montana Grizzlies jersey." Top: Senators Max Baucus (left) and Jon Tester (right), UM alumnus Jim Messina, and his fiancé, Taya Cromley, attend a special reception in Washington, D.C.
Jim Messina '93, '09, Chicago, was honored at a special reception in Washington, D.C., in January by more than 100 alumni and friends, including Senator Max Baucus, Senator John Tester, UM President Royce Engstrom, UM Foundation Trustee Chair Michael McDonough, and UMAA Board Chair Eric Botterbusch. The gathering was held in a venue with a dramatic nighttime backdrop of the Capitol. As part of the ceremony, David and Monica Paoli, UM alumni and friends of Jim, announced an endowed scholarship in his name. "When Jim addressed the reception, one thing was perfectly clear: He deeply loves UM and attributes his success to the education he received here," Engstrom says. "He spoke from his heart about the mentoring and guidance he received from the faculty and two professors in particular—Bill Chaloupka in political science and Carol Van Valkenburg in journalism." Jim, who earned bachelor's degrees in both fields, led the successful Missoula mayoral campaign for Dan Kemmis while still a senior at UM. In 2002, he became campaign manager for Baucus. He went on to serve as chief of staff for both former North Dakota Senator Byron Dorgan and Baucus, the Senate Finance Committee chairman. In 2008, Jim joined the Obama campaign as chief of staff. He has served the president in several capacities since then, including campaign manager for his re-election, deputy White House chief of staff, and director of personnel for the Obama-Biden Presidential Transition. Jim now chairs Organizing for Action, the nonprofit successor to Obama for America. He also is opening a consulting firm to represent progressive groups and Democratic campaigns. "I am going to advise political campaigns and organizations that want to build on the lessons we learned in the Obama campaign—digital savvy and grass-roots focus. These are the things I want to do," he says. Jim has been hailed as the "most powerful man in Washington you've never heard of," and as the mastermind behind the social-data technology infrastructure that has been credited with changing the future of politics in America.
'50s
Ed Heilman '50, Missoula, recently was honored by the Missoula County Parks and Trails Advisory Board with its 2012 stewardship award. Ed, a retired forester, served on the board in an advisory capacity for the past twenty-eight years and was instrumental in the development of two parks' master plans. He also worked in Missoula County parks identifying diseased and bug-killed trees for removal. "Completely unexpected," Ed tells the Missoulian of winning the honor. "Apparently others on the board conspired, you might say, to put me up for the award and sure enough, there it was."
John G. Miller, M.A. '54, Springfield, Ill., recently published his book, Changing Roles for a New Psychotherapy. A professor emeritus at the University of Illinois-Springfield and a private- practice psychologist for more than sixty years, John draws on his experiences in various occupations in order to present psychotherapy in relatable, engaging, and sometimes unorthodox ways.
Lawrence P. Mooney '58, Las Vegas, recently retired from his position of chief inspector for the Nevada State Board of Physical Therapy. Lawrence, a licensed physical therapist for fifty-two years, served as director of physical therapy at Washoe Medical Center in Reno, Nev., until 1992.
'60s
Blaine Carl Ackley '65, Hillsboro, Ore., recently returned from a trip to Chile and Argentina, where he was a Fulbright Senior Specialist working with the Catholic University of Temuco, Chile. Blaine, who is associate professor of education at the University of Portland, made eight presentations last fall to help Chilean educators improve their teaching of English as a second language.

John Matte '61, M.Ed. '67, Windcrest, Tex., was selected for induction into the Montana Indian Athletic Hall of Fame in 2012. John was born in St. Ignatius and is a member of the Flathead tribe. A former Griz football and baseball player, John was elected co-captain his senior year and was named outstanding lineman. John coached as a graduate assistant at UM and then entered the U.S. Army, earning an ROTC commission as a second lieutenant. While assigned to the Yukon Command in Alaska, he excelled as the sports officer, earned accolades for his rodeo participation, and was selected all-around cowboy in 1965. After serving honorably, John left the service and moved to San Antonio, Tex., where he coached high school football for three years before beginning a successful thirty-seven-year career in real estate. He was broker of the year in 1978 and 1979.
'70s
Ron Williams, M.Ed. '70, Strome, Alberta, was awarded the Queen Elizabeth II Diamond Jubilee Medal for his commitment to community work and the Historical Society of Alberta. Ron serves as deputy mayor of Strome, director at large of the Historical Society, president of Camrose and District Retired Teachers Association, chairman of Flagstaff Adult Education Council, and president of the Heisler Friendship Society.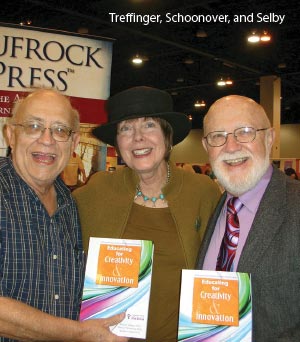 Patricia F. Elliott Schoonover, Ph.D. '70, Clintonville, Wis., has co-written a textbook, Educating for Creativity and Innovation, with Donald J. Treffinger and Edwin C. Selby. Pat, founding executive director of Destination ImagiNation, currently serves on the board for the Center for Creative Learning. She is an associate lecturer at the University of Wisconsin-Green Bay and teaches an internationally popular online course, Creative Problem Solving Process and Tools. "Many of my students are educators," Pat says, "but I've also had an engineer for NASA take the course, a dairy farmer, insurance people, hospital administrators, and sports coaches." Pat is state chair for a branch of the Wisconsin Future Problem Solving Program, which promotes creative and critical thinking. She recently was nominated for the Dean's and Vice Chancellor's Merit Awards at the University of Wisconsin. Pat resides in Clintonville with her husband, Reid Schoonover, M.F.A. '70.
Kerry Foresman '71, Missoula, professor of biological sciences at UM, is author of a 2012 Montana Honor Book, Mammals of Montana. Recognized by the Montana Book Award committee, Kerry's book is a university textbook and reference for Montana schools and federal and state agencies. A comprehensive, illustrated account of ecology, behavior, distribution, and reproduction of 109 Montana mammals, the book contains more than 500 photographs, many by renowned wildlife photographers Alexander Badyaev and Milo Burcham. Beyond cataloguing species, Mammals of Montana discusses reintroduction efforts for species close to extinction and the effects of climate change on Montana wildlife.
F. James Greco '71, Encinitas, Calif., graduate of UM's School of Journalism, has published his debut novel, Falling Down: A Tale of Addiction, Betrayal, and Murder. His fact-based work of fiction relies in part on his background as a journalist, former attorney, land-use planner, and veteran of city politics in San Diego, where the novel is set. James credits former UM Professors Ulysses S. Doss and Robert C. McGiffert for their guidance. James and his wife, Jane, have two married sons. More information about James and his novel is available at www.fjamesgreco.com.
Bill Yenne '71, San Francisco, has just published his latest novel. Bladen Cole, Bounty Hunter is a Western set in the Montana Territory of 1879, featuring a protagonist in pursuit of wrongdoers under the Big Sky. The book is Bill's eighth novel for the Penguin Group and the first in a series. Bill has written more than three dozen nonfiction works, including a recent biography of Alexander the Great.
Stephen Medvec '72, M.A. '77, Philadelphia, recently delivered a lecture titled Lewis & Clark Expedition of 1803-1806. A professor of political science at Holy Family University, Stephen is a native of Great Falls, where "Lewis and Clark have the same significance and legacy that Benjamin Franklin has in Philadelphia and Thomas Jefferson has in Charlottesville," he says. This year marks the 210th anniversary of the Louisiana Purchase, which Lewis and Clark explored on behalf of President Thomas Jefferson, crossing the Rocky and Bitterroot mountains to the Pacific Ocean in Oregon.
Glen Landry '73, Spokane, was appointed CEO and president of Nostra Energy Inc. in Laredo, Tex. Glen, a third-generation geologist, has more than thirty years of experience exploring and developing natural resources in Montana and North Dakota.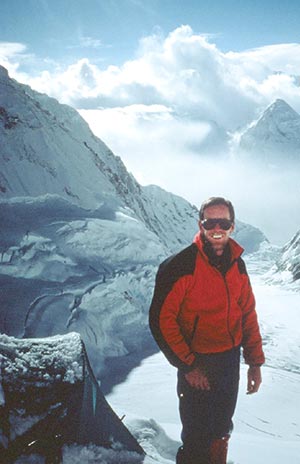 Michael Browning '74, Boulder, Colo., completed his quest to climb the Seven Summits—the highest mountain on each of the seven continents—last summer. The summits and the years of Mike's ascents are: Aconcagua (South America), 1989; Mount Everest (Asia), 1990; Carstensz Pyramid (Australia/New Guinea), 1993; Denali/Mount McKinley (North America), 2010; Mount Vinson (Antarctica), 2011; Kilimanjaro (Africa), 2011; and Mount Elbrus (Europe), 2012. Mike is believed to be the first UM graduate and first native Montanan to accomplish this feat. Fewer than 400 climbers have completed the Seven Summits to date. "I'm glad I climbed Mount Everest when I did, before commercial expeditions took over the mountain," Mike says. "We were just ten friends from Colorado with very few other people on the mountain. There was no Internet or satellite phones back then, so we were in a world of our own for longer than two months." Mike earned his law degree from Yale Law School in 1977 and moved to Colorado, where he practices water law in Boulder between climbing trips. "I don't want to stop climbing, but I don't enjoy suffering as much as I used to," he says. "I think I'll go to the Galapagos this summer with my family and hang at sea level for a while." His next mountaineering goal is to complete climbing the highest point in each of the fifty states.
Robert C. Reichert '76, J.D. '82, Glastonbury, Conn., retired after thirty years of practicing law, with the last twenty-two in Hartford, Conn. Robert will be making life easier for his wife, Beth, and spending more time pursuing his interests, which include fiddling in contra-dance bands and racing sailboats. Beth teaches at Manchester Community College and their daughter, Mara, teaches at Northern Arizona University. Robert is grateful to the many people at UM and elsewhere who enriched his life on the way to retirement.
Shelley Lee Immel '77, Tualatin, Ore., works as a program specialist for Multnomah County Developmental Disabilities Services. Since January 2012, Shelley has monitored twenty-four-hour group homes. This year marks her twentieth working for the county. She also is the primary caregiver for her mother, Sylvia, and mother to Nicholas, a graduate of Montana State University. Shelley recently returned to writing and participating in workshops. Though Shelley is a University of Oregon Ducks fan, she keeps up on the Grizzlies with brothers Dwain Immel '76, Denver, and Leeland, of Alabama.
Mike Andrews '78, Damascus, Ore., is semi-retired after thirty-five years in wildland fire management. Mike now writes a humor column for his local newspaper, the Sunrise Times. He extends his thanks to the UM College of Forestry and Conservation.
'80s
Jerome and Robert Morasko '83, of Columbus, Ohio, and Gillette, Wyo., respectively, have published their book, Unlocking the Secrets to Better Board Governance with the MGO System, together with Ruth Ann Watry, a professor of political science at Northern Michigan University. Jerome is president and CEO of Avita Health System, and his twin brother, Robert, is a Fellow of the American College of Healthcare Executives and president and CEO of Campbell County Memorial Hospital. Their book on mission governance operations reveals best practices through a practical approach, accelerating the learning cycle for anyone seeking to understand how a board of directors governs most effectively.
Kim Howard Carrell '86, Exeter, Devon, U.K., graduated in 2012 with an M.F.A. in staging Shakespeare from the University of Exeter, including extensive training at Shakespeare's Globe in London. Last summer, Kim performed in and choreographed fights for Shakespeare tetralogies and the Elysium Theatre Company's The Wars of the Roses. He will act as a guest lecturer in drama at Exeter and Kingston-upon-Thames universities before returning to the U.S. later in 2013.
Judith Gosnell-Lamb, M.Ed. '86, Ed.D. '11, Greenville, Penn., now is associate professor of education at Grove City College. Judy, whose dissertation examined the effects of No Child Left Behind on education leadership and classroom practices, teaches special education coursework at GCC.
'90s
Joey Jayne, J.D. '93, Arlee, newly elected justice of the peace for Lake County, is Montana's first female Native American justice court judge. Joey, a member of the Navajo Nation, has had a nineteen-year career as an attorney, prosecutor, and owner of her own law firm. She also served a seven-year term in the Montana House of Representatives and was a candidate for state Senate. "Growing up, I noticed there was a lot of injustice in the world," Joey says. "Not only in the court system, but in general: in the workplace, in the schools, in the government system. I studied law to level the playing field."
Guy Dean Bateman, M.A. '93, Ph.D. '96, Poplar, has returned to Montana after a five-year stint in Minnesota working for the Department of Veterans Affairs. In July 2012, Guy accepted the position of director of Behavioral Health with the Fort Peck Service Unit of the Indian Health Service in Poplar.
Patricia Snyder '95, Grants Pass, Ore., was first assistant director and script supervisor on the independent feature film Vampire Camp, which won best feature at the Vampire Film Festival in Los Angeles in February.

Upon winning the 2012 gubernatorial election, Steve Bullock '92 appointed several University of Montana alums to head state departments.

Patrick Smith '75, J.D. '82, Missoula, was appointed one of two Montana representatives on the Northwest Power and Conservation Council. Pat, an enrolled member of the Assiniboine Tribe, has practiced law in Montana for thirty years, dealing with issues such as state-tribal agreements, natural resource law, water rights, and economic development. He also served as in-house attorney with the Confederated Salish and Kootenai tribal legal department. "With the renegotiation of the Columbia River treaty now under way, it is an especially important time for Montana to have a proven consensus- builder on the council," Bullock says. "Pat has made a career of working with others to balance a wide range of competing interests, and I believe he will ensure that Montana's needs are recognized and respected."

Jennifer Anders, J.D. '88, Clancy, was appointed Montana's second representative on the Northwest Power and Conservation Council. An assistant attorney general since 1989, Jennifer has handled a range of civil and criminal cases in state district court, the Montana Supreme Court, federal court, and the U.S. Supreme Court. "I look forward to an active role in water and resource management, particularly in the Northwest, where power needs are on the rise and fish habitat is critical," Jennifer says.

John Tubbs '83, M.A. '91, was named director of the Department of Natural Resources and Conservation. John, who has worked for the DNRC for nearly twenty-five years, most recently served as deputy assistant secretary for water and science for the U.S. Department of Interior in Washington, D.C.

Tim Burton, M.P.A. '85, Helena, was named chief of staff for the governor's office. Tim, who was the director of Bullock's transition team, previously served as Helena city manager and chief administrative officer of Lewis and Clark County.

Margaret O'Leary '87, Big Sky, was named director of the Department of Commerce. Meg previously served as director of sales and marketing at Big Sky Resort.

Mike Kadas '92, M.A. '95, Missoula, former Missoula mayor and Montana state representative, was named director of the Department of Revenue. Mike most recently served as president and CEO of Rivertop Renewables in Missoula. He was president of the Montana League of Cities and Towns in 2003.

Tracy Stone-Manning, M.S. '92, Helena, was appointed director of the Department of Environmental Quality. Tracy, who served as Senator John Tester's Missoula region director since 2007, most recently acted as statewide staff director. Previously, she was executive director of the Clark Fork Coalition and Five Valleys Land Trust in Missoula. As director of the DEQ, Tracy will have a lead role in the $65.5 million long-range plan for removing a century's worth of mine waste in the river corridor between Anaconda and Missoula. "The Department of Environmental Quality has a beautiful mission: to protect, sustain, and improve a clean and healthful environment to benefit present and future generations," Tracy says. "It's a daunting mission and an incredible honor to be asked to do that." Tester adds, "Tracy is one of Montana's smartest and hardest-working public servants, and I can't think of a more qualified person for this job. I'm incredibly proud of the decision to bring her leadership and experience to the DEQ. Our state—and future generations—will be better for it."

Ali Bovingdon '95, J.D. '98, Missoula, was named deputy chief of staff. Ali previously served as chief deputy attorney general and administrator of the Montana Justice Department's Legal Services Division.

Pamela Bucy, J.D. '98, Helena, is the new commissioner of the Montana Department of Labor and Industry. Pam has served as deputy attorney for Lewis and Clark County, executive assistant attorney general, and private practice attorney with Luxan and Murfitt of Helena.
'00s
Stacy James, M.B.A. '00, Billings, accepted the position of president and CEO of Planned Parenthood Columbia Willamette, an affiliate that serves more than 60,000 patients in Oregon and southwest Washington each year. Stacy will be in charge of critical new initiatives, including preparations for implementing the Affordable Care Act and launching electronic health records. For the past eleven years, Stacy led significant improvements as president and CEO of Planned Parenthood of Montana. Before joining Planned Parenthood, Stacy served as executive director for Big Bend Area Health Education Center in Tallahassee, Fla. Stacy will move to Oregon with her family and begin her new post in June.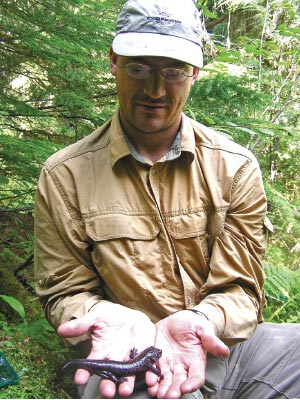 Bryce MaxelL, Ph.D. '09, Helena, senior zoologist with UM's Montana Natural Heritage Program, received this year's Wildlife Biologist of the Year award from the Montana Chapter of the Wildlife Society. The award honors Bryce's contributions to wildlife science and management—especially his work conducting broad-based, statistically sound baseline surveys of nongame taxa. Bryce's main interests are conservation biology, biogeography, and the effects of exotic species. He is especially interested in amphibians, reptiles, bats, mollusks, and birds. Bryce has written and co-written several books, peer-reviewed articles, reports, and posters, providing resource managers and the general public with information on the natural history and status of Montana's animals, plants, and habitats.
Aníbal Pauchard, Ph.D. '02, San Pedro de la Paz, Chile, has co-written a new book, Observation and Ecology: Broadening the Scope of Science to Understand a Complex World. Aníbal, who earned his doctorate from the UM College of Forestry and Conservation, is associate professor of plant ecology and invasion biology at the University of Concepción. With his co-author, Rafe Sagarin of the University of Arizona's Institute of the Environment, Aníbal explores how scientists incorporate an array of incredible new technologies, as well as old, deeply observational ways to track, study, and understand current environmental problems and their implications.
Charles Short, J.D. '02, Nespelem, Wash., was appointed Okanogan County's newest district court judge at the beginning of this year. Charles previously served as supervising attorney of the district court unit for the Yakima County prosecutor's office. At the time of his appointment to the bench, his private practice focused on criminal and civil trial work. "Growing up here, I really love Okanogan County, and I love district court as well," says Charles.
Erin Rogge Niedge '05, M.P.A. '10, Miles City, was promoted to the position of dean of Enrollment Management and Educational Support Services at Miles Community College. She previously served as an enrollment specialist and director of Educational Support Services at MCC. Before returning to her hometown with her husband in 2007, Erin worked in the Office of Enrollment Services-Admissions at UM. She was a member of the UMAA Board of Directors from 2008 to 2011.
Ron Schlader '05, Missoula, has been named the U.S. Forest Service district ranger for the Dubois Ranger District on the Caribou/Targhee National Forest in eastern Idaho. He brings more than thirty-five years of federal experience to the position, including acting district ranger assignments on the Lolo National Forest, Tongass National Forest in southeast Alaska, and the Nebraska National Forest at Halsey. Ron will leave the Lolo National Forest after many years as a realty specialist, engineering technician, and forestry technician.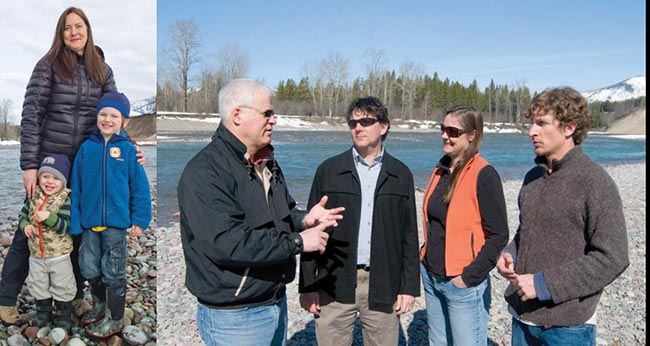 Erin Sexton, M.S. '02, Hungry Horse, recently received the 2012 Conservation Achievement Award from the Montana Chapter of the American Fisheries Society. Erin, a research scientist at UM's Flathead Lake Biological Station, has worked for the past ten years to develop a long-term solution for protecting the Flathead Basin ecosystem. The Flathead River is considered one of America's wildest rivers due to its pristine water quality and abundant, diverse aquatic and terrestrial life. Since the 1970s, the headwaters of the Flathead have been threatened by British Columbia's plans to strip mine for coal, and in 2007 British Petroleum announced plans for coal-bed methane development in the basin. According to Richard Hauer, director of UM's Institute on Ecosystems, Erin's swift response prevented these plans from coming to fruition. As a result, in 2010 Premier Gordon Campbell of British Columbia and former Montana Governor Brian Schweitzer signed an unprecedented accord to prohibit coal mining, coal-bed methane extraction, and gas and oil exploration and development in the Transboundary Flathead River Basin.
Kristi Rosin Blaver '07, Post Falls, Idaho, has been named marketing and public relations manager and executive director of the Fair and Rodeo Foundation for the Kootenai County Fairgrounds and North Idaho Fair and Rodeo. Kristi earned a bachelor of science in business administration, and her first nonprofit and marketing experience was an internship for the Montana Meth Project. She has since served as media event coordinator for the Nevada Beef Council, MGM Resort Properties, and the University of Nevada Reno's Lawlor Event Center. "4-H and the fair have had a profound impact on my life starting at young age," Blaver says. "I'm honored to join a vibrant organization with such a rich heritage in the community."
Tanine Rennick '08, Fairfax, Va., graduated with a degree in forensic anthropology. Tanine works in Washington, D.C., as a fingerprint and case inventory technician at a Department of Defense laboratory specifically to find fingerprints on improvised explosive devices and the material associated with them.
Tucker Sargent '09, Missoula, has been head coach of the Grizzly men's lacrosse team for the past four years. A former player, he was a member of the 2007 team that won a Men's Collegiate Lacrosse Association national championship in Texas. Tucker also runs the Northwest Select lacrosse team and is on the board of the Big Sky High School lacrosse program. Tucker volunteers much of his time and resources while being paid for a part-time coaching position. "I love hanging out with the guys and trying to win games," Tucker says. "A lot of work goes into it, but I wouldn't trade this for the world. I want to be the Griz lacrosse coach until I die."
'10s
Kayli Peterson '12, Missoula, is the creator and coordinator of the Optimal Bear health coaching program at UM's Curry Health Center. Optimal Bear provides free six-week coaching sessions for students seeking a more balanced life. The program, which Kayli designed during her student internship, addresses topics such as stress management, anxiety, sleep, exercise, and eating well. There has been an increase in the number of clients since the first year of Optimal Bear, requiring Kayli to hire more student coaches. "I eventually would like to make this a statewide program that can be implemented at many universities," she says. Kayli is the health coach and member services coordinator for PEAK Health and Wellness Center in Missoula and publishes her own health and wellness blog at www.mthealthcoach.com.
NEW LIFETIME MEMBERS
The following alumni and friends made a commitment to the future of the UM Alumni Association by becoming lifetime members. You can join them by calling 877-862-5867 or by visiting our website: www.grizalum.com. The Alumni Association thanks them for their support. This list includes all new lifetime members through February 28, 2013.
Brooke Andrus '10, Vancouver, WA
Diane Bingham '70, Pendroy
Michael Cieri '82, M.B.A. '83, Plano, TX
Timothy Dalsaso '95, Eureka, CA
Devon Downing '02, Lolo
Ron Flickinger '70, Fort Wayne, IN
Paul Fossum '80, Ann Arbor, MI
Greg Hardy '82, Billings
Tamara Jackson '92, Gig Harbor, WA
Jason M. Johns '09, Princeton, NJ
Rose Kommers '02, Pharm.D. '10
Douglas Loomer '65, M.B.A. '71 and
Suzanne Ostrem, Las Cruces, NM
Colleen McGuire '79, Columbus, OH
Wayne L. Nelson '83, Billings
Michael R. Stevenson, Dickinson, ND
Gordon Vaskey '80, Centennial, CO
Donald Vaskey '81, Seattle, WA
Gregory Williams '77, Davis, CA
Jillian Wilson '10, Spokane, WA
ALUMNI EVENTS
MAY
1 Alumni presentation cosponsored by the Student Alumni Association, 5:30 p.m., Brantly Hall
8 Senior Send-Off, 4-6 p.m., UC Ballroom
9 Alumni gathering at the City Club in San Francisco
10-11 Alumni Board of Directors spring meeting,
San Francisco
15 Great Falls event, cosponsored by GSA
17 Montana Treasures dinner at the DoubleTree Hotel,
6:30 p.m., Missoula
18 All-Alumni Celebration at Commencement,
8:30 a.m.-12:30 p.m., Washington-Grizzly Stadium
18 University of Montana gathering in the Flathead Valley— Flathead Lake Lodge
JULY
1 Ninth annual UM Alumni Night with the Missoula Osprey
15 Missoula Downtown ToNight, 5:30-8:30 p.m.
26-Sept. 6 Taste of Europe Luxury Cruise—London, Saint-Malo,
Pont-Aven, Bordeaux, Bilbao, La Coruña, Oporto, Lisbon, Seville, Barcelona
AUGUST
19-22 UM Black Studies Reunion (Forty-fifth anniversary),
events and locations TBA
29 Homecoming kickoff celebration, Southgate Mall
29-Oct. 5 Homecoming 2013
OCTOBER
2 UM dorm and office decorating contests
3 House of Delegates annual meeting Homecoming buffet dinner, Food Zoo
4 Hello Walk, Turner Hall
UM department open houses and receptions
Distinguished Alumni Awards ceremony and reception
Pep Rally, Oval
All-Alumni Social and Dance, Holiday Inn
5 Homecoming Hustle—5K race
Homecoming Parade
Homecoming TV Tailgate
Montana Grizzlies vs. Portland State Vikings
6-8 UMAA Board of Directors fall meeting, Missoula
11-19 Northern Italy: Culture and Cuisine (land program)
17-25 Greek Isles Odyssey Luxury Cruise—Istanbul, Kusadasi, Rhodes, Aghios Nikolaos, Santorini, Mykonos, Athens
NOVEMBER
23 113th Annual Griz-Cat football game, Bozeman
In Memoriam
We extend sympathy to the families of the following alumni, faculty, and friends. To be included in "In Memoriam," the UM Office of Alumni Relations requires a newspaper obituary or a letter of notification from the immediate family. Names without class or degree years include UM alumni, employees, and friends.
Material on this page reached our office by March 10, 2013.
'30s
Glory Cecilia Morin Odgers '34, Claremont, CA
Ethel Ann Hanson Bond '35, Miles City
Gertrude Adelaide Conwell '35, Big Timber
Randolph "Randy" Jacobs '35, Missoula
Mildred Beatrice Spoklie Francisco '36, Seattle
John Meredith Watts '38, J.D. '39, Bozeman
'40s
Helen Parsons Ahders '40, Midland, TX
Dorothy Eleanor Burton Bottens '40, Vancouver, WA
Sara Jean Frey Smith '40, Anaconda
Edith Tongren Yeager '40, Helena
Thomas Francis "Tom" Furlong '41, Great Falls
Mary Theresa Gasperino Gorton '41, Kalispell
Gayne Rankin Moxness '42, St. Helens, OR
John MacHale "Jack" Schiltz '42, L.L.B. '47, Billings
Owen Louis Coombe '43, J.D. '48, Bradenton, FL
Raymond E. "Ray" Wise Jr. '43, Billings
Patricia Ann Wood '43, Seattle
Betty Mae Jacobson Gunderson '44, Missoula
Dorothy Catherine Lamey Boyd '45, Missoula
Mary Elizabeth "Betty" Jenkin Clapp '45, Missoula
Beverly Priess McGray DeAngelo '45, Reno, NV
Anna Jean "A.J." Hanson Johnson '45, M.A. '51, Polson
F. Elizabeth "Betty" Bailey Pokorny '45,
Royal Oak, MI
Margaret "Peg" Ryan Buker, M.A. '46,
Grants Pass, OR
Dominick Paul Squillace '47, Falls Church, VA
Barbara Wilson Johnson Wamsley '47,
Mill Valley, CA
Russell D. "Russ" Giesy '48, M.Ed. '53, Whitefish
Helen Packer Hamilton '48, Oak Hill, WV
Clyde E. Jones '48, Gainesville, VA
William "Bill" Mlynek '48, Albuquerque, NM
Carle Francis O'Neil, M.A. '48, Kalispell
George A. Ammen '49, Boulder
Lucina Jean Sterling Boyle '49, Polson
Forrest "Lee" Brissey '49 Anacortes, WA
Evelyn Jeanne Grubaugh Hucko '49,
Salt Lake City, UT
Elaine E. Palagi "Bunny" Smith '49, Great Falls
Mitcho S. Pappas (Demetrios Papagiannopoulos) '49, M.A. '50, Toledo, OH
Elbert E. Stallcop '49, Stevensville
Alvira "Pat" Kinney Wallace '49, Missoula
Rosina L. Walter Woehl '49, Spokane Valley, WA
'50s
Dean Howard Albert '50, Great Falls
Donald D. "Don" Bolog '50, Port Angeles, WA
Morton G. Greenberger '50, Psy.D. '74, Lancaster, CA
John Arden Hauf '50, J.D. '50, Billings
Edward William "Bill" Knebel, M.Ed. '50, Billings
Miller A. Mathews Jr. '50, Helena
Arthur West Merrick '50, Helena
Robert H. Sawhill '50, M.S. '56, Tacoma, WA
John Welling "Bill" Smurr '50, M.A. '51, Turlock, CA
John William Trickel '50, Missoula
Robert G. "Bob" DeMarois '51, Missoula
Walter E. Hantsman'51, M.Ed. '57, Great Falls
Keith T. Larson '51, Missoula
Larry L. Lawrence '51, Ellensburg, WA
Dorothy D. "Dodie" Urquhart Miller '51, Mercer Island, WA
Alden W. Pedersen '51, J.D. '66, Billings
Richard F. "Dick" Cerino '52, Missoula
Raymond Julius "Ray" Rademacher '52, Denver
Allen L. McAlear '53, Bozeman
Ralph A. Ovitt '53, Joliet
Richard James Pinsoneault '53, '62,
Navarre, FL
Douglas Paul "Doug" Beighle '54, J.D. '58, Seattle
Elwood A. "Woody" Erickson '54, M.Ed. '68, Missoula
Margery "Jean" Foot '54, Missoula
Donald John "Cy" Harrington, M.Ed. '54, Butte
Margaret Ripley Schemm Hugo '54, Missoula
Thomas Meredith "Tom" Smith '54,
Elephant Butte, NM
Edwin C. "Ed" Stenson '55, Pocatello, ID
Eugene E. "Gene" Addor '56, M.S. '58,
Steele, AL
Miles Lovering Coverdale '56, Anchorage, AK
Norman Lynn Garrick '56, Missoula
Thomas Frank "Tom" Patterson '56,
Minocqua, WI
Jack Austin Ring, M.A. '56, Great Falls
Vincent D. "Vince" Barry '57, Ph.D. '71,
Globe, AZ
Otto Alonzo "Lon" Bessey Jr. '57, Kalispell
William Leeds "Bill" Bradford '57, M.Ed.'67, '89 Missoula College, Missoula
Mary Barbara Bickle Chinske '57, M.Ed '76, Poplar
Sam B. Wakefield '57, Poulsbo, WA
Ferdinand Dewey Bouchard '58,
Coeur d'Alene, ID
Robert J. "Bob" Leone '58, Billings
Margaret "Peggy" Trower Kenna Redman '58, M.S. '60, Sun Lakes, AZ
Ronald G. Duff '59, Walpole, MA
Maureen Lu Murphy '59, Laguna Woods, CA
Sharon Lorraine Ritter Smith '59,
Portland, OR
'60s
John Roberts Aper, M.Ed.'60, Klamath Falls, OR
Charles Andrew Burns '60, Tempe, AZ
Robert Norman "Bob" Noyes, M.A. '60, Nye
Betty Lou Lugar Sage '60, Missoula
Jean Herbert Maillet '61, Missoula
Edward James "Ed" Miles '61, Spokane, WA
Mary L. Petlin '61, Butte
Thomas Ira "Tom" Silver '61, Louisville, KY
Marie Elizabeth Hyde Coulson '62,
Columbia Falls
Donald L. Hetherington '62, Butte
Le Roy P. Kemmesat, M.Ed. '62, Deer Lodge
John M. "Mike" Reynolds '63, Cut Bank
Joan Ann Rose '63, Cascade
Donald R. "Don" Waldron, M.Ed. '63, Kalispell
Donald Erwin "Don" Hjelmseth, M.Ed. '64, Ph.D. '72, Missoula
Lester S. "Les" Robinson '64, Huson
Robert M. Shelden '64, Ph.D. '68, Dunedin, FL
E. Kenneth Teberg, M.Ed.'64, Oakdale, CA
David F. Foley '65, Bethlehem, PA
James Allen "Jim" Laas '65, Huntley
Evelyn Luellen Dixon Smith, M.Ed. '65, Mullan, ID
James David "Jim" "JR" Robertson '66, M.A. '68, Billings
Calvin Wahl, M.Ed.'66, Billings
John Baker Altig '67, Scottsdale, AZ
Gordon T. Lindstrom, M.Ed. '67,
Woodbridge, IL
Richard Albert "Dick" Treat '68, Fremont, CA
James Richard "Jim" Bailey '69,
Casa Grande, AZ
James Daniel "Jim" "Curly" Harrington, M.A. '69, Butte
'70s
James Mack "Jim" Clawson '70, Missoula
Robert Howard "Bob" Feldman '70, Billlings
Chester Louis "Chet" Shepard '70, M.S. '73, Missoula
Gale Manning SherroDd, M.Ed. '71,
La Mirada, CA
Robert Joseph "Bob" Swan '71, M.Ed. '72, Box Elder
Douglas Arthur "Doug" Teddy, M.A. '71, Beaverton, OR
Sharon Ann Moran '73, Superior
Donald J. Stewart '73, St. Ignatius
Emery Francis Gray '74, Billings
Lorrie H. Hartman Hefenieder '74, Billings
Kent Richard Shaffer '75, Cut Bank
Lawrence John "Larry" Bermes '76, Billings
Thomas Frank "Tom" McGonigal, M.Ed. '76, Baker
Robert Eugene "Bob" Van Gunten '76, Bozeman
Jacque Allen Wolfe '76, Salt Lake City, UT
Doral Anne Alex Anderson '77, Rudyard
William Patrick "Pat" O'Brien, M.Ed. '77, Chinook
Nancy Lee Conat Claydon '78, Columbia Falls
Opal L. Swaney Cajune '79, Ronan
Daniel Andrew Farago '79, '93, Missoula
'80s
Edward Daniel Britt '80, Missoula
Rosemary Jean Hertel '80, M.Ed '94, Ph.D. '05, Deer Lodge
Constance M. "Connie" McCallum Skousen '80, Missoula
Nancy Marie "Nance" O'Brien '80,
Duluth, MN
Gary Leslie Day, J.D. '81, M.S. '82, Miles City
Cheryl L. Kravik Lee '83, Glasgow
Daniel G. "Crash" Harju '85, Missoula College, Fort Shaw
John Alexander Jaruzel '85, Albuquerque, NM
Kenneth Joseph Verdon '85, Helena
Lisa Cay Pena, M.Ed. '86, Helena
Patty Lou Lovaas '86, Missoula
Jahn Sigmund Hansen '87, Eau Claire, WI
Vilma A. Velasco '87, Missoula College, Missoula
Shannon A. Blakeslee '88, Missoula College, Missoula
Arcadia Patricia Pilskalns Nicklay '89, Hayden, ID
Joseph H. Pablo '89, Arlee
'90s
Robert Loudon "Bob" Cushman '90, Missoula
Timothy Paul "Tim" Ockler '91, Shiloh, IL
Graham L. Beetem '93, Missoula College, Ronan
Laurie Ann Jerin '92, M.A. '95, Davenport, IA
Helen Marie McMillan Zak '94, '95, '97 Missoula College; '00, Stevensville
Teresa Kay Swann Diemer '96, Portland, OR
Horace Richard Pipe Sr. '96, Poplar
Gregory "Greg" Searles Larsen, M.A. '97, Denver
Cybelle Lenore Gordon '98, Missoula
'00s
Bolton Brent Rothwell, M.F.A. '01, Missoula
Curtis Benjamin "Curt" Colter '03
Sioux Falls, SD
Noah Jonathan Baker, M.S. '09
Robert James Edward "Bob" Boyer, M.F.A. '09, Missoula
'10s
Gary Wayne Morris, M.F.A. '10, Kila
Steele Carrington Williams '12, Missoula
Friends
Mark Hodgson Annin, Hamilton
Bernard Gayton Armstrong, Bucyrus, KS
Kathryn Louise "Kay" Schmalhorst Ascheman, Butte
Barbara Ward Aune, Newport Beach, CA
Francis Bakach-Bessenyey, Hamilton
Dennis Henry Barbian, Missoula
Mary E. Barth, Yuma, AZ
George E. Baumann, Missoula
Kenneth Earl "Ken" Beck, Great Falls
Albert Bender, Miles City
Florence C. Nelson Berg, Saint Charles, IL
David Thorn Berner, Stevensville
Charles Robert Binger, Lutsen, MN
Alexander Bird in Ground, Lodge Grass, Billings
Lillian N. Klemm Borge, Great Falls
Olaf G. Borge, Great Falls
Mildred Woodruff Boyer, Missoula
Margaret Mary Zimmerman Brabeck, Missoula
Wesley William Brennan, Sun Lakes, AZ
Rosemary Amelia Barnes Bridenbaugh, Littleton, CO
Jesse Alan Briggs, Choteau
Michael Leroy Brophy, Minot, ND
Joseph "Joe" Butler, Kalispell
Robert Allan "Bob" Cameron, Great Falls
C. Beverly Casey, Missoula
Winslow S. Caughey, Hamilton
Alex William Chessen, Missoula
Keith Andrew Clarke, Helena
Donna R. Coate, Forsyth
Margaret Anna McKelvey Cole, Billings
Rudolph Ross "Rudy" Collins, Leavenworth, WA
Zelia Marie Allen Collins, Anaconda
Bryce Duane Colwell, Missoula
Dorothy Elizabeth Scudder Colwell, Missoula
Peter Thompson Combs, Ennis
Raymond Earl Conard, Lewistown
Martin Benjamin Cook, Missoula
Robert T. "Ted" Cooney, Choteau
Larry James Corcoran, Butte
Arlyne Craighead, Missoula
Debbie Lynn Crowley, Missoula
George Andrew Curtis, Eureka
Betty June Carman Dahlstrom, Missoula
Marion Cecilia Adams Dasinger, Sidney
John R. Davies, Seattle
Daniel Scot Detert, Livermore, CA
Rachella T. Haskin Devine, Livingston
Robert Ernest "Bob" Dillabough, Great Falls
Nancy Goan Dokken, Billings
Lois M. Dupuis, Polson
Mary Phyllis Kathleen Duncan, Missoula
Robert Arnold "Bob" Duringer, Huson
Julia J. Ekstrand, Hamilton
Stephen "Bruce" Elliott, Missoula
Harry Douglas "H.D." Erickson, Belgrade
Patricia "Pat" Staunton Etchart, Billings
Marcile Speicher Farnham, Missoula
Ettasue Steward Ferris, Great Falls
Truxton J. "Trux" Fisher, Butte
William C. "Bill" Fischer, Missoula
Gertrude M. "Gert" Ford, Missoula
Lois J. Gilleran, Helena
Carol Lee Power Gilluly, Anaconda
Sidney Marcellus Goodrich, Marion
Jacqueline B. "Jackie" Pipp Gossett, Missoula
Donna B. Gray, Highland Park, NJ
Kim Lew Haines, Seeley Lake
Edwin Norton "Ed" Halland, Billings
John D. Hanger, Missoula
Ethel M. Harding, Polson
Joan Willis Harris, Tucson, AZ
Kathleen Marie Dorothea "Kay" Mundt Hilde, Sioux Falls, SD
Billy Mills Hoblitt, Florence
Carol Elizabeth Howard Hough, Rochester, MN
Frederick Marvin "Fred" Howe Jr., Hardin
Wanda Emma Mourar Jaqueth, Libby
Laura Mae "Larrie" Ratliff Johnson, Austin, TX
Phyllis R. Johnston, Butte
Beverly Ann Kiker, Missoula
Carol Lorraine Kinney, Missoula
Darrel Irvin Kitzenberg, Bigfork
Margaret M. "Miggy" Morgan Kohlhase, Missoula
Howard F. Kuning, Stevensville
Pauline Barbara Theresa Burtness Kvamme, Billings
Evelyn Marie Miller Larimer, Frazee, MN
Keith John Learn, Livingston
Victor Warren "Vic" Lelek, Lewistown
Jill Roudebush Lenihan, Great Falls
Kenneth M. Leom, Williston, ND
Glenn Thomas Lietz, Martin City
Doris Fryberger Lindstrom, Missoula
Wilma Nadine Taylor Lohn, Palm Desert, CA
Leo Benjamin Lott, Missoula
Larae Ann "Rae" Ludemann, Missoula
Richard E. "Dick" Mahoney, Kingwood, TX
Marie Catherine Matte, Missoula
George Stanley McGovern, Sioux Falls, SD
Frank Thomas McGowan, Missoula
Myra Joan Meyers, Missoula
Joann Foltz Miller, Billings
Darinka J. Milodragovich, Missoula
Elsie LeSueur Minifie, Austin, TX
Lois Marquardt Mitchell, Billings
Margaret Elizabeth Richard Monk, Missoula
William S. Monsos, Great Falls
Mae Louise Murphy, Missoula
Johanna Grieb Weeks Muthler, Jersey Shore, PA
William E. "Bill" Myers, Klamath Falls, OR
William Mackie "Bill" Myers, Missoula
George Frederick Nemetz, Carmichael, CA
Barry Desmond Nolan, Billings
Danielle Lynn Old Horn, Hardin
Heidi S. Olson, Big Sky
Nancy Kay Olson, Joplin
R. Joyce Greenwalt Rowland O'Neil,
Columbia Falls
Stella L. Fortin Palm, Great Falls
Arlene C. Campbell Parks, Kalispell
Robin Wright Petersen, Henderson, NV
Dr. Robert Neil "Bob" Philip, Hamilton
Edris Jean Crerar Powell, Missoula
Ward H. Powell, Missoula
Sigurd Reidar "Sig" Quam, Gretna, NE
June V. McLaughlin Rambo, Billings
Roxy R. Ward Rees, Sidney
Dorothy W. Reiner, Choteau
Roland A. Ritter, Bozeman
Louis James "Lou" Roark, Oilmont
Dorothy Margaret Robinson, Corvallis
James Allison "Jim" Ross, Stevensville
John Frederick Scheel, Weldon Spring, MO
Ivan Eugene "Gene" Schilling, Shelby
Ruth Cecelia Schoonen Harrington, Butte
Evelyn J. Schwartz, Big Sandy
Katelyn Margaret Seegrist, Butte
Marsha Ann King Sepp, Missoula
James Edmund Short, Bozeman
Jenny Lou James Siderius, Kalispell
Emmett Joseph Smith, Alberton
Leta Louise Smith, Missoula
Maribeth Grandy Smith, Helena
Betty "Bonnie" Solberg, Great Falls
Rose Marie Popnoe Spraggins, Lewistown
Ken A. Staninger, Missoula
Ruth Shannon Nace Steel, Phoenix, AZ
Nedra J. Sterry, Great Falls
Melvin "Dee" Strickler, Columbia Falls
John William Susen, Stevensville
Margrit Zollinger Syroid, Missoula
Mary Grace Caras Thomas, Seattle
June Marie Thayer, Thompson Falls
Margaret "Peg" Mack Thornton, Missoula
Betty Lane Tomcheck, Great Falls
Daniel J. "Dan" Trenkle Sr., Huson
Dorothy A. Murphey Trosper, Milwaukie, OR
Miriam B. Moore Tucker, Great Falls
Charles Richard "Dick" Vandeveer, Missoula
Richard Dale "Dick" Vandiver,
Lincoln City, OR
Stanley W. Vejtasa, Escondido, CA
Eric Tobias Wanner, Missoula
Robert McMaster "Bob" Weidman, Missoula
Elsie Ruth Holstrom Weitz, Helena
Michael Little YoungMan, Browning
Michael Donovan "Mike" Zeltinger, Burlington, WA