The Magazine of The University of Montana
Around the Oval
Jam Session
UM Students Help Promote, Organize Clapton Guitar Festival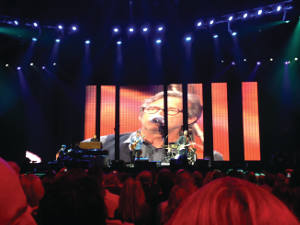 Legendary musician Eric Clapton performs at his Crossroads Guitar Festival at Madison Square Garden.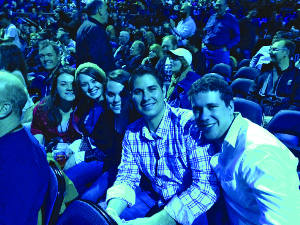 UM students, from right, Jacob Lutz, Paul Tappon, Darah Fogarty, festival volunteer Charlee Bettise, and Rebecca Gairrett, also a UM student, enjoy the festival.
Photos courtesy of UM Entertainment Management Program
Not many people get the chance to escort Grammy-winning country music star Keith Urban to a VIP reception at a New York City event. Or shake hands with actor-singer Dan Aykroyd. Or deliver a gift bag to singer-songwriter John Mayer's dressing room.
But a group of University of Montana Entertainment Management students got the chance to be "backstage and front of house," helping coordinate a festival and fundraiser put together by music legend Eric Clapton.
While escorting Urban to the VIP reception, Paul Tappon, a senior in UM's Entertainment Management Program, had to fend off the crowds.
"Everyone wanted to take a picture with him," Tappon says, "but I just had to get him there."
Eric Clapton's Crossroads Guitar Festival 2013, sponsored by Chase, was held in Madison Square Garden April 12-13 and benefitted Crossroads Centre Antigua, a chemical dependency treatment center founded by Clapton. The festival featured more than thirty of the world's greatest guitar players—including Mayer, Urban, Jeff Beck, Taj Mahal, B.B. King, the Allman Brothers Band, and Clapton himself—who donated their time and talent to raise money for the center.
Half a dozen students headed to Madison Square Garden after two semesters and hundreds of hours of work promoting and publicizing Clapton's festival. Via social media, they were among the first to announce ticket sales to the festival—the fourth one so far. Once announced, tickets sold out in seventeen minutes. Some of the students' pre-festival work included:
• designing and implementing the Crossroads website, Facebook page, and Twitter profile;
• encouraging more than 19,000 people to "like" the Facebook page;
• working with radio stations across the nation on contests, promotions, and giveaway prizes; and
• collecting donated products from national companies such as Hard Rock Café, Trader Joe's, and Olympus—as well as from Montana businesses—to put together gift bags for artists who volunteered their time.
In New York, students worked on all events associated with Clapton's festival, including artist receptions, VIP gatherings, and the Road to Crossroads Exhibition, which featured some of the most valuable guitars in the world, including Clapton's Fender Stratocasters, "Blackie" and "Brownie." They worked with artists, artist managers, stagehands, production managers, vendors, and others on a wide variety of tasks—from unloading boxes and setting up displays to taking key photos and keeping a steady stream of posts and tweets going to followers all over the world. They also had to problem-solve and troubleshoot issues that aren't necessarily learned from textbooks alone.
"You can hear people in the classroom, but it's not the same," Tappon says. "We had to be flexible. A lot came up."
For example, what happens when the Crossroads website goes down and the service provider tells you it will take seventy-two hours to get back online? You get on the phone, start negotiating, and get the site working in two hours. Or, what happens when you post something to the thousands of followers about Dan Aykroyd and spell his name wrong? Take it down quickly.
"The students were the first line of communication on things that happened," says Maria Brunner, a core instructor in the Entertainment Management Program who brought the project opportunity to UM. "If there was a problem, they had to figure out how to solve it. They had to deal with many personalities. They learned to be diplomats, dealing with timely and political situations."
Glamor and glitz aside, working with a prestigious nonprofit on a worthy cause was important to the students and musicians alike.
"Everyone came together for such a great cause," Tappon says. "There were big-time artists, and it was a big-time venue. But it wasn't about the money or prestige. It was about the music and the cause. Nobody was fighting for the spotlight. They were just there to help the cause."
—Shannon Furniss
Notable Quotable
UM hired Lucy France as legal counsel, and she began her new duties in February. She reports to the UM president and serves on the University's senior management team. France manages all legal issues affecting the University and represents UM in all legal and administrative forums. She is part of the Montana University System legal team and works closely with attorneys in the Office of the Commissioner of Higher Education and Montana State University. Also hired was Paulo Zagalo-Melo, the new director of the Office of International Programs. Zagalo-Melo was director of the Luso-American Foundation in Lisbon, Portugal. Before joining the foundation in 2006, he served as the executive director of the Fulbright Commission in Portugal for a decade.
Marilyn J. Bruguier Zimmerman, director of UM's National Native Children's Trauma Center, has been appointed to the new twelve-member National Child Abuse Prevention Commission. She was nominated for the position by Senator Max Baucus. The commission supports the Protect Our Kids Act, which Baucus wrote and President Barack Obama signed into law in January. The group will study and evaluate federal, state, and private child-welfare systems and provide policy recommendations to prevent child maltreatment, abuse, neglect, and fatalities from abuse. "In Indian Country and across the nation, our children are calling out to us," Zimmerman says. "There are new, effective interventions that prevent violence, help children and parents with trauma, and support child-welfare workers. I am honored to help the commission with this effort."
The Montanan recently won a Grand Gold Award in writing from the Council for Advancement and Support of Education District VIII, which encompasses the Pacific Northwest, western Canada, and Alaska. The award honored an article written by Nate Schweber '01 titled "Call of the Wild," which described the success of modern hunter-gatherer, UM alum, T.V. personality, and author Steven Rinella '00. The Grand Gold honors the top writing entry produced in CASE District VIII each year. The Montanan also earned a Bronze CASE Award for an article titled "The Bakken Boom" by Ed Kemmick.
The President's Perspective
Greetings!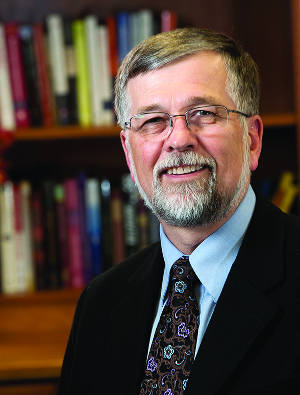 As I write this column, we are just a few weeks away from Commencement. The fact that snow blanketed the Oval on this late April morning makes me a little nervous as, again this spring, we will hold Commencement outside in Washington-Grizzly Stadium. Approximately 3,000 undergraduates and graduate students have completed the work for their respective degrees during the course of this year. Commencement, of course, is our official recognition ceremony, but we already have begun celebrating the accomplishments of our students.
For example, in mid-April about 350 students, undergraduate and graduate alike, presented the results of their research and creative scholarship as part of Innovation and Imagination 2013, a new annual program focused on recognizing the achievements of our faculty and students through independent discovery and creativity. Topics covered the arts and humanities, science, and the professions, with presentations from essentially every college and school on campus. Student Sophia Jensen won a life sciences award for her poster presentation, The Secret Language of Birds. Student Allyson Carroll won a fine arts award for her oral presentation about Beethoven's Sonata No. 17. The quality of such scholarship shouldn't come as a surprise, as our students are mentored by exceptional faculty scholars.
In February, we held another new event called Celebrate Academics in conjunction with Charter Day. We had an invigorating experience exchanging ideas and recognizing new ways of providing academic programming for today's students. Some of our top faculty gave lectures, and UM Theatre & Dance students gave a wonderful preview performance of Jumping into Fire: A Chinese Tale for All Ages.
In March, our men's and our women's basketball teams won Big Sky Conference titles and went to the NCAA Tournaments. We have rejoiced in UM students winning prestigious national recognition: our thirteenth Truman Scholar, a Goldwater Scholar, a Udall Scholar, and multiple Fulbright Scholars.
All of these accomplished students are nurtured by staff and faculty members, so each April we set aside a day of recognition for employees as well, honoring our talented colleagues.
The University of Montana, like any public university, depends upon policymakers who determine funding and other issues important to higher education. As of this writing, the 2013 Legislative session is in its final days. While we don't know the final outcome, higher education has been a topic of fruitful and beneficial discussion during the session. I am pleased by the progress we are making with the Legislature and the governor. The level of excellence at UM and its importance to the quality of life in Montana has come through loud and clear during these conversations. We look forward to a bright future for the University!
Royce C. Engstrom, President

Title Town
Montana Hoops Teams Reign Supreme Over Big Sky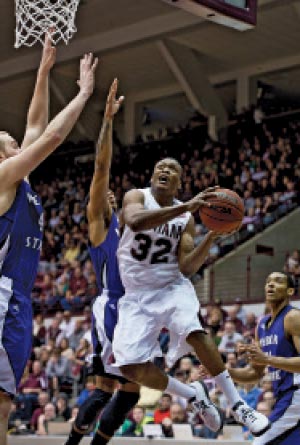 UM's Kareem Jamar glides to the basket against Weber State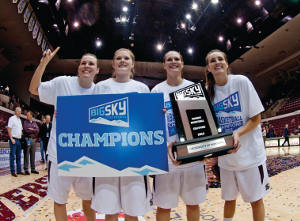 Montana seniors Alyssa Smith, Kenzie De Boer, Ali Hurley, and Katie Baker show off the Big Sky championship hardware.Photos by Todd Goodrich
March 16 certainly was a slam dunk of a day for UM basketball, as both the Griz and Lady Griz captured the Big Sky Conference Tournament titles and punched their tickets to the Big Dance. Making it sweeter was the fact they did it in the friendly confines of Dahlberg Arena. Both teams earned the right to host their respective tourneys by winning the regular-season titles, and they didn't disappoint the thousands of fans in attendance.
The Griz, led by league MVP Kareem Jamar and Defensive Player of the Year Will Cherry, dispatched Weber State 67-64 to earn the team's second- straight trip to the NCAA Tournament. They drew a 13-seed and faced the Syracuse Orange, who toppled the Griz 81-34 in San Jose, Calif. Syracuse went on to make the Final Four.
Though their season ended in a disappointing fashion, overall it was a tremendous success. Here's a glimpse at what the Griz accomplished:
• The Griz posted a 25-7 record, the team's fourth-straight 20-win season.
• They won 19 regular-season Big Sky games, a league record.
• Including last season, they won 25 straight league games, another record.
• They've also won 26 straight league games at home, a mark the team hopes to expand next season.
• Wayne Tinkle, the Big Sky Coach of the Year, led the Griz to their third NCAA appearance in the past four seasons. The Griz have 10 appearances overall.
The Lady Griz, led by Big Sky MVP Katie Baker, took down Northern Colorado 56-43 to claim the league crown. They advanced to the Big Dance for the 20th time, where they faced perennial powerhouse Georgia of the Southeastern Conference. While the Lady Griz, also a 13-seed, hung tough into the second half, the Bulldogs pulled away for a 70-50 win.
While their hopes of a Cinderella run were dashed, the Lady Griz have much to be proud of:
• They finished with a 24-8 record, the program's 28th 20-win season.
• Baker and Kenzie De Boer were named first-team All-Big Sky selections.
• In the Big Sky Tournament semifinal and championship games, the Lady Griz never trailed their opponents.
• Coach Robin Selvig, who wrapped up his 35th year at the helm of the program, was named Coach of the Year for the 20th time. He has 798 wins.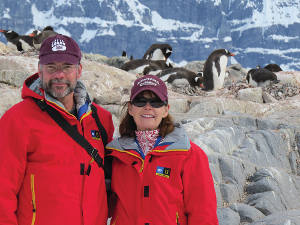 Where's Your GRIZ Been? Tom Daer '75 and Sally Daer, M.E. '68, sport their Griz gear in Antarctica this past January. "The trip to Antarctica finished our goal of visiting every continent," Sally says. "And I think it was the best of the bunch—just full of wonder." Tom, who has a UM forestry degree, recently retired after thirty-six years with the federal government. He continues to work with fire management teams. Sally is a retired teacher who spent forty years educating students in Bozeman and Missoula. She now supervises student-teachers in UM's Phyllis J. Washington College of Education and Human Sciences. Congratulations, Tom and Sally. You have won a $50 gift card for The Bookstore at UM.
Do you have a photo of yourself wearing your Griz gear in an amazing place or while on an incredible adventure? If so, send it along with a brief description to themontanan@umontana.edu. Winners will see their photo published in the Montanan and will receive a $50 gift card to The Bookstore at UM. To be considered, photos must be in focus with the UM or Griz logo clearly visible.
Alum, Wife Commit $1.25 Million Gift to UM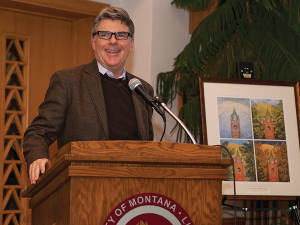 Tim O'Leary
President Royce Engstrom announced in January that an alumnus and his wife have committed $1.25 million to UM's School of Business Administration and College of Arts and Sciences.
Tim O'Leary '81 and Michelle Cardinal have included a provision in their wills that will fund endowments at the School of Business Administration for a faculty fellowship and marketing analytics courses. Endowments also will create scholarships in the College of Arts and Sciences' Creative Writing Program and will support UM's CutBank literary magazine.
"The Department of Management and Marketing in the School of Business Administration plays a pivotal role in moving Montana forward, while the Creative Writing Program attracts talent from around the world," Engstrom says. "Through the generosity of Tim O'Leary and Michelle Cardinal, two of our premier programs are about to get even better."
O'Leary says that while he focused on a foundation in business, he also found great passion for creativity in the Creative Writing Program.
"I was never acclimated to getting a classical business education, and I was always interested in the intersection of business and creative pursuits," O'Leary says. "Because of the tremendous faculty and environment of the University, I was able to create my own educational track whereby today I am able to sit down and analyze a financial statement and understand organizational structure, but I also can write."
O'Leary served on the business school's Department of Management and Marketing Advisory Board for several years. He also served the University as a whole as a regional committee member during the "Invest in Discovery" campaign. Since 2009, O'Leary has served on the UM Foundation board of trustees and now is in his second three-year term. He chairs the Foundation's Marketing and Communications Committee and is a member of the Executive Committee.
Splitting their time between homes in Washington and Santa Barbara, Calif., the couple raises olive trees in California and trout in Washington. Additionally, O'Leary is an avid fly-fisherman and water conservationist who also sits on The Freshwater Trust board of directors.
Meet Grizwald,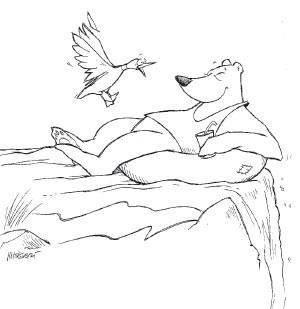 UM's cartoon bear. In frequent issues of the Montanan, we provide a drawing of Grizwald that needs a creative, original caption. It's up to you, our readers, to provide it. The winning contestant will receive a Griz stadium blanket. Send submissions to themontanan@umontana.edu.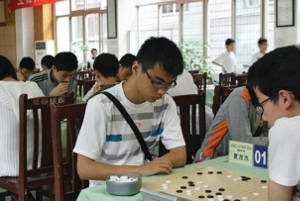 Xia
UM freshman Maojie Xia
traveled to Tokyo in February to compete in the eleventh annual World Students GO OZA Championships. The tournament featured the top sixteen student Go players in the world, and Xia was the only U.S. university student in the competition. Go is a board game for two players that originated in China more than 2,000 years ago. Though the rules are simple, the game is rich in strategy. Players alternately place black and white stones on a board checkered by nineteen vertical and nineteen horizontal lines in an attempt to enclose the larger area. Go is extremely popular in East Asia, and in Western culture often is compared to chess. Xia, age twenty-one, has played Go since he was six. "Not many people play Go in America," Xia says. "If more people want to learn to play Go, they will love the game. I think it's the most complex game in the world." He came to UM through its exchange program with the Southwestern University of Finance and Economics in Chengdu, China. Xia plans to stay at UM for the next three years to complete his bachelor's degree in accounting through the School of Business Administration.
The Bottom Line:
2: Holes-in-one hit by Griz golfers Tara Green and Olivia Weber on the same day, in the same tournament
$3.27 billion: Money spent by tourists in Montana during 2012, according to UM's Institute for Tourism and Recreation
4: Number of UM education majors who student-taught in China this past semester
12: UM's ranking on the Peace Corps' Top Colleges list for service members from medium schools, up two spots from 2012
4: Consecutive years UM has been named to The Princeton Review's Guide to 322 Green Colleges
Fallen Soldier Memorial Named Official State Iraq and Afghanistan Shrine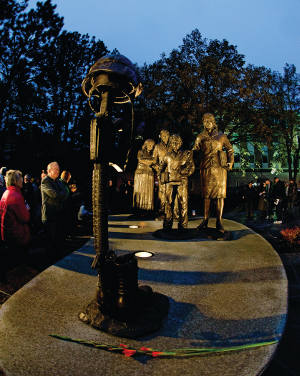 The Grateful Nation Montana Fallen Soldier Memorial at UM
The Grateful Nation Montana Fallen Soldier Memorial at UM is a solemn reminder of lives lost in wars in Iraq and Afghanistan. The bronze memorial, bearing the names of Montana soldiers who lost their lives in the recent wars in the Middle East, has become the official State Iraq and Afghanistan Veterans' Memorial.
The Montana Legislature passed House Bill 351, which extended the state designation to the memorial, without a single opposing vote. Governor Steve Bullock signed the bill into law on April 8.
"It's a proud day for Montanans as we stand together and recognize the sacrifices that Montana members of the United States Armed Services and their families have made for our country," says David Bell, Grateful Nation Montana co-founder and president. "I'm proud that my alma mater has made it a priority to honor the sacrifices of our military, prominently featuring this inspiring and emotional memorial on its main campus, as well as the many other veteran-outreach and education services the University offers."
The Fallen Soldier Memorial features five larger-than-life bronze statues surrounded by granite tablets recessed in the ground. The tablets are inscribed with the name, branch, rank, years lived, and Montana hometowns of each fallen soldier.
Grateful Nation Montana was formed in 2007 to facilitate college educations for the children of Montana soldiers killed in active duty in Iraq or Afghanistan. It is a Montana University System Board of Regents-sanctioned program led by UM.
For more information visit www.gratefulnationmontana.com.
Provost, Academic Affairs Announce Programs of National Distinction
THREE TOP UM PROGRAMS—creative writing, organismal biology and ecology, and wildlife biology—recently were named Programs of National Distinction.
The three were selected by UM's Office of the Provost and Vice President for Academic Affairs for the honor, which aims to maintain or stimulate development of programs of national or world-class excellence.
"There are many strong programs at UM," Provost Perry Brown says, "but our desire has been to identify those that have national distinction based upon several criteria and then to provide resources to assist these programs to enhance this distinction—to be among the very best in the nation."
During autumn semester, more than thirty programs and departments submitted short funding proposals in a competition. Units had to demonstrate how they qualify for the designation by addressing characteristics such as scholarly output, quality of students, and educational outcomes. Programs also revealed how they influence policy, research, creative scholarship, and education from the local to international levels.
Additionally, programs demonstrated how they assist the five issues outlined in UM's strategic plan, UM 2020: Building a University for the Global Century. They also outlined the projected use of financial resources to help maintain or enhance national distinction.
UM will solicit more proposals in the future to allow other deserving programs the opportunity for sustained growth and development.
UM Foundation Names New President and CEO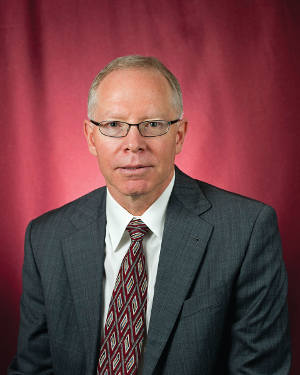 Giese
The UM Foundation recently selected Shane Giese as its next president and CEO. Giese's career includes twenty-seven years in higher-education fundraising. He comes to UM from Kansas State University, where he served as senior vice president for development.
"We are pleased and excited that Shane will be joining us as leader of our Foundation," says Mike McDonough, chair of the UM Foundation board of trustees. "His senior development leadership experience at multiple institutions and his success with educational institution campaigns will enable our Foundation to be a major contributor to the success of UM."
The move to Montana will be a return to the Northwest for Giese and his wife, Joan. He was associate vice president for campaign initiatives and associate vice president for development for the University of Oregon from 2006 to 2011. As associate vice president for development, Giese helped the university vastly exceed a campaign goal of $600 million, ending the campaign with $853 million raised.
Before his tenure at Oregon, Giese was on the staff at Washington State University for sixteen years. He began his work there as assistant dean for external affairs/director of development for the College of Business and Economics. He then advanced to vice president and director of corporate and foundation relations. When Giese left WSU, he was senior vice president.
"I look forward to returning to the Northwest and joining The University of Montana Foundation," Giese says. "The Foundation and the University have strong leadership teams in place. I am excited about the opportunities to help grow the fundraising program."
Giese has a bachelor's degree in chemistry from Wayne State and a master's in business administration from Southern Oregon University. He began his duties May 1.
UM Student Wins Prestigious Truman Scholarship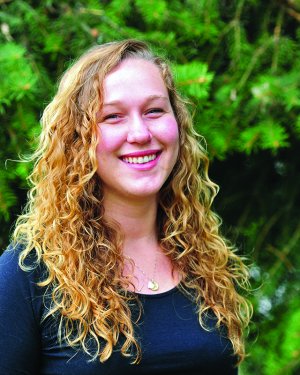 Boslough
UM junior Rebecca Boslough recently won a national Truman Scholarship, which provides top U.S. university student leaders up to $30,000 for graduate or professional school.
Truman Scholars are selected on the basis of leadership achievements and potential in public service. Boslough, who majors in resource conservation with a minor in climate change studies, is the University's thirteenth Truman Scholar and the only student selected from a Montana university this year. Sixty-two students from fifty-four colleges and universities were selected as 2013 Truman Scholars out of 629 candidates from nearly 300 institutions.
Boslough, a graduate of Helena Capital High School, is a Presidential Leadership Scholar in UM's Davidson Honors College, where she serves as a mentor for the Introduction to Honors freshman seminar.
"Rebecca is the perfect example of scholarship and achievement at UM," President Royce Engstrom says. "Her commitment to academics, student involvement through ASUM, and volunteering in the community is a testament to her potential in her future education and career."
Boslough's active leadership in a variety of campus and community activities helped her win the Truman Scholarship. She is vice president of the UM Wilderness Association and a member of UM Climate Action Now and Glacier Two Medicine Alliance for Conservation. During her internship and subsequent work for the Wilderness Society, she produced news stories, blogs, educational slideshows, and videos.
According to the Truman Foundation, the scholarship is firmly rooted in former U.S. President Harry Truman's belief that education promotes the general welfare of our country. The scholarship remains committed to encouraging future "change agents" of America. Many Truman Scholars go on to serve in public office or as leaders of nonprofit organizations and educators.
New institute Focuses on Native American Land Ownership, Honors Cobell
UM students now will have the opportunity to learn about the complexities of Native American land ownership in a new on-campus facility.
UM announced the creation of the Elouise Cobell Land and Culture Institute in March. Located in The Payne Family Native American Center, the new facility will engage students in project-based learning and outreach.
Cobell, who died in 2011, was a passionate advocate for Native rights. A member of the Blackfeet tribe, she was instrumental in obtaining a $3.4 billion Indian trust settlement from the federal government.
"Elouise was a great friend to UM, the state of Montana, and Native people across the United States," says UM President Royce Engstrom. "The Elouise Cobell Land and Culture Institute will ensure that future generations carry on her work through state-of-the-art education about land use and indigenous cultures."
Terry Payne, whose family was the lead donor for UM's Payne Family Native American Center building, also provided the launching gift for the institute, which is established in honor and memory of Cobell.
Facetime: Michael FitzGerald '00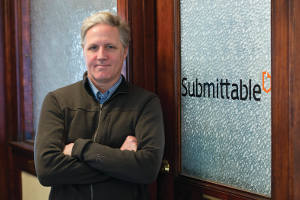 FitzGerald
UM is famous for the quality of writers produced by its Creative Writing Program, but not many of them go on to run nationally recognized tech companies based in Missoula. In fact, you could argue that Michael FitzGerald, M.F.A. '00, stands alone in that category. FitzGerald is CEO of Submittable, an enterprise software company that allows publishers to easily accept and curate digital content. FitzGerald founded the company in 2009 with Bruce Tribbensee and John Brownell. Submittable now has more than 700,000 users and supports the editorial process of major publishers, including National Public Radio, the Chicago Tribune, and McSweeney's Quarterly and Books.
I hear you started as a writer and have published a book. Is that something you still do? I published a novel in 2007, and I have published in a variety of literary magazines. I do still write, but I do much more blogging. I've found that launching a company from Missoula with an international reach is challenging without a lot of capital, and my writing background enabled us to communicate in a way that I can't imagine being able to do without writing well.
What is Submittable? Publishers have two major problems right now. The main problem, the obvious problem, is they're competing against blogs, Facebook, all these different ways of distracting what used to be the reader. The second problem is publishers who have an online presence like a Facebook see that as communicating with their readers, but really they're just giving Facebook content.
The traditional publishing paradigm is creator, editor/curator, production, and distribution. But the value of distribution has dramatically lowered because the nature of the Web makes it almost free, and the value of production also is dramatically lower. For creation, say I'm a poet in Williamsburg and I can write a poem on the way to my job in New York on my iPhone on the train in the morning. My phone has replaced the typewriter, the fax machine, the post office, and the copy machine. So there's this huge oversupply of content. Anyone can create because it's effortless to create content. So what we think is more valuable than ever is the editorial and curatorial skill set.
Right now, Google and all these people are trying to create algorithms to find this content through likes or search results and things like that, but that only really gets you to the 80 percent. Totally, utterly authentic and unique content can only truly be found by a human being at this point. Through Submittable, any organization can accept video, audio, and text, which then comes into your organization and goes through a curatorial workflow. It gets voted on, talked about, commented on, you can have a back-and-forth with the original creator.
When did Submittable begin? In the fall of 2008, Bruce Tribbensee, who's a good friend of mine, and I were out to lunch. We were both working for consultants, but Bruce is a filmmaker and I'm a writer who had always written code on the side. We just said, "This sucks. We should just start a company." Neither of us had a business background or had started a company before, but while we were at lunch we made of list of things we thought we could do.
We originally wanted to fix a problem that I was having as a writer. When I wanted to send out work, I would send it to ten different organizations that all had a different way of accepting it: post for one, e-mail for another, some crappy handmade form for another. So Bruce and I just started writing code, which we did for about ten months.
We created this social network [Submishmash], and we didn't talk to anybody—didn't talk to any users—and after ten months of writing code we had this really powerful social network that no one was ever going to use. We went to release it and realized we had created a solution that didn't really have a problem. The reason why it was hard for me to send stuff to publishers was because they couldn't really accept it easily.
What have been milestone moments for the company? We got our first user in the winter of 2010 and after that we quickly got 100,000 users.
One of the things that's surprising about us is we're a Y-Combinator company. Y-Combinator was the first and one of the most prestigious seed-accelerator programs. Every six months about 5,000 companies apply to be in the Y-Combinator startup program. We applied and participated last summer. They bring you out to Mountain View, California, and give you about $200,000—for which they take a small piece of the company—and they put you into the Silicon Valley pressure cooker and help you get investments.
We raised about $750,000, which for Montana makes us one of about two companies that have raised that sort of money. I should say the biggest milestone was when we started to make money.
How are you adapting to being a CEO from being a writer? I don't think starting a company is that different from writing a novel. With both undertakings you are creating something out of nothing and then you're selling it. What really was valuable is that it took me five years to write my first novel. In the beginning, no one asks you to start a company, no one cares that you did it, everyone's sort of embarrassed for you and thinks you're crazy. And for the first year, you just sort of have to live with that.
For a startup not to fail, you just don't fail. You're going to be failing the first two years anyway, but you just keep going.
Are you writing anything right now? I'm working on a book called Start Down, which essentially is essays about this process. It's about starting a tech company someplace outside of New York or Silicon Valley.
—Interview by Bess Pallares