Women of Millennium

by Beth Judy
What can we expect from University of Montana women in the future? Judging from the following four students, the answer is, the world. When asked what motivates them, they credit their families. "I was taught if something has to be done, you have to do it," says junior Mandy Johnson. "And it has to benefit others."

More than anything, however, the women speak of their work as a passion. "My work is totally inspiring to me," senior Amie Thurber says. "It's not a chore; it's not a job," adds graduate student Karen Short. "It's not supposed to weigh you down," Johnson echoes. "You do it while enjoying life and the people around you."

The four are optimistic about the future. "You have to be," says law student Mary Ann Dellwo Ries. Thurber agrees. "I'm a superpragmatist," she says, "I believe that being hopeful is the smart thing to do."
Changing People's Hearts: Amie Thurber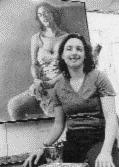 "A lot of work with youth at risk today focuses on skills-getting a job, what to wear to the interview," says art major Amie (AH-mee) Thurber. "But that's not the problem. The problem is lack of a vision."
Since 1997, Thurber has helped kids articulate their visions-in full and glorious color. Together, from concept to final masterpiece, they paint sponsored murals on buildings, bridges, dumpsters in the Missoula area featuring hands holding keys, people dancing, even a door opening and music notes streaming out. Words like "wisdom" and "initiative" float against a blue sky. "Art, creativity, is all about problem solving, how to get from A to Z-hitting barriers and not stopping," she says.
At UM, Thurber is program coordinator for the University Center Multicultural Alliance. She's also a local leader of the National Coalition Building Institute, an organization that works to eradicate racism and other conflicts.
The institute's model for change excites Thurber. "You change things by changing people's hearts, not their minds, and the way to change hearts is through sharing stories," she says. This year, when a local school called because white students were harassing the school's one black student, Thurber and colleagues put theory into practice. "We got students talking and opening up to each other," she says. "This model makes every person feel valued and hopeful."
Thurber, who was recently recognized as an outstanding student by the Associated Students of The University of Montana and the Center for Leadership Development, says she plans to pursue a graduate degree in education at UM and to keep making art and building coalitions. "Connecting in a more meaningful way," Thurber says, "that's our way out of the mess we're in."
Solving World Problems: Mandy Johnson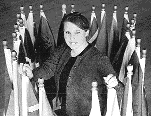 In 1998, Mandy Johnson (Portugal) and most other members of the Security Council were calling for military action against Iraq. But Johnson had to watch as superpowers France and the former Soviet Union vetoed the motion. "There was nothing we could do," she remembers. This year Johnson went to bat for three more countries: Canada, Mozambique and Colombia. No, she's not a freelance diplomat. She's a member of the UM Model United Nations collegiate team.
"I was shy in high school," the Missoula native says. "Model U.N. opened me up to speaking to others." During her senior year at Missoula's Hellgate High School, Mandy participated at a Model U.N. conference held annually for Montana high school students. There she got hooked. "It's fun to put yourself in the role of a diplomat, solely representing a country and solving world problems," she says.
Model United Nations has been at UM since 1964, but the group's only activity consisted of hosting the high school conference-that is, until Johnson hit campus. She and two colleagues lobbied for a collegiate team. Since 1997, when UM's first team participated in New York, the team has competed in the Berkeley conference against twenty-four other schools, including Harvard and the University of California at Davis. The team has garnered awards including honorable delegation in 1999 and outstanding delegation in 1998.
Johnson studies French, German and history, and dreams of a career in international relations, with an eye toward West Africa. She also is involved in UM's Model Arab League. She says Model United Nations has taught her that "the best thing you can do is listen to people. You can't just ignore them. We've got to work with each other."
From Barley to the Bar: Mary Ann Dellwo Ries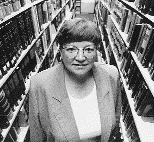 In Conrad, Montana, life was good for Mary Ann Dellwo Ries. She farmed wheat and barley and raised five boys with her husband. For six years, she served simultaneously as Conrad City Judge and as Justice of the Peace for Pondera County. But as soon as she took the bench as city judge, she confesses that she "thought of the attorney and what I would do if I were him to win the case." That was the first step toward enrolling in UM's School of Law.
Ries, who was UM's expert witness at the national Student Trial Championship in New Orleans, says she loves everything about law school. Although her first year has been terrifying at times-she'd never taken a blue book exam before in her life-mostly she's thrilled. "My classmates moan and groan," Ries says. "I just don't feel that way. The opportunity to learn about different aspects of the law is the best part." Ries especially enjoys legal writing and civil procedure. "The law isn't black and white; the rules help you know what to do," she says.
How can Ries juggle her studies and her family? "Because my family's so wonderful," Ries says. Ries's husband remains in Conrad with one of their boys. Ries has two with her. The older boy babysits for his younger brother, and a grown son and his fiancee also help out. "The separation is hard, but they understand it's going to be better for us all," she says. "Sometimes I wish I'd done this twenty years ago, but I don't know if I could have then."
This summer, Ries interns with the Glacier County attorney. It's too soon to talk of post-graduation plans, she says, but ultimately she'd like to be back in Pondera County, practicing law. Family, community, church and country are central for Reis, and law offers a way to put them all together. "Law gives society a structure and extends protection to all people, not just one class. I'm passionate about making sure of that protection."
On Fire: Karen Short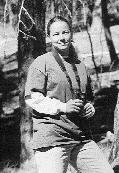 As a child growing up in Louisiana, UM biological sciences doctoral student Karen Short was addicted to "safari cards"-little cards that came in the mail featuring pictures of animals. Years of classes in ornithology, zoology and resource management stand between then and now. But, grinning, Short confesses her current work makes her feel just as excited as those safari cards did.
After Short graduated from the University of Arizona in 1996, she worked in southeast Arizona's Saguaro National Park. On a breeding-bird survey in the park's mountaintop ponderosa pine forests, she noticed preparations for a prescribed burn and began to wonder how fire-a natural part of the ecosystem when unsuppressed-affected the abundance of birds and insects. Did fire simply destroy animal life? Or did any of these organisms take advantage of fire? Her questions initiated a year-long study of the effects of low-severity fire on bird and insect communities in the mountaintop ecosystem.
Last fall, the Canon National Parks Science Scholars program awarded Short $75,000 to continue her work. Research funded by the prestigious award is likely to influence national park policy.
Short sees prescribed burns as a unique laboratory opportunity. "Knowing an area will be burned, you can study it before and after," she says. In pre-burn inventories, Short has collected about eighty families of insects. It's too early to say how fire impacts the insects and the birds that eat them.
Larger issues-fire study design and communication with the public about fire-also intrigue Short, who dreams of creating and coordinating multi-agency research projects on fire. She says fire ecology studies can help "put fire in a different context for the public, tell a more honest story instead of just an easy one. I think people are waiting for the answers."

Beth Judy has completed a biography of a woman bronc rider.