The Magazine of The University of Montana
About Alumni
Keep Us Posted. Send your news to Betsy Holmquist, The University of Montana Alumni Association, Brantly Hall, Missoula, MT 59812. Go to www.grizalum.com and click on "Class Notes," FAX your news to 406-243-4467, or call 1-877-UM-ALUMS (877-862-5867). Material in this issue reached our office by July 1, 2009. Note: the year immediately following an alum's name indicates either an undergraduate degree year or attendance at UM. Graduate degrees from UM are indicated by initials. Snowbirds/Sunbirds—Anyone! Whenever you change your mailing address, please contact the alumni office. Let us know where you are and when. Thank you.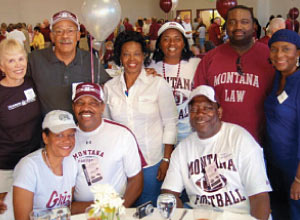 The first Black Studies Reunion was held this September and hosted festivities for more than eighty attendees. They included, back row, left to right: Dianna Reber Riley '88, Missoula; Gale Richard '71, Portage, MI; Vicky Richard, Portage, MI; Frances Jackson McBurrows, Monee, IL; Jonathan Dunbar, J.D. '07, Augusta, GA. Lelia Crawford '71, M.Ed. '74, Decatur, GA. Front Row: Doris Gray, Scottsdale, AZ; Maceo Gray '69, Scottsdale, AZ; John McBurrows '71, Monee, IL.
Black Studies Reunion—More than eighty people from fourteen states attended the first UM Black Studies Reunion held September 17-20 in Missoula. Reunion events included a Thursday evening picnic; a keynote address by Ulysses Doss, the first director of the Black Studies Program; a presentation of the 1974 re-enactment of the twenty-fifth Infantry Bicycle Corps Expedition to St. Louis in 1897; an open mic banquet where attendees shared stories detailing the impact attending UM had on them; a pregame brunch; watching the Griz play Portland State; and a Sunday open house.
"The impact of the reunion was huge," says Missoulian Dianna Riley, who initiated the concept for the reunion. Dianna says the idea came to her during a one-day celebration for the fortieth anniversary of the program in 2008. "There had never been a reunion and the time seemed right. Connections were made with people who had not seen one another for up to forty years. The entire four days were filled with stories, laughter, tears, and promises to stay in touch."
Murray Pierce, special assistant in the UM Office of the Vice President for Student Affairs, also was an important player in planning the reunion. "It was incredible," he says. "Most people spoke of reconnecting with an integral part of their lives that has had lasting effects. They also spoke fondly of the connections made at UM. In addition we initiated a scholarship fund for a qualified student majoring in African American studies. We have established an 'emergency fund' for students in financial need, and we created the UM Black Student Union Alumni Advisory Board to assist in all areas for black students."
Another reunion will be held in 2013 to celebrate forty-five years, and a subsequent reunion will take place in 2018 to celebrate the fiftieth anniversary of the program.
'20s
Dorothy Cooper Jones, Whitefish, was initiated into Kappa Alpha Theta sorority while a student at UM in 1928. At 101 years of age, Dorothy attended her sorority's 100th reunion at Homecoming. Dorothy's niece Nancy Cooper '58, Red Lodge, also a Kappa Alpha Theta, attended the reunion with her aunt.
'50s
The sixtieth reunion for the class of 1950 will be held May 13-15, 2010. You can see photos and watch a video from the 2009 class reunions by logging on to our Web site, www.grizalum.com, and following the "Events/Class Reunion" links.
William D. Hummon '55, '60, M.Ed. '61, Athens, Ohio, retired as professor of marine biology from Ohio University after thirty-seven years of teaching and research. A Fellow of the American Association for the Advancement of Science, Bill was a Fulbright Research Scholar to Egypt in 1994. He has done research on tiny, sand-dwelling marine organisms throughout the coastal United States, the northeast Atlantic, and the Mediterranean and Red seas and remains active in the field.
Bill Todd '57, San Jose, Calif., on drum, and Wayne Leslie '62, Lincoln, Calif., on trumpet, played for the UM tailgating crowd at the Griz-Sac State game October 24. "Their Two Dot Alumni Band plays for all the Griz-California football and basketball games," says Bill Johnston, UMAA director. "The crowd loves 'em."
'60s
The fiftieth reunion for the class of 1960 will be held May 13-15, 2010. You can see photos and watch a video from the 2009 class reunions by logging on to our Web site, www.grizalum.com, and following the "Events/Class Reunion" links.
Maurice Hornocker '60, M.S. '62, is one of twenty-nine animal conservationists nominated to receive the 2010 Indianapolis Prize, the world's leading award for animal conservation. Founder and president of the Selway Institute, a nonprofit research and education organization in Bellevue, Idaho, Maurice was noted for "devoting his career to studying wild cats and advocating for the conservation of large carnivores, including the first-ever field investigation of cougars." His most recent book, Cougar: Ecology and Conservation, was published in December by the University of Chicago Press. A second book, which deals with his fifteen-year studies of cougar-wolf relationships in Glacier and Yellowstone national parks, is scheduled for publication in late 2010. Jean Robinson Powell
'60, Bozeman, is founder and executive director of the Montana Celiac Society. A writer/publisher, Jean has produced three books, numerous journals, and brochures, and writes a quarterly newsletter about the complexities of celiac disease. Learn more at www.Montana CeliacSociety.com.
Wayne H. "Bud" Koski '61, Mullan, Idaho, a basketball, football, and track coach and officiator for forty years, received the Wes Lowe Memorial Award from the Idaho High School Activities Association. Following his semi-retirement in 1998, Bud was a bus driver and volunteer at local high school games. In 2006 Bud was inducted into the Northern Idaho Officiating Association Hall of Fame, commemorating his forty years of officiating football.
Milo D. Larsen '61, Milpitas, Calif., has published Ward of the State, a novel about a young man growing up in Montana. Milo writes, "Anyone interested in reading the first three chapters of the book can access my Web site at http://kaptinknine.us and click on the chapter listings at the top of the home page."
John J. Schulz '62, Cape Charles, Va., is professor emeritus at Boston University, where he was department chair and then dean of the College of Communication. John was named Professor of the Year in 2002 at Boston University, and was a 1995 UM Distinguished Alumni Award recipient. Following his UM graduation, he attended Oxford University and then served in the Air Force. John and his wife, Linda Seligman, celebrated their forty-fifth anniversary this summer. They have two daughters and four grandchildren. John writes that his golf game is driving him insane.
James Michael Schaefer '66, Schenectady, N.Y., writes that he and his twelve-year-old son, Michael, climbed Algonquin and Wright, New York's second and sixteenth highest mountains in June. Last summer they climbed Mount Marcy, New York's highest. Semi-retired, Jim lists his part-time jobs as "expert witness on alcohol management, antiques and estate sale business, Saratoga race track clerk, liquor store clerk, New York Thruway toll collector, research professor (Union College), ski instructor, and co-supervisor with wife, Kim, of Schenectady Ski School's Children's Skiing Program."
Lyn Johnson McKee '68 and her husband, Robert McKee '80, Hamilton, sent several vintage photographs of UM's earliest Foresters' Balls to the Alumni Association. Visible in each is Bob's uncle, William Bell, who also appears as Ranger Bill in Norman Maclean's short story "USFS 1919: The Ranger, the Cook, and a Hole in the Sky" and in the 1995 ABC television film. Lyn retired recently as administrator of the Sapphire Lutheran Home in Hamilton. Bob is retired from the Forest Service. The McKees have two children—Pam McKee Jacobsen '90, Missoula, and John McKee '99, Hamilton.
Linda Lee Thomas '68, M.M. '69, Vancouver, B.C., has been principal pianist of the Vancouver Symphony Orchestra and the Vancouver Radio Orchestra since 1972. In 2000 she was inducted into the B.C. Entertainment Hall of Fame. Linda's other passion is the music and dance of Argentina—the tango. She has become Canada's foremost tango musician, affectionately known as "The Reina de Tango." Linda has her own tango trio, Tangissimo, whose CD Tangissimo Live was chosen as one of the best releases of 2002 by Radio-Canada's Espace Musique. Her DVD Chasing the Tango High has just been released. Listen to her music and find out more at www.lindaleethomas.com.
'70s
George A. Venn, M.A. '70, professor emeritus, Department of English at Eastern Oregon University in LaGrande, Oreg., has recently published Soldier to Advocate: C.E.S. Wood's 1877 Legacy and Darkroom Soldier: Photographs and Letters from the Pacific Theater WWII. Read more about George, his publications, and reviews at www.georgevenn.com.
Michael S. Leib, M.M. '74, J.D. '79, West Bloomfield, Mich., was named a Michigan Super Lawyer in Law & Politics: Michigan Super Lawyers 2009. Michael is a shareholder at the Southfield-based Maddin, Hauser, Wartell, Roth & Heller, P.C. firm.
Michael Bruce Roberts '74, Bigfork, received the 2009 Totally Wired Teacher Award from Ypulse, a media platform for youth and media marketing professionals. Mike's selection was based on his integration of technology into his seventh- and eighth-grade classrooms and advocacy of technology with the school board and fellow teachers. Mike began his teaching career in Alaska in 1982 and spent twenty years teaching in the Alaskan bush before moving to Bigfork. He and his wife, Janice, have two sons—Matthew, a 2009 UM grad, and Owen.
Suzanne Chamberlin Ward '75 writes, "I graduated from the Mennonite Brethren Biblical Seminary in May with a master's degree in divinity. I was then ordained a priest in the Episcopal Church. I currently serve as priest-in-charge of a church in Visalia, Calif."
'80s
Christine Brummer '81 is pictured at the 2009 Orvis Cup in New York where she won "High Lady" at the Side by Side shooting event. "The Stephen Grant sidelever (British shotgun) I'm using is exactly a hundred years old," Christine writes. "My home is still in the Old West Side Historic District of Ann Arbor, Mich., where I have lived since graduating from the business school in 1981. After leaving Pricewaterhouse Coopers LLP in 2000, I have worked with a private philanthropic/investment firm, Arbor Investments Group LLC, as a tax and transactions specialist. Although I have a law degree from the University of Michigan, I always mean Montana when I say 'I went to UM.'"
Dawn Grant Pedersen '81, a history teacher at Mariposa Middle School in Mariposa, Calif., received the Mariposa Teacher of the Year Award. Her husband,
Romie Pedersen '78, builds furniture with reclaimed wood. The Pedersens celebrated twenty-five years of marriage in June with a tour of the South. John E. Tubbs
'83, M.A. '91, formerly of Helena, is a deputy assistant secretary for water and science with the Interior Department in Washington, D.C. A longtime natural resources administrator, John worked in state government for twenty-three years.
Lance M. Foster '84, Helena, has written and illustrated The Indians of Iowa, published by the University of Iowa Press. His book covers the archeology, history, and culture of all the native nations that have called Iowa home from prehistory to the present. A member of the Ioway Tribe of Kansas and Nebraska, Lance has been director in the Native Rights, Land and Culture division for the Office of Hawaiian Affairs; a historical landscape architect for the National Park Service; and the artist-in-residence at the Lewis and Clark County Historical Society in Helena. He currently teaches at the UM Helena College of Technology.
Garet Hill '84 West Islip, N.Y., is the founder of the National Kidney Registry, a registry of potential kidney donors and recipients. Sixty-seven life-saving transplants have resulted from the registry, and this past March the NKR organized the first-ever multicenter six-way kidney swap. This fall the Manhattan Institute for Policy Research awarded the NKR one of its five Social Entrepreneurship awards of $25,000. Find out more at www.kidney registry.org.
Amy Braithwaite Molitor, M.S. '89, Ph.D. '95, Walla Walla, Wash., received the Suzanne L. Martin Award for Excellence in Mentoring from Whitman College in June. An adjunct assistant professor of environmental and sport studies, Amy was cited for "constant availability, patient listening, and invaluable guidance" in her commitment to students.
'90s
Brian D. Morgan '96, M.A. '97, Missoula, is one of five builders of "dream companies" pictured on the cover and featured in the July/August issue of Inc. Magazine. Brian's international travel business, Adventure Life, takes small groups of people to South and Central America; his Adventure Life Voyages offers small-ship destination trips around the world. One of his company's Peru trips was featured in the November issue of National Geographic Adventure's 25 Best New Trips in the World, and a story about Brian's personal fitness regime appeared in the November issue of Men's Fitness. Adventure Life is one of the top places in the nation to work according to the May issue of Outside Magazine. Brian's sixteen employees would agree. Find out more at www.adventurelife.com.
Mark C. McCue '98, Denver, is director of Donor and Alumni Communications for the Department of Communication and Design in the Office of University Relations at Regis University. Mark previously served as assistant director of University Services and as an admissions counselor/online program representative at Regis University. Kristin M. Tovson '98 earned an M.F.A. in dance performance/choreography in May at Arizona State University, where she had been a teaching assistant in the Department of Dance from 2006 to 2009. Kristin received a Fulbright U.S. Student Scholarship in dance and is currently studying at the Contemporary Dance Pilot Programme at Universität der Künste in Berlin, Germany, and collaborating with contemporary dance artist Thomas Lehman.
Andrea Greene Montag '99 received a juris doctorate from the Northwestern School of Law of Lewis and Clark College. She is currently a law clerk in the Portland office of Hobbs, Straus, Dean and Walker, LLP. Andrea and her husband, Michael Montag, live in Portland with their dog, Dana, and cat, Angus.
'00
Ryan Kurt Wittman '03 married Jill Lang on May 9, 2009. Ryan is an associate adviser at Strategic Retirement Plans, and Jill is the sales coordinator at Montana Peterbilt. The couple resides in Billings.
Mike Greener '06 is a photojournalist for the Fairfield, Calif., Daily Republic. The featured photographer for the inaugural issue of The Flyfish Journal, Mike recently published a travel photography book, Shopping for Dynamite; A Brotherly Adventure to South America. Mike was the official photographer and assistant filmmaker for the 2005 Angling Exploration Group fly-fishing expedition to New Zealand, where he helped create their feature film Trout Bum Diaries Volume 2: Kiwi Camo. View his work at www.mikegreener.com.
Adam Hertz '08, Missoula, is a loan assistant at American Mortgage of Montana, where he is working toward becoming a certified mortgage lender. Previously, he worked as a client associate in global wealth management at a major investment bank and at a leading northwest wealth management firm. He writes that he is looking forward to working with fellow alums. Adam can be reached at adam@american-mtg.com.
IN MEMORIAM
To be included in "In Memoriam," the UM Office of Alumni Relations requires a newspaper obituary or a letter of notification from the immediate family. We extend sympathy to the families of the following alumni, faculty, and friends. Names without class or degree years include UM alumni, employees, and friends.
Evelyn Gertrude Rimel '32, M.Ed. '33, Missoula Edward C. Alexander, J.D. '34, Great Falls Florence Steinbrenner Jones '35, Missoula Aileen Ambrose '36, Vancouver, WA Lena Bravo Riveland '36, Saratoga, CA Leroy W. Lefler '37, Napa, CA Mildred MacDonald "Mac" Oliver '37, Billings Helen Trask Tobin '37, Boulder, CO Ruth Rice Pope '38, New York City Eleanore Weinberg Blayden '39, Seattle James Warren Love '39, Williamsburg, VA William V. "Bill" Lazetich '40, Billings Keith G. Vinal '40, Missoula Mildred McIntyre Ehrlich Campisi '42, West Palm Beach, FL Ruth Heidel Clark '42, Billings Leona DeCock Smith Fenner '43, Missoula Earl E. Cooley '44, Missoula Ann Elizabeth Akin Hesser '44, Scottsdale, AZ Mark Richard Taylor '44, Boise, ID Betty Holmes Thomson '44, Racine, WI Cora Cuthbert Beck '46, Drummond Marvin Kermit Daniels, J.D. '46, Swan Lake Frances Leaphart Haas '46, Tifton, GA Clinton V. Oster '46, Tucson, AZ Gerald J. Casey '47, J.D. '48, Morgan Hall, CA Francis Carl "Ham" Hammerness '47, M.S. '51, Yuma, AZ Joseph L. Keller, M.A. '47, Havre Robert Wheeler Davidson '48, Jamesville, NY Warren Frederick Vaughan '48, J.D. '48, Billings Charles W. Cone, J.D. '49, Wenatchee, WA Philip Roger Magee '49, Baltimore Fred R. Moody '49, Sierra Vista, AZ Kathryn Bess Reiquam Shepherd '49, Seattle Robert Allan "Bob" Svoboda '49, Santa Barbara, CA Rowland Throssell '49, Pensacola, FL Robert Bruce Brown, J.D. '50, Stevensville Owen Kelley '50, Missoula Victor G. Koch, J.D. '50, Sidney Daniel John Korn '50, Kalispell John M. O'Connor '50, J.D. '52, Los Angeles Dorothy Alderson "Bit" Tarter '50, Sheridan, WY Bernard W. Alt '51, Butte Margaret Mitchell Maffei '51, Butte Verne L. Oliver, J.D. '51, Freeland, WA William J. "Bill" Fitzgerald '52, Great Falls Edward William Nelson '52, Helena William H. Speacht '52, Philipsburg Jack LeRoy Sutton '52, Wichita, KA Lois Jean Baker '53, Tucson, AZ Gerald T. Britton '53, Great Falls Barbara Jones Ryan '53, Payson, AZ Marie Mastorovich '54, Great Falls Betty Morrison Remington '54, Ann Arbor, MI William L. Kann '55, M.Ed. '65, Yorba Linda, CA Edward Wayne Borer '57, J.D. '59, Marysville, WA Bernadine Kussman Clancy '57, Huntington Beach, CA Edward Andrew Ilgen '57, Olympia, WA Marilyn Gunkel Lucas '57, Fox Island, WA Farrell Jane Coffman Stewart '57, Billings Lyle Bagnell '58, Polson Joseph Paul Baretta '58, Renton, WA Richard Huntington Bosard '58, M.A. '59, Auburn, CA Richard Bertrum McCrea, M.Ed. '58, College Place, WA Levern M. Mellstrom, M.Ed. '58, Roseau, MN Paul M. Robison'58, Durango, CO Irene Alvstad Berven, M.Ed. '59, Seattle Irwin L. "Ike" Klundt, M.S. '59, Tucson, AZ Ronald D. Sax '59, Missoula Steven J. Torok '59, Budapest, Hungary Ruth Ann Boyd, M.Ed. '60, Anaconda James Edward Cowan '60, Seeley Lake William August Douglas '60, J.D. '63, Libby Theodore Hulbert '60, Marina Del Rey, CA Kent A. Meek '61, Issaquah, WA Ronald C. Couch '63, Melbourne, FL Lloyd Edward "Ed" Noel '63, Missoula Carol Gail Anderson Finch '64, Calgary, AB William J. "Bill" Hoppes, M.Ed. '64, Kennewick, WA Edward R. Lemp '64, South Jordan, UT Henry G. Neidhardt '64, Hamilton Frank H. Sjursen, M.A. '64, Issaquah, WA David Clarence Walker, M.A. '64, San Francisco Richard P. McKean '65, Geneva, Switzerland James R. Bauer '67, Titusville, FL Donald W. Gordon '67, Harbor, OR Robinson W. Van Sickle '67, Litchfield Park, AZ Jim F. Farnes '68, M.A. '70, Ph.D. '74, Walla Walla, WA Steve L. Crofoot '69, Salmon, ID Larry Lyle Kaul '69, Missoula Pamela Jane Patrick Langley '69, M.A. '80, Helena Marlene Dolliver Zorn '69, Kalispell Douglas H. Ford, '70, M.S. '72, White Bear Lake, MN William F. Hickey, M.A. '70, Ed.D '84, Anaconda Timothy D. Meagher '70, Helena Doreen "Dodie" Mahan '71, Twin Falls, ID Martin Gordon Palagi '71, Vacaville, CA Michael Paul Ketcher '72, Kalispell Henry W. "Hank" Kipp, M.R.A. '72, Olympia, WA Linda Annas Heyes '74, West Yellowstone Jerry L. Painter, J.D. '74, Austin, TX Dean Charles Solheim '74, Huson Janice Spiegle Stinger '74, East Helena Mark David Pettinato '75, Aiea, HI Arthur F. Anderson, M.B.A. '76, Missoula Edith Dahlstrom Woodley '76, Madison, AL Roger James Bishop '77, Eagle Point, OR Stuart C. Fitts, M.B.A. '77, Branford, CT Stanley Vlahovich '77, Palmer, AK Duane Reuben Knutson, M.Ed. '78, Kalispell Joseph Patrick Gilligan '79, Great Falls Umberto Benedetti '80, Missoula Peder Harold Espeseth Jr., M.Ed. '80, Wasilla, AK Antoinette "Toni" Wilkerson, M.Ed. '80, Missoula Paul Carl Meismer, J.D. '81, Missoula Patrick Stephen Nistler '82, Plentywood Richard Allen Strohmyer '83, Miles City Dennis N. Lerum, Ed.D. '84, Missoula Judy Louise Wang, J.D. '84, Missoula Jeanne Diede Mailloux '87, Red Lodge Thomas Turton Boyer '90, Missoula Harold Alfred "Harry" Smith, Ed.D. '90, Helena John C. Fillner '91, J.D. '98, Missoula Sean Kelly Ragen '93, Drummond Marena Hager Steele '93, Bismarck, ND Rachel Ann Clark Wright '93, J.D. '93, Hull, MA Robert Edwin Sullivan, Hon. Ph.D. '96, Missoula Janelle Marie O'Donnell '98, Anchorage, AK Cecily Jane Fredick Olson '01, Whitehall Christopher David Street '05, Missoula Jean Hansen Beccari, Bonner Nancy Borgmann, Missoula Bonnie May Bruce Burgess, Missoula Pam McGavin Devine, Butte Lenoar "Len" Foster, Pullman, WA Diane Rieben Gentry, Bakersfield, CA Lynden Lee Hirst, Spokane, WA John Holroyd, Tempe, AZ Mary Louise Nelson Johnston,White Sulphur Springs Nicholas W. "Nick" McEnaney, Missoula Robert L. "Bob" Myklebust, Great Falls Kenneth Reeseman, Missoula Donald Wayne Reiter, St. Charles, IL John M. Rose, Seattle Bennie B. Schmautz, East Missoula Florence Van Horne Smith, Hamilton Ray W. Steele, Polson Jimmy Jack "JJ" Wadsworth, Great Falls