The Magazine of The University of Montana
Around the Oval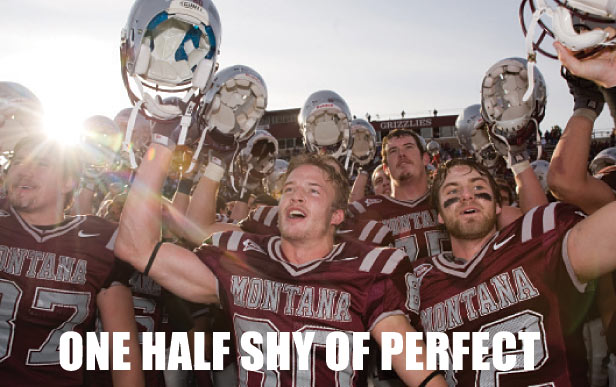 After watching the Football Championship Subdivision title game on television, I had this thought: Few college gridiron fans ever have the privilege to feel the exquisite pain of watching their beloved team lose two national championships in a row.
That's what happened to Griz Nation. After leading 14-9 at halftime, UM wound up losing to the Villanova Wildcats 23-21 on December 18 in rainy Chattanooga, Tenn. Some guy with an unspellable last name that is somehow pronounced "Caesar" ran wild against our team in the second half.
There were bright spots. Griz senior wide receiver Marc Mariani was brilliant in the first half with 178 receiving yards. Junior quarterback Andrew Selle threw for three touchdowns and a career-best 351 yards against a stout defense.
| | | |
| --- | --- | --- |
| " | How could viewers turn away from two great football teams duking it out under the lights in a Montana snowstorm while ecstatic, shirtless fans danced to "Cotton-Eye Joe?" | " |
The drama amped up with 1:07 left in the game, when Selle hit sophomore receiver Jabin Sambrano on a 53-yard scoring strike. But the ensuing on-side kick didn't work, and the Wildcats ran out the clock. The end. The final score made a botched Griz field goal attempt on their first drive more poignant.
It's a downer because this article was supposed to be titled something like "Best. Season. Ever." (My apologies to the 1995 and 2001 championship teams.) Because for fourteen and a half games, the 2009 Grizzlies were perfect. They and their coaches won with toughness, tenacity, intelligence, and a little luck. They were down but never out. They came from behind to win an astounding eleven times. They tallied only the fifth perfect regular season in Griz history. They became Big Sky Conference champions, extending UM's record of winning at least part of that title to twelve and extending our division record of FCS playoff berths to seventeen in a row.
The ride was made more thrilling by all the close calls: the overtime win against Northern Arizona, the high-scoring shootout versus Eastern Washington, and the inexplicable near-loss against winless Idaho State come to mind. The Griz also beat cross-state rival Montana State University for the fourth straight year in the 109th Brawl of the Wild. (The start of another long streak?)
The Griz roared into the playoffs as the No. 1 seed, and all the postseason games at Washington-Grizzly Stadium were classics. First the South Dakota State Jackrabbits came to town and took a 27-point lead with 5:40 left in the third quarter. You could have heard crickets in the North End Zone. Then the Griz somehow rallied for a 61-48 victory, scoring 40 unanswered points while posting the largest comeback in UM playoff history. It was pure magic.
Stephen F. Austin arrived next, sporting the nation's No. 1 offense. They left sporting ten turnovers and a 51-0 shutout.
This set the stage for the arrival of the Appalachian State Mountaineers and their superman quarterback Armanti Edwards, who threw for 353 yards and ran for another 60. The Griz countered with junior running back Chase Reynolds, who rumbled for 193 yards and two touchdowns. UM's Sambrano made a miracle touchdown catch with 1:31 left to take the lead, and the game ended with Edwards making a desperate throw into the end zone . . . and a drop. UM held on to win 24-17.
That final matchup before Chattanooga was the most-watched FCS football game in ESPN history. How could viewers turn away from two great football teams duking it out under the lights in a snowstorm while ecstatic, shirtless fans danced to "Cotton-Eye Joe"?
At one point, when the flurries really started coming down, the stadium announcer said, "Welcome to Montana football!" And I looked around at that stoked stadium and thought, "Yeah, this is perfect." —Cary Shimek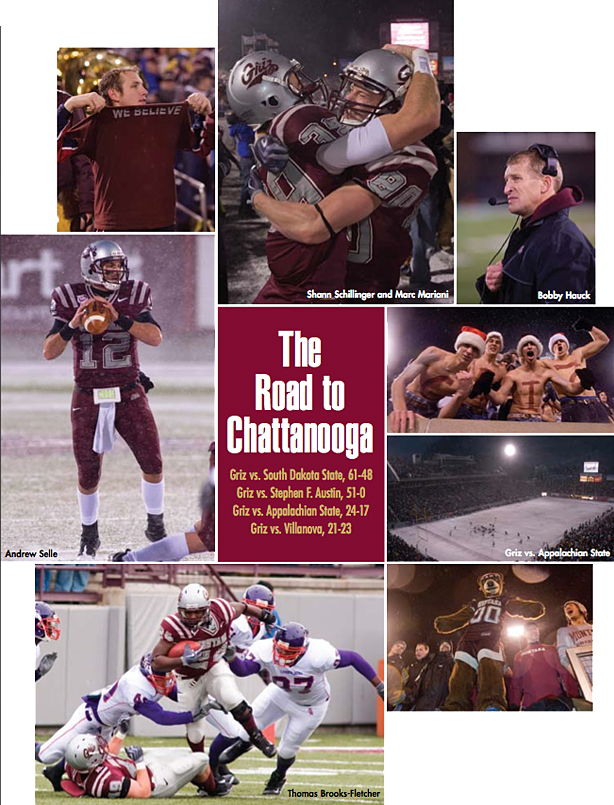 Connecting With Students, YouTube Style
UM is one of only two universities in the country to create and launch a Web-only video series for students with its president.  
The new series, titled YouChat With President Dennison, launched in October on UM's official YouTube channel. The videos are aimed at UM's student body and give UM President George Dennison an opportunity to address students directly about issues and decisions made at the administrative level on current topics relevant to their college experience.   
"It's not atypical for university presidents to address students, staff, faculty, and the public through yearly 'State of the University' addresses," says Montanan editor-in-chief Brianne Burrowes, the host and co-executive producer of the series. "But we want to provide a way for students to better connect with President Dennison beyond listening to a typical speech. So we decided to pivot off President Barack Obama's weekly YouTube addresses and speak to our students through a medium of growing relevance to them—the Web."
The videos discuss a variety of topics, from the H1N1 epidemic reaching UM and the need for more parking on campus to the growing demand for new buildings at UM's College of Technology.
At the end of each video, Dennison encourages students to respond on UM's YouTube channel with a comment or video response.
"This video series allows me to address issues of importance to students in a new way," Dennison says. "I think it's good to capitalize on meeting our students where they already spend an abundant amount of time—on the Web. I hope students will enjoy these videos and take the opportunity to leave me a comment or video response. This series is about not just talking to students, but engaging in dialogue with them."
As of press time the videos in season one of YouChat with President Dennison were viewed nearly 3,000 times.
UM's official YouTube channel can be found at www.youtube.com/UniversityOfMontana.
The President's Corner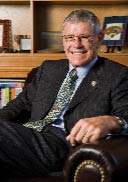 This issue of the Montanan brings to your attention the construction of a facility on campus that visibly—thanks to Daniel Glenn's wonderful design—recognizes its historic location within Indian Country. The Salish and Pend d'Orielle tribes inhabited and made good use of this land long before later migrants began to contemplate the establishment of institutions of higher education. Nonetheless, I think it fortuitous that the founders of The University of Montana decided to locate it in Indian Country. The completion of this new and wonderful facility underscores our commitment to assure that the University is of, not just in, Indian Country. Because of the support of generous donors, including individuals as well as groups, foundations, and tribes, Montana's "first peoples" now have appropriate recognition as principal stakeholders in The University of Montana. We plan to dedicate The Payne Family Native American Center in conjunction with Commencement in May 2010. I invite one and all to join us for this special event.
On behalf of the entire campus community, I want to express our collective appreciation to Terry and Patt Payne, whose major donation and relentless leadership assured the success of the project. In addition, the willingness of the students and the Board of Regents to authorize the use of University funds to complete the construction merits mention. In my view, the contributions from so many different sources indicate that we have entered upon a new era of cooperation and collaboration, an era when we can with confidence look toward broadening the services provided to all Montanans.
Between the covers of this issue, you also will have the chance to see that, indeed, "All Roads Lead to Montana." This special section offers interesting and often inspiring accounts of alumni encounters. As we have come to expect, the bond between the University and its alumni grows stronger with time, building upon the relationships and welcoming support our alumni have with one another and with Montanans in general. You cannot read these accounts without feeling a strong sense of pride and belonging.
In the 1990s, Professor Bob Putnam of Harvard University warned Americans of the decay of the social bonds holding communities together. Many commentators denied Putnam's conclusions, noting the emergence of new social networks and organizations to replace those that disappeared. However, Putnam's major thesis reflected his awareness of an American penchant for reinvention and renewal, so evident it seems to me in what we now observe in American society. Clearly, we Americans have important work to do to return our society to its former vibrancy. As we do so, I have no doubt we will rediscover the necessity of bringing our colleges and universities to bear on the challenges before us. As we of The University of Montana plan and implement our responses, we can and will proceed under the mandate to assure that all Montanans benefit.

George M. Dennison, '62, '63
President and Professor of History
Odyssey of the Stars Celebrates Ten In 2010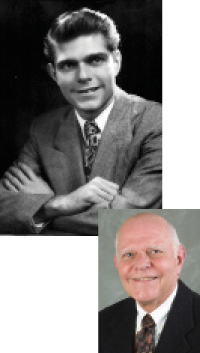 Above: Bo Brown in 1949; Right: Brown today
Odyssey of the Stars—A Celebration of Artistic Journeys reaches a milestone this year when it honors Firman H. (Bo) Brown '49, M.A. '53, at its tenth anniversary production Saturday, April 10. The celebration, featuring UM students, faculty, and alumni, begins at 7:30 p.m. in the University Theatre. This year's production is titled Opening Doors in honor of Brown, who has dedicated his life to opening doors for students in the theater arts, not only at UM, but across the nation, as well.
While a student at UM, Brown appeared on stage in several productions. He spent his undergraduate days in theater and journalism, but his career soon turned to educational theater. After working and teaching at
then-Northern Montana College in Havre and undertaking doctoral studies in speech and theater at the University of Wisconsin-Madison, Brown returned to UM, where he served as chair of the drama department from 1956 to 1969.
Brown established the Masquer Summer Theatre in 1958 in a remodeled bookstore space in UM's Student Union Building. In 1960, he opened the Bigfork Summer Playhouse with his wife, UM law Professor Margery Hunter Brown. They ran the theater for eight years.
In addition to establishing M.A. and M.F.A. degree programs at UM, Brown launched the inaugural season of the Montana Repertory Theatre in 1967, with an ambitious statewide tour featuring three plays. He wrote a weekly art column for the Missoulian and was a founding member of the Montana Arts Council in the days when the National Endowment for the Arts was just beginning.
Brown went on to teach, direct, and work as an administrator at Ithaca College in New York, Rollins College in Florida, and Ohio State University. From 1987 to 1990, he served as president of the University/Resident Theatre Association, a national organization of forty major theater departments and regional theater companies. From 1990 to 1993, he was president of the National Association of Schools of Theatre, the accrediting body for theater programs in American higher education.
Brown returned to Montana in 2006. In 2008, UM awarded Brown an Honorary Doctor of Fine Arts degree in recognition of a lifetime dedicated to teaching, scholarship, and service to educational theater.
For Odyssey of the Stars ticket and sponsorship information, call the College of Visual and Performing Arts at 406-243-4971.
UM-Western Professor Named Outstanding Baccalaureate Colleges Professor Of The Year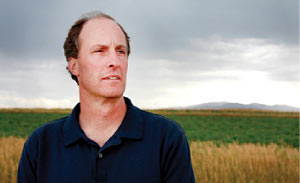 Rob Thomas
Rob Thomas, environmental sciences professor at The University of Montana-Western, was named Outstanding Baccalaureate Colleges Professor of the Year by The Carnegie Foundation for the Advancement of Teaching and the Council for Advancement and Support of Education.
The two groups chose Thomas as the recipient of the prestigious award from a field of more than 300 professors representing baccalaureate colleges and universities across the United States.
Judges selected national winners based on four criteria: impact on and involvement with undergraduate students; scholarly approach to teaching and learning; contributions to undergraduate education in the institution, community, and profession; and support from colleagues and current and former
undergraduate students.
"I can think of only a select few faculty members I have known in my four decades in higher education on several campuses who have had the kind of impact Professor Rob Thomas has had on undergraduate teaching," says UM President George Dennison. "He has set the bar very high for his colleagues in the state and the nation. It bears noting that no other Montana faculty member has earned this award during its existence."
Thomas has been a faculty member at UM-Western for sixteen years. In that time he helped transform the institution into the first and only public university in the United States to offer block scheduling—called X1, or Experience One. Under the scheduling system, students take one class at a time, three hours per day for eighteen days, earning the same credits over a year as students do in traditional multiple-course scheduling models.
For Thomas, the award is as much about the entire university's innovations as
it is one professor's accomplishments.
"The facts are impressive," Thomas says. "This university had two degrees and was dying. A small group of committed, visionary people turned this campus around. The award itself is recognition of what we have done to make this campus one of the most unique undergraduate experiences in the country. If this award is being given to me in any way, shape, or form because of my role with X1, my role was one of many important roles to make this happen. This happened because of the courage of the faculty to change everything they know about how to teach undergraduate students."
Notable and Quotable
Local educators and political leaders gathered in UM's new Phyllis J. Washington Education Center in November and developed a specific plan of action to cultivate and improve K-20 education and strengthen ties between higher education and K-12 in the Missoula area. Keynote speaker Craig Barrett, retired CEO and chair of the board of Intel Corp., addressed Missoula Area Education Summit attendees, emphasizing the need to improve secondary and higher education in America, which he says has failed to keep pace with other countries in the past several decades.
UM's School of Journalism will start fulfilling what it calls a growing need for "versatile storytellers knowledgeable about energy policy, climate change, and conservation issues" when classes begin this fall for its new graduate degree in environmental science and natural resource journalism. Students will prepare for careers through practical training in print, photo, broadcast, and online media, and by taking courses in hard sciences, ethics, law, and more. "We don't have any numbers on applications yet," says program director Henriette Lowisch. "But, based on the inquiries I've fielded, I expect we'll have more excellent applicants with strong backgrounds in writing or the hard sciences than we'll be able to accept."
Two scientists in UM's Department of Physics and Astronomy, Paul Janzen and Dan Reisenfeld, are part of a NASA team that in October detected a vast ribbon of energized particles surrounding most of the solar system. The discovery resulted from data obtained by NASA's Interstellar Boundary Explorer spacecraft launched in October 2008. The results were first published in the online version of the prestigious journal Science and also appeared as a cover story in the print edition's November issue.
The Bottom Line:
#2 The November ranking of The University of Montana-Western by U.S. News for colleges offering the best small classes on a budget
14,921: Record number of students attending UM during fall semester 2009, which beat the previous record set last fall by 714 students
#6 The ranking UM's School of Law received this fall as one of the best value law schools in the nation from The National Jurist magazine
1 in 5,000: Professors in the U.S. chosen by The Teaching Company to film a course, which UM Regents Professor Paul Lauren released this fall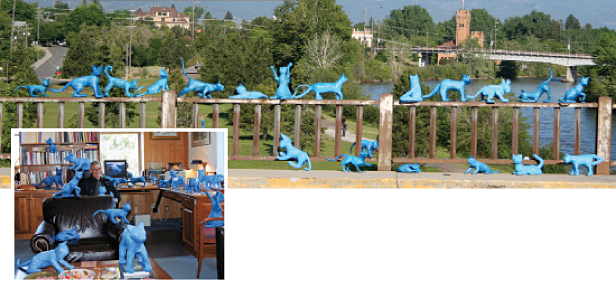 Cats On Campus—Professor Bobby Tilton in UM's School of Art shares a philosophy with her students. "You would never tell your students, 'I can't spell,' so we teach them never to say, 'I can't do art,'" she says. That's exactly what she set out to accomplish when she instructed her Art 314 class to create large installation art cats in the vein of artist Sandy Skoglund last summer. Approximately eighteen cats were formed and placed in site-specific locations such as the Madison Street Bridge (above), President George Dennison's office (left), and along the Clark Fork River.
Making A Difference: UM Regents Professor Helps Create Worldwide Climate Change Index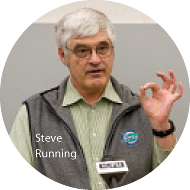 Since being awarded a share of the 2007 Nobel Peace Prize, UM's Steve Running has only turned up the heat in the battle against climate change.
The Regents Professor of Ecology was a key player in creating a new worldwide climate change index unveiled in December at the United Nations Climate Change Conference in Copenhagen, Denmark.
The new index distills the complexity of the Earth's climate down to one number, much like the Dow Jones industrial average condenses volumes of data from the business world into a single figure. The index uses key indicators of global climate change—carbon dioxide, temperature, sea level, and sea ice—to obtain its results.
"Some people still question whether the Earth's climate is changing as rapidly and profoundly as the majority of climate scientists suggest," Running says. "I think this index will help nonscientists understand why people in my line of work are so concerned about the major planetary-scale changes taking place."
The index was produced by a group Running is affiliated with, the International Geosphere-Biosphere Programme, which studies the climate change phenomenon. IGBP is headquartered with the Royal Swedish Academy of Sciences in Stockholm, and Running was among a core group of eight who developed the idea.
Running says the index gives an annual snapshot of how the planet's complex systems—the ice, the oceans, the land surface, and the atmosphere—are responding to changing climate. The index rises steadily from 1980, the earliest date the index has been calculated, dipping only in 1982, 1992, and 1996—years when the world experienced major volcanic eruptions.
He says the index provides an excellent visual tool that shows how external events can have rapid planetary-scale effects. The climbing cumulative index also highlights the extent human activities are affecting the planet's climate system.
Running is a professor in UM's College of Forestry and Conservation and directs the University's Numerical Terradynamic Simulation Group, which has written software for NASA environmental satellites. He was a lead author for the North American section of the 2007 Intergovernmental Panel on Climate Change Report, and his IPCC committee shared a Nobel Peace Prize with Al Gore that year.
Meet Grizwald,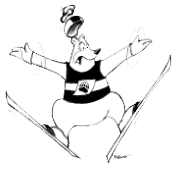 UM's cartoon bear. In frequent issues of the Montanan, we provide a drawing featuring Grizwald in need of a caption. Then it's up to you, our readers, to send
in your most original and creative ideas. The winning contestant will receive a Griz stadium blanket. Send submissions to: themontanan@umontana.edu.
Facetime: Mario Schulzke '02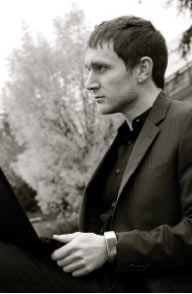 As founder of IdeaMensch.com and ScrappyMarketing.com, publisher of the book How to Complain for Fun and Profit, and an avid triathlete—and we haven't even gotten to his day job—Mario Schulzke is an alum who capitalizes on bringing ideas to fruition. He also is the co-founder of Quillion, a digital performance marketing company based in Los Angeles.
1. How did you get your start in the advertising industry? I graduated college and got a job at an ad agency in Missoula. While it was a great experience, I didn't really feel like I was good at my job, and I wasn't learning anything that made me better. So, I quit my full-time position and moved to Seattle to find a great company that would let me work directly for a senior executive. It wasn't about making money, but rather about learning as much as I could. My assumption was that I would learn more from being the intern of a president than an account coordinator supporting a junior account executive. I crashed on this lady's floor for four months, and I earned free rent in exchange for helping her write a business plan. My first job was with WONGDOODY, an ad agency, where I started as an unpaid intern reporting directly to the agency's founder. Since that day, I have never reported to anyone other than the CEO of a company.
2. What makes Quillion unique to your clients compared to traditional advertising agencies? Quillion is a performance marketing agency. Everything we do gets measured by performance. We only do work that gets measured by quantifiable business objectives. Like a cost per lead, sale, or new customer. Then we build digital marketing campaigns that focus entirely around achieving our clients' business objectives. Everything gets measured, and if our clients don't make money, then we don't either.
3. What is Quillion's biggest success story so far? We started Quillion last year and achieved profitability in that first year. Considering the current economic situation, I feel good about that accomplishment. Also our parent company, WONGDOODY, was selected as the second-best place to work in Los Angeles.
4. Do you think the advertising world is dying or evolving? It's evolving. Fast. Companies are always going to need help promoting their products and services. They're always going to come to somebody and say, "I have this product, and I need to sell this many units. What do we do?" Instead of creating a print ad, a billboard, and a TV spot like agencies have done in the past, we've had to reinvent ourselves. We still consider ourselves an ad agency, but it's not just advertising anymore. We're optimizing Web sites, running Twitter channels, building iPhone apps, and whatever it takes to make our clients successful. The tactics are changing, and they are changing rapidly.
5. What do you feel is the future of advertising and marketing? It's not that optimizing Web sites or building iPhone apps is the future of marketing. The fundamental idea behind marketing is understanding your consumer, and then giving them what they need or want. Right now it's social media and search engine marketing and all these buzz words. Five years from now it will be something different. The future of marketing is, and remains to be, to understand the consumer. It has to start and end with the consumer.
6. How did you come up with the concept for your Web site IdeaMensch.com? I have always been fascinated by two things—people and ideas. More people than ever are working on some amazing ideas—not just CEOs of large organizations, but people within the ranks and garage entrepreneurs from all over the world. I want IdeaMensch.com to be the place where I feature people from around the Internet who are coming up with interesting ideas and bringing them to life—everybody from a UM college dropout turned entrepreneur to the founder and CEO of The Sharper Image.
7. You published a book on how to write complaint letters. How did that come about? Bruce Silverman, my old boss at WONGDOODY, had a Word document with complaint letters on his computer that always got e-mailed around the office. The letters were really, really good. I had the idea of turning that Word document into a book, which I published for him. It was featured on a 20/20 segment earlier last year. That's the crazy thing. In no other time would that be possible. If I can publish a book and get it featured on national television, then anybody can. My next publishing venture is a book on how to fight parking tickets.
8. How did your education at UM help you in your career? I came to the U.S. at sixteen as an exchange student from Germany. My English was bad, I dressed goofy, and all I thought of was soccer and girls. So a lot of things I learned about life I learned at UM. Spending my freshman year cleaning toilets at Aber Hall was a wake-up call. It taught me a thing or two about hard work and makes me appreciate how I earn my living these days. I also learned how to fly fish, which I love and is something that I can brag about to the ladies in California.
9. What advice do you have for people on following their dreams? Life and business is all about relationships. Be nice to people, remember their names, and help whenever you can. And always make the time to go fishing. Life is too short not to.
—Interview by Brianne Burrowes
Mini Mascot Brings New Mo-Mentum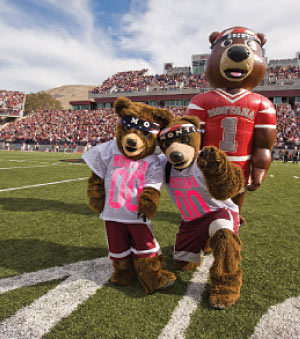 UM mascots Monte, Mo, and Rocky wear pink for Team Up Montana's Breast Cancer Awareness Day at the October 17 football game against Eastern Washington. UM, St. Patrick Hospital and Health Sciences Center, St. Joseph Medical Center in Polson, Safeway, the Missoulian, KPAX-TV, and the St. Patrick Hospital and Health Foundation developed Team Up Montana to raise cancer awareness and funding for Western Montana communities.
When his classmates ask if he's Mo, the pint-sized latest addition to UM's mascot family, the elementary-aged gymnast who suits up in the mini bear costume plays it cool.
"I say that they'd know it was me because I'd totally tell," says Mo, who, like his grown-up counterpart, Monte, must remain anonymous. "Sometimes it's really hard not to tell my best friends and brag about it."
The idea for the bright-eyed and lovable sidekick, who first bounded out of Monte's trademark Corvette before the October 17 football game against Eastern Washington, came from Mo's mom, a Missoula resident and 1993 UM alum. Her kids grew up attending Griz football and basketball games, laughing with delight whenever the mischievous Monte pulled off a series of back flips or ran full-speed into the goal post. They'd often head down to the field post-game and practice Monte's moves.
When Brent Reser, UM Athletics' mascot coordinator, graduated in spring 2009 and started working in the marketing department, Mo's mom brought the mini-mascot idea to him, and the bear cub was born.
"Since I was new, I wanted to bring something new to the job, and this seemed like a great idea," Reser says. "We've had nothing but positive feedback. People call all the time requesting Mo for public appearances."
Mo, who only works at sporting events for now, says he gets a kick out of performing tricks in front of thousands of fans, and he's getting better at landing flips in the bear suit, though he can barely see out of it most of the time. He also enjoys being able to "run around without getting into trouble," he says.
"You can go up to someone and take their hat, and instead of getting mad, they're just like, 'oh, look, it's Mo!'"
Though she may be a bit biased, the mascot's mom can't think of a more perfect kid for the job.
"We just always thought he had the right attitude," she says. "He's funny, and he has a lot of energy."
Besides showing off his tumbling moves—and receiving the undivided adoration of UM's Cheer Squad—one of Mo's favorite parts of the gig is hanging out with his hero, Monte, a role he hopes to play some day.
Mo's mom hopes he gets the part, too—he'll be a strong contender with the resume he's building now—but she's also glad he looks up to a character that does so much for the community.
"One of the neat things is getting to know Monte and seeing all he does outside of the games," she says. "I want him to see that and know it's important to give back."
As for adding more costumed characters to the lineup—a girlfriend for Monte, perhaps?—Reser says there's nothing currently in the works.
"We're pretty content with the number of mascots we have now." —Allison Squires
Where's Your GRIZ Been?

Ginny (Kokorudz) Furshong '00, daughter and "future Griz" Emma Furshong, and Jack Furshong '00 proudly display their abundant Griz gear on the Washington Mall in Washington, D.C. "We ate at Ben's Chili Bowl, another great piece of D.C. history, and the gentleman who was giving us a history lesson of the restaurant recognized our school logo because other Griz fans had come through the restaurant recently and were wearing their Griz gear, too!" writes Ginny.
Congratulations, Furshong family. You've won a $50 gift card for The Bookstore at UM.
Do you have a photo of yourself wearing your Griz gear in an amazing place or while on
an incredible adventure? If so, send it along with a brief description to: themontanan@umontana.edu. Winners will see their photo published in the Montanan and will receive a $50 gift card to The Bookstore at UM. To be considered, photos must be in focus and with the UM or Griz logo clearly visible.