The Magazine of The University of Montana
Artifacts
UM's Charging Grizzly
By BETSY HOLMQUIST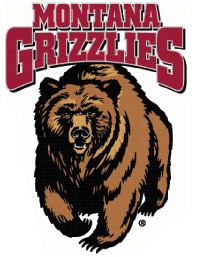 Along with the three Rs of academics, the three Ps—protection, permission, promotion— are exceedingly important at UM, especially in regards to its charging grizzly bear logo.
Trademarked by UM in 1996, and registered federally in 2001, this powerful logo clearly and proudly announces UM's presence wherever it appears.
Born from the talented hands of Steve LaRance '73, a noted Missoula artist, the image coincides with UM's return to using maroon and silver as its school colors. LaRance was working at Missoula's J.S. Corp. when asked to design the new logo. Within three weeks he'd developed the image and its energetic "Montana Grizzlies" font. UM President George Dennison made the final selection, choosing this massive, confident grizzly, its eyes bearing right down on the observer.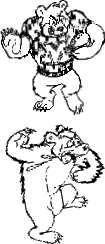 LEFT: Images currently in use by licensees of official UM products RIGHT: A sampling of Griz logos from the past
The grizzly can be seen in thousands of places. Two of its largest images are on the basketball floor in the Adams Center and on the playing field at Washington-Grizzly Stadium. Thousands of apparel items sport the bear, as do Coca-Cola cans, vending machines, delivery trucks, license plates, lip glosses, water bottles, baseball bats, jewelry, and more. Royalties earned on the UM merchandise benefit student academics and athletics as well as special projects.
"Showcasing UM's trademarks is an exciting experience, and having popular logos such as the charging grizzly gives us a wide range of opportunity for placement in the market," says Erika Beede, trademarks and licensing director. "Licensing is in place to make sure products and merchandise are tasteful and of high quality, so I know every time I see a Griz logo roaming around I feel a sense of success on behalf of UM."
Before this licensed grizzly, bear images ran the gamut, and royalties were almost nonexistent. An upright slobbering bear was the predominant logo before the current bear, its cartoon image credited to a student drawing or clip art. No one really knows.
Federally protected and promoted—no endangered species worries here—UM's charging grizzly promises to be around for a long time.
Five Things You Didn't Know About UM's Licensed Merchandise:
1. The charging grizzly logo was selected as one of ten "Buffest College Mascots of the Year" by Muscle and Fitness magazine in 1999.
2. UM's Trademarks and Licensing Program received the 2001 Synergy Award as the best licensing program in America by the National Collegiate Licensing Association.
3. UM's first royalty check was in the amount of $9.14.
4. In September 2009, UM generated more royalties from licensed merchandise sales than any other Football Championship Subdivision institution in the country.
5. The Trademark and Licensing Program at UM has a new Facebook fan page where you can post photos in your Griz gear, hear about special promotions, and connect with other Griz fans. Go to www.facebook.com and search "Get Your Griz On" to join.