The Magazine of The University of Montana
THE DESIGN OF SUCCESS
John Shaffner '74 proves he has production panache with six Emmys
By Nate Schweber photos by David Savinski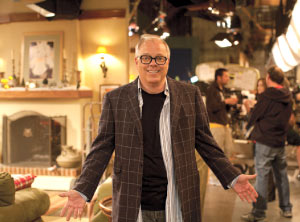 John Shaffner stands on the set of Two and a Half Men.
The scene opens with a skinny young man in a rickety gold 1963 Corvair convertible zooming down from his family's home in Pattee Canyon to the auditorium at Sentinel High School.
There he meets a woman, not quite old enough to be his mother, who through her zest and dedication to her art helps set the course of his life.
The young man is played by John Shaffner '74, one of television's most successful and celebrated production designers. His work on thousands of shows has touched millions of lives.
The woman is played by Margaret Johnson, a theater teacher of such stature that today her name adorns the same auditorium where she first met Shaffner. She instilled in him lessons that, when combined with his talent, catapulted him to the pinnacle of his field.
"I have a deep love for theater, and I would not accept anything less than the very best," Johnson says. "Whatever show we put on, we would do the very best we could do or we wouldn't do it."
Shaffner, who calls Johnson his "inspiration," took her lessons to heart.
THERE'S NO BUSINESS LIKE SHOW BUSINESS
The list of programs for which John Shaffner worked as production designer reads like a Netflix queue: Friends, Dharma and Greg, Two and a Half Men, The Drew Carey Show, and George Lopez. He set the stage for talk shows hosted by Ellen DeGeneres, Conan O'Brien, Rachel Ray, and Dr. Phil. He worked with David Copperfield and Jerry Lewis, and he named the proto-American Idol show Star Search. He even built the backdrops for the last three Republican National Conventions.
And that's his abbreviated resume.
"I'm a person who uses the word 'more' as a life goal," Shaffner says from his Los Angeles office.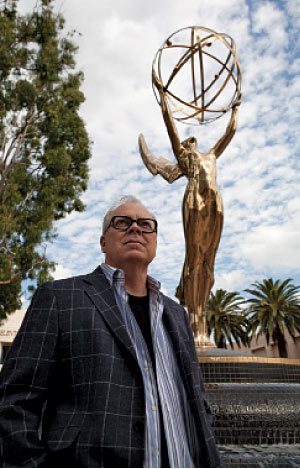 Shaffner poses in front of an oversized Emmy statue at the Academy of Television Arts and Sciences in North Hollywood, Calif.
He is renowned for the quality of his work.
George Lopez says of the set Shaffner built for his show, "John created a home that we lived in for six years. I have better memories in this home than the one I grew up in."
The restlessness that makes Shaffner take on ever-new projects has been with him since childhood. His professionalism was something both innate to him and honed through experience with Montana educators.
"He had a great spirit. He would say, 'Let's get it done,' and he'd find a way to do it," says Jim Caron, founder of the Missoula Children's Theatre, who worked with Shaffner in the early 1970s.
Perhaps Montana's most lasting imprint on Shaffner is in his imagination, which those close to him say was incubated in the Five Valleys.
"People ask me, 'What does a production designer do?'" Shaffner says. "A production designer is the lucky person who gets to read the script just about before everybody else does and imagine what it's supposed to look like."
WHERE EVERYBODY KNOWS YOUR NAME
Shaffner was born in Missoula in 1952, followed two years later by his brother, Geoff. His father, Dean, was in the propane and appliance business and his mother, Eloise, had worked for a Cleveland television station in the 1940s.
"I was born with TV in my blood," Shaffner says.
Shaffner's introduction to the theater came early in high school, when he marched into drama teacher Johnson's classroom and volunteered to do any job for any production. He was soon enthralled with theater, spending numerous late nights and weekends working. He also was dazzled by his teacher's vivacity.
He called her "a force of nature" and described her as "a woman of incredible passion for teaching and for teaching in the theater."
Many a public school student in Missoula has been blessed with an arts teacher whose vitality and selflessness made them both a hero and a role model. Whether this phenomenon happens more in the shadow of Mount Sentinel than in other American towns is hard to gauge. But because it isn't rare in Missoula, does that make it any less special?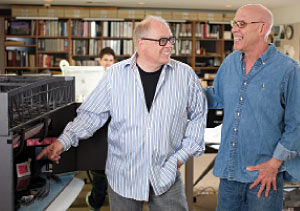 Shaffner with his partner, Joe Stewart, at their Laurel Canyon home studio. Shaffner points at a model of the 2009 American Music Awards stage.
Shaffner began his studies in theater at Johnson's alma mater, Macalester College in St. Paul, Minn. Though homesick for Montana, he was eager to expand his horizons.
"For many young people, Montana gives you a good background," Shaffner says. "But you have to go out and explore the world a little bit."
He didn't miss Montana long. Finances prompted his return to Missoula for his sophomore through senior years. In the early 1970s, he studied with Bill Raoul, who taught scene design at UM for more than a quarter-century.
"He just gravitated toward the technical side of theater," Raoul says. "John is one of the rare people who makes a good living at it, and that's just from sheer hard work and pluck and luck."
Shaffner also worked with the up-and-coming Missoula Children's Theatre and the Bigfork Summer Playhouse.
"He just got things done," says Don Thomson, a producer at the playhouse who worked with Shaffner in the 1970s. "He stepped up and made sure that things looked the way they should."
In all his jobs, Shaffner relished the opportunity to stretch his imagination and productivity.
"If you showed up to paint the set, guess what? You could choose the color to paint it," Shaffner says. "If you were willing to do the work, you could have the responsibility as well."
Shaffner was primed when he left Missoula for the second time. This lasting absence took him from graduate school at Carnegie Mellon University in Pittsburgh, to New York City, to Los Angeles, and to countless points in between.
IT'S A WONDERFUL LIFE
Six Emmys and three decades since he was a UM student, the hit shows that run like threads through Shaffner's career are too numerous to list. The stories are copious also, but a few stick out.
For example, in the early 1990s, Shaffner skipped a cruise he'd paid for because of a special feeling he got from a new script. He was to design the set for a comedy about six friends living in New York City. His inspiration was his own sixth-floor walkup apartment that he lived in on West Fourteenth Street in Manhattan in the late 1970s. Set before the cameras, it became Monica and Rachel's place.
There was one big difference between the apartment on the Friends set and his, however. The bathroom on set was across the living room from the bedroom rather than beside it. This was intentional.
"As soon as we saw who was cast we said, 'These women are gorgeous, it's going to be fun to watch them run across the room in their underwear,'" he says.
(Millions of young men worldwide salute you, John Shaffner.)
In the early 1980s, Shaffner was tasked with creating a logo for a show that Ed McMahon would host in which singers could compete. He would go on to work for this show for a dozen years. At first the program's pilot was called Talent Challenge. Shaffner came up with a name he liked far better—Star Search.
"It's my itty-bitty contribution to popular culture," he says.
That garish couch on The Golden Girls? Shaffner accepts full responsibility.
"The sofa fabric was my fault," he says.
The nicest celebrity he's ever worked with? Tom Selleck. The craziest? Kirstie Alley. The classiest? Meryl Streep.
Thanks to his lengthy resume, Shaffner is beginning his second term as CEO and chairman of the Academy of Television Arts and Sciences, putting the Emmy winner in the position of helping decide who else gets the gold statue.
"I've had the good fortune to work on TV shows seen by lots of people," he says.
He's also had front-row seats to events that affect even more people than television. He and his partner, Joe Stewart, designed the sets for the 2000, 2004, and 2008 Republican National Conventions, but he is quick to point out that they worked two shows broadcast from the Kennedy Center when Bill Clinton was president, too. "We're equal opportunity workers," he says.
It was illusionist David Copperfield who prompted Shaffner and Stewart in 1989 to turn their personal partnership into a professional one. Since graduate school, Shaffner had lived with Joe Stewart, who also studied stage design. When Copperfield needed a set designed for a show, Shaffner was too busy to do it all himself. He agreed to take on the Copperfield project on the condition that Joe be hired as co-designer.
It's not hyperbole to say that their partnership has worked out magically.
"We are ourselves very surprised at what a smooth collaboration it is," says Stewart, who has lived with Shaffner for thirty-five years. "We just seem to have a very good, long conversation."
Today Shaffner and Stewart sponsor UM's Odyssey of the Stars, an annual gala event that celebrates College of Visual and Performing Arts alumni and raises money for scholarships. Shaffner also was a recipient of the award in 2002 and serves on the college's advisory council.
Stewart had never been to Missoula before he met Shaffner. Now he calls it a second home. He also gleaned an important insight.
"Something about the beauty of this city offered John something that was very special growing up—the ability to imagine," Stewart says. "And this business is all about being able to imagine."
Stewart adds, "He was also fortunate to have wonderful, wonderful teachers."
TWO FOR THE ROAD
The scene closes on a December day in the Missoula Valley. Shaffner and Stewart wind their way up Pattee Canyon in a gold Mercedes toward their lodgy getaway home nestled on 55 acres not far from the modest house where Shaffner grew up. Soon they will host a holiday party. Shaffner's old teacher turned dear friend, Margaret Johnson, will be there.
Behind them the city's lights burn hot orange beneath snow-dusted mountains. In the distance icy peaks have turned pink in the sunset. It's not a bad production design for the story of a life. In fact, the set is so good it could almost have been designed by John Shaffner.
"It took me the first twenty-one years to scratch my way out of Missoula," he says. "And the next thirty-two to scratch my way back."
---
Web Exclusive
Q & A With Production Designer John Shaffner '74
How did you get the gig working on Friends?
I had been looking to get back into the comedy series business because I really enjoyed the work and loved the writing. Then Joe [Stewart, his partner] and I booked a cruise, and I skipped the cruise because I got an offer that was so good. The offer was the pilot to Friends. I read the pilot and, it doesn't happen very often, but I thought, "If they don't screw this up this could be a hit if they cast it right." It was a magical moment when they were put on the stage together. I'm grateful that the magical moment when they first came together was under our sets. Let me tell you, the evening we shot the pilot of Friends I was watching Matt LeBlanc across the restaurant, and I said, "This young man has no idea that what he has done will change his life and make him richer than we could ever imagine."
What goes into being a good production designer?
People ask me, "What does a production designer do?" A production designer is the lucky person who gets to read the script just about before everybody else does and imagine what it's supposed to look like. The skills involved in that are an understanding and knowledge of architecture and history of art and design. And coupled with that is the ability to communicate your ideas. It's a wonderful, renaissance kind of job. But you also have to be an interpreter of dramatic literature. The work that we do is always founded in the word. As silly as it sounds, even when we're designing something like the National Republican Convention, we're still looking to find what we're trying to say about this candidate and this year.
What was it like working for the last three Republican National Conventions?
It's fascinating to have a front-row seat in our political process regardless of your political persuasion. Lordy, you have enormous respect for anyone who runs for public office.
Tell me how you began working professionally with your partner, Joe.
I got a call one evening from David Copperfield himself. He had shot his "Escape From Alcatraz" segment and realized he needed another thirty minutes. He needed a designer. I showed David my portfolio, and David hired me. I was busy with Star Search. I said, "I'd be willing to do this, but my partner, Joe Stewart, will be my partner, and he will do my job when I'm not there." That's when Joe and I really became a design team, in 1989.
What was David Copperfield like to work with?
David turned out to be a huge fan of Joe's and myself, and we went on to do a total of twelve television specials. We took him over the falls at Niagara, took him out of an exploding building, into the depths of the Bermuda Triangle, we've flown him, held him over fires, all these productions with David. David, as an illusionist, did something remarkable—he really reinvigorated the magic world. David added a storytelling element, and he was very conscious of design as a crucial element of his work. As a result we collaborated very closely with him not only on the designs of all the equipment but also the atmosphere and the story that would surround all of these illusions that he would practice.
How did it feel when you won your first Emmy?
For a kid from Missoula to wake up one morning to a very, very early phone call and be told that you're a nominee, and float through the next couple months, and to be told you're a winner, is really fantastic.
Tell me what brought your family to Montana, and does anyone in your family have a showbiz background?
My grandmother and grandfather were from northeastern Pennsylvania near Lancaster. They homesteaded in Montana. They had a ranch outside of Dillon. My grandfather worked for the railroad and went back and forth to the East Coast even through the Depression because he had free passes. My dad was born and raised in Dillon. His brothers are all ranchers in Dillon. My dad was the one who was the renegade and moved to the big city of Missoula.
My mom is from a small town in Minnesota. She's a cat with nine lives. When she was young, she spent a fair amount of her time in showbiz. Her father ran a movie theater. Her aunts and uncles toured with a show in the Mississippi Valley. During the Depression, my mother worked for the Works Progress Administration, and her job was to go to small Minnesota towns and start community theaters. Then she toured with a cooking show that demonstrated home products. Then she worked at a TV station in Cleveland in 1946 and 1947. I've got TV in my blood.
What brought her to Montana?
She worked in hotels and food management and ran some resorts in Florida. Then she got a job with the Great Northern Railroad, and that same year she was hired to run the dining room at Lake McDonald Lodge in Glacier National Park. She loved Montana, so she stayed in Montana that winter and was hired by the chalet at Big Mountain Ski Resort. She managed the chalet that winter, which included everything from making beds and chopping wood, to mixing drinks and entertaining the guests. My dad came up with friends. They got snowed in. That's how they all met. They were married in January of 1952.
What was your experience like growing up in Missoula?
The thing about growing up in Missoula and the thing that amazes me to this day is we were given the most amazing opportunities to explore ourselves. It was the sixties and everyone was rebelling, but people stood back and watched and said, "OK, if you want to wear that or dye your hair that color, fine." It was a very, very nurturing place to live and grow up in, and this was really just before the age in which drugs and alcohol became such a menace to youth that our parents didn't worry about us if we didn't come home until midnight. Most of the time my parents never worried about me because most of my time was spent at the theater at Sentinel High School, now called the Margaret Johnson Theatre, working on plays.
And why did you come back?
Missoula has such a really unbelievably rich culture for a city the size that it is. When you go back there, you can see artists who are dedicated to their crafts and their arts and are good at it and for different reasons chose to make Montana their home. My favorite thing is to show off Montana to guests. I think that's why we wanted a home there, so we can entertain friends and guests. I think part of me has a sense of giving back and a responsibility to a state that gave me such a great start. You can take the boy out of Montana, but you can't take the Montana out of the man.