A Teacher They'll Never Forget
Betsy Holmquist
Helena's Judy Harding hones her history and teaching skills for Frontier House students and brings families together in the process.

On the Banks of the River of Awe
by Caroline Patterson
This writer's great-grandfather described Missoula in 1900 as a "place for the whole crowd to come and cut out all worrying." Is it still? Caroline Patterson takes readers through decades of growth and change.

Missoula Now and Then
by Bryan di Salvatore
The more things change, the more they stay the same. Bryan di Salvatore does a little meditation on the forest and the trees, the now and then of Missoula, and finds he can see the forest and the trees from his vantage point of thirty years.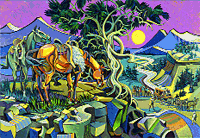 George Gogas, A Retrospective, including "Judith Basin" (above), is showing through September 30 in the Montana Museum of Art and Culture's exhibit rooms in the Performing Arts and Radio/TV Building. Silent Frontier: Icons of Early Montana Settlement, new photographs by Dr. Richard Buswell, will be shown October 4 through November 29.