The Magazine of The University of Montana
AROUND THE OVAL
Aspiring Minds
Great Achievers Gather at UM for Adventures of the Mind Summit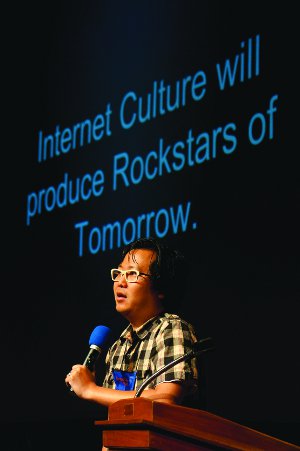 Ben Huh, chief executive officer of the Cheezburger Network, speaks at the Adventures of the Mind summit, held in June at UM.
You'd be hard-pressed to find a more eclectic bunch of presenters than those who spoke during the first morning of the Adventures of the Mind summit, held June 23-26 at UM: a neuroscientist, New Yorker cartoonist, serial entrepreneur, and a guy famous for funny cat photos on the Internet. But they all had the same message for the 170 young achievers in attendance: Find your passion, and follow it.
"You're going to change jobs five times, you're going to change your ideas," entrepreneur Dick Heckmann told the group of aspiring minds from across the country. "You're going to go through your life until something really turns you on, and you'll know it-nobody's going to have to tell you. You'll go home and say, ëWow, that's what I want to do.'"
In addition to Heckmann, the first group of presenters included neuroscientist Sam Wang, cartoonist Roz Chast, and media entrepreneur Ben Huh. And that's just a sampling of the dozens of great minds and achievers sent to inspire this year's participants.
Every two years, Adventures of the Mind brings together exceptional high school students for four days of mentoring and exploration with great thinkers and achievers, from activists and scholars to authors and Nobel Prize winners. Summit Founder Victoria Gray coordinated with major sponsors Dennis and Phyllis Washington to bring the 2011 summit to UM.
The message of following your passion resonated with many summit participants, including Mymy Nguyen, a seventeen-year-old from San Jose, Calif. Nguyen says she had planned to study neuroscience at the University of California-Davis in the fall because it was something she "felt like she should do." But after hearing the morning's presenters, she already was reconsidering.
"After all that talk about passion, I think I have to find something I really like," she says. "I'm interested in neuroscience, but it's not something I can see myself doing in the future."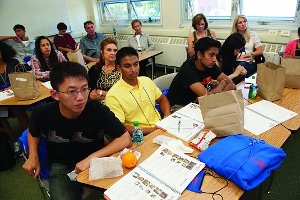 Phyllis Washington, center, a major sponsor of the summit, sits with students during a session
One of the summit's most sought-after presenters, and one of the most relatable for the teenaged attendees, was Huh, chief executive of the mega-popular online Cheezburger Network. Huh didn't graduate from college thinking his degree in journalism would lead him to purchase a website famous for funny cat photos paired with grammatically questionable captions, among other memes. But when a traditional journalism career didn't work out, it was his passion to find out what the world really looks like that led him to his present success.
"You have to be OK with those countless small failures," Huh says. "Life is never what you want it to be."
-Allison Squires
The Bottom Line:
2: New partnerships a UM delegation formed with universities in Jinan, China, bringing increased chances for faculty and student exchanges and collaborative research
22: UM students who earned master's degrees in communicative sciences and disorders, a program revived in 2008 after being cut in the 1980s
3: Emmy Awards won by UM broadcast journalism students in the Northwest Regional College Students Awards of Excellence
235: Pick used by the Miami Dolphins to select former Griz defensive back Jimmy Wilson in the 2011 NFL Draft
3,024: Average home attendance at Lady Griz basketball games, ranked fortieth in the nation
The Inauguration of Royce Engstrom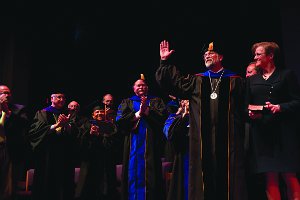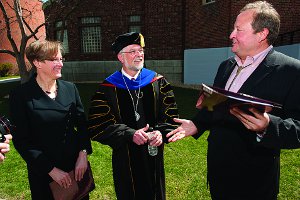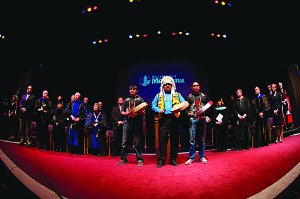 TOP: UM President Royce Engstrom acknowledges the audience at his Inauguration ceremony at the University Theatre in May. His wife, Mary, right, looks on
MIDDLE: Engstrom and his wife chat with Montana Governor Brian Schweitzer
BOTTOM: A Flag Song, Victory Song, and Honor Song were performed by Kevin Kicking Woman, center, Robert Hunter, and Kyle Felsman.
In front of a standing-room-only audience at the University Theatre, Royce C. Engstrom was inaugurated May 2 as the seventeenth president of UM.
Commissioner of Higher Education Sheila Stearns presided over the installation ceremony. Distinguished guests included Montana Governor Brian Schweitzer, Missoula Mayor John Engen, Montana State University President Waded Cruzado, and University of South Dakota President James W. Abbott. Engstrom worked twenty-eight years at USD before coming to UM in 2007.
Board of Regents Chair Clayton Christian conducted the investiture. Engstrom was presented the UM medallion, which is passed on to each president; the first UM graduate thesis, written in 1899 by Earl Douglass; and a velvet tam. The Bible used in the ceremony was the one given to Engstrom in the third grade. His family tree is recorded in it.
Stearns noted that the U.S. flag atop the Capitol in Washington, D.C., on that day was flown in honor of the inauguration.
A luncheon followed at the Adams Center, and the day concluded with a forum and panel discussions in the University Center Theater focused on the inauguration theme, Building a University for the Global Century.
Winds of Change
Brokaw Delivers Inspiring Message to New Grads
A stiff breeze out of Hellgate Canyon greeted all who gathered for UM's 114th Commencement ceremony on May 14 at Washington-Grizzly Stadium.
Commencement speaker Tom Brokaw even incorporated the blustery conditions into his remarks:
"By the way, historians like to talk about the winds of change. They talk about the winds of change in a metaphorical sense. I say to those historians, come to Missoula and feel the real winds of change on Commencement day."
Brokaw, one of the most trusted and respected figures in broadcast journalism, was presented an Honorary Doctor of Humane Letters degree, as was Bernard Osher, founder and treasurer of the Bernard Osher Foundation, which seeks to improve quality of life through support of higher education and the arts.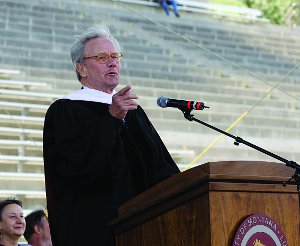 Tom Brokaw speaks to the Class of 2011 during Commencement at Washington-Grizzly Stadium in May
The ceremony celebrated more than 3,000 graduates and degree candidates, and thousands more who filled the west side of the stadium were treated to an inspiring speech by Brokaw. He concluded with this anecdote:
"About five years ago at this time of the year, I was at our ranch between Livingston and Big Timber. The water was high in the West Boulder River, and I went to an overlook to check its condition. And out of a grove of aspen down below me emerged a small herd of mother elk, accompanied by their three- and four-week-old calves. They paused for a moment on the sandbar, and they looked at me 200 yards away and thought I probably posed no great threat. The water was high and swift, the bank was loaded with hawthorn bushes, very thick. The cow elk led their offspring into the spring to get across to the greener pastures, and all of them made it except one. That poor calf couldn't get through the hawthorn bushes, and he was caught by the water and swept downstream just below me. I wondered for a moment about what to do. And then he found his way into an eddy, he got back on the sandbar, tried again, failed a second time. Then he failed a third time. The herd of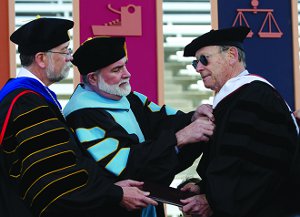 Bernard Osher, right, is presented an Honorary Doctor of Humane Letters
cow elk stayed on the far bank, watching, it seemed to me, nervously. And his mother made her way down to the far bank, looked at him-trembling and exhausted on the sandbar across this raging river-and as God as my witness, she nodded her head, waded into the river, led him upstream, and helped him across.
"I was renewed by that moment, and I think about it often because as so often happens, we are instructed by nature. We'll come to a lot of raging rivers. We won't always make it across, but we must be there to help each other during times of turbulence so that we can get to the higher ground.
"So to the Class of 2011 from The University of Montana, I say to you, go forth and make a difference. God knows we need your help."
Project Osprey Offers Unique View of Missoula Raptors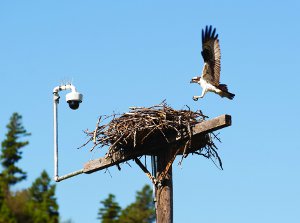 A mother osprey descends into her nest near Riverside Health Care Center in Missoula. The camera on the left records the happenings in the nest, and the video streams live online and in Riverside's lobby.
- Photo by Todd Goodrich
People across the globe now are able to view live video of two osprey nests on the Clark Fork and Bitterroot rivers.
Hosted by UM's Department of Geosciences, the video is online at www.umt.edu/geosciences/faculty/langner/Osprey. The Project Osprey team studies the day-to-day lives of the birds through the video, which also streams live in the lobby of the Riverside Health Care Center, just across the Clark Fork River from campus.
Heiko Langner, director of UM's Environmental Biogeochemistry Laboratory, asked last year if he could set up a camera near one of the osprey nests at Riverside to help study how mercury moves through the food chain in the greater Clark Fork River basin. The health care center gladly accepted, and the research team set up the first camera, donated by the nonprofit organization Raptors of the Rockies, near the river.
"It was a great success for our scientific purpose," Langner says.
Their studies reveal mercury is a top contaminant affecting wildlife in the Clark Fork River basin. The research shows the largest source of mercury in the watershed is Flint Creek, which enters the Clark Fork near Drummond.†
While the scientific benefits are important, the main goal of Project Osprey is public outreach. More than 1,000 kids have attended presentations by the team, and the residents at Riverside also have taken a keen interest in the birds.
In 2007 the Riverside nest was relocated from a power pole to a platform atop a freestanding pole NorthWestern Energy installed on the health care center's grounds. The new pole is dedicated to Mary Torgrimson Olson, a former resident at Riverside who was a nurse for fourteen years at UM's Curry Health Center. Her daughter, Karen Wagner, was instrumental in the relocation process.
Residents enjoy the streaming video so much that Riverside donated a new camera to improve the imagery. Raptors of the Rockies upgraded the health care center's lobby laptop to a large high-definition screen, where people watch the birds throughout the day.
But residents' interests go beyond merely viewing the birds.
"They help collect data for research," says researcher Erick Greene, a Project Osprey team member with UM's Division of Biological Sciences and Wildlife Biology Program. "They take notes on when the ospreys eat and what type of fish they bring back to the nest. They even have names for them."
Students from the Montana Natural History Center summer camp, along with a number of residents, staff, and spectators, recently watched the scientists band the leg of a six-week-old osprey chick at Riverside. With its mother nervously soaring in circles around Hellgate Canyon, those gathered got an up-close view of the chick and learned lessons no textbook could teach.
"Education is a huge part of what the project is about," Greene says.
Another webcam is set up on a nest at the Dunrovin Guest Ranch on the Bitterroot River near Lolo, and live video from both cameras can be watched online.
Project Osprey monitors nearly 200 nests throughout an area that stretches from Missoula to Butte. It is directed by Langner, Greene, and Rob Domenech, executive director of Raptor View Research Institute.
UM goes Tobacco-Free This fall
Photo by Todd Goodrich
With the start of autumn semester, UM is a tobacco-free campus.
UM strives to promote health and safety for all its students and employees, and the new policy demonstrates an ongoing commitment to healthy lifestyles.
More than 240 universities around the country have adopted similar policies.
The policy prohibits the use of tobacco in any form on campus. Tobacco use will be allowed in designated zones on the outskirts of campus, and receptacles will be provided for disposal of tobacco products.
UM started educating the campus community on the tobacco-free policy this past spring. It was implemented for three main reasons: to create a healthier environment for employees, students, and visitors; to support quitters; and to reduce the number of new smokers.
Notable and Quotable
The UM School of Law has celebrated its 100th anniversary throughout the year, culminating with reunions and a gala dinner the weekend of September 8-11 in Missoula. During UM's Charter Day activities in 1911, the Missoula legislative delegation telegrammed then-president Clyde Augustus Duniway to inform him that Governor Edwin L. Norris had signed the bill creating the School of Law, which has become "part of the fabric of Montana," Dean Irma Russell says.
UM hired Jim Burchfield as the new dean of the College of Forestry and Conservation. Burchfield replaces Perry Brown, who was named UM interim provost and vice president for academic affairs. Burchfield has worked on campus fifteen years. "It's a great honor to be selected as dean of the College of Forestry and Conservation, as its outstanding record of research and innovative instruction have made it one of the nation's finest academic programs in conservation and the sustainable management of our shared natural heritage," Burchfield says.
UM Dining Services broke ground on a sustainable garden project, located on the southeast side of the Emma B. Lommasson Center on campus. Crops will grow in raised wooden beds, and seeds will be heirloom varieties selected for their productivity. Compost from postconsumer waste generated by the Food Zoo will be used to help grow the crops, which then will be served in the Food Zoo, completing the food cycle.
Pi Chapter of Delta Gamma will celebrate its 100th anniversary at UM during Homecoming weekend. A meet-and-greet is set for Friday, September 30, and the centennial celebration concludes Saturday with a gala event at the Hilton Garden Inn. Pi Chapter was installed at UM on September 7, 1911. For more information e-mail dgpi100@gmail.com.
UM recently joined the likes of Duke, Penn State, Purdue, and Pepperdine as winners of a 2011 Campus Technology Innovators award. UM's Academic Planner, a homegrown Web application that helps students plot course schedules and develop academic strategies, was deemed one of the ten best innovations in higher education out of 393 nominees. The awards are presented annually by Campus Technology magazine, a monthly publication focused on the use of technology in higher education. Academic Planner provides advanced search tools to help students sift through hundreds of University course offerings and create primary and alternative course schedules.
The President's Perspective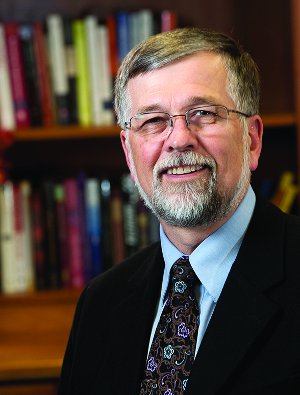 Welcome to another edition of the Montanan, which is a primary tool used by The University of Montana to stay connected with our far-flung alumni and friends. It is always gratifying to highlight the wonderful accomplishments of our students, employees, and alumni within these pages. The Montanan reaches more than 90,000 households, making it the highest-circulation magazine produced in Montana.
I'm excited to begin my first full academic year as UM's seventeenth president. Last year the campus focused on crafting our strategic plan, UM 2020: Building a University for the Global Century, which gives direction to the University during the coming decade. Much of last year was spent forging goals for this great institution, and during 2011-12 we will begin implementing the ideas outlined in our strategic plan. I invite everyone to read the plan (http://issuu.com/umontana/docs/um2020) and provide input as to how we can accomplish this ambitious agenda together.
Universities are inherently optimistic places because they equip people with tools needed to achieve dreams, whether that means starting a business, writing a novel, or exploring the world. Places such as UM don't just help people prepare for jobs-they help individuals launch exciting and productive lives.
The feature stories in this issue illustrate that idea well. One article tells how alum Casey Kriley, a self-described "drama brat" whose father was a longtime UM drama faculty member, used her education to become a successful Hollywood television producer. She won an Emmy for producing the reality show Top Chef in 2010.
The cover story describes UM alum and photographer Casey Nolan, who set out to document a massive slum in India with a project called Artefacting Mumbai. The endeavor helped Nolan discover beauty, art, and culture in one of the poorest places on earth.
The achievements of our graduates are amazing. I like to think our alums take a bit of UM with them on whatever roads they travel, whether they stay in Big Sky Country or live halfway around the world. I hope that together we can create a stronger institution that will propel many more students toward fulfilling their dreams.


Royce C. Engstrom
President
UM Launches Peace Corps Prep Program
UM has partnered with the Peace Corps to offer the first Peace Corps Preparatory Program at any public university in the country.
Implemented this past spring, all UM students now have the opportunity to earn a Peace Corps Prep Program certificate, which will help them gain an advantage in the Peace Corps' highly competitive application process. The program is designed to increase volunteer effectiveness and better equip students interested in serving low-income countries.
The idea to start the Peace Corps Preparatory Program at UM originated in the School of Business Administration, with Professors David Firth and Cameron Lawrence. Within the management information systems major, there are various tracks students can take, such as consulting, marketing, development, or entrepreneurship. The professors wanted to offer another option.
"We knew the Peace Corps needs people who understand business, particularly information systems and technology," says Firth. "So we thought if there was a specific track for that, we could help more business students achieve what they want to do."
Firth contacted the Peace Corps about the idea, and officials there were excited. The University spent nine months developing the program, which caters to students across campus, not just in the business school.
"It's a fantastic opportunity for UM students," Firth says. "I don't think there is any better way to spend the time when you are twenty-one or twenty-two than in the service of others. The program gives students an avenue to serve other people and, in the process of that, find out who they are."
UM has a long-standing relationship with the Peace Corps, having produced 765 Peace Corps volunteers, including thirty-three Griz alums currently serving. Additionally, per capita, Missoula ranks first in the nation among metropolitan areas in producing Peace Corps volunteers, making UM a natural choice for the preparatory program.
UM's bid to be the first public university to offer PCPP gained traction when its popular international development studies minor was linked to Firth's initiative.
Recognizing the academic quality of the IDS curriculum and the expertise and experience of its core faculty, the Peace Corps agreed to award the "generalist" PCPP certificate to any UM student who successfully completes requirements for the twenty-one-credit minor. More than 200 UM students from twenty-plus majors have elected to pursue the interdisciplinary minor during its six years of existence.
Peter Koehn, founding director of UM's IDS program, has long advised students committed to sustainable international development and has taught a foundation course in development administration at UM and several African universities.
"What was lacking at UM for decades was a full and coherent curriculum and formal recognition of our students' undergraduate academic preparation," Koehn says.
Now, with the IDS minor and the new Peace Corps Prep certification options, Koehn anticipates that UM undergrads opting for one or both will be "academically prepared and competitive for challenging overseas assignments with the Peace Corps or other development agencies."
The Peace Corps agreed that UM's existing IDS program provided an ideal administrative home for the prep program. The IDS steering committee, in consultation with faculty who teach appropriate courses in each area, and Tenly Snow, the campus Peace Corps representative, established seven tracks for students interested in earning a "specialist" certificate that parallels the Peace Corps' primary recruiting areas. The seven tracks are: agriculture and forestry; business and information technology; education; environment; health; youth and community development; and civic engagement.
Students must complete twelve credits to qualify for each specialist certificate. UM faculty, including Firth and returned Peace Corps volunteers Teresa Sobieszczyk and Curtis Noonan, will serve as track advisers to guide students in course selection and confirm that they merit award of the specialist certification.
The prep program is off to a fast start. About half a dozen graduating IDS students received the generalist certification this past spring, and Koehn anticipates the first specialist certificates will be awarded this academic year.
"Given our unique position as the first public university to offer the Peace Corps Prep Program certification, the array of academic options we now have available, the quality of the academic preparation we provide, and the outstanding faculty who are involved in teaching our development-focused courses," Koehn says, "I fully expect UM to be a national draw for students interested in international development and Peace Corps experience."
Meet Grizwald,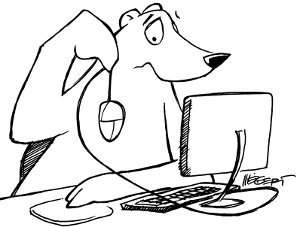 | | | |
| --- | --- | --- |
| " | Grizwald at the computer desk: "I wonder if this mouse prefers imported or domestic cheese." | " |
The University of Montana's cartoon bear. In the spring 2011 issue of the Montanan, we asked readers to submit captions interpreting Grizwald's actions in a humorous way. This issue's winning caption was sent in by Corinne Craighead Butcher '80. Congratulations, Corinne, you've won a Griz stadium blanket.
Stay tuned! In an upcoming issue of the Montanan, a new cartoon featuring Grizwald will need a caption. You could be the next winner!
Reunion, New Memorial Honor Montana Soldiers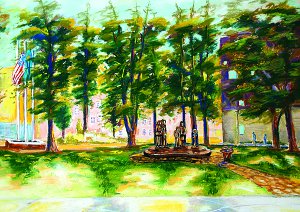 The memorial will be adjacent to Don Anderson Hall.
UM alums from Montana who served their country in the armed services will be honored at a reunion and memorial dedication this fall on campus.
The UM Military Reunion will be held the weekend of Nov. 3-5, sponsored by the UM President's Office and the Office of Alumni Relations. The event is held in conjunction with Military Appreciation Day at the Griz football game.
The reunion will include opportunities to visit with other alumni who are veterans, campus and city tours, a tailgate party, and recognition during the game.
One of the highlights of the reunion will be the dedication of a new memorial on campus honoring Montana soldiers who have died while on active duty in Iraq and Afghanistan.
The memorial is a joint project between UM and Grateful Nation Montana, Inc., which provides scholarships, tutoring, and mentoring for the children of Montana soldiers killed in Iraq or Afghanistan. The memorial will feature five bronze statues created by Montana native Rick Rowley.
| | | |
| --- | --- | --- |
| " | This will be a fitting tribute to the sacrifice Montana soldiers have made for our country. | " |
"This will be a fitting tribute to the sacrifice Montana soldiers have made for our country," UM President Royce Engstrom says. "In addition, it will illustrate the responsibility to ensure the fallen soldiers' children enjoy the opportunities provided by a college education."
David Bell, a 1996 UM graduate, and New York attorney John McCarrick founded Grateful Nation in 2007.
For information about the reunion, visit www.grizalum.org/events/MilitaryReunion.aspx. To contribute to the memorial or the scholarship funds, visit www.gratefulnationmontana.com.
Where's Your GRIZ Been?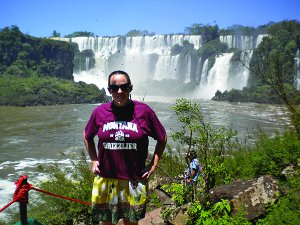 Jan Montgomery '05 sports her Griz gear at Iguazu Falls in Argentina in November 2010. "I had to travel twenty hours on a bus from Buenos Aires to see Iguazu Falls, and it was truly breathtaking," Montgomery says. She spent two months in South America working for World Wide Opportunities on Organic Farms [WWOOF]. The organization links volunteers with organic farmers and helps people share more sustainable ways of living. "WWOOF-ing was really an incredible way to travel all over South America," she says. Congratulations, Jan. You have won a $50 gift card for The Bookstore at UM.
Do you have a photo of yourself wearing your Griz gear in an amazing place or while on an incredible adventure? If so, send it along with a brief description to themontanan@umontana.edu. Winners will see their photo published in the Montanan and will receive a $50 gift card to The Bookstore at UM. To be considered, photos must be in focus with the UM or Griz logo clearly visible.
Griz to Get Boost Through Athletic Facilities Upgrades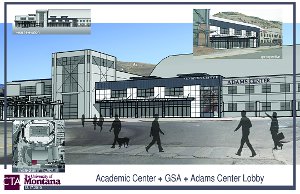 A new academic center is planned for UM's student-athletes
When it comes to Washington-Grizzly Stadium and Dahlberg Arena, there's no doubt UM's athletic facilities are the envy of the Big Sky Conference.
But the behind-the-scenes facilities-the academic center, the weight room, and locker rooms where student-athletes log countless hours-are sub-par when compared to other schools around the league. The space is extremely cramped, poorly ventilated, and the roof leaks, which allows mildew and mold to thrive, putting athletes' health and safety in jeopardy. In fact, when coaches bring potential recruits to campus for official visits, those areas are avoided.
That's about to change.
A construction project is in the works, which will add a new academic center, renovate the locker rooms, and expand the weight room. Permanent lights for Washington-Grizzly Stadium also are being added.
"We are thrilled this project is taking shape," UM Athletic Director Jim O'Day says. "It's been a long time coming. The upgrades we've done recently are great from a fan's perspective, but this will benefit our student-athletes directly."
The project aligns with President Royce Engstrom's strategic plan for UM, titled UM 2020: Building a University for the Global Century. The upgrades are a strong component of two initiatives in particular: partnering for student success and providing a dynamic learning environment.
"We want to make sure student-athletes have what they need to succeed both on the field and in the classroom," Engstrom says. "These upgrades will improve and enhance the opportunities for success for the student-athletes who are so important to The University of Montana.
"Secondly, it contributes greatly to creating a dynamic learning environment on campus," he says. "The excitement around Grizzly athletics is tremendous and something we're proud of. Improving our facilities so we can continue raising the excitement level and the opportunities for interaction with the community through Grizzly athletics is important."
Engstrom says the new academic center has the highest priority. It will be constructed in the space between the Adams Center and the Fitness and Recreation Center and will be nearly 2,200 square feet. The current academic center is roughly one-third that size and can accommodate only fifteen of the more than 300 student-athletes at a time. Despite the small work space, ten of the fourteen sports programs at UM had a combined grade-point average higher than 3.0 during spring semester 2011.
"Our coaches and staff have done a tremendous job stressing academics," says UM men's basketball head coach Wayne Tinkle. "Yet we feel like we're armed with a peashooter, so to speak, when it comes to an academic center. With the upgrade, the potential for what we can do with our student-athletes is even greater."
A new Art Annex is planned for the east side of campus near the Physical Plant. The current Art Annex is adjacent to the Adams Center, so once the new annex is completed, that space will be converted into a 12,000-square-foot weight room.
"We have an awesome staff and nice equipment," Griz linebacker Jordan Tripp says of the current weight room. "But it is so compact in there it isn't conducive to team lifts. It's spread out over three areas, which makes it hard for coaches to keep an eye on everyone, so it's also a safety issue. A new weight room would definitely help the team train and get better as a unit, which is a good thing for the Griz."
With the weight room and academic center relocated, that space will be used to expand the locker rooms. cont. on page 13
"The infrastructure in the athletic department isn't obsolete by any means, but it's antiquated," Tinkle says. "If we want to continue to raise the bar on the people we bring in and remain competitive in the Big Sky Conference and beyond, this project is necessary. When you combine it with our academics, the education our students get, and the people, it completes the puzzle."
O'Day estimates the upgrades will cost $12 million to $13 million and will be completed over the next three to five years. The project will be funded mainly by private dollars, but Engstrom says UM will make some contributions through normal University channels.
Although Tripp, a junior, will have concluded his college career by the time the project is completed, he says he'd love to see a new facility.
"I, for one, have seen firsthand how much time you actually spend there," Tripp says. "Honestly, it's like our home. No one wants a moldy, stuffy house that can potentially make you sick. You don't need a palace, but just a nice place to stay. It's the same idea with this project."
For more information or to contribute, please contact Associate Athletic Director for Development Kent Haslam at
406-243-6294.
UM Claims Second Presidents' Cup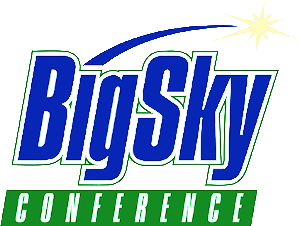 With strong finishes in both athletics and academics, UM won the Big Sky Conference Sterling Savings Bank Presidents' Cup.
UM edged Montana State University for the Cup, followed by Northern Arizona University and Sacramento State University.
Now in its ninth year, the Presidents' Cup reinforces the Big Sky Conference's dedication to both athletic and academic performance. Overall athletic success is combined with team grade-point averages, graduation rates, and all-conference performers with GPAs of at least 3.0 to determine the annual winner.
UM has finished in the top three the past five years, claiming the Cup in 2006-07 and posting a pair of runner-up finishes.
UM won just one of the Big Sky's fourteen league titles in 2010-11-women's cross country this past October-but the Grizzlies had eight top-three finishes, and ten of UM's sports teams finished in the top half of the conference standings.
UM's teams had a combined GPA of 3.13 during 2010-11. Ten of its fourteen programs had team GPAs of 3.0 or better for the academic year. Thirty-one of the Grizzlies' all-conference performers in 2010-11 had a GPA of at least 3.0, and Montana student-athletes had a graduation rate of 75 percent.
UM Honors Top Alumni for 2011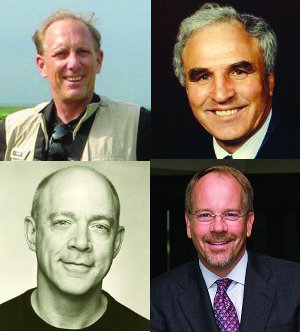 CLOCKWISE FROM TOP-RIGHT: Shanstrom, Wesbury, Simmons, Dahmer
A wildlife biologist, a judge, an actor, and an economist have been recognized for their outstanding accomplishments with the University's 2011 Distinguished Alumni Award.
Thomas Dahmer '73, M.S. '78; Jack Shanstrom '56, '57, J.D. '57; J.K. Simmons '78; and Brian Wesbury '82 will receive their awards and participate in a panel discussion at a September 30 ceremony during Homecoming. The Distinguished Alumni Award is the highest honor presented by the UM Alumni Association.
Dahmer is a wildlife biologist with more than twenty-eight years of experience, including twenty-five spent in Asia. He is founder and managing director of Ecosystems Ltd., an ecological consulting firm that helps guide conservation and development in a number of countries, including China, Taiwan, Vietnam, and Indonesia. He recently co-wrote The Amur-Heilong River Basin Reader, a book about conservation in northern China, and has published more than thirty research articles. A U.S. citizen with permanent residency in Hong Kong, Dahmer speaks Mandarin Chinese and Nepali.
Shanstrom is a federal judge with the U.S. District Court of Montana in Billings. He was nominated to the seat by President George H.W. Bush in February 1990, confirmed by the U.S. Senate that May, and served as chief judge from 1996 to 2001, when he assumed senior status. He earned three degrees from UM: a B.A. in law in 1956, an LL.B [now a J.D.] and a B.A. in business administration, both in 1957. He then served three years as a first lieutenant in the U.S. Air Force JAG Corps and began his legal career in Livingston in 1960. He has served as chair of the U.S. Ninth Circuit Court of Appeals magistrate division, and in 2002 received the UM School of Law Distinguished Alumni Award.
Simmons earned a music degree at UM and went on to become one of today's most recognizable television and film actors. He began his acting career in musical theater roles with the Missoula Children's Theatre and the Bigfork Summer Playhouse. After working in Seattle and New York, he landed the long-running role of Dr. Emil Skoda, psychiatrist on the series Law & Order. Simmons has appeared in dozens of TV shows, commercials, and films, including Oz, Spider-Man, and Juno. He currently portrays Assistant Police Chief Will Pope in The Closer on TNT. He also is the voice of the yellow M&M in the candy commercials and plays the teacher in University of Farmers Insurance ads.
Wesbury is chief economist at First Trust Advisors L.P., a financial services firm based in Wheaton, Ill., and one of the nation's top economic forecasters. He is a frequent contributor to the editorial page of The Wall Street Journal and economics editor of The American Spectator. He regularly appears as a guest on Fox, Bloomberg, CNBC, and BNN Canada Television and contributes to Barron's, Investor's Business Daily, Forbes, and U.S. News and World Report. He was ranked the nation's number one U.S. economic forecaster by The Wall Street Journal in 2001 and one of the nation's top ten forecasters by USA Today in 2004. He has written two books: The Era of New Wealth and It's Not as Bad as You Think.
UM Student Fends Off Black Bear in Pattee Canyon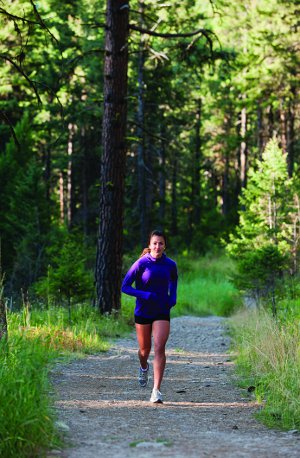 UM student Ani Haas runs along a path near the Crazy Canyon trailhead in the Pattee Canyon Recreation Area in Missoula.
There was a moment on the morning of July 29 when Ani Haas thought: "This is it. This is how I am going to go."
That moment came fourteen miles into a sixteen-mile trail run when Haas suddenly found herself in the worst of places: between a mother black bear and her two cubs in the Pattee Canyon Recreation Area of Mount Sentinel.
As the bear charged, then attacked, Haas' mortal thoughts were quickly replaced by an adrenaline-fueled will to survive.
"That [survival] instinct in her was just as strong in me," she says. "I had this sense of power coming out of me. I still don't know where it came from."
Haas tried to outrun the bear but quickly realized that wasn't going to work. She turned to face the bruin and was soon engaged in hand-to-claw combat. As the animal raked her chest and her left shoulder with its claws, Haas punched the bear in the head and threw rocks at it.
"Every time she struck me, I kept thinking, ëIf I am bigger and scarier than she is, maybe she'll leave me alone.'"
Eventually, the tactic worked. The mother bear backed down, collected her cubs, and retreated into the Ponderosa pines. Haas made her own hasty retreat. As she covered the final two miles back to her car, she didn't take the time to assess her injuries.
"I didn't even look down to see how bad it was," Haas says. "I was just focused on getting to the car."
The Missoula native is no stranger to grueling physical feats. A lifelong athlete and former member of the U.S. Ski Team, Haas set her sights on competing in the Olympics before a knee injury in 2009 derailed those plans. In 2010 Haas returned to Missoula and turned her focus to education. She's currently a sophomore at UM studying exercise science.
Local media reported the bear attack the day it happened, and the story spread quickly. Haas didn't have much time to recover before the NBC morning show Today came calling with an offer to fly Haas and her mom to New York City for an interview.
Barely seventy-two hours after taking on the bear, Haas sat on the Today set with host Ann Curry, describing the attack and showing her still-fresh wounds. Given the chance to offer advice to a national television audience, Haas urged young people to believe in themselves when they face any type of challenge.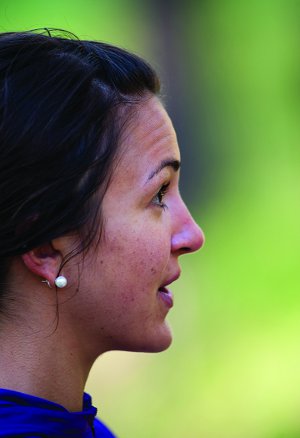 Haas describes her encounter with the black bear.
It was a message that resounded with several viewers who later reached out to Haas on Facebook, thanking her for sharing her message.
"That's why I did it," Haas says. "The aftermath has been the best part."
Haas also said she's heard from many local residents who have now educated themselves on how to react if they encounter a wild animal. That's crucial knowledge for all who recreate in western Montana, Haas says.
"If you put yourself in this environment, you need to be educated on how to act," she says.
Thanks to a media company in Taiwan, viewers around the world are learning that same lesson. The week after the attack, Next Media Animation-known for its humorous animated videos depicting recent news events-created a short video about the attack titled "How to Fend Off Black Bear."
In the animated short, Haas is shown walking through the forest wearing jeans and a tank top when she encounters a massive bear and the two begin fighting. She sends the bear reeling with two right hooks to the jaw, then hits it squarely in the face with a rock before the bear gives up.
Haas said she's only seen it once, and that aside from the outfit she's wearing in the video, the animated version is "spot on."
Haas hasn't let the bear attack deter her from trail running. Today she runs with others and hauls a can of bear spray just in case she encounters another wild animal. It can be awkward to carry, but Haas doesn't want to take on a bear with her bare hands ever again.
"I just don't want to be like that guy who got struck by lightning seven times," she says.
-Jennifer Sauer
Facetime: Logan Timmerhoff '12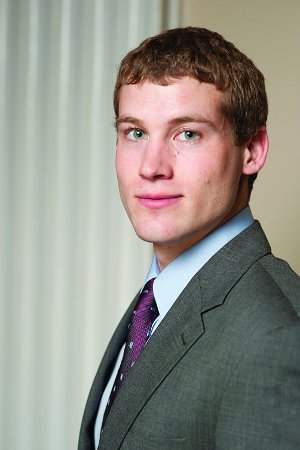 Logan Timmerhoff in the Eisenhower Executive Office Building of the White House in Washington, D.C.
It's a difficult scenario to imagine: One semester you're strolling across the Oval heading to class, and the next semester you find yourself bustling down Pennsylvania Avenue in Washington, D.C., on the way to your job at the White House. "It's surreal," says Logan Timmerhoff, a twenty-two-year-old UM student who recently had just that experience.
Timmerhoff, a Missoula native, spent spring semester interning at the White House. The senior majoring in political science/economics and minoring in international development studies calls the internship "far and away the best experience I've had yet." He says he left the internship with "a notion of how hard you have to work to make it to the White House, a good number of friends, some skills, and much wisdom" picked up from staff members who've been on the political scene for years. It could be kind of tough coming back to campus after spending a semester at the White House, but Timmerhoff won't have to try for a while. The rest of the classes he needs to graduate aren't offered until spring semester 2012, so until then, he's teaching English part-time in Brazil and looking for other work there.
Describe a typical day of your internship. What were your duties?
I worked in the Office of Presidential Correspondence, which handled official correspondence on behalf of the president. This office receives and responds to the spectrum of letters, e-mails, faxes, calls, and gifts the president receives from private citizens to civic organizations and elected officials. My department specifically works with correspondence from Americans requesting help with federal agencies.†We analyze their claims and refer their cases to the appropriate agencies. When I was not doing that, I was giving tours of the White House, helping out at events, or attending meetings with staffers and other interns.
Did you meet/see the president or first lady?
While I saw the president-leaving Marine One, for example-I didn't meet either him or the first lady during the internship. [At the end of his internship, Timmerhoff had his photo taken with the Obamas.] He is-no surprise here-very busy, though some interns had chance encounters with him.†More often, you meet senior- and mid-level staffers, which, to a political junkie, can be nearly as arresting.
How much access to the inner workings of the White House do interns have?
Within your assigned department, a great deal. Interns at the White House are very much involved in, and are a part of, many office processes.
Did you learn things that will help you in college/future employment/life?
Undoubtedly. White House staffers get to where they are by being among the very best at what they do.†You can't help but pick up a bit of what they lay down on a daily basis, either by absorbing best practices by osmosis or through advice, which is often offered freely.†I also got a lot of exposure to things relevant to what I ultimately want to do for a career. For example, I had many opportunities to ping questions off staffers working within the National Economic Council and the National Security Council, two organizations for which I would happily work eventually. More broadly, being a political science [and economics] major with a proclivity for public service, primary experience within the executive branch is, of course, on its face a very valuable thing.
Your thoughts about the experience?
I think it was a tremendous privilege. I'm very grateful to the White House and the internship program there. They do a great job of providing a galvanizing professional development experience for politically minded, service-oriented students.
Do you aspire to a career in politics?
My aim, at least for the near future, is to work in economic policy. So to the extent that it translates into politics, so much the better. I certainly will always be directly politically involved, however. I plan to volunteer for the 2012 elections, for instance.
Did you attend Obama's campaign rally at the Adams Center in April 2008?
Naturally.
How did you land the internship?
A few months back, former White House Deputy Chief of Staff Jim Messina [a UM alum] spoke at the UM School of Law. I managed to buttonhole him afterward and ask about the difficulty of getting into the internship program. "Not as difficult as you might think," he said, and encouraged me to apply. I did. Acceptance followed some months later. I had a solid transcript, good letters of recommendation, and a proven record of political interest. Beyond that, I can't say definitively. Know, though, that the program is decidedly not merely a way station for those of the Ivies. The program does a great job of casting wide for worthy individuals. If you're serious and can prove it, you'll get a fair shake.
-Interview by Rita Munzenrider