The Magazine of The University of Montana
Artifacts: Gentle Ben
By Betsy Holmquist '67, M.A. '83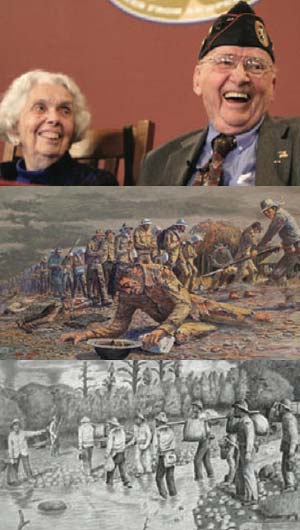 Top: Ben Steele and his wife, Shirley
Middle: Arrival at Tayabas—Tayabas Road, ca. 1945-47, charcoal, 16x22 inches
Bottom: The Bataan Death March, ca. 1950, oil on panel, 30x48 inches
On October 9, 1940, an almost twenty-three-year-old Benjamin Charles Steele traveled to Missoula and took the oath to defend his country as a newly enlisted member of the United States Army Air Corps. Up to that point, Ben had spent most of his years tending sheep and cattle near the Bull Mountains in eastern Montana. Hands familiar with ropes, tractors, sheep, and horses knew nothing of the brushes, pens, and charcoal that would become his ultimate tools to fame—instruments that provided the world its major visual images of the Bataan Death March and life in Japanese prisoner of war camps.
Steele's story now spans ninety-three years and is beautifully and powerfully told in Michael and Elizabeth Norman's 2009 New York Times best-seller Tears in the Darkness: The Story of the Bataan Death March and its Aftermath. And, on Friday, September 23, Ben's entire collection of eleven oil paintings and seventy-eight drawings depicting this critical period of World War II history will be unveiled at the Montana Museum of Art & Culture. The exhibition coincides with the thirty-eighth annual Montana History Conference at UM titled No Ordinary Time: War, Resistance, and the Montana Experience. Later this fall Ben, his wife, Shirley, and the Normans will be on campus to celebrate his generous gift of the collection to The University of Montana.
Captured just months after arriving in the Philippines, Ben was tortured, starved, and pierced with a bayonet during the ensuing forty-one months. Calling on his Montana memories and years of hard physical labor, Ben somehow stayed alive long after thousands of other prisoners had died or were killed literally at his feet.
Hospitalized in late 1942 from a near-lethal combination of beriberi, dysentery, jaundice, and malaria, Ben began sketching on the concrete hospital floor with a piece of charcoal from the nearby stove. His first drawings of horses, cowboy hats, and corrals helped restore his strength and brought his unknown art talents to the attention of others in the compound. On smuggled paper and at the urging of other prisoners, Ben began drawing scenes from the death march and camp life—images that would find their way in the years to come into a collection that has toured the nation and now resides permanently at UM. In a 2010 interview with Barbara Koostra, director of the Montana Museum of Art & Culture, Ben readily acknowledges the primitive nature of these first drawings.
"I was an amateur," he says. "I didn't have any technique. I didn't have any style. I had a story to tell, and I put it down the best I could."
Following the war, Ben earned degrees from the Cleveland Institute of Art, Kent State University, and the University of Denver. In the fall of 1959, he began his esteemed twenty-three-year career teaching art at Eastern Montana College, now called Montana State University-Billings. To this day, Ben regards his interactions with students among his most meaningful experiences.
The admiration is mutual.
In a letter to the Billings Gazette several years ago, a woman from Plentywood wrote: "I was blessed to be in an art class taught by Ben Steele. He will always be 'Gentle Ben.' He exhibited a great love of art, as well as a great art talent. His classes were calming yet inspiring, and he shared his passion for art with us all."
Thomas Brown, M.F.A. '71, Queenstown, New Zealand, received his bachelor's degree at Eastern and took many classes from Steele.
"Ben Steele was one of those super instructors," Brown says. "One of the few who would let you struggle and then, without words, take over and illustrate with the minimalist of lines the corrections, which, like magic, became obvious. He could share his talent."
Just as he shared his rations, his spirit, and his talent, Steele continues to share his story of World War II with countless generations to come. A story that's at times difficult to view, but, like its artist, full of healing, passion, and hope.