The Magazine of The University of Montana
A Bird's-Eye View
Renaissance Woman Kate Davis '82 Is All About Birds
Story by Ginny Merriam Photos by Todd Goodrich, Keith Fialcowitz, and Kate Davis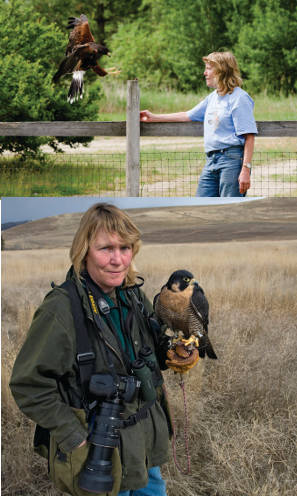 TOP: There's always something going on at the Raptor Ranch, home to eighteen birds of prey, including two Harris's hawks.
Photo by Todd Goodrich
BOTTOM: Davis and her peregrine falcon, Sibley
Photo by Keith Fialcowitz
When Kate Davis arrived on The University of Montana campus as a freshman in 1978, she and her mom went to see professor and bird specialist Dick Hutto. Davis loved science and birds and was excited to start work on her zoology degree.
"I don't qualify for work-study," she recalls telling Hutto. "But I have a skill I think you might like. I'm a taxidermist."
It was not your everyday encounter with an eighteen-year-old freshman coed. But Davis made Hutto smile.
"He went to this freezer, and he threw the doors open, and it's stuffed with frozen birds," Davis says. "Two huge freezers of birds."
Indeed, Hutto says, "We had a freezer full of raptors and rosy finches. And it turned out she was really good."
Today, UM's Philip L. Wright Zoological Museum contains more than 24,000 specimens of mammals, birds, and fish—many of the birds prepared by Davis. The job kept her going through her studies, and she earned her bachelor's degree in 1982.
Davis fledged from UM's zoology program with a strong knowledge and respect for science and accuracy. She's since built a career as a raptor specialist and educator.
Davis and her eighteen-bird teaching team, who together make up her nonprofit Raptors of the Rockies, put on educational programs for children and adults throughout western Montana. Twenty-five years of that work translate into 1,383 programs that have reached 117,522 people and worn out six Subarus. In 2011 alone, Davis and the birds put on seventy-two programs for audiences totalling 5,500 people, driving 13,501 miles in the present "Raptormobile" from their home-base Raptor Ranch outside Florence.
Davis is a falconer, an artist, and a photographer. She's also a science writer with four books to her credit and more in the works. Her 2011 book, Raptors of the West Captured in Photographs, produced with fellow bird photographers Rob Palmer and Nick Dunlop, won the National Outdoor Book Award and the Montana Book Award.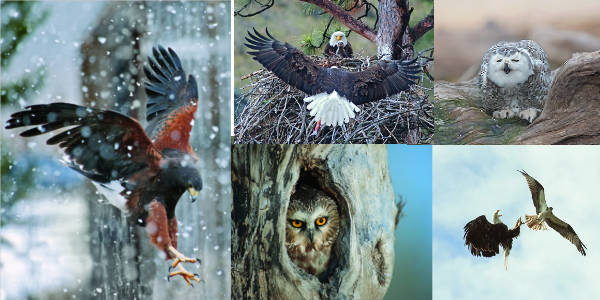 Far Left: Chesty, a Harris's hawk, flies the property every day of the year, rain or shine. Or snow.
Top: Cover shot from Davis' new book on a bald eagles' nest that fledged four young on the Clark Fork River, just a mile from campus.
Top, right: A snowy owl takes a drink from a puddle in a root wad on the Washington coast.
Left: A teaching team raptor, Maya the northern saw-whet owl.
Above: A bald eagle and an osprey battle over the Bitterroot River.
She recently took up welding, studying with ninety-three-year-old metal sculptor Bill Ohrmann of Drummond, learning how to put together large metal bird sculptures. She also chairs the Raptor Research Foundation Conference Committee and brought the international gathering to Missoula in 2008. Raptors of the Rockies requires about $55,000 a year to run, and she raises all the money herself. She knows the nests in the area and tracks and photographs the birds' activities, blogging about them nearly every day. She sells greeting cards of her art and photography, shows her work in galleries, and occasionally races her Porsche in autocross.
Davis is a Renaissance woman and a "bundle of energy," says Deborah Richie, a Missoula natural history writer who serves on the Raptors of the Rockies board.
"Kate is incredibly independent and at the same time generous and willing to share what she does," Richie says. "It's pretty easy to be on the board. We try to have an event every year. But usually it's just, 'Go, Kate.'"
"It's pretty phenomenal," Hutto says. "I don't know any other individual who could do so much and reach so many people.
"I don't know how to explain Kate," he says. "She's an enigma. She's amazing."
At the heart of all the work is Davis' love of birds and her keen interest in raptors, a group with strong, hooked beaks and sharp talons for capturing prey ranging from insects, rodents, and fish to birds in flight and even fawns.
The word "raptor," meaning "to seize and carry away," comes from the same root as "rapture," meaning "wild enthusiasm and ecstasy," she explains.
"For raptors, it's the excitement factor," Davis says. "They have to catch animals that don't want to be caught. Plus they're so beautiful. I like falcons the best, obviously. But they're all worthy of our respect."
Davis credits a great childhood marked by encouraging parents and important mentors with her start. When she was twelve, she read Jean Craighead George's My Side of the Mountain, the story of a boy who runs away from home to live in the wilderness and befriends a peregrine falcon, and Rascal, the story of a boy whose best friend is a raccoon he raises from a kit.
By the time Davis was in middle school, she was rehabilitating animals and doing educational programs with the Cincinnati Zoo's Junior Zoologists Club. She learned about birds there, too, although, "girls weren't allowed to have anything bigger than a screech owl or a kestrel." That's where she learned her taxidermy skills, too. Davis credits Barry Wakeman, the education director at the zoo in the early 1970s, with launching her work.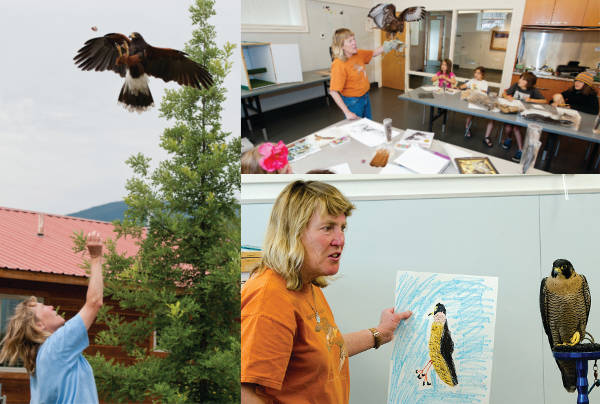 Far Left: Chesty catches tidbits tossed in the air at the Raptor Ranch.
Top: Alisa, a red-tailed hawk, is a perfect model for the annual Birds and Art workshop at the Missoula Art Museum.
Bottom: A spring tradition at the MAM is a weeklong class of sketches and life-sized paper mache raptors for youngsters.
Her high school art teacher, Jack Walther, also encouraged her, and today one of her kestrels is named JayDub in his honor.
"I used to say, 'JayDub, do you think I'll be an artist when I grow up?'" she says. "He'd say, 'Kate, you already are an artist.'"
Her parents supported her, even when she was vexing. One evening when they had her father's boss over for dinner, a fox Kate was rehabilitating jumped up and grabbed half the marinated chicken intended for dinner right off the barbecue grill.
One day renowned UM Professor John Craighead lectured at the zoo about grizzly bears in Montana.
"I went home and I got a map, and I said, 'Mom and Dad, this is where I'm going,''' she says. "'The University of Montana.'''
After college, she started out slowly. She and her husband, Tom, who works as a wildland firefighter, rented a collection of buildings outside Clinton, where she could keep a few birds. Kate was working as a taxidermist, and she started asking her boss for days off to do programs in schools with her birds. She officially founded Raptors of the Rockies in 1988.
Eleven years ago, she happened onto their current Raptor Ranch, a house and a barn/shop on some acreage on the Bitterroot River that was for sale. They moved and set to work building housing for the birds, each perfectly suited to the birds' various needs.
"When it's ten below zero, we have birds all over in the house, in kennels and on perches," she says.
Davis feeds the birds every day and monitors their health. Most have come to her after being resurrected by rehabilitators after being hit by cars, injured by power lines, or shot. Davis holds four federal permits and a state permit, each bird listed.
Max, a golden eagle, was found in the Bob Marshall Wilderness as a fledgling unable to fly, probably the victim of poisoning, and was packed out on horseback. He's twenty-three now and eats game meat and trapped Eastern fox squirrels, a non-native problem species in the Missoula area. He also shares lab rats with his enclosure mate Nigel, a sixteen-year-old golden eagle. Nigel was rescued from a field west of Ronan in January 1999, with a gunshot injury to his wing. He has proved to be a charismatic member of the education team and a favorite on Montana Public Radio shows and KECI-TV's Montana Today.
"He is the best, most trustworthy golden eagle I've ever known," Davis says. "I just leave him on a perch and he models for art programs. He just stands there."
Each year, the birds at Raptor Ranch consume 1,500 coturnix quail from a supplier in Washington; 200 to 300 squirrels; 10,000 to 12,000 lab mice, many from UM; and hundreds of pounds of heart meat—an essential part of the eagles' and hawks' diets—from a local meat-packing business.
Davis feeds each bird in the way it would eat in the wild. The hawks and the big falcons hold the quail bodies down with one foot and pluck the quail feathers out with their beaks before eating. Nothing is wasted; leftover pieces of mice go on top of the kestrel cage for magpie neighbors.
Davis has proven that 400 freshly butchered chickens can fit in the back of a Subaru wagon. The proof can be seen in a photo on the Raptors of the Rockies website.
Some birds at the ranch also fly. Chesty, a twenty-two-year-old Harris's hawk who was a gift from a Vietnam veteran in declining health, flies up to two hours a day, never leaving the property. Sibley, a peregrine falcon born in a Bozeman breeding project, hunts nearly every day from September through March, flying up hundreds of feet and catching ducks and pheasants. Named for Davis' ornithologist hero David Sibley, she came to live with Davis as a one-month-old ball of fluff, and her first flight was to the living room couch. She has a perch on the coffee table, where she sits patiently as Davis' muse while she writes. She's nine years old and has been the star of a Ducks Unlimited television show.
The main focus of Davis and the birds is to protect and educate. Raptors, threatened by chemicals and land development, are the barometers of the environment, Davis says. Peregrines, ospreys, and bald eagles were nearly wiped out by the pesticide DDT before it was banned in the United States and Canada in the early 1970s. Every generation needs a renewed stewardship ethic, she says.
"We're not trying to make all the kids ornithologists," Davis says. "We just want them to go outside. They'll realize what a tenuous thing it is. We need to protect what we have."
Hutto continues to meet college students who say a Kate Davis presentation in their grade-school classroom shaped their lives. He says Davis was a pioneer.
"There wasn't a lot of environmental education at the time she started," he says. "In our part of the world, nobody was really carrying live things into the classroom. There was definitely a place for it. She knows the biology and she knows the stories. Then, subliminally, everybody becomes a conservationist when they learn about the creatures."
Davis has a natural gift for connecting with people, Richie says.
"There's nothing like live raptors—live birds—up close to bring the world of nature to kids and adults," she says. "Kate has that childlike wonder herself, and she relates to kids and to adults. She knows how to read an audience with her humor and her pretty strong message about why we should care about bird species and take care of them."
Most of all, she loves her work.
"At the end of every program, I ask people to promise they will go outside and try to hoot up an owl," Davis says. "And they do. From grade-school gymnasiums to Boston, Chicago, whole auditoriums of people hooting like owls. I love it."
Visit the Raptors of the Rockies website at
www.raptorsoftherockies.org. Photographs and books
by Kate Davis are on www.raptorsoftherockies.com.