The Magazine of The University of Montana
About Alumni
Keep Us Posted. Send your news to The University of Montana Alumni Association, Brantly Hall, Missoula, MT 59812. Go to www.grizalum.com and click on "Submit a Class Note," fax your news to 406-243-4467, or call 1-877-UM-ALUMS (877-862-5867). Material in this issue reached our office by February 28, 2012.
Note: The year immediately following an alum's name indicates either an undergraduate degree year or attendance at UM. Graduate degrees from UM are indicated by initials.
Snowbirds/Sunbirds—Anyone! Whenever you change your mailing address, please contact the alumni office.
Let us know where you are and when. Thank you.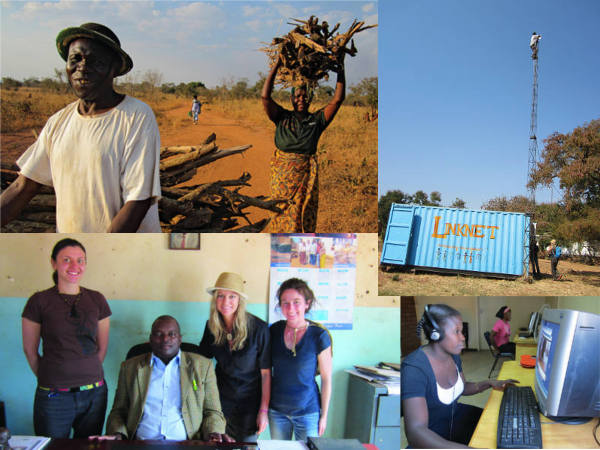 Above bottom left: Lisa Parks, second from right, and two of her students stand next to Chief Chikanta after conducting a video interview about his community's use of Internet and mobile phones. Above top right: An experimental antenna is installed in Mapanza, Zambia. Bottom right: Students from the LinkNet Information Technology Academy in Macha, Zambia, help Lisa transcribe video interviews about local residents' use of the Internet and computers. Top left: Some residents in Macha do not have electricity and must use firewood to cook and keep warm during the winter months.
Lisa Parks '90, Santa Barbara, Calif., recently traveled to Macha—a rural community in the African country of Zambia—to work on a groundbreaking project that will expand the availability of Internet and cellular phone service in the village. Most of Macha's 130,000 residents support themselves through subsistence farming, and the vast majority of households are not connected to the Internet. Using cutting-edge wireless networking technology, the team behind this project hopes to bridge the digital divide and bring more people online.
"We hope that our research will help the people of Macha to develop sustainable Internet access and mobile-telephone applications that will support education, health care, and cultural practices in the region," Lisa says.
The project is the result of collaboration between Lisa, a professor of film and media studies at the University of California, Santa Barbara, and Elizabeth Belding, a professor of computer science at UCSB. While Elizabeth and her group of students focused on the technological portion of the project, Lisa's team conducted videotaped interviews with village residents in an effort to identify their digital communication habits and needs.
"People in rural areas such as Macha are extremely creative and resourceful with respect to their use of communication technologies," Lisa says. "Many power up their electronics with solar panels or car batteries since they live off the grid. We have seen firsthand that the Internet is not configured in the same way all over the world. It is often the result of very makeshift and patchworked systems and technologies."
The overall project—which was funded by a four-year, $1.2 million grant from the National Science Foundation—is called VillageNet. The researchers anticipate the new technology will branch out beyond Africa to other rural areas.
For Lisa, the experience of living and working in a place that is so culturally different from the U.S. was incredibly fulfilling, both professionally and personally.
"During this trip I made great new friends and research partners in Macha, and I was inspired by the level of commitment and interest in making the Internet work in an area where logistical, economic, and infrastructural conditions make it extremely challenging and difficult," she says. "I look forward to returning to Macha to continue our work next year."
ALUMNI EVENTS
16-22 Homecoming 2012
16 Homecoming kickoff celebration, 1-2:30 p.m., Southgate Mall
19 UM dorm and office decorating contests, 2:30-5 p.m.
20 House of Delegates annual meeting, all day
Homecoming dinner, 5 p.m., Food Zoo
21 House of Delegates breakfast and wrap-up, 8 a.m.,
Holiday Inn Downtown at the Park
Hello Walk, 1 p.m., Turner Hall sidewalk
UM department open houses and receptions
Distinguished Alumni Awards ceremony and reception,
5:30 p.m., University Center Ballroom
Pep Rally, 8 p.m., UM Oval
All-Alumni Social and Dance, 7:30 p.m.-12:30 a.m.,
Holiday Inn Downtown at the Park
22 Homecoming Hustle – 5K race, 9:45 a.m.,
Higgins and Broadway avenues
Homecoming Parade, 10 a.m.,
Higgins and University avenues
Homecoming T.V. Tailgate, 11 a.m., East Auxiliary Gym, Adams Center
Montana Grizzlies vs. Northern Arizona University,
1:30 p.m., Washington-Grizzly Stadium
TBD Alumni gathering, Washington, D.C.
17 112th "Brawl of the Wild," Grizzlies vs. Bobcats, 1:30 p.m., Washington-Grizzly Stadium
'50s
Arthur Merrick '50, Helena, recently traveled to Washington, D.C., aboard an Honor Flight to see the World War II Memorial and other significant monuments. The Honor Flight program provides free trips to the nation's capital for World War II veterans and terminally ill veterans of later wars. Arthur served in the Army's Forty-First Infantry Division from 1942 to 1945 and collected numerous honors along the way, including Silver and Bronze Stars.
Don Orlich '53, Ed.D. '63, Pullman, Wash., received the 2012 Washington State University Emeritus Society Legacy of Excellence Award for sustained contributions to academia, service to the university, and personal accomplishments in retirement. A member of the new Phyllis J. Washington College of Education and Human Sciences Advisory Board, Don is an expert in the art of writing grant proposals. Developing a Winning Grant Proposal, a book he co-wrote with Nancy Shrope, was published in June. He is also the senior co-author of Teaching Strategies: A Guide to Effective Instruction, now in its tenth edition.
Karl Allen '57, M.Ed. '65, Tucson, Ariz., received an honorary doctoral degree from the University of Wyoming. Karl taught civics and American history, among many other courses, during his thirty-six-year career at Hot Springs County High School in Thermopolis, Wyo. He also served as a member of the Wyoming National Guard for twenty-three years, as mayor and town councilmember in Thermopolis, and as Hot Springs County commissioner.
Ted File '57, Layton, Utah, retired following a successful career in the food industry. During the course of his career, Ted worked in retail, wholesale, and executive positions. He received Western Michigan University's Adrian Trimpe Award for distinguished service to the school's food marketing program, as well as Portland State University's Food Industry Leadership Award for his commitment, service, and contributions to the PSU Food Industry Leadership Center. Ted and his wife of fifty years, Joan, are service missionaries for the Church of Jesus Christ of Latter-day Saints. He enjoys golfing, working in the yard, and spending time with his grandchildren.
Pam Sorensen '57, Corvallis, Ore., has regularly played her violin for the residents of the Corvallis Manor nursing home for more than twenty years. She also has performed with the Oregon State University symphony for fifty-two years. "I enjoy the feeling of sharing something worthwhile," Pam tells the Corvallis Gazette-Times. "Music is the kind of thing that brings memories back to people and helps them feel better."
Claire Larson Whealy '58, Tulsa, Okla., was named Delta Gamma Woman of the Year by the Tulsa Area Alumnae Panhellenic, an organization of representatives from twenty national sororities who live in the Tulsa area. Claire has volunteered her time and skills to Delta Gamma on numerous occasions throughout her life. Last year, she traveled back to Missoula to help celebrate her home chapter's 100th anniversary.
'60s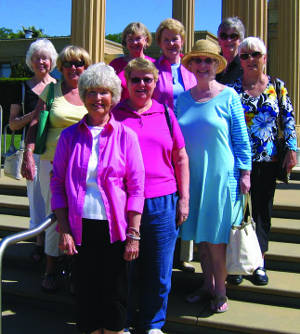 Karla Chandler Bailey '64, Napa, Calif., hosted a reunion this past spring for members of the UM chapter of Kappa Alpha Theta. Pictured in this photo, taken at the Darioush Winery in Napa, are: (back row, left to right) Juanita Kellogg Prewett '64, Ilo Viestenz Murphy '64, Gwen Calvin Letson '64, Cathy Ryan Bower '64, Elinor Misfeldt Dickson; (third row, left to right) Marguerite Doyle Conway, Susan Gantenbein Grennan '63; (second row) Marilou Dwyer Lewis; (front row) Karla Bailey.
Mary Clearman Blew '62, M.A. '63, Moscow, Idaho, recently published a memoir titled This is Not the Ivy League. The book chronicles her journey from working on her family's remote Montana cattle ranch as a child to challenging the gender roles of the 1950s in her pursuit of a graduate degree. She currently is an English professor at the University of Idaho.
Margie Johnson Fowler '63 and her husband, Boyce Fowler '63, M.M.E. '68, Helena, were named Foundation Fellows by the Music Teachers National Association. Margie has been a private piano teacher for fifty years and has performed as a vocal soloist with both the Billings Symphony Chorale and the Helena Symphony Chorale. Boyce's career as a music educator has spanned forty-five years, and he continues to give private instrumental lessons. He is a founding member of the Continental Divide Tuba Society, is a band and symphony orchestra member in Helena and Billings, and has played with UM's Homecoming Alumni Band. [Editor's note: Margie died in late July.]
Roger Kotila '63, Novato, Calif., recently was elected president of Democratic World Federalists. Based in San Francisco, DWF is a volunteer nonpartisan educational organization and think tank that addresses issues related to the elimination of nuclear weapons and world peace. A retired psychologist, Roger edits the online publication Earth Federation News & Views and is a U.S. vice president of the World Constitution and Parliament Association.
John P. Montegna '63, Reno, Nev., has retired from CVS Pharmacy after forty-eight years of continuous service. He now will devote his time to Kiwanis International, of which he has been a member for twenty-seven years. John and his wife, Linda, plan to travel more frequently to visit their three children and four grandchildren living in California, North Carolina, and Florida.
Jerry Holloron '64, M.A. '65, Seattle, was part of the team at The Seattle Times that won a 2012 Pulitzer Prize for investigative journalism. A former UM School of Journalism professor, Jerry was the desk editor for "Methadone and the Politics of Pain," a three-part series about Washington state's practice of prescribing methadone to people on state-subsidized health care. "These are tough days for newspapers, and it's nice to work for a family-owned operation that remains committed to gutsy reporting," he says.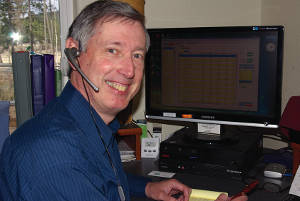 Raymond Dominick '66, Bigfork, is the creator of the software program Dynamic Investor Pro, which is designed to guide ordinary people in their financial investment endeavors. "Dynamic Investor Pro came about from listening to people," Raymond says. "Professional advisers I had met would comment about how they needed a simple-to-use, yet comprehensive, program that would do more than show charts to tell them when and what to buy or sell in the stock market." Raymond says his background in journalism came in handy as he developed the program. "I learned to listen and to ask the 'who, what, where, when, why, and how' questions," he says. Raymond recently announced his plans to launch a national marketing campaign for his product.
Dean W. Blinn, M.S. '66, Bellingham, Wash., retired in 2001 after two years on the faculty at the University of North Dakota and thirty years on the faculty at Northern Arizona University. Following his extensive career in aquatic ecology research and education, Dean and his wife, Sandra, published a children's book titled Diatoms: Unnoticed Living Jewels in Water.
Berl E. "Butch" Stallard '66, Shelton, Wash., retired from Jason Lee Middle School in Tacoma, Wash., following a twenty-four-year career as a school counselor. Before entering the educational field, he served more than twenty years in the U.S. Air Force. Butch and his wife, Carol, celebrated their thirty-ninth wedding anniversary this past May. In addition to relaxing in their hot tub and viewing the wildlife near their home on Hammersley Inlet, they are busy planning trips to Mexico, Belize, Costa Rica, and the Caribbean.
Poul Nielsen '68, M.F.A. '75, Medicine Hat, Alberta, was invited to exhibit some of his paintings in a show at the Jiangsu Academy of Chinese Painting in Nanjing, China. He traveled overseas to attend the opening and to give lectures to local art students.
Letter from alumni board chair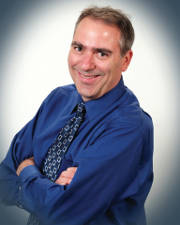 As the old saying goes,change is inevitable—except from a vending machine.
This axiom applies, too, it seems, to The University of Montana Alumni Association. Over the most recent fifteen-year period, much has changed with UMAA: the way information is disseminated and received; the methods in which we communicate with you, and you with us; and the information you desire, and the quantity and regularity at which you are able to access it—these are just a few examples. Even the ways in which alumni associate with the University have begun to change. Instead of associating with a particular class year, alumni commonly identify with "affinity groups"—the extracurricular organizations, clubs, and activities in which alumni participated during their student years.
With changing technology, the focus of the association has begun to change as well. Now, with a few quick clicks of a mouse, you can readily educate yourself on nearly everything occurring at UM. No longer do you need to wait for communication from the association to get an update about what is happening on campus.
Although we realized it was unnecessary for the association to fully reinvent itself, we came to the conclusion that some refocus was required. With that in mind, the board of directors has been working diligently over the past year to formulate a new strategic plan for the organization. Working with a professional facilitator, and after much consternation and discussion, we have outlined five key initiatives on which to concentrate. We firmly believe these areas of focus will benefit not only our alumni, but also the University as a whole.
The first initiative is centered on securing a sustainable funding source, one which will allow us to expand our outreach programs for alumni. The second is to better facilitate alumni involvement in programs that enrich students. The third initiative is to provide avenues for alumni to get involved in active advocacy for higher education. The fourth focus is to strengthen the bond between affinity groups and the University. And finally, we will continue to improve the outreach and programming currently in place.
We're confident these changes will better our organization and provide a remarkable experience for you as you reconnect with us and with your University. If it has been a while since you've done so, please drop us an e-mail, or even go old-school and pick up the phone. Because while change may seem inevitable, one remaining constant is the mission of UM. I encourage you to lend your support in whatever way possible.
We'd love to see you on campus soon. Bring exact change for the vending machines.
Up With Montana!
Eric Botterbusch '87 earned a bachelor's degree in economics with minors in history and political science from UM. He is a registered securities principal with Allstate Financial Services, LLC, in Bothell, Wash. Originally from Helena, he lives in Everett, Wash., with his wife of eleven years, Carol Anderson. They are Montana Grizzlies north end zone season-ticket holders.
'70s
Linda Allie '70, Glasgow, collaborated with Rick Graetz '02 to publish Glasgow and Valley County, Montana. The book, which chronicles the history of the area and depicts the beauty of its landscapes, features a collection of eighty-two photographs and thirty-two essays produced and compiled by students at Glasgow High School, where Linda teaches English. "It was a real community project in the end," she tells the Billings Gazette. Rick—a UM geography lecturer and the founder of Montana Magazine—says his love for the Glasgow area inspired the idea for the book. He contacted the high school in 2007 to see if the students would be interested in taking on the project. "I've always been interested in the University reaching out," he says. "I truly believe we need to get back into these communities."
Stephen Medvec '72, M.S. '77, Philadelphia, was promoted to the position of professor in the School of Arts & Sciences at Holy Family University. He previously served as an associate professor.
Jim Douglas '73, Lincoln, Nebr., is the new director of Nebraska Game and Parks. Jim has served as the agency's deputy director since 2010. He joined Game and Parks as a staffer in the fisheries division in 1974.
Martin Burke, J.D. '74, Missoula, retired this past spring after spending thirty-five years as a professor at The University of Montana School of Law. "He helped me find a passion for the law that I just didn't have when I first came to law school," third-year law student Ben Halverson tells the Missoulian. "He's been the best faculty member we could have ever had."
Rick Baskett '76, J.D. '79, Missoula, was elected to the American College of Trust and Estate Counsel, a nonprofit association of lawyers who demonstrate the highest level of integrity, competence, and experience as trust and estate counselors. Rick, who has more than thirty-three years of experience as an attorney and certified public accountant, worked in Baltimore, New York City, and Washington, D.C., before returning to Missoula to set up his private practice.
Rob Dean '77, Santa Fe, N.Mex., has been named editor of The Santa Fe New Mexican. Rob has been managing editor of the paper since 1992.
Mark Latrielle '77, M.Ed. '83, Missoula, retired from his position as the superintendent of Clinton School—a small kindergarten-through-eighth-grade school located twenty miles outside of Missoula—following a thirty-five-year career in education. Former Ronan High School Principal
Tom Stack '92, M.Ed. '03, took over the Clinton superintendent position this past summer.
Steven Louttit '77, Helena, is the treasurer for the United Way of Lewis and Clark Area. Steven, vice president and principal business relationship manager for Wells Fargo in Helena, has been a member of numerous community organizations, including Montana Business Assistance Connection Loan Committee, Kiwanis Club, Habitat for Humanity, and Exchange Club.
Debra Struhsacker, M.S. '78, Reno, Nev., is a geologic consultant at Pershing Gold Corporation.
Colleen McGuire '79, Alexandria, Va., recently was named executive director of Delta Gamma Fraternity. A native of Missoula, Colleen is a retired brigadier general in the U.S. Army, most recently working at the Pentagon as the director of manpower and personnel for the Joint Staff.
Elizabeth Richardson '79, Helena, is a new member of the board of directors for the United Way of Lewis and Clark Area.
'80s
Pamela Porter, M.F.A. '80, Sidney, British Columbia, was nominated to receive the Sheila A. Egoff Children's Literature Prize for her book, I'll Be Watching. The award is one of the annual BC Book Prizes presented by the West Coast Book Prize Society.
Tami Haaland '82, M.A. '85, Billings, published a new book of poetry titled When We Wake in the Night. She also was one of three recipients of the Montana Arts Council Innovation Award for Literature in 2012, and she recently received an Outstanding Faculty award from the students of Montana State University–Billings, where she is a professor of English and creative writing. In addition to her work at the university, she has taught creative writing at the Montana Women's Prison for the past four years as a part of the MSU-Billings Pathways to Self-Sufficiency program.
Richard Roesgen '84 was named publisher of the Daily Advertiser in Lafayette, La.
Robert C. Thomas, M.S. '87, Dillon, co-wrote a new volume of Mountain Press Publishing's popular Roadside Geology series. The book explores the diverse and expansive geology of Yellowstone country with nineteen road guides designed to take visitors on a tour of the area's geological history and present characteristics.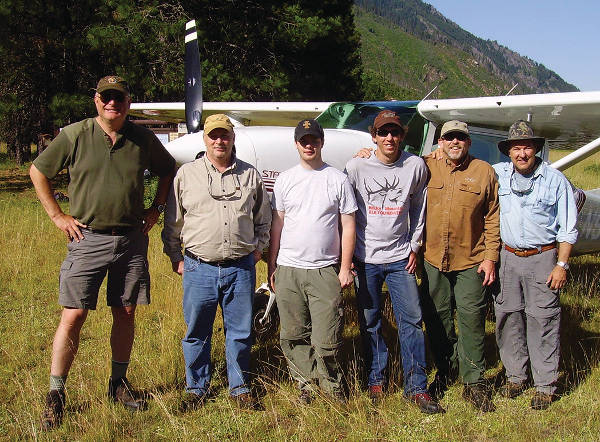 Robert McCue '83, Missoula, and a group of friends from his college days at UM flew into the Moose Creek Ranger Station in the Selway Bitterroot Wilderness. They spent three days hiking, fishing, and catching up. They also visited the site where a plane carrying ranger district personnel crashed into the Selway River in June 1979. Robert, who was supposed to have been on that plane, ended up taking a different Forest Service job in Missoula a couple of days before the crash.
From left to right: Greg Beach '79, Missoula; David Richardson '78, Idaho Falls, Idaho; Brian Richardson; Harry Dobbins; Jeff Dobbins '80, Tucson, Ariz; Robert McCue. Below: Names of the victims of the 1979 Selway River plane crash are listed on a memorial plaque near the crash site.
'90s
William Mutch '91, Colorado Springs, Colo., recently was named government affairs and public policy director for the Housing and Building Association of Colorado Springs.
Lynne Scalia '91 is the new principal at Park High School in Livingston. Before taking on that position, she spent eight years as the principal at Monforton School. Under Lynne's direction, the small public school grew from 141 to 265 students, making it the largest rural school in the Gallatin Valley. Her career in education has spanned twenty-one years, during which she has served as a teacher, principal, and superintendent.
Jason Mulcahy '92 was hired by VirTra Systems as the company's liaison to the government and military community. Based in Tempe, Ariz., VirTra is a leading provider of firearms simulation systems for military training facilities, law enforcement agencies, and other organizations.
Peter Ellsworth, M.S. '93, recently became the vice president of exploration at Colombia Crest Gold Corp., a gold mining company based in Medellin, Colombia.
Brian Hanson '94 recently took over as principal at Steilacoom High School in Steilacoom, Wash. He previously served as the assistant principal at Daybreak Middle School near Vancouver, Wash.
Matt Holmes '94, Polson, and his wife, Heather, recently were selected as Treasured Montana Artists by Montana Secretary of State Linda McCulloch. Matt and Heather specialize in ceramics, mixed media art, and oil paintings. An exhibit of their work was displayed at the Capitol Building in Helena this past summer.
Marion Kello '94, Memphis, Tenn., recently graduated from Leadership Memphis, a four-month program that prepares city leaders to address community issues through diversity and inclusion, collaboration, and civic engagement.
James King '94, Bellingham, Wash., is the new director of the Bellingham Parks and Recreation Department.
Francesca Abbate, M.F.A. '95, Beloit, Wisc., recently published a book titled Troy, Unincorporated, which offers a retelling of Chaucer's tragedy, Troilus and Criseyde, through characters who find themselves adrift in the towns and industrialized farmlands of south-central Wisconsin. Francesca is an associate professor of English at Beloit College.
Juliet Jivanti '95, Bellingham, Wash., recently released a DVD titled Ayurvedic Yoga: Yoga for Your Body Type. After burning out in a high-tech career, Juliet found bliss in studying and teaching Ayurveda—an ancient Indian health science. "I was always in a plane or a hotel or a rental car," she says. "After many years I really felt out of sorts and didn't know how to fix it. I wanted to learn to take care of my own health." In 2006, she founded the Ayurvedic Health Center in Bellingham, where she leads educational workshops, teaches yoga, and provides individual health consultations using ayurvedic therapeutic treatments and herbology.
Anna Booker, M.A. '96, Bellingham, Wash., has been selected as a National Endowment for the Humanities Summer Scholar and will attend one of six Landmarks of American History and Culture workshops. Anna has been a faculty member at Whatcom Community College since 2004.
Kathryn Goldman, M.S. '97, is the director of the Sawtooth Botanical Garden near Ketchum, Idaho. The garden—a nonprofit organization funded by donations, grants, and memberships—showcases native and cultivated plants that flourish in high-altitude environments and offers educational opportunities for aspiring gardeners.
Alex Philp, M.I.S. '97, Ph.D. '05, Missoula, brought home the 2012 IBM Beacon Award for Outstanding Information Management Innovation by one of his Missoula-based companies, TerraEchos. The ten-year-old geospatial information technology company is the first in the state of Montana to win the prestigious award.
Shelly Edwards '98, Helena, is the new program director for St. Peter's Hospital's Behavioral Health Unit. She has served as a social worker on the unit since June 2011.
Daniel Wicklum, Ph.D. '98, Gatineau, Quebec, is the chief executive of the newly formed Canada's Oil Sands Innovation Alliance. The group will aim to help industry leaders address environmental challenges by breaking down barriers in the areas of funding, intellectual property enforcement, and human resources.
Dave Harriton '99, Missoula, is the founder and owner of American Expedition Vehicles, a company that specializes in Jeep aftermarket equipment and customizations. Born of a business plan he created for a school project as a senior at UM, A.E.V. has grown into a successful international company that is well-respected among Jeep enthusiasts. "I'm still out there playing in the dirt, looking for new toys to build," Dave tells The New York Times. "I have no shortage of ideas of things I want to do with the Wrangler."
Kate Logsdon '99, Helena, was hired as the supervisor of the administrative department at Galusha, Higgins & Galusha.
'00s
Renee Boisseau, M.Ed. '00, is the new director of Montessori Elementary in Kalispell. She previously spent fifteen years as the principal of Kila School.
Nate Sanders '01 operates his own State Farm Insurance agency in Missoula. A former Griz football player, Nate's new business venture is the culmination of a ten-year effort to get back to the Garden City. "I learn something every day, and that's what's exciting about this business," he tells montanagrizzlies.com. "It's exciting to be your own boss."
Kelton Olney, J.D. '02, joined the law firm Luxan & Murfitt in Helena. His practice will focus on health care law, banking law, general business law, and civil litigation.
Greg Upham, M.Ed. '02, Helena, is the new assistant superintendent for the Helena School District. He formerly was the principal at Helena High School.
Bobby Wilken '02, Fairbanks, Alaska, opened Hoo Doo Brewing Company this past summer, providing the city of Fairbanks with its first brewery in seventy years.
David Hobbs, M.Ed. '03, Ed.D. '05, Hampton, N.H., is the winner of the 2012 Christa McAuliffe Sabbatical, which each year gives one New Hampshire teacher the opportunity to spend a year exploring new ways to enhance classroom teaching through a self-designed project. David will spend the year studying digital literacy education. "The idea is really to share and celebrate what New Hampshire teachers are doing around twenty-first century literacy using new mediums, new tools, and new technologies to establish and hone traditional skills," he tells Seacoast Online.
Jessica E. Owen '03, Whitefish, published her debut novel, an e-book titled The Song of the Summer King, this past July. After spending more than a decade in the theatre business, Jessica decided to follow her lifelong passion for writing by penning the fantasy novel, which is aimed at readers ages twelve and older.
Jessica Birdsong, M.Ed. '05, Knoxville, Tenn., is the new principal at Pleasant Ridge Elementary School. Jessica joined the Knox County School District in 2006 as a special education teacher and also has taught in New Hampshire and Montana.
Susan Joy, M.S. '05, is the new executive director of the Headwaters Science Center in Bemidji, Minn. "Children and adults who visit HSC are given an opportunity to experience science, technology, and mathematics in a way that is fun and not threatening," she tells the Bemidji Pioneer. Susan previously managed community administration for the Northern Arizona Council of Governments.
Deanna Langman, M.B.A. '05, Billings, is the new manager of the Big Sky Economic Development's Procurement Technical Assistance Program.
Emily Danforth, M.F.A. '06, Providence, R.I., recently published her first novel, The Miseducation of Cameron Post. The book is a coming-of-age story about a teenage girl coming to grips with her sexuality after losing both parents in a tragic car crash. The story takes place in Emily's hometown of Miles City.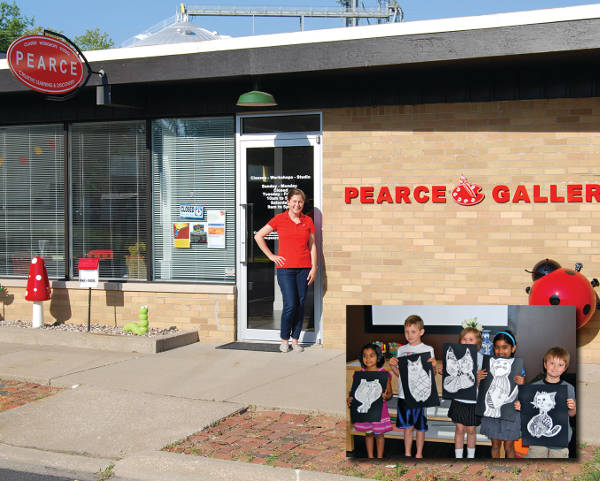 Lizabeth Houchin Pearce, M.F.A. '00, Peoria, Ill., recently opened a not-for-profit art gallery in downtown Dunlap, Ill. In addition to housing artwork that is for sale, the Pearce Gallery hosts art classes for children and adults. A former art teacher, Lizabeth decided to open the gallery after taking time off to raise her two daughters.
Above: Lizabeth stands in front of the gallery, which was converted from an old post office. Left: Students in one of the art classes held at the gallery show off their creations.
Bonnie Ellis, Ph.D. '06, Polson, shared the Montana Environmental Information Center's 2012 Conservationist of the Year award with UM research professor Jack Stanford. Bonnie, a UM research assistant professor, specializes in limnology—the study of inland waters. She and Jack perform the bulk of their research from the Flathead Lake Biological Station.
Adam Hammatt, M.P.A. '07, J.D. '07, is the new head administrator of Kimberly, a village located in eastern Wisconsin.
Sara Aspinwall McGillivray '08, Santa Maria, Calif., is the new varsity girls head soccer coach at St. Joseph High School. The former first-team all-Big Sky Conference defender previously coached soccer at rival Righetti High School and at the University of Great Falls.
Kacey Criswell '09, Missoula, is a fourth-grade teacher at Hellgate Elementary School.
Kevin Grzebielski '09, Albuquerque, N.Mex., is the professional articles editor for the 2012-13 editorial board of the New Mexico Law Review, a biannual publication of the University of New Mexico School of Law.
Toby Smith, M.P.A. '09, Trinity, N.C., was promoted to captain of the Thomasville Police Department's support services bureau. Toby, who is obtaining a law degree from the Charlotte School of Law, joined the department as a police officer in 1994 and later became a detective. He was promoted to sergeant in 2007 and received the rank of lieutenant in 2009.
Michael Sommer '09, Middleton, Idaho, brews and sells several varieties of kombucha, a tea-based fermented beverage, for Purple Sage Farms. To make the drink—lauded by many for its health benefits and elixir-like qualities—Michael must raise symbiotic colonies of bacteria and yeast, or SCOBYs. "It's like a big science experiment," he tells Boise Weekly. "I fill up books with experiments and results. I'm really striving to understand what's going on."
Mike Wolfe, J.D. '09, left his job as an assistant U.S. attorney with the Indian Country Crime Unit in Helena to move back to Missoula and train full-time as one of the highest-ranked ultrarunners in the country. "The opportunity I have with running is really now or never," he tells the Helena Independent Record. "I have reached a point in my career where I have really good sponsor support and an opportunity to compete internationally in all these great races. It's tough to do both—put in the training and do all the work required for this job. I just decided this is one of those rare opportunities, and I didn't want it to go away without giving it my best shot."
Abby Grafft '10, Boise, Idaho, signed to play soccer for the Bay Area Breeze, a professional club that is part of the Women's Premier Soccer League. A former fullback for the Griz soccer team, Abby now teaches English at Riverstone International School in Boise.
David S. Kinerson
'10, Spokane Valley, Wash., is the general manager of Five Guys Burgers and Fries in Spokane. He and his wife, Sarah, have two children: Hailey and Adam.
Josh Tone '11 and his fiancée, Jamie Baker '11
are the only two teachers in a classroom of approximately twenty students located in the remote Alaskan town of Port Graham. Although they originally wanted to teach in Montana, Josh and Jamie are excited for the challenge ahead. "We're going to be busting our humps up there for sure," Josh tells KPAX News. "The responsibilities of being the only two teachers in the school are going to be pretty overwhelming, but if we did the same job in Montana, we'd be getting paid half."
NEW LIFETIME MEMBERS
Shelly Edwards '98, Helena
Samantha Ellig '08, Oak Harbor, WA
Jon Erickson '86, Clackamas, OR
Dawn Houle '94, North Potomac, MD
Peter Loftus '84, Markham, Ontario, Canada
Mylene Moorad '86, Olympia, WA
Robert Seale, J.D. '05, Seattle
Melissa Squire '99, Laramie, WY
Nancy Tyrell '58, M.A. '63, Missoula
Gerald Woodahl, M.B.A. '74, Missoula
In Memoriam
To be included in "In Memoriam," the UM Office of Alumni Relations requires a newspaper obituary or a letter of notification from the immediate family. We extend sympathy to the families of the following alumni, faculty, and friends. Names without class or degree years include UM alumni, employees, and friends.
Material on this page reached our office by July 2, 2012.
'30s
George Neff '38, Missoula
Louise G. Selkirk Leithead '39,
North Richland Hills, TX
Dwight Rue Lohn '39, Missoula
'40s
Charles Dulane Fulton '40, M.Ed. '46, Kalispell
J. Hilbert Hanson '40, Polson
Cecelia E. Mueller Solich '40, Helena
Charles E. Sweeney '40, Billings
Josephine Weyman Maury "Jo" Warde '40, Ithaca, NY
James Robert Browning '41, Hon.D. '78, Mill Valley, CA
Bernice Margaret Morin '41, Missoula
Agnes Marie Karlberg Nelson '41, Missoula
John R. "Jack" Hallowell '42,
Lakewood, CO
Barbara Streit Koessler '42, M.A. '71, Missoula
Maxine L. Dunckel McCulley '42, Missoula
Lucille Fern Adamson Donaldson '43, Rockville, MD
Dorothy E. Mitchell Herda '43, Peoria, AZ
Albert L. Picchioni '43, Green Valley, AZ
Vernon Francis Reynolds '43, Missoula
Rita Ann Schiltz Sheehy '43, Helena
Helen C. Frisbee Spratt '43, Napa, CA
Margaret Landreth Wesselhoeft '43, Seattle
Joseph B. Gary '44, Bozeman
Robert William Hurly '44, J.D. '48, Glasgow
Ruth Elizabeth "Bette" Sandberg Overby '44, Seattle
Frances P. Morgan Andrews '45, Minneapolis
Loraine MacKenzie Cooney '45, Harlowton
Lorraine E. Griffith Lindahl '45,
Eden Prairie, MN
Curtis C. Cook '47, Hamilton
Robert H. Coombs '47, Reno, NV
Garnet L. Sethne Dahmer '47, Missoula
John Robert Grinde '47, J.D. '50, Polson
Betty Mae Noblitt Lowthian '47, Billings
William Russell Slager, M.Ed. '47,
Salt Lake City
Robert Arthur "Buzz" Vickers III '47, Seattle
Violet Isabella DeGolier Golder '48, Honolulu, HI
John Cortland Heinrich '48, Sun City, AZ
Annabelle Lee Nesbit Anderson '49, Billings
Carl Maurice Davis, J.D. '49, Dillon
Mark DeBoer '49, New Berlin, WI
Suzanne Grove Fischer '49, Butte
Robert Lee Gilbertson '49, Tucson, AZ
Mabel Olene Haynes '49, M.Ed. '50,
Judith Gap
Samuel L. Leeper '49, Arcata, CA
Charles Luedke, J.D. '49, Billings
Hilda Myre McGaugh '49, Bigfork
Robert D. "Bob" O'Conner '49, Missoula
Robert H. Patton '49, Port Angeles, WA
Audrey Kramis Schultz '49, Missoula
Lowell Allen Sheets '49, North Bend, OR
William W. Tester '49, Cloquet, MN
Paul Eugene Verdon '49, Helena
'50s
Marshall Carruth Adams '50, Tupelo, MS
Jean Marie Popham Garmoe '50,
Puyallup, WA
Rose Cotter George '50, Carmel, CA
Patricia Jean "Pat" Shorthill Kiely '50, Missoula
Joanna Midtlyng '50, Broken Arrow, OK
Patricia Jean "Pat" Flynn Sinclair '50, Coeur d'Alene, ID
Albert Louis Baun '51, M.Ed. '53,
Mobridge, SD
Fred Austin Brown '51, Libby
Robert Bruce Helming '51, Wisdom
Forest Julius Paulson '51, Marysville, WA
Philip A. Reid '51, Spokane, WA
Evan David Rempel '51, M.S. '52,
Newberg, OR
Harold E. Siegle '51, Cody, WY
Thomas Cleary "Tom" Ambrose '52, Mount Vernon, WA
John Miles Hardenburgh '52, Missoula
Merlyn James Hedin '52, Billings
George Gordon "GG" Scott Jr. '52, Sherwood, OR
John Benner Dillon '53, Lewiston, ID
Hurley C. Wilson Jr. '53, Hot Springs, SD
Joan Patricia Stokan Barclay '55, Missoula
James L. "Jim" Hoffman '55, Missoula
Adrian D. Swensen '55, Ukiah, CA
Earl Bernard Salmonson '56, Missoula
Richard Lee "Dick" Skates '56,
Port Angeles, WA
Thomas L. "Tom" Duncan '57,
Twin Falls, ID
Sallie Louise Hollecker Linnell '57,
Great Falls
Lowell E. Moholt '57, Tacoma, WA
James Turner Schaeffer '57,
Santa Cruz, CA
Morton Ivan Skari '57, Chester
Jane Alice Hillis Woodworth '57, M.Ed. '65, Camas, WA
Milton Roy Gibbs '59, Lynnwood, WA
Marvin Everett Krook '59, Chester
Leonard Anthony Lardy, M.A. '59, Yucaipa, CA
'60s
Harold W. Rehmer, M.Ed. '60, Kirkland, WA
James Dorr "Jim" Johnson '61, '64, Butte
Richard Morton "Dick" Nelson, M.Ed. '61, Kalispell
Myron Eugene Pitch '61, '64, Helena
Sharon L. Gravelle '62, Lakewood, CO
Carlton Klein "Carl" Malone '62, Big Arm
Dennis Charles Myers '62, '65,
Fair Oaks, CA
John Herman Frank '63, Conrad
John F. Holland, M.Ed. '63, Wilburton, OK
Sue Ann "Sudy" Cadwell Schneider '63, Libby
Diane Jane Simon Wilhelm '63, Butte
Julie Ann Jacobs Hood '64, Missoula
Robert Gordon Riley '64, Eureka
Christopher John Nelson '65, J.D. '68, Billings
Harry Richard "Dick" Palin '65, M.Ed. '71, Missoula
Donald Merrill "Pop" Price '65, Bozeman
Stacy Ward Swor '65, J.D. '68,
Mill Valley, CA
Laurence J. "Larry" Walsh '65, Mesa, AZ
William Reed "Bill" Ingram, M.A. '66, Polson
Nicholas A. "Nick" Rotering '66, J.D. '70, Helena
Joseph David Bortz '68, M.S. '71, Kalispell
Roy M. Hanson Jr. '68, Libby
Harold Douglas Harris Jr., M.S. '68, Alamosa, CO
Larry A. Valtinson '68, Kalispell
Richard Douglas "Dick" Nordberg, M.Ed. '69, Sun City, AZ
Ronald James "R.J." Smith '69, Great Falls
'70s
Jay W. Evenson '70, Anchorage, AK
Florence Eleanor McClenahan '70, M.F.A. '79, Plains
Lilletta Lee "Lettie" Pitts Neuman '71, Missoula
Donald Leroy "Don" "Ole" Byrd, M.A. '71, Helena
Edward William "Ed" Kyler '71, Cascade
Jeffrey Schaefer Andrews '72, Helena
David Theodore Werdin, M.Ed. '72, Lewistown
John Terence Flynn '74, J.D. '77, Townsend
John Hiram Gashwiler '74, Missoula
Gary Wayne Warner '74, Kalispell
Nadine Stevers Whitlock Phelps '75, Lolo
Virginia Ruth "Ginny" Getz Archdale '76, Wibaux
Daniel Joseph "Dan" Parent '76, '77, J.D. '81, Sacramento, CA
William F. "Bill" Quimby '76, Missoula
Elizabeth Ann "Beth" Chester Oliger '77, Seattle
Linda Grant Buxton '78, Missoula
Dianne Louise Donnelly '78, M.A. '85, Miles City
'80s
Thomas Walter Hurtle '80, Helena
William Gary "Stanz" Stansberry '83, Missoula
Edward Charles Paul Woyciechowicz, M.Ed. '83, Missoula
Allen Arthur "Arsh" Stiffarm '85, Havre
Janie French Cutts Cummins '89,
Fernley, NV
'90s
Ellen Marie Nugent, M.Ed. '90, Shanghai, China
Richard L. "Rick" Schumacher '90, Helena
Kirt Douglas Dahl '94, Fairview
Candace Michelle "Candy" Collins '96, Missoula
John Loughead Heron III '98, Missoula
Lynda Carol Thetford '99, Missoula
'00s
Bradley Paul "Brad" Meyer, M.F.A. '00, Butte
David Wesley Odom '00, Portland, OR
John Newland Redwine II '01, '02,
Beirut, Lebanon
Karri Lynn Posten Easley '03, Corvallis
Benton Kerchner "Ben" Jones '07, Brooklyn, NY
Stephen Clarence "Steve" Merrill '08,
Roy, UT
Lee Richard Gilliland, M.B.A. '10, Springfield, OR
Kalie Renee Bowar '11, Lone Pine, CA
Friends
Mildred L. Adam, Fargo, ND
William J. "Bill" Anderson, Stevensville
Janet D. Bibus, Great Falls
Michael Lee Brown, Valdez, AK
Patricia S. "Pat" White Bumbarger,
Great Falls
Theodore P. "Ted" Carkulis, Helena
Charles William "Bill" Carlson, Bernice
Clinton Hubbard Case, Chandler, AZ
Robert H. Cavan, Billings
Richard Chase, Libby
Ruby Mae Clark, Wolf Point
Gary Lee Cleveland, Lolo
Marion King Bradley Cook, Missoula
Jonathan David Depatie, Missoula
James E. "Jim" Dew, Missoula
Pamela Ann Erickson Donovan, Vancouver, WA
Ruby Erck, Missoula
Helen M. Hunter Evenson, Spokane, WA
Trent Arnold Fairclough, Missoula
Scott J. Ferdinand, Lewistown
Jarryd Hayden Fields, Rogers, AR
June Delaney Finch, Missoula
Mabel Josephine Munro Fisher, Kalispell
David Eric Flynn, Helena
Diana Mae Williams Flynn,
Canyon Ferry Lake
Marjorie Montana Hogan Forsman, Anaconda
Doris Pearl Eissinger Forster,
Huntington Beach, CA
Timothy Patrick O'Flaherty Fraleigh, Kalispell
William H. "Bill" Free, Florence
Ingrid Marie Barstad Fugere, Scobey
Glenna Garrett, Issaquah, WA
Earl John "Bud" Gilmartin Jr.,
Spokane, WA
James Webb Graham, Portland, OR
Gary Rudy Groshelle, Billings
John S. "Jack" Haines, Missoula
Arnold Almer Halverson, Portland, OR
William "Bill" Hanson Jr., Bonner
Lois Muriel Fraser Harrington, Helena
John Conway Harrison, Helena
James Edward "Jim" Heide, Missoula
Theodore Albert "Ted" Hepperle, Plevna
Emma "Emmi" Herzberger,
Dornbirn, Austria
Gary Herzog, Medicine Lake
Bryce Arle Johnson, Polson
Patricia M. Johnson, Whitefish
Lisa Lynn Webster Johnson,
Bridgewater, MA
Daniel Wesley Kelly, Spokane, WA
Paul Franklin Kirby, Helena
Georgena Kathleen Smith Knoll, Glendive
Margrit Ann Knudsen, Helena
Frank H. Krizan, Anaconda
Mary M. LaRoque, Kalispell
Wilbur L. Larson, Circle
Yvonne Marie Lay, Helena
Dorothy Marlyn Floyd Leipheimer, Butte
James Jaret Lewis, Missoula
Sharon Alice Mix Lowry, Missoula
Mercedes Moore Lund, Billings
Rita Estelle Matt, Arlee
Judith Pauline "Judy" Covert McDonald, Billings
Samuel Edwin "Sam" McDonald Jr., Billings
Lori Jean Alvestad McPherson, Big Timber
Christopher T. McPherson, Missoula
Cole John Mickelson, Missoula
Audrey Marie Miles, East Missoula
Catharine A. Riley Morgan, Helena
Ruth Mulkey, Milwaukie, OR
Owen B. Neiter, Billings
Charleen "Charlee" Marie Novak, Billings
Edna R. O'Brien, Saco
Harry Marlin "Butch" Opsahl, Yuma, AZ
Robert "Jack" Evan Owens, Bigfork
Terry R. Christianson Palagi, Great Falls
Jacob Paul Parmenter, Missoula
Dorothy Eleanor Thomas Patterson, Great Falls
Virginia Lee Schaal Payne,
San Luis Obispo, CA
Kiel Orlan Peckenpaugh, Seeley Lake
Angelu "Lu" Tripp Pugrud, Winnett
Lola Marie Schroeder Pygott, Great Falls
Nelsine Christine Rasmussen, Polson
Eileen Runyan Rasmussen, Harlem
Ronald Lee Rathbun, Missoula
Harlan Ernest Rigby, Missoula
Charles P. "Chuck" Rightmire, Billings
Mary Monica Roth, Billings
John Michael "Jack" Ryan, Polson
Beverly Jeanne "Bev" Weir Sankovich, Yakima, WA
Jean Freeman Sankovich, Billings
Beverly Faye Schilling,
Tobacco Gardens, ND
Merrill Mandle "Lefty" Schwartz, Florence
Gloria Sue Swanson Shelton, Aurora, CO
Oscar Shiner, Bozeman
Dorothy Marie Kushar Shook, Smiths Grove, KY
Allen Bruce Silverstein, Great Falls
Timothy John Sine, Glennallen, AK
Josephine Alberta "Jo" Schrader Spaulding, Helena
Dorothy T. "Dee" Stergios, Missoula
Andrew Lyall "A.L." Temple, Kaneohe, HI
Sandy L. Terrill, Lolo
Christine Adelle Thompson, Helena
Robert John Tonkovich, Anaconda
Loren Robert Tredik, Missoula
Roy C. "Junior" Volk, Great Falls
Harold Edwin "Bud" Wallace Jr., Polson
Philip "Phil" West, Missoula
Marith A. McGinnis Willis, Carlisle, PA
Marilyn Hardenburg Winningham, Saratoga, CA
Scott W. Woods, Missoula
Betty E. Bise Wuerthner, Farmington, CT
Roseanne "Rosie" Standley Young,
Gig Harbor, WA