The Magazine of The University of Montana
Around the Oval
Massive Breakthrough
Researchers Discover Biological Mechanism for Growing Enormous Animal Weapons, Ornaments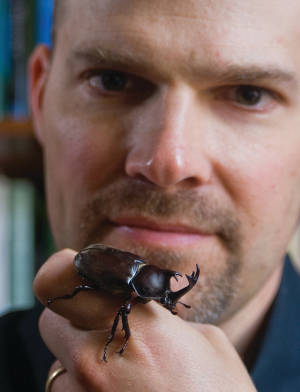 Doug Emlen
Photo by Todd Goodrich
In the animal kingdom, huge weapons such as elk antlers or ornaments like peacock feathers are considered particularly attractive. Their extreme size entices potential mates and warns away lesser rivals.
Now, University of Montana scientists and their partners have discovered a developmental mechanism they think may be responsible for the excessive growth of threatening horns or come-hither tail feathers. Published July 25 in the online edition of Science, the research reveals a mechanism to explain both the size of these traits and the incredible variation among males of the same species—why some beetles, for instance, grow massive horns while their fellows grow nothing but nubbins.
"Our research explains how these enormous traits get to be so enormous," says Doug Emlen, a professor and evolutionary biologist in UM's Division of Biological Sciences. "People have known for 100 years that the best males produce the biggest structures, but nobody has really understood how. Our work looks under the hood to explain why so many sexually selected structures get so massive."
The researchers discovered when they disturbed the insulin-signaling pathway in Japanese rhinoceros beetles—big insects that can grow horns two-thirds the length of their bodies—the horns were far less likely to grow. In fact, horn growth was stunted eight times as much as growth of the wings or the rest of the body. They interpret this to mean that the exaggerated structures—the horns—are more sensitive to signaling through this physiological pathway than are other traits.
During the experiment, Emlen and his team injected a cocktail of double-stranded RNA into the beetle larvae to shut down the desired insulin pathway gene. Within seventy-two hours normal insulin signaling had resumed, but by then horn growth was stunted. Researchers found the genitalia grew normally despite the shutdown, and the wings and bodies were slightly affected. The horns, however, experienced major changes.
"We found an intuitive candidate mechanism, the insulin-signaling pathway, and when we perturbed it with our genetic experiment, we confirmed what we think the pathway should be doing to these beetles," Emlen says. "There is a hormone signal secreted by the brain that circulates through the whole animal. It communicates to the different cells and tissues and essentially tells them how much to grow."
Hormone levels reflect the physiological condition of each animal, with high circulating levels in well-fed, dominant individuals and lower levels in poorly fed or less-fit individuals. When tissues are sensitive to these signals, as most tissues are, then their final sizes scale with the overall quality and size of the animal. Because of this mechanism, big beetles have larger eyes, legs and wings than smaller beetles.
Emlen says the horns are exquisitely sensitive to these insulin signals, more sensitive than other structures. Developing horns in big, fit, well-fed males are drenched with the hormone, spurring exaggerated horn growth. On the flip side, a small, less-fit male receives less of the horn-boosting hormone, stunting growth of its weapon.
Emlen says this process explains how horns can range from massive to nonexistent among male beetles of the same species and why the size of such exaggerated, showy traits accurately reflects the overall quality of the males who wield them. He says the results likely are applicable to other species beyond rhinoceros beetles, since additional studies have tied this same physiological pathway to growth of red deer antlers and crab pincer claws.
"Horns and antlers matter," Emlen says. "Animals pay attention to them when they size each other up for battle. And females pay attention to horns or are attracted to males with really big tails. Why? Because only the best of the best can have really big horns or tails."
Emlen is the lead author of the Science article, titled "A mechanism of extreme growth and reliable signaling in sexually selected ornaments and weapons." His co-authors are UM's Annika Johns, Ian Warren and Laura Corley Lavine of Washington State University, and Ian Dworkin of Michigan State University. Their work was funded by the National Science Foundation.
Delaney Era Kicks Off
Griz Football Coach Inks Two-Year Contract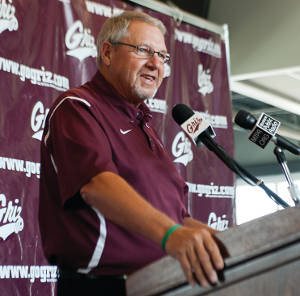 Photo by Todd Goodrich
Take that interim tag off of Grizzly football coach Mick Delaney's official title at UM.
The veteran coach, named the Grizzlies' interim head football coach in late March, recently signed a two-year contract, which expires on January 31, 2014. The contract was announced in late July by Jean Gee, UM's interim athletic director.
"Initially it was a shock," Delaney says of landing the job. "I feel very humble to be at this point in my career and have such a great opportunity."
Delaney has coached forty-six seasons—thirty of those at the collegiate level.
He replaced Robin Pflugrad, whose contract was not renewed after serving as UM's head coach in 2010 and 2011. Delaney recently completed his fourth season as an assistant coach at Montana, working with the running backs. He also was an associate head coach.
"When I think of the qualities that are needed in a head coach, I think of, among other things, expertise, mentor, leader," Gee says, "but above all else I think of integrity. When I contemplated those qualities, there really was no question that the right thing to do for this team and all of Griz Nation was to remove the interim title and offer Mick Delaney a two-year contract.
"Mick brings stability to the program and leadership that will result in success for our student-athletes both on and off the field," Gee says.
UM President Royce Engstrom says this is a time to look toward a strong and vibrant future for Grizzly Athletics.
"In Mick Delaney, we have chosen a head coach who will lead us into that future," Engstrom says. "He is highly motivated himself, but he also is an exceptional motivator of others, including the players, coaches, and staff around him. He understands the important role that Grizzly football plays at UM, and he has quickly earned our trust and respect."
Originally from Butte, Delaney came to Montana from Colorado State University, where he was an assistant coach for former head coach Sonny Lubick for fifteen seasons from 1993 to 2007. Former Griz head coach Bobby Hauck hired Delaney in 2008, while Pflugrad retained him as the lone official holdover from Hauck's staff.
Before his stint at CSU, Delaney was the head football coach and athletic director at his alma mater, The University of Montana Western in Dillon, during 1991-92. He coached on Lubick's staff at Montana State University from 1979 to '80. He was an assistant football coach under former UM head coach Jack Swarthout from 1968 to '69. He began his coaching career in his hometown at Butte Central High School (1964-67) as head wrestling and assistant football coach.
The 1972 UM men's track and field team reunited in Missoula in May to celebrate the fortieth anniversary of the team's Big Sky Conference championship. After finishing in second place five of the previous seven years, the Grizzlies broke through and claimed the 1972 title in Boise. Projected to finish no better than third heading into the championships, the Griz outscored second-place Idaho State University, which had won seven of the previous eight championships, by a score of 147-124. It remains the only outdoor track title in the program's history.
The 1972 men's track and field team Members of the championship team reunited at Dornblaser Field in May.
Top: Photo courtesy of UM Athletics
Bottom: Photo by Todd Goodrich
$2 Million Gift to Fund Scholarships for Service-Minded Students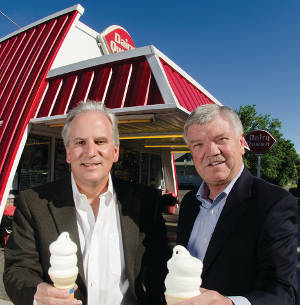 Jim Auger, left, and Dean Larry Gianchetta
Photo by Todd Goodrich
Missoula businessman Jim Auger says his father instilled in him the significance of contributing on a local and personal level. Auger committed $2 million of his estate to UM's School of Business Administration with his father in mind.
"I have come to realize how right he was," Auger says of his gift, which will provide for renewable undergraduate scholarships. These will be awarded to business majors and will cover tuition, fees, and books for several students each year. Scholarship recipients will be required to volunteer a minimum of 120 hours each academic year with a charitable organization that provides services to underprivileged members of society.
"Through establishment of this endowment, it is my intention to inspire young people to engage in service to their communities," Auger says. "In addition, I hope that the required volunteer service will help recipients develop a deeper compassion for those less fortunate and a lifelong commitment to elevate those in our society who are often marginalized."
Auger, a 1982 graduate of the business school, says his UM education led him to a successful career as a corporate executive and eventually back to Missoula, where he co-owns the Dairy Queen on South Higgins Avenue, one of the community's iconic restaurants. Auger has employed many high school and college students over the years at the Dairy Queen.
Through his endowment, he wants to give students more than financial support. He wants to give them the feeling that comes from helping someone else.
"What I would like to accomplish with this scholarship is to help open students' eyes to that part of our society which is so much less fortunate than they are," he says. "It is also my hope that these business students might come to understand that true success in the business world is measured by whether or not they made a difference."
Business school Dean Larry Gianchetta says Auger's gift is particularly meaningful because it comes from such a passionate donor who has wanted for many years to contribute significantly to the University.
"This gift is truly special, and it is a wonderful opportunity for our students," Gianchetta says. "The whole notion of being good citizens through civic engagement is a huge part of educational growth."
Auger hopes his gift will leave a legacy of well-educated business students and a community uplifted
by the volunteer efforts of these students.
"Since becoming involved with the Higgins Avenue Dairy Queen, I have had the privilege to work with some of the brightest and hardest-working young people in Missoula," he says. "Having no children of my own, this scholarship gives me a chance to say, 'thanks.'"
A Day for Celebration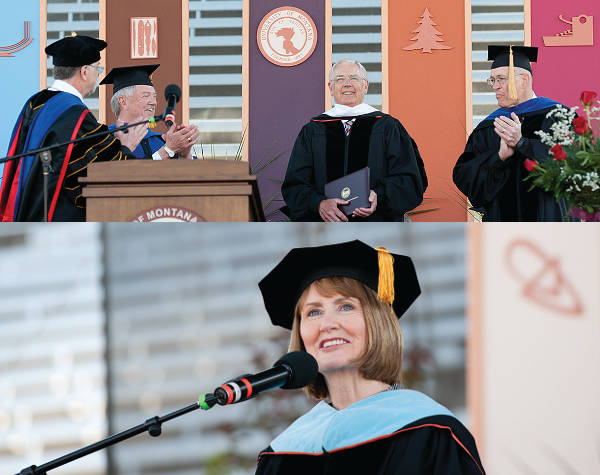 Top: A. Warren Wilcox, second from right, receives an Honorary Doctor of Humane Letters degree.
Bottom: Outgoing Montana Commissioner of Higher Education Sheila Stearns
Photos by Todd Goodrich
More than 3,700 graduates and degree candidates were invited to participate in UM's 115th Commencement ceremonies this past May. The event was held inside Washington-Grizzly Stadium.
Sheila Stearns '68, M.A. '69, Ph.D. '83, the outgoing Montana commissioner of higher education, delivered the Commencement address. UM presented an Honorary Doctor of Humane Letters degree to A. Warren Wilcox '65, a Missoula native who has played an active role in many local businesses and community organizations. Wilcox also is the great-grandson of Oscar Craig, the University's first president.
Fair and Balanced
UM Journalism Students Claim FOX News Award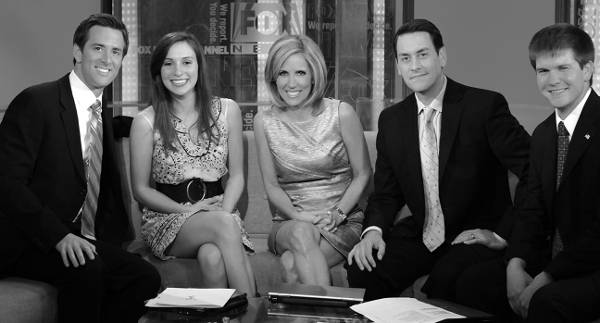 UM broadcast journalism students Alex Schwier, second from left, and Kyle Schmauch, far right, with the weekend anchors of FOX and Friends
Photo courtesy of Alex Schwier
Two UM SCHOOL OF JOURNALISM STUDENTS recently walked away with some major cash and a distinguished award from FOX News Channel.
Alex Schwier and Kyle Schmauch were named the winners of the channel's College Challenge for producing a television news story on the controversy surrounding Montana's wolves. The contest is part of the FOX News Channel University program.
Schmauch saw commercials on T.V. for the contest and decided to check out the past winners online. He told Schwier, a classmate he worked with in the past, he believed they could produce a piece similar in quality.
The rules for the contest were simple. The finished piece had to be about three minutes, and any type of campus affiliation was not allowed. To enter, the students must be either juniors or seniors majoring in journalism, broadcast journalism, or communications. Schmauch and Schwier just had finished their second year at UM but fell into the senior category as far as actual credits go.
The site suggested topics such as the legalization of marijuana, health care, and other issues that are highly controversial. Schmauch says it was wide open when it came to how students wanted to produce their pieces, as long as it was fair and balanced. The two students chose to take a different route and explore another topic not covered much at the national level.
"We know about wolf hunting here in Montana," says Schmauch. "People on the East Coast may know that it is an issue, but not why it is an issue."
Schwier came up with the idea to take their reporting to the ground level of the wolf controversy. Rather than talking to the usual officials, the team wanted to talk to the people the issue actually affects. The final product explored the management issues concerning wolves from the perspective of a ranch owner, a wolf advocate, and a hunter.
The decision to give Montana's wolf controversy relatable faces paid off. FOX News was impressed with how well the piece came across, and about a month after they submitted the entry, Schwier and Schmauch got a call from FOX telling them they won.
The two students and UM Professor Ray Ekness flew to New York City and appeared on FOX News Channel's morning program FOX and Friends to accept the award and a $10,000 check, which the two split. Ekness accepted a $10,000 award on behalf of UM's School of Journalism Department of Radio-Television.
After making their appearance on the morning program, Schwier and Schmauch toured the FOX News building and studios, met with network executives, and interviewed for internships. Schwier wound up landing an internship and spent the summer in New York City.
The piece can be watched online at http://www.foxnews.com/fncu/college-challenge.
—Alyse Backus
Mansfield Library Digitizes Past Graduate student work
Microfilms and paper indexes—that's how the work of graduate students was stored years ago. Now, the Maureen and Mike Mansfield Library has started a project to make that valuable research much easier to access.
During the next five years, the library will digitize all pre-2007 graduate student theses and professional papers as part of the Legacy UM Theses Digitization Project. There are more than 7,600 papers that need to be converted. UM dissertations and theses have been digitally published since 2007.
Online access has greatly increased the use of the dissertations and theses already accessible digitally, says Barry Brown, head of access and collections services at the library. In fiscal year 2011, there were more than 122,000 downloads of UM graduate work.
"That is a dramatic increase," Brown says. "With instant access, the research process is shortened. Research that used to take a month to get is a few clicks away."
The digital theses and dissertations will be indexed and available in the ProQuest Dissertations and Theses database. ProQuest is the same company UM used a few years ago to digitize all legacy doctoral dissertations and is recognized by the Library of Congress as the official storehouse for U.S. dissertations and theses.
The digitization project guarantees documents are easily accessible and never lost. Graduate students retain the copyright on their work and can choose to restrict access. Their work can be accessed from the databases at the Mansfield Library, from a Google search, or on the fee-based ProQuest database.
—Alyse Backus
THE BOTTOM LINE:
2:
Names added to the Grateful Nation Fallen Soldier Memorial at UM, which honors soldiers from Montana who have paid the ultimate price in service to their country while serving in Iraq and Afghanistan. There are now forty-two soldiers memorialized.
75:
Years of wildlife curricula at UM, which will be celebrated by the Wildlife Biology Program this fall.
65:
Overall pick the St. Louis Rams used to choose former Griz cornerback Trumaine Johnson in the third round of the 2012 NFL draft.
$1,103,606:
Record number of dollars spent by University Dining Services on locally raised or produced products,
which is 27.9 percent of UDS' total food budget.
UM Honors Top Alumni for 2012

A federal judge, a technology researcher, and two wildlife biologists have been recognized for their outstanding accomplishments with the University's 2012 Distinguished Alumni Award.
Don Molloy '68, J.D. '76; Joseph Valacich '82, M.B.A. '83; Doug Chadwick, M.S. '74; and Thomas Riggert '62 will receive their awards at a September 21 ceremony during Homecoming. The Distinguished Alumni Award is the highest honor presented by the UM Alumni Association.
Molloy served as one of five U.S. District Court judges in Montana from 1996 to 2011, when he assumed senior status. In 2001, he became chief judge for the District of Montana. Judge Molloy is credited with many important decisions and is widely respected in legal circles. As a federal judge, he presided over some of the most closely watched cases in state history. He punctuated his illustrious career with a slew of decisions during his final year on the bench, including his ruling that Yellowstone grizzly bears should not be taken off the endangered species list. He is the founder of the Judicial Institute with the Federal Court—a three-day intensive training session that gives Montana high school government teachers hands-on exposure to the judicial branch. At UM, he has served on the President's Advisory Council and the School of Law Board of Visitors.
Valacich is a professor of management information systems at the University of Arizona. He previously was a distinguished professor in the MIS department at Washington State University, and he has held visiting faculty appointments at universities throughout Europe and Asia. He built a world-class MIS program at WSU that currently is ranked as one of the top twenty research programs in the world. Valacich has led development programs for several large companies, including AT&T, Boeing, and Microsoft. His work has earned him numerous honors along the way, including recognition as one of the top twenty information systems researchers in the world in 2006. As a researcher, his primary interests include technology-mediated collaboration, human-computer interaction, and mobile technologies.
Chadwick has traveled the globe to research and report on wildlife conservation issues. He is the critically acclaimed author of The Fate of the Elephant, A Beast the Color of Winter, The Company We Keep: America's Endangered Species, and Enduring America. Chadwick is a frequent contributor to National Geographic and other scientific publications. His research has contributed greatly to the knowledge and preservation of some of the planet's most elusive and endangered species. He has appeared in numerous wildlife documentaries, and he played a significant role in getting the grizzly bear listed as a threatened species by giving presentations before the secretary of the interior. Chadwick is the director and founding board member of Vital Ground, a nonprofit foundation that has safeguarded more than 600,000 acres of habitat for grizzlies and other wildlife.
Riggert is one of Australia's most influential conservation biologists. For more than forty-five years, he has worked tirelessly to solve complex environmental issues surrounding commercial development, land rehabilitation, waterway protection, and waste management. Riggert laid the foundation for environmental planning strategies in Australia, where he pioneered the integration of responsible scientific concern for the environment into large-scale developments. He recently completed a $55 million river decontamination project, which transformed a hazardous wasteland into a wetlands sanctuary. Although he has spent the majority of his time in Australia, his research efforts have stretched around the globe to countries such as Antarctica, Africa, Iceland, and Greenland. His wildlife documentaries have appeared on BBC, and he has lent his expertise to National Geographic as a consultant and contributor. He currently lectures students on environmental engineering at the Southbank Institute of Technology in Brisbane, Australia.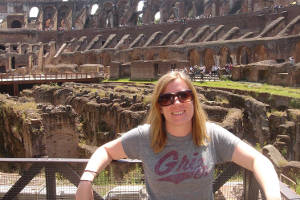 Where's Your GRIZ Been?
Suzanne Thompson '01, M.Ed. '06, sports her Griz gear inside the Colosseum in Rome on a recent family trip. "I couldn't believe this place was right in the middle of Rome," she says. "The Griz would have had some awesome games here." Congratulations, Suzanne. You have won a $50 gift card for The Bookstore at UM.
Do you have a photo of yourself wearing your Griz gear in an amazing place or while on an incredible adventure? If so, send it along with a brief description to themontanan@umontana.edu. Winners will see their photo published in the Montanan and will receive a $50 gift card to The Bookstore at UM. To be considered, photos must be in focus with the UM or Griz logo clearly visible.
Notable Quotable
The UM Dance Program performed at the National College Dance Festival this past May in Washington, D.C. UM dancers performed two pieces earlier in the year at the American College Dance Festival Association Northwest Conference in Salt Lake City. After those performances, the dancers were selected to perform at the national festival held May 24-27 at the John F. Kennedy Center for Performing Arts. "This trip is a remarkable accomplishment for the UM Dance Program and affords many students the opportunity to perform on one of the most prestigious stages in the world," says Associate Professor Nicole Bradley Browning. "It also enhances the overall visibility of our growing and progressive program."
Jeffrey Good, a researcher in UM's Division of Biological Sciences, was part of an international team that sequenced and analyzed the genome of the bonobo, a great ape species resembling chimpanzees that is closely related to humans. The research was led by the Max Planck Institute of Evolutionary Anthropology in Leipzig, Germany. Good began working on the genome project while completing postdoctoral research at the institute. The new research was published June 13 on Nature magazine's website. "Our understanding of the biology of bonobos has lagged behind that of the other great apes, in part due to their remote and restricted distribution," Good says. "In addition to providing general insights into human and great ape evolution, the bonobo genome also provides a powerful resource for future genetic studies on this endangered and seldom-studied species."
M. Sanjayan, lead scientist for The Nature Conservancy and a faculty affiliate in UM's Wildlife Biology Program, has been named science and environmental contributor to CBS News. In this new role, Sanjayan will provide insight into a broad range of scientific and environmental topics across multiple platforms and contribute to CBS News broadcasts, including CBS This Morning and CBS Evening News with Scott Pelley. While his focus at UM is primarily research, Sanjayan also has taught international conservation within UM's Wildlife Biology Program. "He is one of the most articulate people I know," says Daniel Pletscher, UM Wildlife Biology Program director. "He has the outstanding ability of explaining difficult scientific issues to the average layperson and scholar alike."
President's Perspective
Welcome to the fall 2012 edition of the Montanan!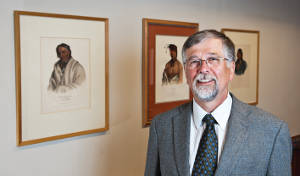 Royce Engstrom
Photo by Todd Goodrich
As with all editions, this issue features stories that illustrate some of the important directions that we have set forth in our strategic plan, UM 2020: Building a University for the Global Century. One of those directions is called Discovery and Creativity to Serve Montana and the World. Inside, you will read about students, faculty, and alumni who are engaged in research and outreach related to the life sciences.
Kate Davis, a zoology graduate, put her education to work by studying and caring for raptors. The Philip L. Wright Zoological Museum provides our campus with remarkable specimens for study. The Crown of the Continent Initiative provides a stunning and complex environment not only for students at the University, but also for people who are interested in learning more about the landscape surrounding us.
We are embarking upon a new academic year, bringing together a fresh group of eager students, talented faculty, and an ever-increasing sphere of friends and alumni. This year will be an important one for the University, as we put in place a number of new members of the administration and continue to focus intently upon improving campus safety. We also are working diligently to improve communication on campus and beyond.
Our academic programming continues to grow with more options for students. I'm happy to report that all of our indicators of student success, including retention, the need for developmental work, and preparation for college are moving in a positive direction. The intellectual atmosphere of campus continues to inspire all who attend. Cultural events will be in abundance this year, and the athletic program will lend excitement to campus and fans across the state as the Grizzlies get the season under way with new head football coach Mick Delaney.
The upcoming legislative session will be important to higher education in Montana. One of our key objectives for the session will be to obtain funding to construct a new building for our two-year college, which was recently renamed Missoula College of The University of Montana, formerly the College of Technology.
A successful University truly relies upon many partners. We are fortunate to have dedicated supporters, employees, and students who put their energy and resources toward making UM one of the nation's great institutions of learning. We all take tremendous pride in opening doors for students and helping them to fulfill their dreams through education.
Thank you for your interest and help.

Royce C. Engstrom, President
Theater Renamed to Honor Dennisons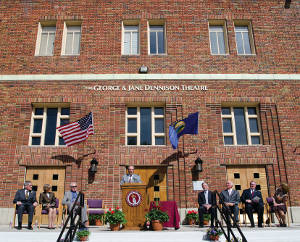 College of Visual and Performing Arts Dean Stephen Kalm speaks at the ceremony.
Photo by Todd Goodrich
Hundreds of people gathered for a ceremony to rename the University Theatre in honor of former UM President George Dennison and his wife, Jane, which was held Commencement weekend on the steps of the building.
It's now called the George and Jane Dennison Theatre.
"To have a facility of any kind named in your honor is quite an achievement it seems to me," Dennison says. "I'm not entirely convinced that I deserve that kind of recognition.
"Nevertheless, I'm willing to take it," he quips.
The ceremony was hosted by College of Visual and Performing Arts Dean Stephen Kalm. UM President Royce Engstrom, Professor Emeritus of History Harry Fritz, and UM alumnus Harold Gilkey spoke about the Dennisons and their contributions to UM.
Dennison served as UM's president for more than twenty years, the longest term of any UM leader. He retired in 2010.
Originally built in the 1930s as a student union, the building's construction was prompted by UM students to meet the campus need for a dance hall, large auditorium, larger bookstore, and place to gather for relaxation and entertainment.  
In 1956, the University opened a new student union, and the existing building became home to the art and drama departments, which until then had been squirreled away in the nooks and crannies of the University. From 1996 to 1997, under Dennison's direction, the theater was renovated to accommodate more production capabilities.
At the event, a memorial plaque was dedicated to Keith Dukes, a carpenter who was killed during the theater remodel.
Many artists have taken the theater's stage, including Louie Armstrong, Bob Dylan, Pearl Jam, and the Kingston Trio—a favorite of the Dennisons. Several famous actors and actresses got their start on the stage, the most notable being Carroll O'Connor '56, who is best known for his television roles in All in the Family and In the Heat of the Night. It also has hosted lectures by Tom Brokaw, Sandra Day O'Connor, and numerous other dignitaries.
Meet Grizwald,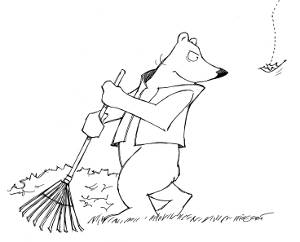 UM's cartoon bear. In frequent issues of the Montanan, we provide a drawing of Grizwald that needs a caption. Then it's up to you, our readers, to send in your most original and creative ideas. The winning contestant will receive a Griz stadium blanket. Send submissions to themontanan@umontana.edu.
MMAC Exhibits Impressionist Masterpieces at UM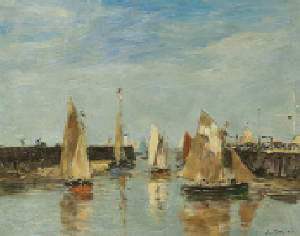 Trouville, les jetées, marée haute, ca. 1883-1887, Eugène Boudin (1824-1898), oil on panel, 8.375x10.5 inches
Two exhibitions devoted to the development of Impressionism and Realism by some of history's most notable artists will open September 6 at the Montana Museum of Art & Culture at UM. The exhibitions, Labor & Leisure: Impressionist and Realist Masterpieces from a Private Collection and Impressionism: Masterpieces on Paper will be on view through January 5, 2013.
Labor & Leisure: Impressionist and Realist Masterpieces from a Private Collection brings together select Impressionist and Realist masterpieces that document radical changes to nineteenth-century society and culture. Included are important nineteenth- and early twentieth-century artists Claude Monet, Pierre-Auguste Renoir, William Adolphe Bouguereau, and John William Waterhouse. Some of these works have not been seen publicly for decades. 
"The Impressionists are among the most widely known and loved artworks ever," says MMAC Director Barbara Koostra. "This is an incredible opportunity for the people of Montana to experience world-class art."
During the Industrial Revolution, technology and transportation advanced, rural populations declined, urban centers flourished, occupational opportunities expanded, wages increased, and labor laws were established. Using masterpieces from a private collection, this exhibition explores themes of industry and agriculture, city and country, and labor and leisure.
Impressionism: Masterpieces on Paper combines selections from the MMAC Permanent Collection with select loans to highlight rare etchings and lithographs that illustrate the development of Impressionism.
For more information, call 406-243-2019 or visit www.umt.edu/montanamuseum. 
Facetime: Eloise Corr Danch '98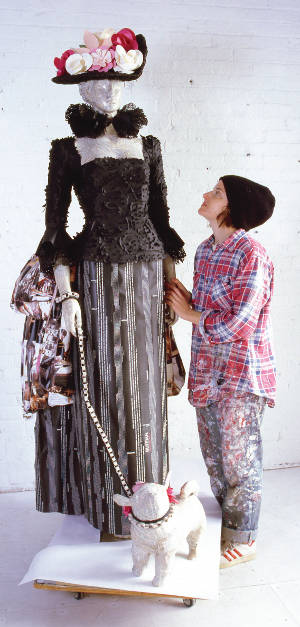 Eloise Corr Danch and one of her paper creations
Photo courtesy of Eloise Corr Danch
Eloise Corr Danch does magical things with paper, bending and folding sheets into intricate flowers and elaborate dresses. The artist has dazzled the fashion world, and her paper creations have appeared in Macy's storefront windows, W magazine, Anthropologie's gallery, and numerous other magazines and fashion events. After she earned her bachelor of fine arts degree at UM in 1998, she continued her education in Chicago, New York City, and France. While she had an early focus of painting and illustration, paper sculpture catapulted her career. She now lives and works in New York City.
Why did you pursue art? Even as a really small child, I had an aptitude for it. My parents encouraged it from a young age. I took a lot of private classes in ceramics and painting. Even in high school, I always knew that was the only thing I wanted to do, and it was what I succeeded the most at.
What did you learn at UM that you have used the most in your career? Professor MaryAnn Bonjorni ended up being my faculty mentor for my B.F.A. One of her philosophies is, You have a duty to the idea. As an artist, you have to give an idea its own life and think how it would be best represented, whether it should be a painting or something more three-dimensional. That kind of philosophy really stuck with me. Sometimes a piece might be something else than what you think it's going to be.
Another professor I learned a lot from was Jim Bailey. I was taking a lot of printmaking classes from him. I entered one of the student shows. I was a really poor student, and I never had any money. So I cheaply mounted this print that I had made. It did get into the show, and Jim came up to me after the opening and said it was one of his favorite pieces in the show and they would have given me an award but I so poorly presented my piece. They couldn't reward me because I had taken no respect in my work. That's something I think about a lot—how much presentation counts. You should take the time to finish and present it. I often think about that when doing proposals for clients and when I ship things. I try to come across as professional as I can.
Why did you transition from illustration to paper? I moved to New York to go to grad school in illustration. Before I got into that program, I had been working in Chicago doing window displays. I got friendly with these New York designers who were in Chicago during a trunk show. When I moved to New York, I called them and asked if they needed any help. The designers at Ruffian, a fashion label, were having a paper soiree, and they asked me to make a paper dress for this party. I had never done anything in paper before, but I did have a background in costume design and fashion. So after that project, I thought, this is the coolest thing I can imagine. I made another paper dress for Anthropologie that was on display. Because of that dress, I randomly wound up in touch with the Macy's window display director, and that's how I wound up doing the flowers for their window display. It was a lucky series of events.
What goes into paper sculpture? With paper flowers and costume dresses, I do a lot of research. I look at old dresses, go to fashion museums, and buy flowers. It's a lot of trial and error. Manipulating paper is sometimes easy and sometimes it's not. I use three different types of fine art pastel paper, a hot glue gun, and scissors. It's a really accessible medium. It's cheap. You don't have to invest a lot of money.
What is your most memorable project? I have to say Macy's Flower Show window displays. There were thousands of flowers. That was the first job I had at that scale. My husband and I stayed up for thirty-six hours just trying to finish. I was so green at estimating how long things take. It was the first major job I had and was very helpful for my exposure.
When was the moment you knew you would be successful? I was lucky enough to have my flowers appear in W magazine. All those flowers that appeared in that spread were from a job in Hong Kong that got canceled a month before we were supposed to go. I was really devastated. Then I got this call from W asking if I had any flowers. So I sent them everything I had. The stylist loved them and wound up using all of it. When I picked up the issue, I opened the magazine, and my flowers appeared on seven pages. I was standing there on the street, and I just started bawling. I knew that spread would change my career, and it did. That exposure was so significant to my ability to make flowers for the next two years.
—Interview by Alyse Backus