The Magazine of The University of Montana
About Alumni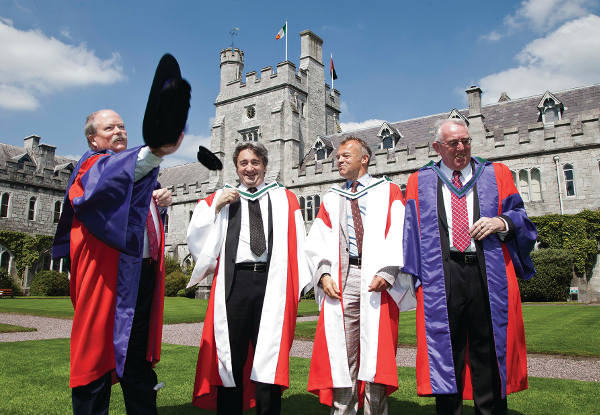 Molloy, left with Fergal Keane, Graham Norton, and Dermot O' Mahoney
Donald Molloy '68, J.D. '76, Missoula, a senior U.S. federal judge for the District of Montana, was conferred this year with an honorary doctor of laws degree from Ireland's University College Cork. A leading reformer in judicial practice in Montana, Don has adjudicated on significant environmental rights cases involving cleanup of polluted sites and hunting practices. He presided over the largest criminal environmental case prosecuted in the U.S., United States vs. W.R. Grace, and decided several endangered species cases involving the gray wolf, the grizzly bear, and the lynx, as well as cases involving Montana's world-class fisheries.
He is a veteran of the U.S. Navy, flying F-4 Phantom fighter planes off the deck of the USS John F. Kennedy. A native of Butte, he has a strong personal interest in his Irish heritage, and with his wife, Judy Straus Molloy '70, studied the Irish language under the guidance of Corkman Traolach O'Riordain, head of UM's Irish Studies Program.
Don has strong links with UCC's law and Irish programs, whereby students from Cork teach Irish at UM for a term and attend UM's School of Law while they clerk in Don's chambers or in courtrooms of other judges. He is founder of the Judicial Institute with the Federal Court, which gives Montana high school government teachers hands-on exposure to the judicial branch, and has co-taught the Philosophy of Law course at the UM School of Law for more than a decade. Last year, Don was a recipient of the UM Alumni Association Distinguished Alumni Award.
Keep Us Posted. Send your news to the University of Montana Alumni Association, Brantly Hall, Missoula, MT 59812. Go to www.grizalum.com and click on "Submit a Class Note," fax your news to 406-243-4467, or call 1-877-UM-ALUMS (877-862-5867). Material in this issue reached our office by July 8, 2013.
Note: The year immediately following
an alum's name indicates either an undergraduate degree year or attendance
at UM. Graduate degrees from UM are indicated by initials.
Whenever you change your mailing address, please contact the alumni office. Let us know where you are and when. Thank you.
1940s
Dean Galles '41, Billings, was honored this year for valor in military service with the Bronze Star and Silver Star for heroism. Dean, age ninety-three, was wounded seventy years ago during World War II and twice again as a captain on Okinawa Island in 1945. U.S. Sen. Jon Tester has read Dean's story into the official Congressional Record.
Edward Ruppel '48, Hon.D. '96, Twin Bridges, is recipient of the Uuno Sahinen Silver Medallion from the Montana Bureau of Mines and Geology at Montana Tech. After retiring from the U.S. Geological Survey in 1986, Ed served as director of MBMG and was the state geologist of Montana. He continues to conduct field geological research across the country.
1950s
Jack Lepley '50, M.Ed. '61, Hon.D. '06, Fort Benton, presented on the steamboat era at the Travelers' Rest chapter of the Lewis and Clark Trail Heritage Foundation in Lolo this past spring. He is the author of Packets to Paradise, published in 2001.
Ivan O'Neil '50, Kalispell, was honored by Pro Sales magazine last May with its ranking of the top 100 building material retailers in the U.S. Ivan is chairman and co-founder of Western Building Center.
Donald C. Orlich '53, D.Ed. '63, Pullman, Wash., recently published his eighteenth book, The School Reform Landscape: Fear, Mythologies, and Lies, co-written with Christopher H. Tienken. Don is professor emeritus of education and science instruction at Washington State University.
1960s
Virginia Eggert '60, Port Isabel, Texas, was May's featured artist, along with her husband, Roger Theriault, for the Laguna Madre Art Gallery in Port Isabel. She earned her doctorate from the University of Arizona, and studied under Walter Hook, Peter Voulkos, and Rudy Autio while at UM.
Lyle Glascock '62, Augusta, Ga., appeared in Augusta Magazine's June-July issue, along with his wife, Shirley. The couple retired from professions in hospital pharmacy and public health service seventeen years ago. After retiring, Lyle dedicated sixty hours a week to Habitat for Humanity and now volunteers as a docent at the Augusta Museum of History. With Shirley, he gives historical driving tours of Augusta and volunteers with the Interfaith Hospitality Network of Augusta.
Frank Walsh '62, M.A. '72, J.D. '75, Austin, Texas, an associate professor at Texas State University-San Marcos, recently returned from teaching a semester at Kookmin University in Seoul, South Korea.
Jane Van Dyk '64, Billings, retired as associate vice president and director of services for academic success at Rocky Mountain College in Billings, where she worked for twenty-three years. Jane earned her doctorate in higher education administration from the University of Wisconsin, worked for the CIA for three years, and was director of institutional research at Eastern Montana College, now Montana State University-Billings. In her retirement, she plans to pursue her lifelong passion for music.
Don Fast '66, Glasgow, serves as chairman of the U.S. Grains Council, a nonprofit organization that promotes the use of U.S. barley, corn, sorghum, and related products worldwide. After graduating with a degree in business from UM, Don attended the U.S. Army Officers' Candidate School in Maryland. He received the Bronze Star for meritorious service during Vietnam. In 2004, he received the Outstanding Agriculture Leadership award from Montana State University. Don and his wife, Sheila, farm seed, raise sheep, and have two sons.
C.B. McNeil, J.D. '66, Polson, retires this September after nearly thirty years as Lake County district judge. C.B. has presided over 27,015 cases during his career. In 1984, after more than eighteen years of private practice, he was elected as the first judge of the newly created Twentieth Judicial District. A fourth-generation Anaconda native and former Army pilot, C.B. was a delegate at the 1972 Montana Constitutional Convention.
Sid Howard '67, Midwest City, Okla., a retired lieutenant colonel in the U.S. Air Force, recently finished a rewarding school year working as substitute teacher, volunteer cafeteria dishwasher, and playground recess monitor at St. Philip Neri Catholic School, where his grandson Nick made fifth-grade principal's honor roll.
Dave Hoye '68, Everly, Iowa, has published three books of poetry since his retirement in 2009: Take a Journey on the River of Life; Billowing Clouds, Rugged Rocks and Tall Pines; and A Gift of Faith. Dave also has written an educational book about his work with children, All the Kids on My Block. After twenty-five years as a school social worker, Dave works part time as a private-practice therapist.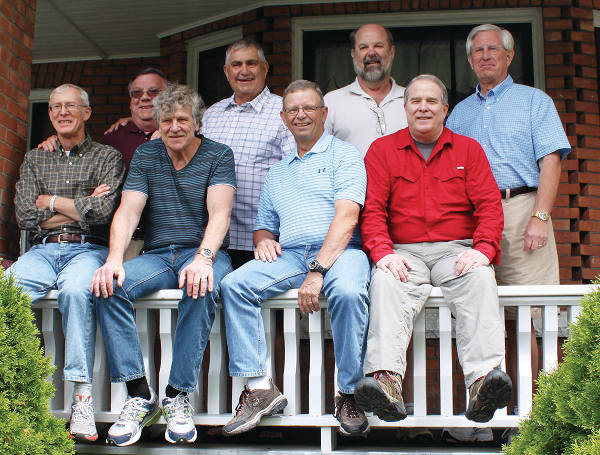 Back row, left to right: Will Terpenning '69, Dick Farrell '69, Chris Unkel '69, Al Benson '69; front row: Paul Dallmann '69, Kurt Russon '69, Larry Bruce '70, Rick Harden '69
Larry Bruce '70, Circle, was reunited this summer with seven of his Alpha Tau Omega fraternity brothers at their old fraternity house, which was cut in half in 1989 and moved across the river to Front Street, where it is now Goldsmith's Bed and Breakfast. Larry writes, "Many of us had not seen each other since the spring of 1969, when graduation sent these Alpha Tau Omega fraternity members off to war or out into the world. We found ourselves visiting on the same porch where we first became friends and fraternity brothers all those years ago. We remembered with love and sadness Class of '69 brothers LeRoy Fasching and Del Strommen. LeRoy died on a battlefield in Vietnam, and Del was killed in a ranch accident. Later we took a walking tour of the UM campus and all still believe it is one of the prettiest campuses in America. On Saturday night we had a barbecue. It certainly was an emotional, happy, and rewarding weekend. We hated to see it end but already have plans for a bigger reunion next year when we hope to get ATOs from the '60s and '70s. Those interested can e-mail Rick Harden at rickharden@optimum.net or Larry Bruce at nibby@midrivers.com."
Back row, left to right: Will Terpenning '69, Dick Farrell '69, Chris Unkel '69, Al Benson '69; front row: Paul Dallmann '69, Kurt Russon '69, Larry Bruce '70, Rick Harden '69
1970s
Lorna Thackeray '74, Billings, retired after nearly thirty-six years with the Billings Gazette. Lorna also served as editor of the Hardin Herald [now the Big Horn County News] for three years after graduation.
Dennis T. Murphy '75, Missoula, retired this summer after more than thirty years as head athletic trainer for UM.
David Ostrander, M.Ed. '75, McMinnville, Ore., former vice president for university advancement at Saint Leo University, is the new vice president for institutional advancement at Linfield College.
Rick Weaver '75, Kalispell, publisher of the Daily Inter Lake, is the recipient of the Distinguished Alumni Award from Flathead Valley Community College. Previously, Rick was both circulation director and advertising director at the Daily Inter Lake and publisher of the Bozeman Daily Chronicle and the Idaho Press-Tribune.
Carl Rummel '76, Missoula, was named Mitch Reed Volunteer of the Year by the Montana Credit Union Network. Carl has been an active member of the Missoula Federal Credit Union for the past thirty-three years and a volunteer for the past decade.
David Allan Cates '79, M.F.A. '92, Missoula, won the Gold Medal for Best Fiction in the 2013 Independent Publisher Book Awards for his fourth novel, Ben Armstrong's Strange Trip Home. David is married to Rosalie Sheehy Cates '79.
Colleen McGuire '79, Columbus, Ohio, retired Army brigadier general, has been appointed by the U.S. Secretary of Defense to the Adult Sexual Assault Crimes Panel. This congressionally mandated panel will conduct independent reviews and assessments of the systems used to investigate, prosecute, and adjudicate crimes involving adult sexual assault in the military. Colleen, a member of the UMAA Board of Directors, is executive director of the Delta Gamma Fraternity and was a recipient of UM's Distinguished Alumni Award in 2010.
Debra McKinney '79, Palmer, Alaska, a freelance writer, recently published Beyond the Bear: How I Learned to Live and Love Again after Being Blinded by a Bear, co-written with Dan Bigley. Debra has won numerous awards as a writer for the Anchorage Daily News and was part of a team of reporters that won a Pulitzer Prize in 1989.
1980s
Laurie Blauner, M.F.A. '80, Seattle, recently published her third novel, The Bohemians, a jazz-age story.
Corinne Craighead Butcher '80, Pasco, Wash., and her husband, Brett, were recognized at the Vintiques Northwest Nationals Rod Run in Yakima for excellent research and restoration work on their 1937 Chevy Suburban. While rebuilding the car, they found writing in it that linked it to a Denver hospital, the past director of which, now in his nineties, had written a book featuring the original car on its cover. The Butchers are planning a trip to Denver to show him the refurbished Chevy.
Lisa Cassun Eilers '80, Jupiter, Fla., has been promoted to director of operations South Florida for Ferrellgas. Previously, Lisa served as the South East Florida general manager for the company.
Leah Joki '80, Missoula, recently published her book, Julliard to Jail, about her eighteen years working as an artist/facilitator in prisons.
Kevin Mayer '82, Sidney, Richland Federal Credit Union manager, recently was appointed to the Community Depository Institutions Advisory Council with the Federal Reserve Bank of Minneapolis. He also was named Montana Credit Union Network Professional of the Year for 2013.
Glenn Feltham '83, M.B.A. '83, Edmonton, Alberta, has been appointed a member of the Standards Council of Canada. Glenn, who holds a doctorate from the University of Waterloo's School of Accounting and Finance and a law degree from Queen's University, is president and CEO of the Northern Alberta Institute of Technology.
Bowen Larsen '83, Phoenix, is director of public information for Peoria, Ariz. He oversees the Office of Communications, which includes public information, web services, graphic design, and the city's government television station. Bo previously was the director of public relations for Banner Thunderbird Medical Center in Glendale, Ariz.
James L. Weinberg '83, Cleveland, Ohio, was recognized this year by Chambers USA for exceptional performance in the field of intellectual property law. James is a partner in Ulmer & Berne, which was named a leading law firm for the eleventh consecutive year by Chambers USA.
Kaye Ebelt '84, Missoula, was one of twenty-seven distinguished educators nationwide selected for the 2013-14 Albert Einstein Distinguished Educator Fellowship Program by the Triangle Coalition for Science and Technology Education. Kaye, a teacher at Target Range School in Missoula, will serve at the National Science Foundation's Directorate for Engineering, Civil, Mechanical, and Manufacturing Innovation Division during the upcoming academic year.
Danny S. Parker, M.S. '84, and his wife, Lisa Shepperd, M.S. '85, of Cocoa Beach, Fla., are recipients of Brevard County's inaugural sustainability award for their retrofitted, zero-energy, 1950s-era home. Danny, a principal research scientist with the Florida Solar Energy Center, holds several patents associated with innovative energy-efficiency technologies.
Jeremy Blanchard '86, Deming, Wash., is the new vice president of quality and medical staff services for PeaceHealth St. Joseph Medical Center and vice president of quality for PeaceHealth's Northwest Network.
Mark Meyer, J.D. '86, Great Falls, is the new head basketball coach for Great Falls Central Catholic High School. Mark is an attorney with Ugrin, Alexander, Zadick, & Higgins law firm and is married to Andrea Beddes Meyer '86, a teacher at Great Falls High.
Matt Redinger '86, M.A. '88, Billings, is the new vice provost for academic affairs at MSU-Billings. A professor in MSU-B's history department since 1996, Matt earned his doctorate in philosophy from the University of Washington. He lives in Billings with his wife, Ann Conrad Redinger '87.
Sara Robitaille Sexe '86, J.D. '89, Great Falls, is the new city attorney for Great Falls. Sara has practiced law for more than twenty years, most recently with the firm of Marra, Sexe, Evenson, & Bell. She is a UM track hall of fame inductee.
Eric Sprunk '86, Portland, Ore., is the new COO at Nike, leading all manufacturing, sourcing, IT, and procurement. Previously, Eric was the executive vice president of merchandising and product for the company.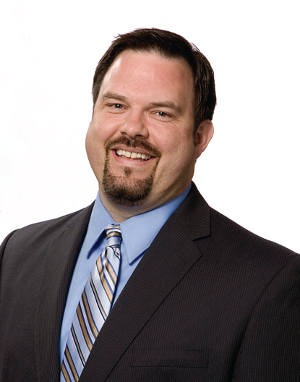 Brandon W. Byars '93 earned a bachelor's degree in communication studies from UM. He is a physician recruiter at Providence Health & Services in Portland, Ore., where he lives with his partner, George Morris.
Homecoming is an amazing time on the UM campus. Autumn semester is in full gear for students, alumni are returning to visit, and our beautiful Montana summer has faded into the vibrant colors of fall. It's a wonderful time of transition and change at the University.
Just as seasons change every year on campus, the UM Alumni Association also undergoes change—in our programming, our membership, and our services. In 2013-14, you'll see even more changes in our organization. During the past year, the association has embarked on an aggressive strategic plan to guide its work.
Here's what you'll see:
• Student enrichment: Alumni involvement in guest lectures, participation in the Global Leadership Initiative, student recruitment, career mentoring, and hiring of UM grads.
• Advocacy: Development of a legislative strategy and reliance on alumni to actively participate in engaging legislators on issues that are important to the success of the University.
• Connectivity: Improved identification of groups and affiliations alumni had while on campus and developing easy and valuable connections between members of these groups through social media and events.
• Continued programming: Ongoing support and development of events and activities such as Homecoming, reunions, Griz-Cat viewing parties, and numerous alumni events in communities throughout the country.
• Funding: Critical to our long-term success, we will continue to identify viable funding streams that allow us to do the valuable work identified in our strategic plan.
We want these efforts to have a significant impact on new grads, "seasoned" alumni, and current and future students. Our efforts can be successful only with your support—through your active involvement as well as your financial support. You'll be hearing from us on both fronts as we embark on this journey to better meet the needs of an active alumni base that is eager to be part of the University community, whether in Missoula, Chicago, or somewhere around the world.
Our mission is to "create and sustain meaningful and lifelong connections between alumni and friends of the University of Montana and each other." We hope you will continue to stay connected to the University and engage in some of these additional opportunities for involvement.
For more information on our strategic plan, I encourage you to visit www.grizalum.com.
Up with Montana!
1990s
Zan Bockes, M.F.A. '90, Missoula, recently published her first collection of poems, Caught in Passing. Zan has had four nominations for the Pushcart Prize and numerous publications of fiction, poetry, and nonfiction. She lives in Missoula with her husband, Mike Kincaid, and works as a residential sanitation specialist.
Sheryl Teske '90, Jonesboro, Ga., is the grants coordinator for the juvenile court of Clayton, Ga. Sheryl also is the architect of the Clayton County System of Care, which recently was awarded a Robert Wood Johnson Foundation grant.
Stefani Gray Hicswa '91, Powell, Wyo., is the new president of Northwest College in Powell. Stefani previously was president of Miles Community College in Miles City. She and her husband, Scott, have two sons.
Seth Kantner '91, Kontzebue, Alaska, has published his third book, a memoir titled Shopping for Porcupine. Author of the bestselling novel Ordinary Wolves, Seth is a commercial fisherman, writer, and wildlife photographer. He was nominated for the position of Alaska state writer laureate in 2006.
Peter W. Fong, M.F.A. '92, Pray, recently published his first novel, Principles of Navigation. Peter received an Individual Arts Fellowship in creative writing from the Montana Arts Council in 1993 and was the Moran artist-in-residence at Yellowstone National Park in 2004. He works as a freelance editor and a fly-fishing guide. Peter also is editor for the Systemic Initiative for Montana Mathematics and Science, a National Science Foundation-funded project.
John F. Harrison '92, M.P.A. '98, Woodland Park, Colo., a U.S. Army colonel, is chief of the Force Management Division, Directorate of Operations for North American Aerospace Defense Command and U.S. Northern Command at Peterson Air Force Base. John was commissioned second lieutenant through the ROTC program at UM in 1989. He has participated in airborne operations in six countries and represented the U.S. in international military biathlon ski competitions in Europe. He has deployed to sixteen countries in Asia, Europe, and Africa, including Operation Iraqi Freedom. John lives in Colorado with his wife, Mary, and three children.
David W. Scott, Ed.D '95, Missoula, has been awarded professor emeritus distinction at Flathead Valley Community College in Kalispell. David taught religion, education, and philosophy in the school's honors program. He lives in Missoula with his wife, Margaret Grant Scott, M.Ed. '76, who teaches at Lewis and Clark Elementary.
Janisse Ray, M.F.A. '97, Reidsville, Ga., published her fifth book of creative nonfiction, The Seed Underground: A Growing Revolution to Save Food. Author of five books of literary nonfiction and a collection of nature poetry, Janisse is on the faculty of Chatham University's M.F.A. program and is a Woodrow Wilson visiting fellow. She has received several awards for her writing, and in 2007, she was awarded an honorary doctorate from Unity College in Maine. Janisse studied under Bill Kittredge and Hank Harrington during her time at UM and now lives and farms in her native southern Georgia.
Liz Fort Busch '99 and
Bob Busch '00, both of Mount Pleasant, Mich., celebrated the fortieth anniversary of Buckley's Mountainside Canoes, which they have owned since 2010. They have three kids and a fifteen-year-old dog, Willie, whom they adopted from Missoula Animal Control in 1999.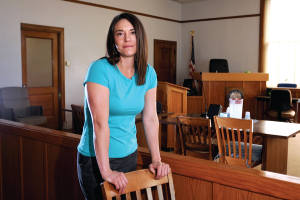 Tara Jensen
Photo by Michael Gallacher/Missoulian
Tara Jensen '00, M.P.A. '12, Missoula, is executive director of Court Appointed Special Advocates of Missoula. The organization trains volunteers to represent abused and neglected children in legal and other official proceedings, with the goal of finding safe and permanent homes for the children. Tara, who started at CASA last year, previously worked for the Montana House of Representatives, the UM Foundation, and U.S. Sen. Max Baucus. A longtime marathon runner, Tara competed in her first triathlon in April.
2000s
Parker Bixby, M.F.A. '00, Mercer Island, Wash., received the Pathfinder award from the Puget Sound Association of Phi Beta Kappa. Parker, the Mercer Island High School band director, was recognized for his inspirational teaching and dedicated leadership. While a graduate student at UM, he was assistant director of the Grizzly Marching Band.
Nils Michals, M.F.A. '00, Boulder, Colo., was awarded the 2012 May Sarton New Hampshire prize for his second book of poems, Come Down to Earth, which was published this summer by Bauhan Publishing.
Danny Jason Gallegos '01, Honolulu, recently earned his master of science degree at Hawaii Pacific University and is IT manager for the Anthology Marketing Group.
Brock Sunderland '02, Tempe, Ariz., is assistant general manager of Ottawa's new Canadian Football League franchise. A native of Great Falls, Brock was a receiver and punt returner for UM. He was director of scouting for the Montreal Alouettes and a scout for the NFL's New York Jets for the past six years.
Brittany Hageman Cremer '03, Billings, is senior editor of Magic Magazine, which recently won the Best Magazine in Montana award from the Montana Newspaper Association. After earning a master's in public relations from MSU-Billings and teaching courses there, Brittany was hired as a marketing specialist for the Billings Gazette. She currently serves as the newspaper's "Your Home" editor. Married in 2010, Brittany and her husband have twin boys.
Marilyn Joan Bruguier Zimmerman '03, M.S.W. '05, Missoula, was appointed to serve on the national Child Abuse Fatalities Commission, created as a part of the Protect Our Kids Act. Marilyn serves as associate director of UM's Institute for Educational Research and Service and director of the National Native Children's Trauma Center.
Molly Murphy Adams '04, Tulsa, Okla., is the 2013 Elizabeth Rubendall Artist in Residence at the University of Nebraska's Great Plains Art Museum. Her exhibit, Relative Position: The Sculptural Beadwork of Molly Murphy Adams, will become part of the museum's permanent collection.
Jason Corbally '04, Missoula, is president of Edulog, an education logistics software company based in Missoula. Jason began working with the company in 2004 while pursuing his accounting degree and quickly rose to managing the company's 1,200 nationwide school districts.
Dustin Frost '04, Billings, and his fellow alum Jake Eaton opened a consulting firm, 47 North Communications, in Billings. Dustin has run two statewide political campaigns, managed four congressional field offices, and served as executive director of the Coalbed Natural Gas Alliance and state director for Congressman Dennis Rehberg. Dustin and Jake recently purchased AlphaGraphics, a Billings printing company.
Justin Kraske '04, J.D. '07, Helena, is the new chief legal counsel for the Montana Public Service Commission. Justin will supervise the commission's three full-time attorneys and the agency's consumer assistance staff.
Nathan Arthur Olson '04, Galena, Alaska, is the new wildlife biologist and pilot at the Kenai National Wildlife Refuge in Alaska. His interests include big-game management, predator-prey relationships, human-wildlife interactions in the urban environment, and wildlife habitat-use patterns.
Eli S. Suzukovich III, M.A. '05, Ph.D. '11, Chicago, is the urban ecology coordinator for the American Indian Center of Chicago and currently does postdoctorate work in psychology at Northwestern University. He is an expert on Native Americans' use of indigenous plants.
John M. Van Atta '05, Billings, joined the firm of Patten, Peterman, Bekkedahl, & Green. John, who earned his law degree from the University of California Hastings College of Law in 2008, previously interned with the U.S. Senate Finance Committee, the California attorney general's office, the U.S. attorney general's office, and the Montana Supreme Court.
Bethann G. Merkle '07, Quebec City, received the Quebec Community Newspaper Association's 2012 award for outstanding photojournalism and numerous awards for content published in the Quebec Chronicle-Telegraph, which is North America's oldest newspaper. Bethann founded her own communications consulting agency, Communicate Naturally, and is a writer and photographer focused on sustainability and ecology. Her work can be found at www.fruitrootleaf.com. Her husband, Jerod Merkle, M.S. '11, is pursuing a doctorate in biology at the Université Laval, Quebec.
Joseph Montalban '08, Missoula, is the new vice president of business development for Mountainview Energy.
Sara Campbell '09, Billings, is the girls' soccer coach at Billings Central High School. Sara, who graduated from UM with high honors and was an All-Big Sky Conference selection, has played professionally both in the U.S. and abroad.
Molly Rivkin '09, Naples, Idaho, is a Peace Corps member serving in central Ukraine. With the title of youth development volunteer, Molly works in a small village leading after-school programs, teaching English, healthy lifestyle classes, and sports.
2010s
Dustin Ahrens '10, Shelby, is the new CEO of Liberty Medical Center in Chester. Dustin was named 2013 outstanding graduate student in the College of Allied Health Professions at MSU-Billings, where he earned his master's in health administration. He married Haley Carroll '11 in July.
Emily Graslie '11, Chicago, is the first-ever chief curiosity correspondent for the Chicago Field Museum. Emily, who stars in her popular online video show, The Brain Scoop, will produce about fifty Field Museum Brain Scoop episodes per year with her co-writer, Michael Aranda. Her show may be viewed at www.youtube.com/thebrainscoop.
Bryan Waldhauser '11, M.B.A. '12, Billings, is the newest account executive at AlphaGraphics of Billings. Bryan, who earned two All-Big Sky Conference selections as a defensive tackle for the Grizzlies, most recently worked for the Union Pacific branch of Wells Fargo in Missoula.
Kadie Zimmerman '11, Kalispell, illustrated a children's book, Have You Ever Seen a Bear with a Purple Smile?, which was released this past spring.
Abe Schmidt '12, Anchorage, Alaska, is a geologist in the Earth Sciences Department of R&M Consultants in Anchorage. Before joining R&M, Abe was an intern for the Alaska Department of Natural Resources, where he conducted trail work and restoration projects.
Madyson Lynette Versteeg '12, Billings, is a Montana FoodCorps member since 2012. Madyson works mainly with the Middle Ground program, which provides kids with art, music, and sustainable farming education. She also runs a weekly class on gardening and healthy eating with the Salvation Army in Billings. She has worked with agriculture and earth science classes in local schools and advised a rural school on building and maintaining a garden.
Travis Vincent '12, Missoula, will travel to Krasnodar, Russia, on a Fulbright Scholarship this year. Travis, who earned bachelor's degrees in economics and Russian at UM, will conduct research at Kuban State University on the integration of the region's many ethnic groups into local politics and policy in the past decade.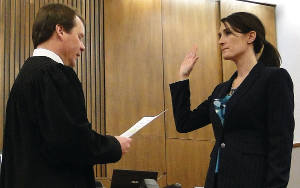 Erin Shanley
Erin Shanley, J.D. '07, Fort Yates, N.D., was sworn in this year as special assistant attorney for the Standing Rock Sioux Tribe. Erin, a Cheyenne River Sioux, works in the Office of the Prosecutor, Standing Rock Tribal Court in Fort Yates. Her position is funded by a three-year grant from the U.S. Justice Department's Office on Violence Against Women. Previously, Erin served as assistant prosecutor for the Pascua Yaqui Tribe in Tucson, Ariz., and public defender for the Fort Peck Tribes in Poplar.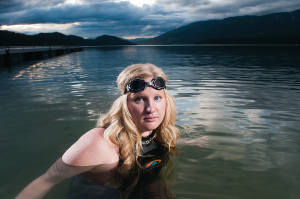 Emily von Jentzen
Photo by Lido Vizzutti/Flathead Beacon
Emily von Jentzen, J.D. '09, Kalispell, plans to break the International Marathon Swimming Hall of Fame record by swimming the seventy-mile Canyon Ferry Lake near Helena. Her swim will raise funds for a two-year-old boy who needs a service dog. Emily is the first woman and third person ever to swim the length of Flathead Lake and the first person to swim Lake Chelan, a fifty-five mile distance. Together with Katie Schulz, Emily created Enduring Waves, a nonprofit organization benefitting children in need. She is one of five attorneys in Montana who work in the Department of Justice's Child Protection Unit.
Alumni Events 2013
14 Griz/North Dakota tailgate, Grand Forks, ND
19-21 College of Forestry Centennial Celebration
19-22 UM Black Studies Program Reunion (Forty-fifth anniversary)
28 Griz/Northern Arizona tailgate, Flagstaff, AZ
29-Oct. 5 Homecoming Week 2013
29 Homecoming Kickoff Celebration, Southgate Mall
4 House of Delegates Reunion, Distinguished Alumni Awards,
Pep Rally, All-Alumni Social and Dance
5 Homecoming Parade, Griz vs. Portland State Vikings, TV Tailgate
6-7 UMAA Board of Directors meeting, Missoula
11-19 International Travel: Northern Italy land program
17-25 International Travel: Greek Isles Odyssey Luxury Cruise
2 Griz/Sacramento State tailgate, Sacramento, CA
23 113th "Brawl of the Wild," Grizzlies vs. Bobcats, noon, Bozeman
Satellite TV Parties, nationwide
For more details, call the Office of Alumni Relations, 877-UM-ALUMS,
or visit www.grizalum.com.
NEW LIFETIME MEMBERS
The following alumni and friends made a commitment to the future of the UM Alumni Association by becoming lifetime members. You can join them by calling 877-862-5867 or by visiting our website: www.grizalum.com. The Alumni Association thanks them for their support. This list includes all new lifetime members through July 16, 2013.
Charles Abell '63, Whitefish
Laura Brehm, Missoula
Michael J. Burke '94, Lake Oswego, OR
Lonnie Dale '68, J.D. '71, Missoula
Pamela Dale '68, M.Ed. '79, Missoula
Sherry Green '81, Santa Fe, NM
Gary Kaiser '92, M.B.A. '99, Chicago, IL
Jay Kettering '82, Missoula
Andrew Norman Larson '97, Missoula
Ryan Maxwell '13, Missoula
Will McCall '12, Missoula
Luann Moriarty '60, Bigfork
Michelle Morley '98, Anaconda
Randy Mostad '83, Billings
David Strobel, Ph.D. '72, Missoula
Sue Talbot, M.A. '80, Hon.D. '13, Missoula
John Talbot, Hon.D. '13, Missoula
Wes Temby '03, San Rafael, CA
Wayne Tinkle '89, Missoula
Cary Toepke '86, Fort Collins, CO
Roy Trenoweth '65, Carson City, NV
Theresa Vonada '87, Helena
William Walter '78, Tarrytown, NY
In Memoriam
We extend sympathy to the families of the following alumni, faculty, and friends. Names without class or degree years include UM alumni, employees, and friends. To be included in "In Memoriam," the UM Office of Alumni Relations requires a newspaper obituary or a letter of notification from the immediate family.
Material for In Memoriam reached our office by
June 16, 2013.
1930s
Emmett Earl Carey '31, Greensboro, NC
Dorothy Elizabeth Ritter Hanford '37,
Rancho Bernardo, CA
Bergit Skiftun Kammerlohr Trautz '37,
White Bear Lake, MN
Mary Elizabeth Leichner Vanderslice '38,
Long Beach, CA
Alberta Annon "Ann Robinson" Carten '39, Alexandria, VA
Walter P. Coombs '39, J.D. '41,
Pomona, CA
1940s
Madge Scott van Adelsberg '40,
Los Angeles
Paul E. Neff '40, Palm Desert, CA
Robert F. Swanberg '40, Helena
J. Carter Williams '40, J.D. '42,
Great Falls
Jean Margaret Krebsbach Beaman '41, Martinez, CA
Roberta L. Myrick Smith-Kossin '41, Seattle
John Thomas "Jack" Wiegenstein '41, Seattle
Edith A. "Edie" Larter Holte '42, Outlook
Elsie Sally Fellows Engstrom Kassner '42, Beaverton, OR
Margaret J. "Peggy" Kitt Clapper Schrader '43, Bloomington, MN
Irving C. Pearson '44, J.D. '48,
Concord, CA
Lorraine Louise Mannix Midtlyng '46, Missoula
Richard Daniel "Dick" Auger '47,
Cary, NC
Jean Livdahl Cohen '47, Hemet, CA
Mary Lou Ross Pfohl Countryman '47, Bozeman
Mary Jane "M.J." Lindstrom McMullen '48, Corvallis
Joseph Irl Saltsman '48,
Chevy Chase, MD
James R. "J.R." "Bits" Stephenson '48, Missoula
Charles James Johnson '49, Spokane, WA
Donald Elliot "Don" Olsson Sr., J.D. '49, Ronan
Daniel John "Danny" Sullivan '49, Helena
Amos Walter Svennungsen '49, Kalispell
1950s
Janet Isabel Curry Scott '50,
Baker City, OR
Barbara Dockery Tremper '50, M.B.A. '76, J.D. '86, Polson
Robert Wilton "Bob" Williams '50, Missoula
Robert "Bob" Wheeler Woolley '50,
Big Timber
Everett Calvin Chaffin '51, M.Ed. '57, San Diego, CA
John Neil Dahlstrom '51, M.F.A. '54, Missoula
William J. Dickinson '51, Pickford, MI
Bayard R. "Bob" Van Gieson '51, Missoula
Darrell V. Hoover '51, Glendive
Duane Richard "Dick" Barsness '52,
Cody, WY
Nathalie McGregor Pattison '52, Helena
Frances Loretta "Fran" "Francie" Hagan Chaffin '54, San Diego, CA
James Rocco "Jim" Durado '56, Kalispell
Walter Lewis Fey '56, Great Falls
Kay F. Newlin '56, Frederick, MD
Ronald George "Ron" Brockway '57, Anchorage, AK
Arnold Victor "Arnie" Kober '57, Missoula
Laurene M. "Larry" Walker Murphy '57, Bigfork
David Lee Seitz '57, Coeur d'Alene, ID
Christine D. "Chris" Fairbanks Amann '58, San Jose, CA
Lyle W. Carte Sr. '58, Great Falls
Margaret J. "Peggy" Maclay Stelling Gadbow '58, Missoula
Donald L. "Don" Oliver '58, Missoula
Floyd G. Nollmeyer '59, Wilsall
1960s
Duane Francois "French" Bassuer '60, M.S. '68, Ephrata, WA
John Harold "Jack" Gardner '61, Horseshoe Bay, TX
Betty Lee Chappell Garrison '61, Eureka
Patricia Jane Johnson '61, Laurel
Gary Lin "Dub" Kennedy '61, Billings
Duane R. "Dewey" Lange '61,
East Helena
Earl E. Morgenroth '61, Missoula
Kenneth L. "Ken" Wersland '61, Ronan
Edna Merle Linderman Bond '62, Missoula
Thomas Henry "Tom" Laurent, M.S. '62, Douglas, AK
James Bernard "Jim" O'Brien '62, Vancouver, WA
Thomas Franklin "Tom" Walker III '62, Ph.D. '74, Great Falls
Chester Bryan "Chet" Loveland '63, Discovery Bay, CA
David F. "Dave" Matti '63, Stevensville
Sterling McDonald Wetzsteon '63, Thousand Oaks, CA
Ralph M. Conrad '62, M.S. '64, Middleburg, PA
William Thomas "Bill" Stack '64, Missoula
Bernice Walden Jensen '65, Missoula
Leona Marjie Wilber King '65,
Scottsdale, AZ
Gerald E. "Jerry" Domagala '66,
Arvada, CO
Helen M. Miller Spriggs '66, Albuquerque, NM
Miriam E. "Pat" Keffeler '67, M.A. '75, Missoula
Dennis George Price '67, Bullhead City, AZ
Jerold Ormond "Jerry" LaSeur '68, Butte
Walter Lee "Bear" Hurt '69, Billings
Sandra L. "Sandy" Pramenko Kravik '69,
Hayden, ID
Templeton Lee "Temp" Thomas, M.Ed. '69, Dixon, MO
Helen E. Clapp Watson '69, Bolingbrook, IL
Karen Kay Scheytt Willis '69, Post Falls, ID
1970s
Bobby K. "Bob" Coldwell M.Ed. '70, Troy
Margaret Ann "Peggy" Simonson '70, Helena
Eunice Jean "E.J." Cass '71, Sumner, WA
Kenneth Barton "Ken" Hinkle, M.Ed. '71, Red Bluff, CA
Shirley Ann Bray '73, Las Vegas
Mary Jo Murray, J.D. '79, St. Paul, MN
1980s
Juanita Marie Hilton Scheffer Hirschi '80, Missoula
Arnold Jesse Plumage '80, Harlem
Brian LaVere Wareing '80, Golden, CO
James Daniel "Jim" Axe '81, Missoula
Leslie Dennis Oly '81, Falls Church, VA
Donnell W. "Don" Hunter, M.F.A. '82,
LaBelle, ID
Linda F. Lewis Trombley '82, Missoula College, Browning
James A. "Jim" Benedict, Troy '83
Lois M. Fairchild '84, Missoula College, Stevensville
William C. "Bull" Durgeloh '85, Missoula College, Charlo
Dalon Wendell Jones '87, M.Ed. '03, St. Ignatius
Hattie Ellon "Bobbie" Roberts Ralls '87, Missoula College, Hamilton
Adrienne Musa Corti, M.S. '89, Missoula
Victoria Lee "Vicki" Kramer Henning Donich, M.Ed. '89, Salem, OR
Leona Rae Curry Phillips '89, Missoula College, Corvallis
1990s
John Mathew Menello '90, Salt Lake City
Susan Marie Hootman Garlow '93, Jackson, WY
Laural Ann "Lauri" Herreid Ogden Johns '96, Pablo
Karen Joyce Pile '96, Missoula College,
Big Timber
Karma Therese Cochran '97, Hays
Matthias Cremer Putzier Jr., J.D. '97, Bozeman
Teresa Ann Hamann '98, Missoula
Mark Kaina Landkammer, M.A. '98, Monroe, WA
Leonard Samuel "Lennie" "Sam" Skaggs Jr., Hon. Pharm.D. '99, Salt Lake City
2000s
Casey James Shelden '02, Missoula
Zachariah Lawrence Walker '03,
Grand Junction, CO
Julie Elaine Deming '04, '08, Missoula College, Vancouver, WA
Brendan Glenn Reints, M.B.A. '05, Dillon
Timothy Leon "Tim" Kennedy '06, Missoula
Evan Ann Marie Lilley '07, Missoula College, Polson
Caitlin Rose Stanich '09, Missoula College, Missoula
2010s
Timothy A. "Tim" Maloney '11, Missoula College, Ronan
James Michael "Mick" Janzer '12, Missoula
Kaitlin Anne Kenney '12, Englewood, CO
Friends
Michael J. Albert, Great Falls
Delores Imogene Derden Baker, Great Falls
Barbara F. Battin, Billings
Dorothy Virginia Beardmore, Ramsey, MN
Donald L. "Don" Beaver, Coeur d'Alene, ID
Paul C. Beckstrom, Whitefish
Sharon A. "Shari" Bellingham, Boca Raton, FL
Thelma A. Berntson, Glendive
Evelyn M. Cook Boucher, Portland, OR
Andrew McIntosh "Andy" Boyack,
Rohnert Park, CA
Dorothy J. Boyer, Rockford, IL
Barbara Larkin Buentemeier, Columbia Falls
Opie W. "Buzz" Campbell, Missoula
Myrton R. "Myrt" Charney, Missoula
Sara Jane "Sallie" Murphy Sheridan Corette, Missoula
Theresa K. Corra, Missoula
Shirley Cowan, Deer Lodge
Lawrence Boyd "Larry" Cozzens, Billings
Marilyn "Mike" Cregg, Missoula
Montana Gale Decker-Theisen, Great Falls
Colleen H. Fahey Derry, East Wenatchee, WA
Leroy Edward Dufner, Glendive
Danny "Dan" Dutton, Missoula
Margaret Louise Engberg, Kalispell
Catherine Henriette Bollen Everingham, Missoula
Robert Patrick "Bob" Farrell, Glasgow
Judith J. Lauchaire Field, Missoula
Benjamin Frederick "Ben" Flaig, Missoula
John Rodney Four Colors Jr., Havre
Jerry Lee Gall, Missoula
William Michael "Bill" Geary, Helmville
Margaret E. "Marg" Kirkpatrick Gerlach, Missoula
Alma Charlotte Erika Johnson Godtland, Butte
Harriet Welsh Gray, Great Falls
Lawrence Edward "Larry" Gregory, Laurel
Evelyn M. Grinde, Dayton, OH
Fred H. Hager, Nine Mile
Ralph Halverson, Lakeside, CA
Carol Jeannie Harrington, Bellingham, WA
Margaret "Peggy" Draper Hash, Kalispell
Charles "Keith" Henault, Hamilton
Albert John Hendricks, Westland, MI
Amanda Rebecca Ann "Mandy" Henson, Missoula
Robert W. "Bob" Hiatt, Billings
John William "Jack" Hilleboe, Lakeside
Harold "Ed" Hogan, Missoula
Inez Hoopes, Helena
Barbara Ann "Barbie" Baker Hopkins, Havre
Elizabeth "Betty Ann" Kaus Husebye,
Carlsbad, CA
Hugh Monroe "Buddy" Jackson, Cut Bank
Thomas Michael "Tom" Janzer, Great Falls
Leonette "Ona" Rudel Lodmell Jaumotte, Choteau
Beatrice M. "Bea" Jenkins, Oak Harbor, WA
Arthur Lorenzo "Hap" Jennings, Deer Lodge
Clifford Paul "Cliff" Johnson, Kalispell
Helen Tyler Johnson, Missoula
Thelma Leona Martin Jungers, Ronan
Janet Kaschke, Polson
Thomas Francis "Tom" "Lit" Kelly, Butte
Clinton Hamlin "Clint" Kelson, Beaverton, OR
Doris M. Kerr, Missoula
Bettina N. Kornbluh, Sleepy Hollow, NY
Tamis A. "Tammy" McCullough La Salle, Hamilton
Florence Marie Coffman Larson, Troy
Richard "Dick" Gill Linse, Ronan
Betty Hoops Long, Stevensville
Claudia Dille Lozeau, Kalispell
Nathalie Sue Allen Lyon, Missoula
Ray H. Malcolm, Missoula
Darlene "Audrey" Powell Manley, Big Timber
Errol Denis Mann, Missoula
Carol Sue Morin Mapston, Arlee
Ronald W. "Ron" Martino Jr., Missoula
Diane "Di" Dreo Michna, Greenbrae, CA
Robert Burns Murray II, Huston, ID
Norman Dexter Nichol, Westlake, OH
Virginia "Gennie" Nord, Tripoli, WI
Robert F. Oldenburg, Lewiston, ID
Allie Patricia "Pat" McFadden Ori, Dillon
Dean Ovitt, Dillon
Helen M. Bayers Paige, Philipsburg
Jerry D. Paro, Dayton
Erdwin Henry "Bud" Pfuhl Jr., Kalispell
Margaret Ann "Mugs" Klingler Stelling Pieters, Missoula
Steven D. "Steve" Powell, Victor
Joan Marie Sullivan Powers, Mesquite, NV
Eleanor L. Becker Pruett, Shoshone, ID
Dolores E. Kent Rapp, Missoula
William James "Bill" Robbins, Lakeside
Patrick R. "Pat" Robins, Missoula
Edward "Roy" Robison, Sun City, AZ
Nancy L. Grimes Roch, Great Falls
Charles Lee "Chuck" "Charlie" Rowland,
San Francisco
Leonard Frank "Len" Ruggerio, Victor
Bessie Hadzor Rule, Butte
Annastelle Long Sanders, Anaconda
David Ross Schlieman, Sonoma, CA
Roberta E. "Bea" Hudson Scotten, Florence
Walter Sells, Butte
Donald LeRoy "Don" Schmitt, Cannon Falls, MN
Dan Sandall Scott, Worden
William Richard Spicher, Whitefish
Daniel M. Stehle, Flat Rock, NC
George B. Stipe, Thompson Falls
Margaret C. "Peggy" Voorhees Taylor-Miles, Beaverton, OR
Patricia Lynn "Pattie" Ireland Tornabene, Missoula
John Luther Trusler, Ashland
Kathleen "Kay" Hager Turman, Enumclaw, WA
Shirley Phillips Tutvedt, Kalispell
Larry A. VanRinsum, Kalispell
Adele Louise Walenciak, Polson
Robert O'Neil Wallace, Kalispell
Lynette Mendenhall Waller, Lewistown
John W. Walsh, Marco Island, FL
Clinton Brent Warburton, Ennis
Bruce H. Watson Sr., Bolingbrook, IL
Gertrude Marie "Mac" Weikel, Missoula
Robert Myrl "Bob" Weikel, Missoula
Helen Dorothy Wetzsteon, Billings
Judith Elizabeth "Judy" Birch Williams,
Great Falls
Maxine Louise Wolfe, Great Falls
Beth Sheffels Wolff, Great Falls
Beverly June "Bev" Yates, Stevensville
Beverly Jean Brian Yost, Hayden, ID
Margaret Mary Bemis Zahn, Portland, OR