The Magazine of The University of Montana
AROUND THE OVAL
Missoula in the Blood
Students, faculty invest time and heart in Winter in the Blood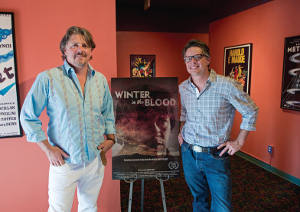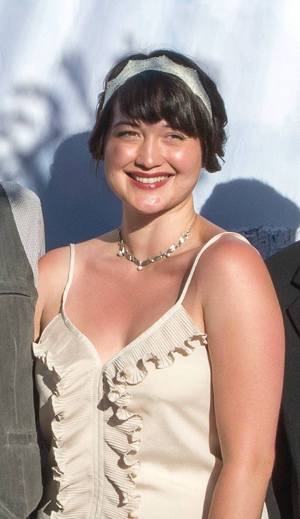 TOP Co-directors Alex and Andrew Smith, from left, at the Montana premiere of Winter in the Blood.
BOTTOM Lily Gladstone PHOTOS BY TODD GOODRICH
Missoula doesn't often host movie premieres, especially with Hollywood film stars and red-carpet photo ops. But for the recently released Winter in the Blood, the July film premiere at the Roxy Theater was a fitting celebration for a film rich not only with Montana influences, but University of Montana contributions to the core.
The film is a hauntingly true adaptation of UM alum and former creative writing instructor James Welch's novel of the same title. Co-director Andrew Smith, an associate professor in UM's School of Media Arts, developed the film with his twin and collaborator, Alex Smith, and producer/screenwriter Ken White over the course of several years on Montana's stark Hi-Line.
For the Smith brothers, who grew up in Missoula and knew Welch as a family friend, making the film often was challenging, but highly satisfying. It also allowed Andrew to offer his students a taste of the triumphs and tribulations that go along with filmmaking.
"We had a ton of students working on Winter in the Blood in their first kind of feet-to-the-fire experience on a feature film," he says.
About fifteen UM students and recent grads helped with filming on the Fort Belknap Reservation and other pre- and post-production work on campus, gaining course credit and internship experience. Students Lauren Monroe Jr. and Travis Coleman secured Native internships to work on the film that were sponsored by Native American Public Telecommunications and the Seattle-based nonprofit Longhouse Media.
Notably, one UM alumna had a major acting role in the film. Lily Gladstone graduated in 2008 with a bachelor's in acting and a minor in Native American studies.
Andrew saw Gladstone perform in theater productions on campus while she was a student, and she often popped up in his students' film projects.
"She was involved very early," he says. Gladstone read for the part of Marlene, a troubled lover and emotional mirror to Virgil First Raise—the film's protagonist—during early workshops. She later won the role, deftly portraying one of the story's most complex characters in an emotional and gritty sequence.
Behind the scenes, UM alum Patrick Cook '10 worked in so many facets of the film over more than four years that he received an associate producer credit.
Cook started working on Winter in the Blood in 2009 through one of Smith's classes, helping conduct early research on the film. Eventually, he also helped with casting, managed the film's Kickstarter campaign—garnering nearly $70,000—and raised another $32,000 in in-kind contributions for the production.
Cook now has launched his career as a producer. He currently is working on a screenplay and is producing Missoula filmmaker and artist Andy Smetanka's animated documentary about World War I.
A native of Missoula, Cook feels he received more than an undergraduate education through his work on Winter in the Blood and likens the experience to graduate school.
"The [School of Media Arts at UM] is still comparatively a fairly small film program, but what it lacks in size or equipment or studio space they have completely made up for in creative freedom and faculty support," Cook says.
Working with students on the film helped Andrew develop his ideas about teaching film courses as well.
"I'll teach screenwriting a little differently, teach directing a little differently, teach all my classes a little differently having made this film," Andrew says. "Just with eyes wide open, encouraging students to be ambitious, but also giving them a realistic sense of what they're going to get themselves into."
The Smiths currently are working out distribution for the film, which is scheduled to show at upcoming film festivals around the country. In early August, it won the grand prize at the Montreal First Peoples Festival.
—Bess Pallares
The President's Perspective:
Greetings!
Fall semester has arrived here at the University, and the energy level on campus has ramped up quickly. New students are moved in, summer orientation sessions were full, and faculty members are back in the classroom. The start of a new year always brings excitement and anticipation to campus and to our greater community. Here's a taste of what we're celebrating this fall and in this issue of the Montanan.
Recently, the city of Missoula was recognized as among the best college towns in the nation. Of course we didn't need anyone else to tell us this is a special place. We see it every day in the partnership programs between UM and Missoula organizations, in the internships and other outreach opportunities for students and faculty, and in the array of cultural and outdoors activities for which Missoula is known.
An essential part of the mission of Missoula College, our two-year college, focuses on community partnerships and development. We are grateful to the Montana Legislature for providing $29 million for the college during this past session. That, plus another $3 million we will raise as a match, will allow us to build an outstanding facility for UM, for Missoula, and for all of Montana.
The theme of this issue of the Montanan has to do with relationships that start on campus and then connect with the communities around us. Our cover story profiles an alum whose successful business today actually started when he was a student. Also featured is the John Ruffatto Business Plan Competition, which each spring puts students in front of business leaders to pitch their ideas. You'll see how students' success in the competition transformed their lives and created careers.
Another story in this issue explains our new Family Medicine Residency Program—an example of how UM works with the communities around us to improve health care. In cooperation with the health care units in Missoula and Kalispell, we have recruited the first class of ten new doctors who are interested in rural family medicine. The residents will spend three years in our western Montana communities, improving health care while developing their own skills and ultimately increasing the number of physicians available to residents in this state.
With the launch of the 2013-14 academic year, there is the feeling of fresh beginnings. We're looking forward to an exciting and productive year!
Sincerely,

Royce C. Engstrom, President
Notable Quotable
After years of trying to obtain funding for a new Missoula College facility, the Montana Legislature this past spring allocated
$29 million to construct a state-of-the-art building. The site of the facility has yet to be determined, and UM will have to raise an additional $3 million as a match. The Legislature also authorized the new Gilkey Center for Leadership, Entrepreneurship, and Executive Education, as well as a new student-athlete academic center. Other projects include a shell-out of the Adams Center basement, technology modular units to house the infrastructure for UM's network and data, and completing the Elouise Cobell Land and Culture Institute in the The Payne Family Native American Center.
UM hired Perry Brown as its new provost and vice president for academic affairs. "As the chief academic officer, it is a pleasure to focus attention on student success, on ensuring education for our current century, and on building the most dynamic learning environment that we can provide," Brown says. "It is a great pleasure to be able to work with so many talented faculty, staff, and students at UM." Brown served as interim provost since 2010 and dean of the forestry college from 1994 to 2010.
Eric Gutierrez was hired as UM's new director of equal opportunity and affirmative action in June. He serves as the University's senior EO/AA and discrimination grievance officer and oversees policies, practices, publications, and programs, as well as advising and training for faculty, staff, and students in all aspects of harassment and discrimination awareness, education, and prevention. Gutierrez serves as a member of the President's Cabinet.
Don Oliver '58, a longtime NBC News correspondent, died this past May in Spokane, Wash., at age seventy-six. Oliver covered major news events such as the civil rights movement, the assassination of Martin Luther King Jr., and the Vietnam War. Upon retirement from NBC, Oliver taught in UM's School of Journalism and was a member of the Montanan Advisory Board.
NASA recently awarded UM researchers a grant to support a $1.125 million project to build a dedicated observatory to detect Earth-like exoplanets. Are we alone? Is Earth the sole example of life in the Universe, or are there others? To find out, researchers at UM, together with partner institutions Harvard, the California Institute of Technology, and Pennsylvania State University, are building Project Minerva. Minerva is an array of four telescopes and a purpose-built, state-of-the-art spectrometer capable of detecting small, rocky planets in orbit around nearby stars. The goal of Minerva is to detect and characterize nearby exoplanets in the "habitable zone"—the region around a star where conditions are suitable for the presence of liquid water, which is the most basic building block of life as we know it. The team is led by astrophysicist Nate McCrady, an associate professor in UM's Department of Physics and Astronomy and a co-principal investigator for the project.
End of an Era
Lady Griz assistant Rocheleau calls it a career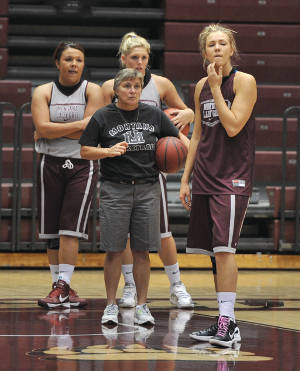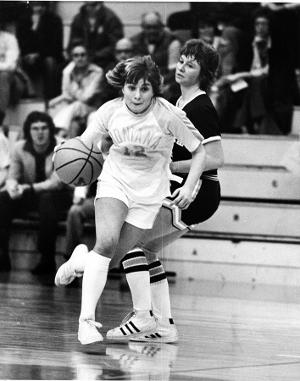 TOP Lady Griz assistant coach Annette Rocheleau is stepping down after thirty-two years with UM. BOTTOM Rocheleau played for the Lady Griz in the early 1980s.
The nation's most experienced women's basketball coaching staff is breaking up. Annette Rocheleau, who has been with longtime Lady Griz coach Robin Selvig as a player or assistant coach for all but thirteen of Selvig's 798 career wins, announced in June her decision to retire.
Rocheleau joined the Lady Griz as a transfer in 1979-80, Selvig's second season at UM. After playing for two years, Rocheleau became Selvig's part-time assistant and junior varsity coach. She moved into a full-time coaching position in September 1983.
Selvig completed his thirty-fifth season at UM last winter. Thirty-four of those involved Rocheleau: two as a player, thirty-two as an assistant. She was at Selvig's side for all twenty of the program's NCAA Tournament appearances and was a player or assistant coach for all twenty-three regular-season conference championships.
"It's never a good time to leave," Rocheleau says. "I'm bummed I'm not going to be able to coach the kids we have coming in, and I love all the girls we have coming back. But if you are going to look at that every year, you'll never find a good time to step away."
She didn't know it at the time, but her swan song turned out to be a memorable season. Montana won twenty-four games last year, the most since 2008-09, and the Lady Griz won the Big Sky Conference regular-season and tournament championships. Rocheleau's final game turned out to be Montana's NCAA Tournament game against Georgia this past March in Spokane, Wash.
"I feel good about my decision," Rocheleau says. "I'm getting out at a good time. Everything is going awesome. It's just hard to say goodbye to something that's been a part of your life for so long."
Despite Rocheleau's departure, Selvig still retains an experienced staff going forward. Assistant coach Shannon Schweyen will be in her twenty-second year this winter, and Trish Duce will be in her twentieth. Rocheleau's position won't be filled until after next season.
Not surprisingly, the winningest coaches in the game all have enjoyed the loyalty of a faithful assistant. Stanford's Tara VanDerveer [894 wins] has had Amy Tucker at her side the past twenty-eight seasons, the same length of time Chris Dailey has been on the staff of Geno Auriemma [839 wins] at Connecticut.
The winningest active coach in Division I women's basketball, Sylvia Hatchell [908 wins] of North Carolina, has had Andrew Calder at her side for nearly three decades.
For Selvig, who will pick up win No. 800 in November, the book remains open, but the chapters that had Rocheleau as one of the story's lead characters have come to an end.
"She was a big part of Lady Griz basketball for thirty-two years," Selvig says.
Student-Athletes Dive Head-First into Community Service
When Kent Haslam was named UM's director of athletics a year ago, he highlighted his desire for the Grizzlies to continue pursuing excellence both in competition and in the classroom.
He then stressed a third component of his vision for his department and its student-athletes: community service.
That vision became reality during the 2012-13 academic year. When the final count was tallied, UM's student-athletes had spent more than 700 hours engaged in community service.
The hours were spread among dozens of causes during the school year, such as the volleyball team working on a project for Habitat for Humanity, the men's basketball team showing up at Hellgate Elementary for the school's fitness campaign, the golf team packing boxes at the Montana Food Bank Network, and Griz football players spending an afternoon at Big Brothers Big Sisters.
"Getting out in the community really is a teaching tool," men's basketball coach Wayne Tinkle says. "It gives our athletes a skill set so that when they're done here and graduate, they are ready to attack the rest of their lives and be responsible human beings. It really sets the tone that it's not just about them.
"And it lets people know that these are quality kids who get involved in the community and do a lot of good."
Five Receive 2013 Distinguished Alumni Award

The outstanding accomplishments of five UM alumni are being recognized with the 2013 Distinguished Alumni Award.
Dorothy Bridges '80; George Dennison '62, M.A. '63; Jim Messina '93, '09; Milton Parsons '66; and Yoko Takeuchi, M.B.A. '87, will receive their awards at an October 4 ceremony during Homecoming. The Distinguished Alumni Award is the highest honor presented by the UM Alumni Association.
Bridges is senior vice president at the Federal Reserve Bank of Minneapolis, responsible for community development, regional outreach, and public affairs. Previously, Bridges was president of Franklin National Bank in Minneapolis and president of City First Bank in Washington, D.C. She is the only African-American woman to head a Minnesota bank and one of only a few nationwide. Bridges is on the board for the National Endowment for Financial Education and chair emeritus for Northwest Area Foundation, which works to alleviate poverty in the Northwest. Her talent and determination and commitment to the urban community have earned her much recognition, including the designation as one of "Ten People to Watch" in the Washington Business Journal.
Dennison, during his twenty years as president of UM, guided its transformation into a world-class research and educational institution. Dennison helped raise more than $500 million in private funds, research support increased tenfold, 720 privately funded scholarships were established, and the University awarded more degrees during the years he served than in its entire earlier history. As chairman of International Student Exchange Program, he helped develop it into a leading international education organization. He was instrumental in establishing The Payne Family Native American Center and the Osher Lifelong Learning Institute. Dennison served seventeen years as chair of the Montana Commission on Community Service and for eighteen years led UM's Campus Compact board, which promotes civic engagement at the university level.
Messina was named Internal Political Strategist of the Year by the Political Consultants Association for his role as campaign manager for President Barack Obama's re-election in 2012. He helped run a successful Missoula mayoral campaign while still an undergraduate at UM, and in 1995, served as U.S. Sen. Max Baucus' chief of staff and ran the senator's 2002 re-election campaign. In 2008, Messina was appointed chief of staff in Obama's campaign for the presidency. Before his selection as 2012 campaign manager, he was deputy chief of staff in the White House. One of his many responsibilities was helping lead the effort to pass the historic health care reform law and to repeal the "don't ask, don't tell" policy.
Parsons has championed environmental stewardship, sustainability, and social justice causes in his thirty-five-year career with the U.S. Forest Service. A Vietnam combat veteran, he continues in his retirement to promote these causes through the award-winning Veterans Green Jobs, a nonprofit he co-founded in 2008 and chairs. He served as the first national fisheries ecologist in the Forest Service, deputy director of legislative affairs, acting director for the Office of Tribal Relations, and executive director of the Western Forestry Coalition. Parsons has drafted ten bills that have become public law and represent some of the most far-reaching legislation on the management of public and private forestry lands in the United States in the past three decades.
Takeuchi is a pioneer in the field of human resource management and an important role model to young Japanese women. Her master's thesis, "Japanese Women in Business: Yesterday, Today, and Tomorrow," still is referenced as an excellent review of the place of women in Japan's workforce. Takeuchi has held several positions as director or general manager in internationally known firms such as Chanel, Hermes, Chaumet, The Disney Store Japan, and Louis Vuitton Japan. As a general agent for Human Synergistics Japan, she provides tools and services for corporate culture renovation and organizational and individual development. She is an active member of the Japan Management Education Society and the Japan Management Ethics Society.
High School Students Embrace Arabic Language, Culture at UM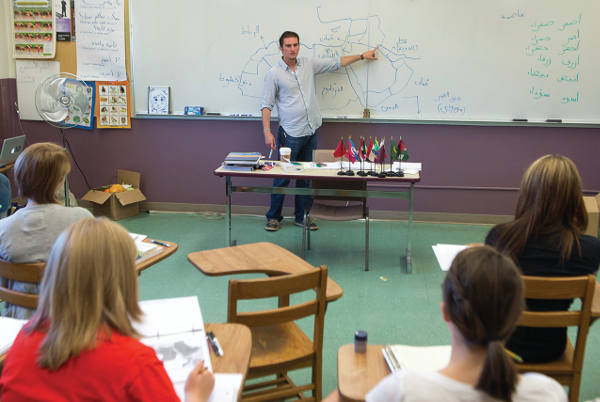 Brendan Work teaches high school students about the geography of the Arab world during the STARTALK Montana Arabic Summer Institute.
While much of campus was dormant during the summer, for four weeks the halls of UM's Liberal Arts Building were filled with the fluid, fast-paced lilt of Arabic as high school students participated in the STARTALK Montana Arabic Summer Institute.
MASI, which has been offered at UM since 2008, is funded by the National Security Agency's National Security Language Initiative—specifically the STARTALK program—with the goal of expanding and improving the teaching and learning of strategically important foreign languages such as Arabic.
UM Assistant Professor and head of the University's Arabic Studies Program Khaled Huthaily directs the institute, which offered twenty-three high school students from Missoula, Frenchtown, Lolo, and Forsyth the chance to participate in intensive language courses and cultural activities such as cooking and dancing.
The NSA funding covers tuition, fees, and textbooks. Students are divided into levels for those with no prior experience with Arabic, and those who have previously participated in MASI or have studied Arabic in their high schools. Upon completion of the institute, students receive five college credits.
Huthaily says the program went very well, achieving its linguistic and cultural goals.
"Students have requested that we prolong the program and open one more level," he says. "And STARTALK evaluators have suggested that we offer a residential option since UM is the only institute that offers such an opportunity for high school students, and the program is attracting students from beyond Missoula and Montana."
The format of the institute may sound intimidating, but young teachers, including Missoula County Public Schools Arabic teacher Brendan Work, bring vigor and firsthand experience to the classroom and lessons.
To help students better understand geography of the Arab world in preparation for their final presentations on a specific country, Work, who previously worked as a reporter and translator in the West Bank, guided the level-one students through a lesson infused with pronunciation advice, cultural tips, historical and etymological trivia, and good humor about his disproportionately drawn Africa.
And the students, for their part, embraced the experience.
"I made so many friendships and got to be in such a great community of people that wanted to help each other," says Kaylee Peters, a student at Missoula Sentinel High School, "rather than being in a classroom where there's almost a competition going on of who can get the best grade or who can answer the most questions."
UM Undergoes Rebranding

To better tell the stories of all the people who succeed at UM, a new University brand was revealed this past spring with one promise: Thrive.
"This always has been a great University," says Mario Schulzke '02, UM's assistant vice president for marketing. "We just really needed a fresh storytelling platform to be able to communicate to the public all of the amazing things that are happening at UM on a daily basis."
One of the most visible channels for the brand is UM's redesigned homepage, www.umt.edu. The site features compelling images that change weekly, as well as numerous stories about UM that are updated throughout the day.
A new logo, created by a group of UM designers, also was unveiled. UM has increased its presence on social media such as Facebook and Twitter, allowing stories to be shared to an ever-growing audience, including prospective students. A statewide billboard campaign has been launched as well.
"At the end of the day, our brand is about the students we impact and the people and place that make that impact," Schulzke says.
The brand is designed to be a focal point to energize and focus the message of the University.
"Our brand is something we live and breathe," says UM President Royce Engstrom. "It's the many stories we have to share about the richness of the UM experience and the tremendous successes of all kinds of people who come here and who graduate and make a difference in the world."
Send stories of alumni, students, or employees who are thriving to thrive@umontana.edu.
The Bottom Line:
$5 million:
Amount of a first-ever Phase III National Institutes of Health grant awarded to UM's Center for Environmental Health, which studies environmental impacts on human health
16:
Consecutive semesters Griz student-athletes have posted a cumulative GPA above 3.0
43:
Names now etched in stone at the Grateful Nation Fallen Soldier Memorial at UM
7:
Missoula's ranking on Livability.com's Top College Towns in America list
100%:
First-attempt passing rate of eight UM students taking the rigorous Board of Certification Exam for the Athletic Trainer, which is significantly higher than the national average
UM Strengthens Focus on Campus Safety and Compliance
A number of new programs to improve campus safety and athletics compliance now are in place at UM—some as a result of recent investigations and many that began more than a year and a half ago.
One of the most important developments is improved communications about the important issue of peer-on-peer sexual assault, which has plagued college campuses across the country, says Lucy France, UM legal counsel. UM has drafted clear policies and procedures about sexual misconduct and is using a variety of avenues to ensure that all members of the campus community are aware of what is expected of them.
In fall 2012, UM instituted an online tutorial for students called PETSA [Personal Empowerment Through Self Awareness]. A total of 15,177 students have completed the tutorial and required quiz. This fall, all employees will be asked to take an online Discrimination Prevention Tutorial, which will provide tools to identify, respond to, and prevent discrimination and sexual harassment.
This past spring and summer saw the conclusion of three investigations by the U.S. Department of Justice and the NCAA. On May 9, the DOJ confirmed the resolution of two investigations into the handling of allegations of sexual assault and sexual harassment, and—together with the University—announced collaborative agreements moving forward. The University voluntarily agreed to continue its work to prevent sexual assault and harassment on campus, to improve its response to reports of sexual assault and harassment, and to ensure that the Office of Public Safety's response to allegations of sexual assault is more effective.
"I take the responsibility of providing a safe learning and living environment on campus very seriously, and so do our colleagues," UM President Royce Engstrom says. "For that reason, we have initiated significant changes over the past twenty months to create a culture of compliance—one that promotes student health and safety and demands respect for all members of our community."
In addition to the new online tutorials about assault and discrimination, UM offers in-person training sessions to ensure that every employee who might receive reports of sexual misconduct, or who might need to respond to such reports, is prepared to act promptly and appropriately. Through surveys, focus groups, and confidential case reviews, UM plans to obtain additional information about the campus climate from the students it serves. The additional information will enable the University to continue improving programs and activities regarding prevention.
During the past year, UM has developed stronger relationships with community partners in local law enforcement, health care, advocacy, and resource programs that will help students whose needs reach beyond campus. Last fall, the University also hired an additional police officer who focuses on personal safety and campus community-building among students. To be more accessible to students, his office is in Jesse Hall.
In an unrelated and cooperative process, the NCAA on July 26 announced the conclusion of its investigation into the athletics department. The NCAA determined that UM failed to monitor its football program, finding instances of playing ineligible student-athletes, provision of extra benefits to some football players, and exceeding coaching limits on a limited basis.
UM Athletics hired an additional staff member for compliance who will focus on monitoring and increased education. The department also updated its policies and procedures to include monitoring of occasional meals for student-athletes and of payment for legal services.
The athletic department strengthened education about NCAA rules compliance for staff, coaches, and student-athletes. It also increased education for Griz boosters. Monthly compliance newsletters are forwarded to all booster groups along with weekly compliance tips. Educational pieces are included in all season-ticket mailings, and social media is used as another training tool.
The conclusion of the three investigations marks an end to a chapter in UM's history, Engstrom said in late July.
"Many faculty members, staff members, and students have worked hard this past year and a half on new processes and policies across campus, on new training, and on new communication tools," he says. "Our campus is stronger, safer, and more vibrant than ever."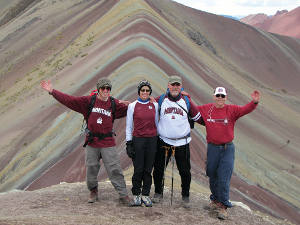 Where's Your GRIZ Been?
Three different decades of UM alums don their Griz gear atop a 16,500-foot peak along the Ausangate trek in the Andes in southern Peru. Pictured are, from left:
Dan Taylor '09, Annie Taylor '76, Steve Taylor '75, and Elton Adams '65.
"I have been climbing in Ecuador, Argentina, Africa, Nepal, and Russia, and this was probably the most spectacular area I've seen," Adams says. Congratulations, Elton. You have won a $50 gift card for The Bookstore at UM.
Do you have a photo of yourself wearing your Griz gear in an amazing place or while on an incredible adventure? If so, send it along with a brief description to themontanan@umontana.edu. Winners will see their photo published in the Montanan and will receive a $50 gift card to The Bookstore at UM. To be considered, photos must be in focus with the UM or Griz logo clearly visible.
MMAC Celebrates 120 Years with Permanent Collection Guidebook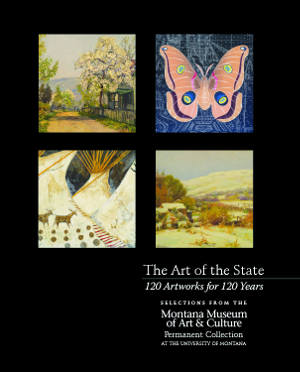 In the history of the Montana Museum of Art & Culture at UM, there never has been a guidebook highlighting the museum's Permanent Collection of nearly 11,000 objects. In celebration of the upcoming 120th anniversary of the museum, MMAC published The Art of the State: 120 Artworks for 120 Years.
Throughout its history, MMAC has committed to making its Permanent Collection not only an important resource for UM but also for the people of the state and region. The guidebook presents 120 carefully selected pieces from the museum's Permanent Collection, highlighting MMAC's most significant resource and providing access to this unique and little-known treasure that belongs to all Montanans.
Planning for the guidebook began in 2009, and its features include objects from MMAC's distinguished collections of American and European paintings, prints, ceramics, photography, religious art, tapestries, Asian works on paper, traditional and contemporary Native American art, and southeast Asian textiles.
While conducting research for the book, MMAC staff worked with international scholars, art historians, and institutions including The British Museum in London, The Metropolitan Museum of Art in New York City, and many more. Each entry includes a complete caption detailing the artist and their nationality and life-span dates; the object's title, date, medium, size, signature information, and donor information; and a brief biographical note and object history.           
"Without countless generous collectors and donors over the past 120 years, the MMAC Permanent Collection would not exist," MMAC Director Barbara Koostra says. "The guidebook publicly recognizes donor generosity in building this collection."
The vast collection—Montana's largest public art collection—does not have a dedicated facility. MMAC exhibits are displayed in the Meloy and Paxson galleries in the Performing Arts and Radio/Television Center at UM, and other pieces are displayed in buildings across campus. The majority of the Permanent Collection remains in storage.
Softcover guidebooks are available for $35, and hardcovers cost $55. For more information or to order, call 406-243-2019 or email museum@umontana.edu. For more information about the museum, visit www.umt.edu/montanamuseum.
Meet Grizwald,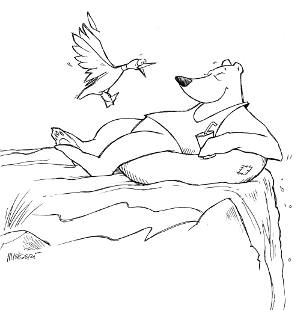 the University of Montana's cartoon bear. In the spring 2013 issue of the Montanan, we asked readers to submit captions interpreting Grizwald's actions in a humorous way. This issue's winning caption was sent in by Thomas M. Powers '56 of Billings. Congratulations, Thomas, you've won a Griz stadium blanket.
Stay tuned! In an upcoming issue of the Montanan, a new cartoon featuring Grizwald will need a caption. You could be the next winner!
Blackstone LaunchPad Campus Entrepreneurship Program Established in Montana
The Blackstone Charitable Foundation in July announced an expansion of its campus entrepreneurship program, Blackstone LaunchPad, to Montana.
The foundation's three-year, $2 million grant will establish a partnership between UM, Montana State University, and Headwaters RC&D of Butte to introduce entrepreneurship as a viable career option and provide students with a network of venture coaches and entrepreneurial support to transform ideas into sustainable companies. With a physical presence at UM and MSU, Blackstone LaunchPad has the potential to generate some 150 new ventures in Montana over the next five years.
Blackstone LaunchPad is modeled after a successful program developed at the University of Miami in 2008, which has generated 1,413 business proposals, created 210 new jobs and drawn nearly 2,600 participants. Each new regional program will be linked together, drawing ideas and best practices from the existing programs, while giving student entrepreneurs at UM and MSU access to a national community of more than 200,000 of their peers across affiliated campuses, as well as expert advisers.
The program will foster connections between the campus, business community, and local entrepreneurs to create an environment that nurtures young entrepreneurs and provides them the skills and network necessary to succeed. Unlike traditional college curricular programs available to limited school populations, Blackstone LaunchPad is open to all students at UM and MSU regardless of major.
Montana is the fifth Blackstone LaunchPad region, following Michigan, Ohio, Pennsylvania, and Florida.
$1 Million Endowment to Assist Nontraditional Student Scholarships
UM recently received a $1 million grant to endow its Osher Reentry Scholarship Program.
Osher re-entry scholars are students who:
• have experienced a cumulative gap in their education of five or more years;
• are at the undergraduate level and pursuing their first baccalaureate degree;
• anticipate workforce participation for a significant period of time subsequent to graduation;
• are ideally ages twenty-five to fifty;
• demonstrate financial need;
• and show academic promise and a commitment to obtaining their degree.
Across the United States, there are ninety Osher Reentry Scholarship Programs, with UM housing the only program in Montana.
"Montana is a state of small towns, with many residents coming from humble beginnings," UM President Royce Engstrom says. "Many students are returning to school after having spent years working in traditional Montana industries. The endowment comes at an important time for our institution and our state, as we work to increase significantly the number of people with college degrees."
Based out of San Francisco, the Bernard Osher Foundation first gave UM $50,000 in fall 2010 to start a program for re-entry students. From 2011 to 2013, UM awarded forty scholarships worth $2,500 each. After successfully administering the initial grant resources, the University was invited to apply for an endowment. Ultimately, the Bernard and Barbro Foundation, another Osher family philanthropic organization, awarded UM $1 million for the Osher Reentry Scholarship Program. While the endowment is being set up, the Bernard Osher Foundation awarded UM an additional $50,000 grant to use for Osher Reentry Scholarships in the interim, ensuring continuous resources for the program.
The endowment is set to start funding Osher Reentry Scholarships in the 2014-15 academic year.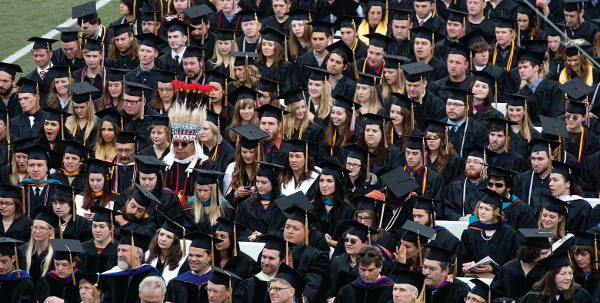 Despite chilly weather and a persistent drizzle throughout UM's 116th Commencement ceremony, the smiles on the faces of the graduates, their families, and the returning alumni from 1943, '53, and '63 could not be dampened. Jim Messina '93, '09, the architect of President Barack Obama's successful campaign for re-election, was the featured speaker. "If you're anything like me, this place, this campus, this city has become a comfort zone for you the past four years," Messina says. "And it's certainly true what Norman Maclean wrote: 'The world outside…is full of bastards, the number increasing rapidly the farther one gets from Missoula, Montana.' But you need to know he didn't write that line until he'd left Montana and was living in Chicago. He never could have written it if he hadn't left his village. Once you've gone out, once you've picked which worlds you want to conquer and done it, come back, tell your friends and families where you've been. Come back and appreciate the simple pleasures of a familiar house, recognizable streets, and a cozy bar. I suggest the Mo Club, but that's me." Also recognized were John and Sue Talbot, longtime UM supporters and important figures in Montana's newspaper industry and nonprofit sector, who each received Honorary Doctor of Humane Letters degrees.
Professor Honored with Prestigious 2013 Aldo Leopold Award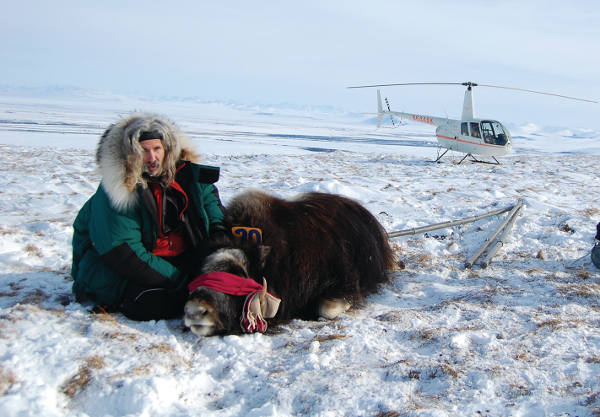 Berger radio collars an Artic musk ox.
The American Society of Mammalogists recently awarded UM Wildlife Biology Professor and Craighead Chair Joel Berger the 2013 Aldo Leopold Conservation Award. The award honors well-established individuals who have made lasting contributions to the conservation of mammals and their habitats.
Berger has addressed research questions about mammalian ecology and conservation in natural systems at wide-ranging geographic scales in Asia, Africa, and North America. This award recognizes his broad scope of work, which includes social behavior and ecology of wild horses, behavioral and demographic consequences of horn removal in African rhinos, effects of predator reintroduction on the ecology of prey species and on the structure of vertebrate communities, long-distance migration by mammals and conservation of their migration corridors, effects of climate change in the Arctic on demography and persistence of musk oxen, and conservation of large mammals in Bhutan, Tibet, and Mongolia.
The award is named after Aldo Leopold—the "father" of wildlife ecology and management—who is well-known for his famous land ethic philosophy and his influence on wildlife conservation.
FACETIME: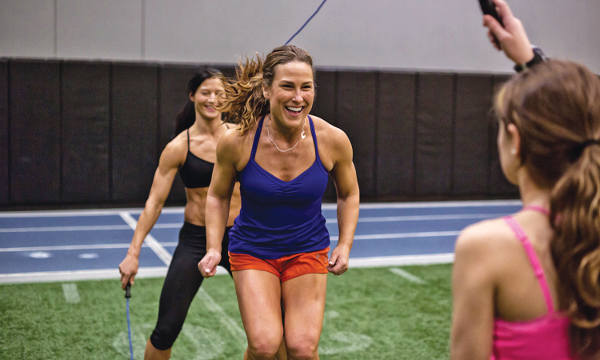 Jennifer Ferguson '93
It's something of an unmentionable, but some women love to hate their sports bras—those too-tight, too-ugly contraptions designed to protect our bodies from, well, our bodies. Instead of just complaining about the frump factor, Jennifer Ferguson '93 launched Handful, a sports bra and athletic tank top company that cheekily promises to "flatter, not flatten" its customers. "I just was on a run and was frustrated with the options," Ferguson remembers. "The gals were like, 'You're really particular. You should produce something like that.'" Starting Handful allowed the forty-two-year-old Great Falls native to put to work both her UM business degree and experiences as an athlete and fitness instructor. Seven years later, Ferguson is moving most of the Portland, Ore.-based business's manufacturing from China to Oregon, with help from a successful summer crowdsourcing campaign that raised $50,000 in presales to offset costs for Made in the USA rebranding. Ferguson says Handful's irreverent tone—color choices include a "no headlights white"—has resonated with customers.
I'm going to ask you a question and I want you to pretend like I'm a man when you answer it. Why do women care so much about what goes on with their breasts when they're exercising? A woman needs to have proper equipment. A great bra is a lot like a great pair of shoes. Why do you care about a great pair of shoes when you go for a run? Well, because they support you. Same thing with a bra.
What is it about the design of other bras that doesn't work? In the fitness apparel industry, back in the day you would just take a man's product and "shrink it and pink it"—take a man's shirt, make it a little smaller, call it a women's small. Really technical sports bras often are extremely uncomfortable and unflattering. You wear them for the short amount of time you need to wear them as kind of a necessary evil. You know, you have to dislocate your shoulder to get it on, and cut it off your body to get it off. It doesn't feel good, and it isn't fashionable. Then you have the fashionable bras that are kind of cutesy but have no support. That's why we now have women making products by women, for women, because we understand our own needs. We take our product seriously, but we try not to take ourselves so seriously. So we say: "Our product is not designed to shave five seconds off your P.R., and it's also not a little lacy number designed for getting lucky, but if you do either or both while wearing it, high five, sister."
What have been some of the milestones for your business? We started out online in November 2006. Originally we started out in my home. We now are in a fulfillment house, so our orders come into a third-party location. We now are an approved mastectomy bra as of 2010. Women who have breast cancer or have had breast cancer can get our bra paid for by insurance. We've pretty consistently been growing 15 percent to 30 percent each year. Since 2010, we've had a full sales staff of approximately ten national reps. That's helped us gain more of a national presence. A particular challenge for our company has been getting a strong, interactive website that's really user-friendly for customers and also gives the back-end reporting that our reps can access. Ultimately I feel like when we deal with web designers and the back-end portion of the web, it's like taking my car in to get fixed and they say, "What's wrong with it, and how do you want it to be in the future?" It's really hard to think in that language, because I don't speak that language. So I say, "Well it's making this noise, and I'd prefer for it not to make this noise."
Our final milestone is being made in the USA. When we were made in China, we'd have to order our product six months in advance. We'd have to pay half of it down. When they shipped we paid the other half. Our local manufacturer can produce in two weeks. They give us thirty days to pay them. That six to nine months that used to be tied up in production we can now use for marketing and sales, which is a much stronger business model.
How did your product come to be made in the USA? The products made in the USA honestly were almost three times more expensive, and it just put us out of our price point for our customer. We got connected to this amazing company called WaterShed out of Salem, Oregon. They have worked really hard with us to keep their price point down. We're just hoping that being made in the USA is important enough for people that the sales will increase, and it will keep our margins where we need them to be. It's exciting that seven years into it a lot of what we've been working so hard for has come to fruition.
—Interview by Paige Parker '00