The Magazine of The University of Montana
THE BEST LAID PLANS
Aspiring entrepreneurs vie for big bucks at John Ruffatto Business Plan Competition
STORY BY CHAD DUNDASPHOTOS BY TODD GOODRICH
A few minutes before the John Ruffatto Business Plan Competition begins, Joe McMahon sits on a bench in the Gallagher Business Building half hoping his parents aren't going to show up.
Two days from now, McMahon will graduate from UM's School of Business Administration with a degree in management information systems, and his parents are in town from Seattle for Commencement festivities. Since they arrived early, they're also planning to watch him take part in the school's twenty-fourth annual statewide business plan competition. Except that right now, as he sits in his suit and tie waiting to head in and face a panel of around thirty judges primed to poke, prod, and otherwise deflate the presentation he's spent months preparing, having mom and dad on hand to witness it is starting to seem like a terrible idea.
"Secretly, I was hoping they'd be late and they might miss it," McMahon says. "I thought I'd be nervous with them in there."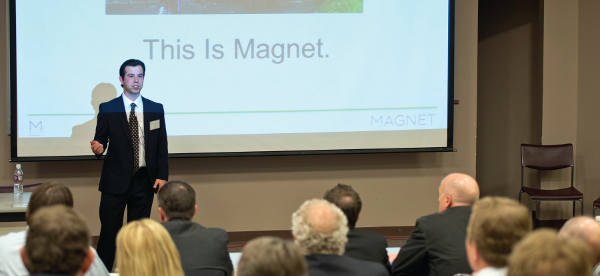 Joe McMahon, whose team created Magnet, presents to a room full of judges - and his parents - at the John Ruffatto Business Plan Competition this past May.
Hard to blame him. Nerves are running high for all thirteen finalist teams, who arrived on campus before 8 a.m. on this rainy spring morning to endure a daylong grind of presentations, critiques, and cuts in hopes of winning the competition's $10,000 grand prize.
For more than two decades, UM has called aspiring entrepreneurs within the state university system to submit their best ideas for the high-dollar, high-intensity contest. This year's finalists, chosen from a field of about two dozen written entries, will now square off in three rounds of oral presentations that feel part game show, part workshop, and part lecture series. Throughout the day, contestants make multiple presentations to a panel of judges comprising local businesspeople who already have reviewed their written business plans. The judges hear each team's sales pitch and then pepper them with questions, pointing out any potential flaws they see in the plans, offering up constructive criticisms, and sometimes indicating whether the ideas seem ripe for investment. Each team also is assigned a coach, who helps make changes to presentations from one performance to the next.
After each round, the judges vote and cuts are made. The field is narrowed from thirteen to eight and then to four survivors who advance to the final, evening showdown. There will be much fanfare, a giant check will be written, and members of the winning team will walk out the door with $10,000 to spend however they please.
So, you know, no pressure.
"This is one of the coolest nonathletic, student-focused events out there," says Cameron Lawrence, UM business professor and CEO of the Montana Academy of Distinguished Entrepreneurs, which oversees the competition. "It's really about the students, and you have judges coming in from the community who have gotten a ton of stuff done in their lives, and they're here for no other reason than to help these kids."
McMahon is here to pitch Magnet, his concept for a mobile device application aimed at busy twenty-somethings who often have trouble setting up social activities around their schedules. The app melds the most useful functions of email chains, social media, and desktop day-planners into one independent and easy-to-use service that can be downloaded to smart phones and tablets free of charge.
The buzz around the business school is that Magnet just might be a multimillion-dollar idea, but McMahon suspects he'll have an uphill battle in front of him today. Since he's not here pitching a traditional brick-and-mortar business, he and his partners worry their plan might strike some judges as a bit too theoretical.
"Our product is a little bit different, because it's a free app," he says. "We're trying to convey a new business model. We really wanted to bring the idea here and maybe try to open some eyes and turn some heads with a unique and different approach to the traditional business plan."
McMahon's parents arrive before his morning presentation begins, and everything goes smoothly. In fact, he knocks it out of the park in the first round. McMahon is affable and exuberant, and even when the judges stump him on a few questions about the finer points of his plans for Magnet, it's not a disaster.
After the first round concludes, he admits it actually helped having his parents there.
"It was really nice; it let me be in my element," he says. "I wasn't too nervous. I'm confident and practiced, and I know this idea front and back. It was really just trying to stay in the mindset that it's just like any other presentation. These judges aren't sharks trying to eat you alive—they're really trying to help you."
The judges did succeed in raising some significant questions about Magnet's financial forecast, and aside from McMahon's ability to establish a good rapport with the panel, it's impossible to tell how the tides might shift during the day. Will the financial questions be enough to sink him? That might well depend on the strength of his competition.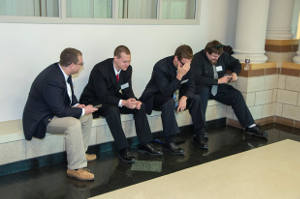 The University Valet team nervously awaits the results of the early round of the competition.
This group of 2013 finalists is an eclectic one. For starters, McMahon isn't the only one here pushing a mobile app. There's also Carlos Rivera, a thirty-one-year-old recent business school grad from Whitefish, who made the finals with his idea for a full-service food ordering application called Feastro. With his flashy animated presentation and seemingly boundless knowledge of the food service industry, Rivera may well be the most polished presenter in the field and possibly the biggest threat to win it all.
"I was scared to death; my legs were shaking," Rivera says after facing the judges for the first time. "Maybe you couldn't tell, but I was very nervous. Those are respected businesspeople in there. They can see right through any flaw you have in your business plan, and they're going to point it out. Luckily, I've done some research."
Magnet and Feastro represent the most high-concept, high-ceiling plans in the competition, and that puts them in stark contrast with some of their more traditional rivals. Other finalists include teams seeking to start a taco truck, a moving company called WeHaula geared toward students on campus, a campus valet parking service, and a sixteen-person party bike that will ferry groups of pleasure-seeking Missoulians on brewery and bar tours during the summer.
This year, three teams from Montana State University also made the field. Among them are a team of independent filmmakers who want to make a movie about the Bakken oil boom, a group developing a system to provide background checks for renters on behalf of property managers, and a duo planning to grow hydroponic heirloom tomatoes in Montana.
Most of the teams include students who either developed their ideas or honed them as part of classes they took at UM. This is true for the two women behind the Zoo Bike and Brew party bike concept. Christina Henderson and Aimee Roberts say they read an article about the European party bike craze in the Wall Street Journal but only began to consider it a viable option in Missoula after workshopping their business plan in a few classes.
"The idea has just kind of generated its own momentum," Henderson says. "We have competitive spirits, so we liked the idea of entering the business plan competition. We thought it would be fun."
"Also, we'd really like $10,000," adds Roberts.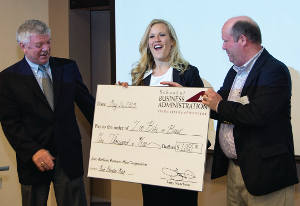 Aimee Roberts of Zoo Bike and Brew accepts a check for $1,000 for the "Best Elevator Pitch" category from UM's School of Business Administration Dean Larry Gianchetta, left, and James Grunke, CEO of Missoula Economic Partnership.
Henderson and Roberts are coached by John Giuliani, a Missoula native and owner of Montana Timber Products, an area business that supplies specialty lumber materials throughout the West. Giuliani says he became familiar with the party bike concept after seeing one in action while on vacation in Bend, Ore. He's certain that win, lose, or draw on this day, Henderson and Roberts have a moneymaker on their hands if they can get a similar business started in Missoula.
"There's no doubt in my mind that they can do this and kick butt with it," he says. "Their plan was really well thought out, and their responses [to questions] were fantastic. They seemed very open to feedback. I think they did a great job."
Giuliani's only real recommendation for the Zoo Bike presentation is one Henderson and Roberts didn't expect: He thinks the idea is so good, they should be a bit more ambitious with their financials.
"He basically suggested that we ask for more money, which kind of surprised us," says Henderson. "But I thought it was a great suggestion and kind of encouraging that he thought we could get even more investment in our plan."
As the day goes on, cuts are made and teams start to bow out. After the morning round of presentations, the independent filmmakers are gone, as are the on-campus valet parking team and a team with plans for an upscale baby boutique in Missoula.
Following the afternoon session, the second round of cuts are particularly close. Initial voting ends with Zoo Bike and Brew tied with WeHaula to see who will advance to the final round, and the competition's head judge is forced to step in to cast the deciding tally.
She votes for WeHaula, and the party bike idea is eliminated. Henderson and Roberts will have to look elsewhere for the funding to get Zoo Bike and Brew rolling.
By the evening performance, only four teams remain: Feastro, Magnet, WeHaula, and MSU's hydroponic tomato group, Babylon Produce.
The competition moves from the business building's smaller classrooms into one of its large lecture halls as a crowd of a couple hundred spectators gathers. An upscale party atmosphere takes over, drinks and dinner are served, and a PA system blasts the O'Jays' For the Love of Money on repeat. Then, for the third time in the past twelve hours and now with a few minor alterations, the surviving teams present for the judges.
Since the morning session, McMahon has omitted the parts of Magnet's financial forecast some judges found questionable. Again, his performance seems to go OK. On the other hand, Rivera's Feastro presentation, which was so polished and pitch-perfect earlier, doesn't appear to captivate the crowd in the big room quite the way it had earlier. Meanwhile, Babylon Produce makes a late push for victory, bringing a healthy dose of humor and an infectious charisma to its tomato presentation.
As the last presentations wrap up, it's anyone's guess who will walk away with the prize money. The final round of judging is a long one, and reports filtering out from the closed voting session say it is very, very close. In the end, the final decision is hailed as a sign of the times. The traditional business plans of Babylon Produce and WeHaula take third and fourth place, respectively, while the top two places go to the mobile apps.
Feastro comes in second.
And the winner is… Magnet.
"I'm ecstatic," McMahon says moments later. "I can't believe this happened. I think this is a huge step for this competition and for people like us who don't necessarily have the most traditional business plans, but have cool ideas that can be turned into legitimate businesses."
The runners-up are understandably disappointed, but most say this won't be the end for their businesses. Many intend to push on and see their ideas through to the marketplace. Most receive smaller awards and prizes from the judges, and people involved with the competition often say the experience and knowledge gained through participation can be just as valuable as actually winning.
"This isn't make or break for us," Rivera said earlier in the day. "We'll still come up with the money somehow."
Right now though, it's McMahon's time to shine. On stage, they take his picture holding a giant check in the amount of $10,000, and the soon-to-be graduate grins from ear to ear, his face bearing the exhausted-yet-relieved look of a guy whose future just got a little brighter.
He shakes a hundred hands and makes plans to meet up with friends later to celebrate.
First, though, he goes off to hug his parents.
---
Winning Ways
Numerous businesses have roots in business plan competition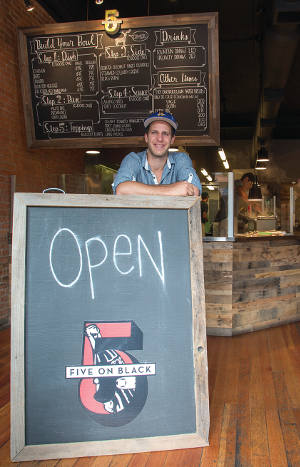 At lunchtime, the line at Five on Black in downtown Missoula often stretches out the door, but a couple of hours later, things have quieted enough for owner Tom Snyder to take a seat at the bar near the popular restaurant's front door.
With his laptop on the table in front of him and an easy smile, things appear to be going well for Snyder these days. The twenty-four-year-old Missoula native credits his win at the 2011 John Ruffatto Business Plan Competition as part of what set up Five on Black for success in the real world.
"I ask myself this a lot," he says. "'If I hadn't won the competition, would I have had the confidence to move forward in this?' I think the answer is yes, but I don't think it would have been as easy of a process. Really, more than winning the money, it was the community support and the support of the judges that gave me confidence."
Snyder came up with the plan for Five on Black after his junior year in college, and now that the restaurant is the taste of Missoula's downtown lunch scene, he seems to be setting his sights higher.
"The thing that motivates me is really the challenge," he says. "Pushing myself and pushing the limits of what we're able to do. I feel like that's the goal of this business. If that means opening ten more locations, that's great. If that means opening 1,000 locations, so be it."
Some other businesses that got a leg up from UM's statewide business plan competition include:
Big Sky Brewing Co. was founded by Bjorn Nabozney '93, Neal Leathers, and Brad Robinson in 1995 and has since grown to be Montana's largest brewery. It currently boasts forty-five employees and estimates it sold forty-eight thousand barrels of beer in 2012.
American Expedition Vehicles won the competition in 1996. Owner Dave Harriton offers custom aftermarket design and accessories for Jeep Wranglers. The company now operates facilities in Detroit and has been featured by Fox News, Forbes, and comedian Adam Carolla's CarCast. (See page 20 for more on Harriton and AEV.)
Orbital Shift, founded by Kevin O'Reilly '09 and Daniel Lande '09, creates online employee scheduling and time-clock applications for businesses. www.orbitalshift.com
Think Green Inc. sprinkler installation company won first place at UM's inaugural business plan competition in 1989. Dave Carlson '98, and his wife, Kecia, continue to operate it as a landscape and outdoor living design firm in Boise, Idaho.
Market on Front, a new deli and grocery in downtown Missoula, is owned by Ben Sokoloski, whose plan placed third in the 2012 competition. The market, which opened in late summer, focuses on providing local, fresh, natural, and regional products to customers in a convenient location. www.marketonfront.com
---
John Ruffatto: Namesake and Benefactor
By all accounts
, John Ruffatto [1920-1993] was a man of action—the kind of guy who put more stock in getting things done than sitting around talking about it.
"He wasn't a big fan of a lot of book learning," says UM School of Business Administration Dean Larry Gianchetta, with a laugh. "He really had a lot more respect for people who got out there in the trenches and figured stuff out."
A native of Brockton, Ruffatto also loved UM and taught finance at the school for a time after moving back to Montana from Spokane, Wash., in 1960. For more than three decades he was a community leader and successful local businessman, known for his gregarious presence at rotary and coffee club meetings. Today, a group of local entrepreneurs who hold monthly meetings at the Doubletree Hotel still calls itself the Ruff Club in his honor.
Knowing his penchant for practicality, it's no surprise that before his death at age seventy-three, the longtime finance veteran and chairman of the Murphey-Favre investment firm established endowments supporting not only UM's statewide business plan competition but also an annual award for the professor who best incorporates real-world experience into the classroom.
"He was very passionate about entrepreneurship," says Professor Cameron Lawrence, who won the Ruffatto Memorial Teacher Award in 2013, "and giving students the chance to advance their ideas. He also emphasized the importance of real-life education, not just theoretical. He wanted it to be very hands-on."
Gianchetta says Ruffatto would be pleased with the evolution of the business plan competition and with the quality of the plans that are put forth each year.
"He may have overseen this year's competition," Gianchetta says. "He may be overlooking all of it. And I think he would be very impressed at how it's grown."