The Magazine of The University of Montana
Alumni Profile: It's a Jeep Thing
Dave Harriton's career began with four AAA tows and UM's business plan competition. Now he owns the largest and most respected Jeep accessory company in the industry.
BY JACOB BAYNHAMPHOTOS COURTESY OF AMERICAN EXPEDITION VEHICLES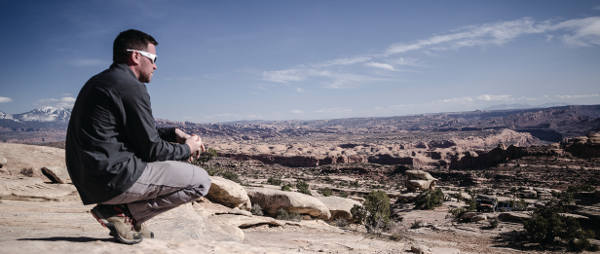 TOP - A Jeep Wrangler customized by American Expedition Vehicles traverses the landscape outside of Reykjavik, Iceland. BOTTOM - "Wranglers represent a sense of freedom - being able to get out and explore," says AEV founder Dave Harriton, pictured here in the backcountry near Moab, Utah.
When Dave Harriton left Mount Pocono, Pennsylvania, to head west for college in 1992, his parents sent him with two fateful things: a loaned 1991 Jeep Wrangler and a AAA membership. After two years at engineering school in California, Harriton arrived at the University of Montana, where he found in Missoula the outdoor adventure town of his dreams. He hiked and mountain biked. He learned to kayak.
And shortly after he immersed himself in Big Sky Country, in 1994, his AAA membership, with its four free tows, became the genie in a bottle through which he conjured up an unlikely career.
It all started with his dad's Wrangler. It was a capable two-door vehicle, able to carry Harriton and his kayak to remote whitewater put-ins, but it was a rough ride and cramped. If he could stretch it, he figured, he'd have more room and the longer wheelbase would make driving more comfortable.
His friend Dave Golden said he could cut the chassis in half and weld in reinforced frame rails to extend it, a standard in the trucking industry. So Harriton bought a $40 socket set and stripped the Jeep in his garage. He called AAA, who towed the chassis to Golden. After Golden cut and extended it, AAA towed the frame back to Harriton, who put the body back together. Then AAA returned it to Golden's garage, where he welded on new body parts cut out of sheet metal. Then AAA towed it back to Harriton, who finished it. The whole process took about a year, but Harriton's dream of a bigger, better mountain mobile now was a reality.
People noticed. "I'd walk out of the grocery store and someone would be lying under it, because they'd never seen one," he says. "It looked factory-made, but it wasn't."
A year later in 1996, Harriton sat in his capstone class in the UM School of Business Administration. His assignment was to put together an idea for the annual John Ruffatto Business Plan Competition.
"Everybody likes this Jeep," Harriton remembers thinking. "I'll just write an idea about stretching these Jeeps."
"I thought it wasn't going to be a successful plan," admits Donald Gaumer, an adjunct professor and one of the judges for that year's competition. [He now directs it.] "If you're successful at it," he told Harriton, "Jeep will just introduce a four-door vehicle and that will be the end of your business."
But Harriton persisted. He tweaked his business plan to include Jeep parts and custom accessories and won the competition, in large part, because his proof of concept was parked outside his classroom. "His show-and-tell was one of his finished vehicles," Gaumer says.
Buoyed by his success, Harriton walked his business plan down to First Security Bank and landed a $35,000 loan. It felt like $35 million. "It seemed like so much money at the time," he recalls. "I had no idea how I was going to pay it back."
But he figured if there was ever a time to take a risk it was now, when he had nothing to lose. Harriton put the money toward a new 1997 Wrangler, which he and his former partner, Mike Turner, stripped, stretched, and customized into a flashy prototype that they took to the SEMA [Specialty Equipment Marketing Association] aftermarket auto show in Las Vegas, the largest automotive show in the world. The vehicle won a design award from Chrysler, the makers of Jeep. It was heady affirmation for Harriton and his bare-bones startup, American Expedition Vehicles, but all the company's resources were tied up in that prototype vehicle.
"We came back from the show with five orders, but only $500 in our bank account," he says. Suddenly the road to a viable business looked as gnarly as the twisted, rocky tracks he drove to reach his favorite whitewater. But just like the vehicles he was building, Harriton thrived on overcoming obstacles.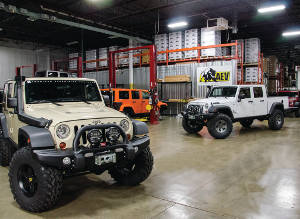 AEV and its partner company, Quality Metal Craft, operate out of a 500,000-square-foot facility near Detroit.
Harriton fell into the Jeep world almost by accident. Growing up in rural Pennsylvania, he'd always loved anything that moved—airplanes, cars, bikes. And he'd always liked to build things, ever since his first set of Legos. His first car was a 1981 Mercury Capri, not exactly a hot rod, but not his parents' Dodge Caravan, either. By the time he was living in Montana, his ideal off-road vehicle was probably a Land Rover. But he couldn't afford one. He had his dad's Wrangler, so the Wrangler would have to work.
It was fortunate happenstance. The Jeep Wrangler might be the most accessorized car in the world. It's ubiquitous, easily tinkered with, and grants its owners the ability to leave the asphalt for the rugged, adventurous beyond—in a convertible, no less.
"People are so regulated these days," Harriton says. "Wranglers represent a sense of freedom—being able to get out and explore."
As such, Jeeps long have fostered an enthusiastic fan base. Wrangler drivers wave to one another on the road. Online chat forums abound. "It's a Jeep thing," the popular bumper sticker reads. "You wouldn't understand."
So if there were a single vehicle with the charisma to support a parts-and-accessories company, Harriton had found it. "You could never do this with a Ford Explorer," he explains. "There is no culture."
"There's nothing else like them," AEV customer Gary Voigt says. "They're four-wheel drive, on-road, off-road. You can take the top off when it's sunny and put it on when it's not."
Voigt admits he's more of a collector than a serious off-roader, but he's had AEV modify four Jeeps for him. They first stretched and lifted his Rubicon and added a pickup bed to turn it into what they call a Brute—a Wrangler pickup for the serious off-roader.
"Everybody wants to know what it is and where it comes from," Voigt says.
Voigt liked it so much that he bought three more Wranglers completely customized by AEV. "I don't like aftermarket stuff that looks like aftermarket stuff," he says. "Their cars look like they've come off the showroom floor. I think they're proud of what they do. And they should be."
AEV's customers tend to be equally proud of their vehicles. They also tend to be adventurous. Two sisters, Amy Lerner and Tricia Reina, recently drove an AEV-equipped Wrangler across the Moroccan desert in the arduous, nine-day Rally of the Gazelles. They finished eighth out of 129 teams. Another customer, Todd Pendleton, just climbed Mount Everest with an AEV patch stitched to his jacket. He sent it to Harriton when he returned, with a couple of prayer flags from the summit.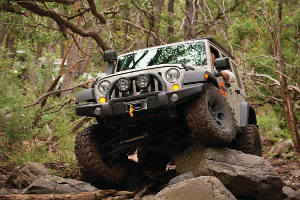 Going off-road in Costa Rica is no problem for one of AEV's Jeep Wranglers.
Harriton knew from the beginning that this adventurous customer base existed. Indeed, he counted himself among them. But he still had to prove his products. Early on, Harriton was working sixty- to eighty-hour weeks. The business was 100 percent consuming. It's the point where many startups fizzle out.
Harriton says it took him five years just to learn how to run a business. It was much more difficult in practice than in his head. "According to my business plan, I was supposed to be a millionaire by year three," he says. "I don't even think I was a thousandaire by year three."
But more than money, Harriton was after a quality product, and in the end his success boiled down to the hours he logged in the workshop.
"He spent the first eight years sleeping in a cot in the back of the shop and eating ramen soup," says Gaumer, the business professor who now is Harriton's friend. "He was really committed to getting it done."
Harriton first developed a slew of customized parts. He designed a custom front and rear bumper that were solid, attractive, and delightfully practical—the rear bumper, for example, can hold five gallons of emergency water. To make use of the wasted space behind the spare tire, Harriton designed a curved fuel caddy that holds ten gallons of gas—rendering obsolete the cumbersome jerry cans of yore. Harriton designs his parts like Swiss Army knives, and utility takes precedence. AEV's popular heat-reduction hood not only adds attractive curves to the vehicles, but is built to accommodate a snorkel and allow maximum air intake.
"It's always function over form," Harriton says. "But we never forget the form."
Soon, these products were speaking for themselves. In 2000, a Jeep engineer at Chrysler came to AEV to get his personal Wrangler stretched. In 2012, Chrysler asked Harriton to build hoods and bumpers for their special-edition vehicles. The order was a recognition of AEV's success from the very company whose vehicles Harriton had been modifying since college.
AEV's partner company, Quality Metal Craft, has 500 employees who work out of a 500,000-square-foot facility near Detroit where robots weld parts around the clock. It's the heart of the business, in the heart of the auto industry, and it allows AEV to receive Jeeps directly from the Chrysler plant, strip and stretch them, install HEMI V8 engines and all the accessory parts, and then ship them directly to customers. AEV customized models range from $55,000 to $110,000, including the base vehicle.
But Harriton keeps an office in Missoula for research and development—mostly because he loves living here. "I can snowmobile one day and float high water on the Lochsa the next," he says. And thanks to his good team in Detroit, Harriton has the freedom to focus on what he does best—design.
AEV's office is a nondescript one on Missoula's north side, easily missed but for the four stretched, lifted, and accessorized new Wranglers parked out front. The sparse, cubicled interiors are patrolled by Brindle, Harriton's imposing but docile mastiff who keeps watch over five designers, including Harriton's brother, Jordan, who builds electronics.
When I dropped by one Friday this summer, the designers were poring over a 3-D computer model of a new winch mount. All of the parts AEV builds are designed to work in conjunction, so a tweak of any part takes into consideration all the parts around it.
Harriton came out to meet me. He's a slim man, with short hair and a sunburned, grizzled face that betrays the time he spends outdoors. He told me about the business and then took me out to his personal ride—a grey Brute double cab with a 4.5-inch lift, 37-inch tires, and a 5.7-liter supercharged HEMI V8 engine with 520 horsepower. The whole package retails for about $100,000. He fired it up and with a throaty roar that pressed me back in my seat, we set off down the road for lunch.
AEV now has 800 U.S. dealers, sixty international distributors, and 100 Jeep dealerships that sell their complete vehicles. It's also a major sponsor of UM's John Ruffatto Business Plan Competition. Harriton participates in a weekend workshop each spring to help students develop their business plans. "It's incredibly valuable," says Gaumer. "Not only do I make an example of him in class, but he comes in and says, 'Here's my experience.'"
Harriton still spends plenty of time field-testing his vehicles, too. Each year he makes at least one big trip. When I met him he was preparing for an off-road adventure in Baja and a scouting trip in the Canadian hinterland—2,300 miles north of Missoula. Last year AEV shipped a pair of their Jeeps to Iceland, where Harriton and some of his employees spent ten days climbing volcanoes, fording rivers, and traversing glaciers. The Jeeps performed flawlessly.
"These vehicles aren't just for looks," Harriton tells me over sandwiches at the Dinosaur Cafe. "They're definitely meant to be used."
In order to keep growing, Harriton says, AEV constantly develops new products. The company keeps a close eye on Chrysler, which released a long wheelbase vehicle in 2004 and a four-door vehicle in 2007, just as Gaumer predicted. AEV has to stay nimble to adapt to the changes in the industry. Harriton doesn't see Jeep scrapping their Wrangler anytime soon—it's their most profitable vehicle—but it does get redesigned every decade.
"We always have to come up with something new," Harriton says. "It keeps us on our toes."
That spirit of adaptation helped propel Harriton from a UM student with an idea to a successful entrepreneur. That and a few tows from AAA.
All these years later, Harriton admits his membership has lapsed. He doesn't really need roadside assistance anymore, mostly because he's rarely on the road. Plus, with the vehicles he drives, getting into and out of tight situations is all part of the fun.
Web Exclusive Q&A with AEV Founder Dave Harriton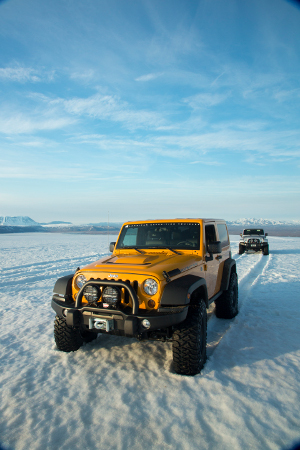 Q: What's one thing every aspiring entrepreneur should know?
A: My one suggestion for anybody who's going to start a business is to work in that field before they do it. Try to get as much knowledge as you can. I jumped in with zero automotive experience and had to learn everything. You'll need to learn to run a business, and you might as well do it in your field. Work for a similar business to figure out the mistakes and the realities. A lot of your presumptions are going to be wrong. Also, know and understand the finances. Knowing and understanding your product is really easy for entrepreneurs. But knowing and understanding the financial side is just as important.
Q: If you knew then what you know now, would you have started AEV any differently?
A: I think I would've done a lot of things differently, but in the end the only thing that would've changed is the time it took to get where we are now. I probably could've cut off eight or ten years to get here. I don't think you ever make mistakes, as long as you're learning from them. The stuff we do just takes so much time. We can do things really fast now that we've done it all before. Having not worked in the field first added a lot to the development time of our initial product line.
Q: What do you love most about your job now?
A: This is kind of what I've always dreamed of. I get to come to work and think up new ideas and play with them and try to make a product that makes someone's life easier and more enjoyable. I have a good team to help me turn these ideas into reality. For me, one of the best parts is going out with people, watching them, and realizing what their issues might be, and then trying to figure out a solution. I love being able to be creative every day.
Q: Have you thought of every accessory you can add to a Wrangler?
A: No. Certainly not, but we also can't make everything we want to. We're no longer a little tiny company; we now have to make a business case for everything. Before, we could just do things on a whim. A lot of ideas get sidelined, not because they're bad ideas, but because we have other ideas that make more sense on the business side. So while a product might be cool, if it's not going to move the needle on our bottom line, we've got to go with the product that is. We have a lot of ideas we haven't even touched. We only have so much time in the day.
Q: What's your favorite way to use these vehicles?
A: What they're intended for, and what I use them for, is to load up friends and dogs, and go out exploring. Camping for several days is what I like to do, not necessarily hard-core off-roading. But it's comforting to know how capable these vehicles are, should the situation arise. I like to go out and get as far as I can from cell service for a few days. On my motorcycle, I tend to do exactly the same thing. I like to mix it up. That way I may get ideas I can bring into our industry.
Q: How do you define success for AEV?
A: There's financial success, but then there's also just being able to stay in Missoula, Montana, and be creative and go out rafting after work, or kayaking, or motorcycling. Personally, that's a huge sign of success for me just being able to stay here. People love the company. The brand is strong. I'm definitely proud when I go somewhere else in the world and see our stuff and see people are proud of it. That's probably more important to me than the financial aspects.