The Magazine of The University of Montana
Raising Montana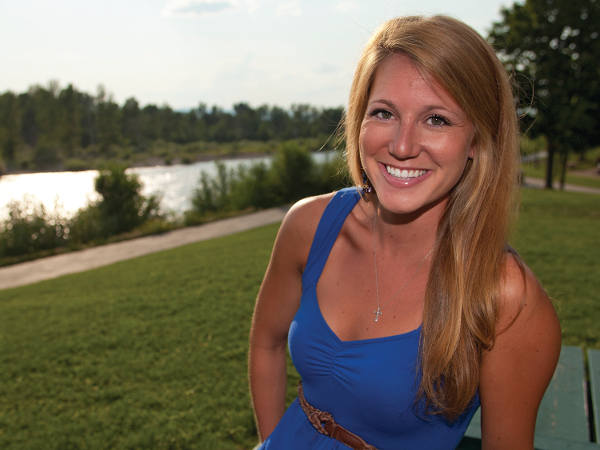 Kelsey Swingle
Return on Investment
Psychology student determined to succeed not only for herself but for UM, too
PHOTO BY PATRICK RECORD
It was a letter that transformed her life.
The summer after graduating from high school in Bozeman, Kelsey Swingle planned on starting college in Washington—until the day she learned she had been chosen as a Horatio Alger Scholar.
"That letter was significant," says Swingle. "Once I received the scholarship, my entire direction for college and my experience changed. I found myself at the University of Montana, and at a place where I could develop my passion and my career."
Each year, the Dennis and Phyllis Washington Foundation supports fifty Horatio Alger scholarships for students attending UM, Montana State University, or one of their affiliate schools. The scholarship is matched by the respective university for a total of $10,000 awarded during the course of the student's undergraduate career.
Swingle graduated from UM in May with a Bachelor of Arts in psychology, and, with a combination of other scholarships, her undergraduate degree was fully paid for. Swingle's dedication to achievement didn't go unnoticed, and she received the Mortar Board General Psychology Outstanding Senior of the Year Award.
Emerging without debt from tuition allowed Swingle to take the next step on her journey as she works toward the ultimate goal of becoming a counselor for families and young people in need. This fall she begins her graduate study at UM in clinical mental health counseling.
"During a difficult time in my life, counseling really made a profound impact on me," Swingle says. "I know how beneficial it can be, and I want to become that kind of resource for someone."
Sharon O'Hare, UM's assistant vice president for student success, says Swingle isn't alone.
"Students come to UM with unique challenges. Some struggle with the transition from high school to college, others with academic preparation or financial issues," says O'Hare. "In the past five years we have changed the culture at UM around the goal of student success. All of us who work and teach here recognize that our most important job is to help our students succeed. The big return on our investment is watching them go out into the world successful, educated, and ready for the next chapter of their lives."
As she begins her graduate program, Swingle says she will devote the same kind of energy and drive that she applied to the past four years of school.
"UM made a big investment in me when they provided resources for my undergraduate degree," says Swingle. "I avidly believe that life is not defined by circumstances or events we experience, but rather the way we react and interpret these moments. Finances were an obstacle, and it not only made me even more determined to succeed for myself but also to succeed for the University."
To help UM support students like Kelsey through scholarships, call the University of Montana Foundation at 800-443-2593.