The Magazine of The University of Montana
The Doctors Are In
New Residency Program Aims to Fill Void in Montana's Rural Health Care
STORY BY GINNY MERRIAM PHOTOS BY TODD GOODRICH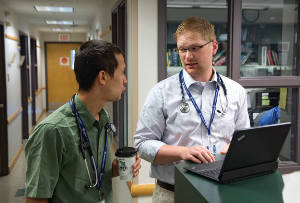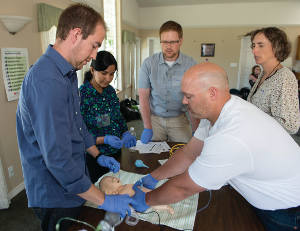 TOP: Saul Rivard, right, a resident in the new program, gets advice from Dr. Kevin chin, a physician with Partnership Health Center. BOTTOM: Under the watchful eye of Dr. Nerissa Koehn, right, residents Kevin Kropp, left, Harshida Chaudhari, Saul Rivard, and TJ Sherry undergo neonatal resuscitation program training at Clark Fork Valley Hospital in Plains.
When Saul Rivard left home in Livingston, Montana, for college, he committed to nine years of study and work at Brown University in Rhode Island to become a physician. In Providence, he learned to love seafood and beautiful ocean beaches, but he never stopped feeling homesick.
"Every time you come back, the mountains look more beautiful," Rivard says.
Today, he's back. Rivard is one of ten newly minted physicians who make up the first class in the Missoula-based Family Medicine Residency of Western Montana. The residents will get top-notch training in a rural setting and come out the other side in three years as board-certified family medicine physicians. And they'll be first in a concerted effort to ensure Montana's small towns have family practice doctors.
The program is inspired by necessity. Aspiring physicians in the United States go to medical school for four years and graduate with Doctor of Medicine or Doctor of Osteopathic Medicine degrees. After that, to be licensed to practice and board-certified in any specialty, they need to complete three or more years of a residency program. Upon completing residency, they take their board exams and begin their practices.
Montana ranks fiftieth of all states in its number of graduate medical education slots compared to its total population. The state's only other residency program, the Montana Family Medicine Residency in Billings, carries twenty-four students at a time, with eight in each of three classes. Of Montana's fifty-six counties, fifty-four are federally designated as primary-care physician shortage areas. Eleven counties have no physicians at all. As baby boomers retire and begin to need more health care, baby boomer doctors are retiring as well. Nearly 40 percent of American doctors are fifty-five or older, according to the Association of American Medical Colleges.
In Montana, approximately twenty-two primary care physicians will retire each year in coming years. New doctors tend to settle and practice in the places where they had their residencies. Billings' program produces a class of eight each year, 70 percent of whom stay and practice in Montana.
That's an alarming issue, says Larry White, director of the Western Montana Area Health Education Center [AHEC] based at the University of Montana and chief operating officer of the new residency program.
"If people tend to stay in the place where they last trained, and we are fiftieth in the nation in training, we are going to have some huge problems," he says.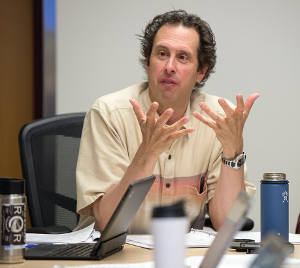 "I've been heartened that we have the right cohort of people," says Dr. Ned Vasquez, director of the residency program.
Back in 2009, it wasn't something that was at the front of the medical community's collective mind, says White, who was president of St. Patrick Hospital in Missoula for twenty-three years and joined UM's School of Public and Community Health Sciences in 2008. In spring 2009, Missoula had a visit from three people: the director of the Billings residency program; the Montana dean of the University of Washington-based WWAMI program—which supports medical students from five Western states; and a professor from the UW School of Medicine. They presented an idea to about twenty hospital CEOs, medical staff presidents, and Dave Forbes, dean of UM's College of Health Professions and Biomedical Sciences.
They brought a clear message: Montana needs a second residency program, and western Montana has the medical resources to support it. Would AHEC take the lead in a feasibility study?
"We said, 'Of course, we'd be glad to do that,'" White says.
First step: Invite family medicine physicians to the table by convening an informational meeting.
"Every single one of them said yes," White says. "They were very enthusiastic. So we had at least the emotional and philosophical support."
Doctors, in general, once they're in a stable practice, have the need and the desire to teach, White says, and to pass on to others what they learned in their formative years. That's as true in western Montana as anywhere else.
Next step: Form a committee. The physician who stepped up to chair was Dr. Ned Vasquez, who practiced family medicine at Western Montana Clinic's Lolo branch since 1986. Then began the most complex task: determining the financial feasibility. The committee brought on Barry Kenfield, former chief financial officer at Community Medical Center.
Hospital administrators were especially nervous about costs, with good reason, White says. Residencies cost money. The residents must be paid salaries—Western Montana's earn $50,000 a year—and so must the faculty and staff. Family medicine revenues generally come from Medicare, Medicaid, and outpatient clinic services payments. The 120,000 residency slots in the U.S. partially are supported by Medicare dollars paid to teaching hospitals, to the tune of about $11 billion per year. UM, as the residency host, has contracts with St. Patrick Hospital and Community Medical Center in Missoula and Kalispell Regional Medical Center. They now receive the extra Medicare funding as teaching hospitals.
By January 2011, the money worked. The first year's budget, with a class of ten and ten faculty and staff in Missoula and Kalispell, has a budget of $2.8 million. At the end of three years, the budget will be $6 million and the payroll fifty people.
The economic development benefits are substantial, Forbes says. The program will bring $4 million to $6 million in federal money to western Montana.
"It's good for the University; it's good for western Montana; it's good for the medical community; it's good for rural hospitals," he says.
In addition, it sparked a $5 million federal grant secured by Partnership Health Center, Missoula's community health clinic built to serve uninsured and underinsured patients. Today at the clinic on the northern edge of Missoula, the sounds of heavy equipment and saws dominate as local construction firms build an additional wing that will house the residency program. The expansion will add thirty-seven exam rooms, three procedure rooms, six behavioral health rooms, a group counseling area, and space for other services.
The residency program will be a boon for access to health care for Missoula-area patients, says Partnership Executive Director Kim Mansch. The clinic currently serves 12,000 patients. However, an estimated 29,000 people in Missoula County alone could qualify for Partnership services. In three years, the addition of the Missoula resident physicians seeing patients there will add access for 10,000 more patients, nearly doubling the clinic's capacity.
"The need is huge," Mansch says. "Right now, if you called and wanted to make an appointment with a physician as a new patient, it would be five to six weeks out."
Once the budget was in place, next up was accreditation. Vasquez came on as a half-time employee to lead that work, which required "mind-boggling detail," White says. Vasquez has a fat binder to show for the five months of work.
"It was daunting," he says. "It's a hideous document."
But it worked, and the program was accredited by the Accrediting Commission on Graduate Medical Education in October 2012. The program now is pursuing accreditation by the American Osteopathic Association for graduates with D.O. degrees.
In January, Vasquez came on full-time as director of the residency program. Though he claims to be inherently an introvert, he took on the work of networking physicians—not just faculty but others who support the program. About fifty Missoula doctors and thirty in Kalispell are involved.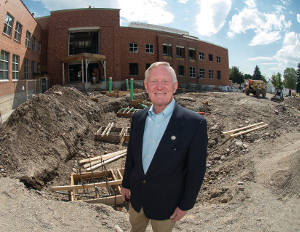 Larry White, COO of the program, stands in front of a still-under-construction wing of Parnership Health Center, which eventually will house the program.
The program was ready in March for the national residency match day, when every medical student in the nation anticipating graduation applies for residencies in specialties ranging from allergies to urology. Conducted by the National Resident Matching Program, it allows residency programs to rank applicants and applicants to rank programs. Western Montana's program had 110 applicants for the ten first-year slots. They interviewed fifty-five.
"We matched with all ten of our slots on the first day," White says.
They asked tough questions, Vasquez says, about the new doctors' desires for rural practices. And they stressed the mission.
"This is not about recruiting family practice physicians in Missoula or Kalispell or Bozeman or any other big city," White says. "This is about recruiting for rural Montana. This is the centerpiece of our mission."
The residents began the program June 30 and started seeing patients July 29. Eight of them have direct connections to Montana. Four grew up in Montana, and four are connected to Montana through a close relationship, such as a spouse. The other two have a strong affinity for rural Western communities.
"So we've attracted four back to their own state where they're likely to stay and practice," Vasquez says. "I think we've done a good job at attracting a class that will be proactive in developing the program and staying to practice."
Four of the ten already have asked for a rural elective.
"I've been heartened that we have the right cohort of people," Vasquez says.
Resident Megan Svec is one of the two residents not previously connected to Montana. But she felt at home after only three weeks and has made new friends. She grew up in Anchorage, Alaska, spent two years in Africa with the Peace Corps, and spent the past ten in Seattle, where she earned her M.D. degree at UW. She was ready to live in a community that's "a little more manageable" and work toward practice in an underserved area.
"My vision is a community health center like Partnership," she says. "I know that I want to be serving the uninsured and the underinsured—people who wouldn't get health care otherwise."
TJ Sherry grew up in Frenchtown, west of Missoula, played football for the Grizzlies while earning double-major undergraduate degrees, then earned a nursing degree before attending medical school in St. Lucia in the Caribbean. His wife is a kindergarten teacher in Polson. He's excited about a rural practice where he might be seeing a patient in a hospital and be interrupted to deliver a baby. He'll complete his second and third years of residency in Kalispell.
"I grew up hiking out my front door and riding horses, hunting, and fishing," he says. "My wife and I always knew we wanted to raise our kids here. It was not a question of whether we would come back but when."
Rivard, the resident from Livingston, says he and his wife met in junior high school at theater camp, and both look forward to being active in community theater in a small town.
"Everybody here has ties to Montana," he says. "The investment is in Montana."
In a sense, the residents and the faculty are pioneers, says Dr. Nerissa Koehn, associate program director of the residency. Participating in a new program in a rural state takes a certain kind of spirit. Koehn herself was born at St. Patrick Hospital and grew up in Missoula, where her parents work at UM, and graduated from Harvard Medical School. She worked eight years for the Indian Health Service in rural Zuni, New Mexico, where she directed resident and student rotations and grew to love teaching. She and her husband always wanted to return to western Montana, and the job with the program came along as if by magic.
Family practice medicine attracts special people who are well-rounded and care about patients in the context of their communities, she says.
"The relationships you form with rural patients are particularly meaningful because you become an integral part of the community," she says. "You don't take care of patients in isolation; you take care of them in the context of their families—from birth to death and in between."
The residents will practice in a team-based setting that provides a patient-centered medical home, a modern-day model that Partnership and UM champion and practice. It puts physicians together with pharmacists, physical therapists, and other practitioners for the patients' benefit.
"The concept is shifting from a paradigm where the physician is the captain and everyone else does the captain's work," Vasquez says. "Each person does his own work in his or her own specialty. It empowers every person to be responsible for the patient."
With the first class in place, White is ready to look down the road and imagine what success will look like.
"We'll know how well our efforts are going to pay off in 2016 when these people sit for their boards and choose where they're going to practice," he says. "I would not be surprised if 100 percent of them stay."
Montana's problems are "life-sized," he says, not overwhelming, and it's a place where two, three, or four people can make a difference. The residency program seemed destined to do that since its first steps.
"From the very beginning, Barry and Ned and I were facing obstacle after obstacle after difficulty, and each one seemed significant," he says. "But each one would yield and resolve. It almost seemed pre-ordained."
---
New Model Helps UM Premed Students Shine
Five years ago, 47 percent of the UM's premed advising students were admitted to medical schools. That's a ho-hum number in line with the national average of 50 percent.
But last spring, a whopping 80 percent of those students earned admission. It's all because of a proactive model that puts a nine-person team of advisers on the case. The program, which began five years ago in the Office of the Provost, brings that team together from across campus to help students succeed from the beginning.
"The old model of one adviser handling all premed students just doesn't work," says Mark Pershouse, UM's director of Premedical Sciences and coordinator of the program. "It's too much.
"The big difference now is when they first show up on campus as freshmen, they meet all nine of us," he says.
UM offers a premed concentration instead of a major. The advisers help students concentrate on their best areas and gain the knowledge they need to compete. They also help students travel to the nearest practice run for the Medical College Admission Test and to Bozeman to meet with advisers from the WWAMI program, the University of Washington-based consortium that supports students from five Western states.
Confidence is key, Pershouse says.
"It comes down to this one factor," he says. "It's one of the toughest concentrations on campus. You may have the best grades, but you're still sure they're not going to let you into medical school. We give them confidence."