Greenough Park
---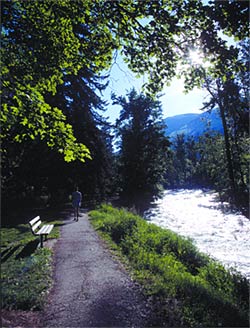 Greenough Park celebrated an anniversary in June, marking a century since Tennessee and T.L. Greenough donated the land to the city, asking only that "the land forever be used as a park and for park purposes to which the people of Missoula may during the heated days of summer, the beautiful days of autumn, and the balmy days of spring find a comfortable, romantic and poetic retreat." Nine years later T.L. Greenough wrote a letter to the Missoulian, stressing his interest in having the park remain in as close to a native state as possible.
A volunteer committee appointed by the city to oversee the park has tried to honor Greenough's wishes as it leads restoration efforts. Scores of volunteers—from high school students to retired UM professors—have worked to control invasive species and improve the biology of the park. Three new water crossings have been erected in response to one part of Rattlesnake Creek returning to its historic channel in 1997 (the result of a huge runoff from the 1996-97 snowfall). Other noticeable improvements have been the landscaping of native plants and shrubs on the east side of the park along Monroe Street.
Most UM students had some sort of relationship with Greenough while attending the University—whether it was to run through it with a track and field team, saunter down its paths picnic basket or book in hand, or meet a friend for an evening rendezvous. If you have a Greenough Park story, we'd love to see it. Please send your stories, in 750 words or less, to: The Montanan, University Relations, University of Montana, Missoula, Montana 59812.


AROUND THE OVAL | CLASS NOTES | ALUMNI NOTES
FEEDBACK | STAFF | ABOUT THE MONTANAN | ARCHIVES | HOME | CONTENTS

©2002 The University of Montana