Alumni News
---
A Letter from our New President
Don Nicholson is a native Missoulian who graduated from UM in 1956 with a bachelor's degree in chemistry. After a two-year Army-Armor tour, he began a career in the pulp and paper industry, holding positions with mills in Oregon, Montana, Kentucky, Wisconsin and Brazil. Don was married to Donna Goodmansen '56 (deceased) and has eight children and 14 grandchildren. Currently, he is general manager of the Rand-Whitney Mill in Connecticut. Don is retiring and will move to Missoula in December with his wife, Ardice Sayre '59.

"I am now in my second tour with UM and having a great time. Serving as a House of Delegates member and now as a member of the Board of Directors of the Alumni Association is a way to give back to a significant building block in my career.
"These groups are completely and unselfishly dedicated to promoting our University. There is energy, organization and intelligence evident everywhere we go about our work. The best part is that it's fun and we become good friends.
"Perhaps because of my business background, I want to devote attention first to making UMAA an organization 'worth' belonging to. If any of you see other alumni groups doing activities that spark your interest, send us a quick note.
"Secondly, we don't do a good enough job of retaining our newer graduates as UMAA members. If you have any 'worth it' ideas that would apply to retaining younger alumni, let us know.
I'm having fun with the alumni group. So can you. Get involved...Stay involved."
UMAA Introduces New Alumni Portal: zGrizzlies.com
A free Internet portal for UM alumni, staff, students, faculty and friends is now live at zGrizzlies.com. ("Portal" is computer-speak for a gateway or conduit to the Internet, often referred to as a "start" or "home" page.) The zGrizzlies.com portal is designed to build an on-line community among alumni, the University and the Internet.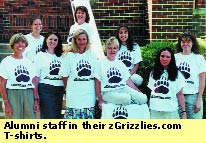 With zGrizzlies.com, users can customize their start/home page to display UM news, sports and activities; local and national news; sports; weather; personalized stock and travel tips; on-line shopping, entertainment, games, fitness and health information; and much more. Using this portal also generates revenue for the University. Each time a user visits, clicks or shops through zGrizzlies.com, a contribution is made to UM. Free e-mail is another portal offering.
Make zGrizzlies.com your start page. Go to www.zGrizzlies.com. Click on "Sign in" and submit your profile. Then, click on "Make This My Start Page" and follow the directions. Personalize your page. Then click on "Free e-mail" for this option. Now, sit back and enjoy all your Internet activities while supporting UM.
Home Again
Brothers John '61 and Tony Wertz '65 always had a home in Missoula. Their
grandparents lived on East Broadway, the site of today's Campus Inn. Their parents, Sherman '29 and Flora Horsky Wertz '34, built a home on Beverly Avenue where John and Tony grew up; later Sherman and Flora moved to Greenough Drive. Many times each year John traveled from his home in Arlington, Virginia, and Tony from his in Piedmont, California, to visit and stay with their parents. In 1998 Flora died, and this spring, at age 93, Sherman passed away. Suddenly, there wasn't a Missoula place to call home.

The Wertz family has strong connections to UM. Flora, a fifty-year member of Kappa Kappa Gamma, was the first female president of ASUM. She and Sherman met at his A.T.O. fraternity's Valentine dance. Their home was always a gathering place for University alumni, faculty and their families. Andy Cogswell frequently called on Sherman to help at local alumni events. The Wertzes all attended class reunions, Homecomings and

countless Grizzly events. Sherman's brother, Wesley '31, his sister, Montana '37, and John's daughter, Monica '98, all graduated from UM.
When John and Tony heard about the recent UC remodeling, they knew what to do. To honor their parents, they provided funds to furnish the new Alumni Room. Today, maple tables, boardroom-style chairs, counters and specially framed pictures of Distinguished Alumni Award recipients and UMAA Board of Directors members provide a beautiful and fitting tribute to Flora and Sherman Wertz.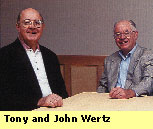 John and Tony will visit the room often. John will be returning for meetings as president-elect of UMAA's Board of Directors. Tony will bring his daughter, Elizabeth, to campus this fall. She's a freshman and a member of UM's volleyball team.
The day their picture was taken, John and Tony slipped into the Alumni Room before its current tenant, Carroll O'Connor '56, arrived to teach his summer class. The "All in the Family" connection felt right—it felt like home.
Let the Good Times Roll
In a letter of appreciation following his 60th class reunion,Willard W. "Will" Olson '40 wrote, "On our second night in Missoula, my wife, Esther, and I were looking for a good place to eat. We pulled up along side a motorcycle officer near the Higgins Avenue Bridge and asked for directions. 'Follow me,' he said and we had a motorcycle escort all the way to The Depot. I'm sure if I had told him I was from the class of '40 he would have turned his siren on for our ride through town."

Will sent this photo of himself and Esther—note his footwear. "On Thursday I couldn't resist rollerblading on campus for about 40 minutes," he continued. "A University professor we met took the photo." Will suggested the Alumni Office tell future reunion participants that rollerblading and skate boarding are allowed on campus. Will and Esther hiked to the M during the reunion and then drove around Flathead Lake to Kalispell and on to Helena, Butte and back to Missoula before returning to their home in Locust Grove, Virginia. Will is a retired U.S. Navy Commander, a twenty-five year naval aviator veteran.

"Thanks again for a week we'll always remember," he concluded. We surely will remember you, Will.
ALUMNI CALENDAR

September
9
Tailgate, Pullman, Wash.


(Griz vs. University of Idaho)
30
Tailgate, Spokane
(Griz vs. Eastern Washington)


October
5-6
House of Delegates


6-7
Homecoming 2000
14
Tailgate, Northridge
(Griz vs. Cal State Northridge)
22-30
Alumni Campus Abroad Ireland


November
11
Tailgate, Ogden
(Griz vs. Weber State)
18
Griz-Cat Football
(100th meeting), Missoula


January 2001
7-14
Montana Alumni Caribbean Cruise
---
AROUND THE OVAL• SPORTS • CLASS NOTES • ALUMNI NOTES
FEEDBACK•STAFF • ABOUT THE MONTANAN •ARCHIVES
HOME • CONTENTS


©2000 The University of Montana