Notes From Wall Street
by James 'Butch' Larcombe
---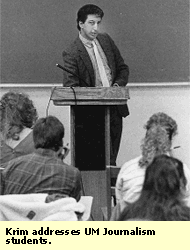 Distinguished UM Alumnus and prize-winning journalist Jonathan Krim talks of trading ink for the Internet, changes he sees in America's economy and trends likely to emerge in the near future.
By all accounts, Jonathan Krim enjoyed a wonderful newspaper career.
After graduating from UM in 1977 with a degree in journalism, he landed a reporting job at the Missoulian. There were stops in Arizona and Washington, D.C., before he joined the San Jose Mercury News, one of the nation's largest and most highly regarded newspapers.
Krim's career flourished. Over sixteen years, he held a variety of reporting, editing and senior management positions and, with other staff members, was honored with the Pulitzer Prize not once but twice"first for directing reporters and editors on 1986 coverage of the overseas investments of the Marcos regime in the Philippines and again in 1989 for coverage of the disastrous northern California earthquake.
Last year, Krim traded the rolling hills and teeming freeways of California's Silicon Valley for the narrow streets of lower Manhattan and the world of Web journalism. As executive editor at TheStreet.com, Krim supervises a seventy-five-member news staff, based primarily in New York and San Francisco, and oversees TheStreet.com's constantly changing menu of news, analysis, commentary and personal finance information delivered exclusively via the Internet.
He fielded questions about his career change, the world of Web journalism, the "New Economy" and financial markets in e-mail and telephone interviews. Here are the highlights:
Q: How many people visit the TheStreet.com in a given day? And what do they come looking for?
Krim: More and more, the stock market is one of the top three news stories in America. More people than ever are invested in the markets, and more people are participating more actively in their investments, so there's increasing need for authoritative information and advice. On an average weekday, we'll get about 1.4 million page views (counted by a click on a page or tool). We don't measure how many individuals that represents on a daily basis, but in an average month, about three million so-called unique users visit the site.
Q: We hear a lot about the New Economy these days. Has the U.S. economy truly changed? What role do financial sites such as the TheStreet.com play in our economy?
Krim: There has been stunning change as the nation has transformed from an industrial-based economy to a technology- and information-driven economy. Businesses of all stripes have been revolutionized, and those that don't change won't survive. Sites like TheStreet.com play an important role in the way people gather financial information and act on it. That doesn't alter the economy, but it's a reflection of two major trends: First, many businesses have changed the way they compensate employees, using stock, stock options and providing more investment-based retirement plans. Thus, more people have a growing stake in the financial markets. Second, the Internet has made trading fast and easy and has opened up a wealth of financial information to average investors. That's where we come in. Our goal is to help you make better investment decisions by being better informed.
Q: What led you to leave the Mercury News?
Krim: It was extremely difficult to leave northern California and the West. But after more than twenty-two years in newspapers, it was time to try something different, face new challenges, and learn a new medium. I'll be visiting Montana and California as often as possible, I hope.
Q: Why are print journalists flocking to electronic publishing?
Krim: It's a combination of several things. In some cases, pay has been an important factor. Frankly, I think it's about time highly skilled journalists got significant compensation. But as recent times have shown, you can't take stock options to the bank. Many, like me, were more drawn to the new challenge and chance of entrepreneurship and creativity that the online world affords.
Q: What's your take on the future of newspapers, as they exist now? Are the days of ink and newsprint numbered?
Krim: Ink on dead trees will be around a good long while. Newspapers are still highly profitable vehicles of credible, or at least credibly branded, local information, and the Internet is not likely to replace them as important local institutions any time soon. Interestingly, many people in newspapers predicted five years ago that newspaper classified ads would disappear in five years. In San Jose and around the country, the classified ad franchise remains a huge moneymaker, despite online competition.
Q: Several Web journalism sites, including Salon and CBS.com, have announced layoffs recently and others seem to be struggling financially. Is the boom in Web journalism beginning to fade?
Krim: I think there is going to be consolidation and I think that it's already beginning to happen. But this is not a sprint. It's a long run, and I think Web journalism is going to be around for a long, long time. But not every good idea is necessarily going to be a good business idea. It's still a learning process for all of us. I think the layoffs were a reminder that you have to make this work on many levels, including as a business.
Q: What are the implications of Web journalism for journalism students? Should they be preparing differently for a journalism career?
Krim: Not in the sense of standards, ethics and skills. Electronic publishing needs those things more than ever because it's so easy to throw up fly-by-night Web sites that try to pass themselves off as having credible journalism. It's vital, though, that students learn about technology and are comfortable using it. The computer is an increasingly important reporting tool as well as a publishing tool.
Q: How do you see the Web developing? Will it continue to transform our personal and work lives?
Krim: Absolutely. The next big trends are in the broadband and wireless areas. Broadband, which means streaming audio and video on the Web, is revolutionizing the music industry as we speak. And as bandwidth improves at home, more and more audio and video applications will come into play. Meanwhile, the amount of information that is available on wireless devices"pagers, cell phones, personal digital assistants, or some combination of those"is exploding. Wireless is going to have an especially large impact in developing countries that were never fully wired for land-line telephones. Now some of those countries have more cell phones than we do, and [that gives them] the same information opportunities as the rest of the world.
Q: Anybody who works at 14 Wall Street is required to have an opinion about the markets. Will we continue to see incredible volatility? Will New Economy tech stocks drive the market in the next decade?
Krim: I think the New Economy is quickly becoming the economy. Pretty soon there really won't be much distinction. I believe technology stocks will continue to be major market drivers because tech companies have the best chance for rapid growth, and that's what the stock market rewards. And volatility will increase as more and more individuals can trade in real time. I believe we're not far from a world in which people can sit at their home computers and trade stocks on dozens of exchanges around the world. But with that access and volatility comes the need for solid information and caution. Easier trading means it's easier to lose your shirt.
Q: Montana's economy is lagging behind much of the rest of the country. How can largely rural, resource-dependent states tap into the high-tech boom in terms of jobs and prosperity?
Krim: States like Montana have to diversify and find their way into the high-tech economy, and there's no reason they can't do it. The great thing about the Internet is that there's no geographical barrier to entry. But I was disappointed, on a recent trip to Missoula, to find that its diversification efforts seem more aimed at attracting big-box retailing. Being aggressive about attracting high-tech businesses requires creativity and a willingness to provide an attractive environment for technology companies. One key ingredient tech companies look for is a top-notch educational system, up through and including the college level, which Montana is not known for. And Montana needs to walk that fine line of natural-resource production vs. natural-resource preservation, which also would be an attraction for tech firms.
Q: Can Montana benefit economically from the decentralization of work made possible by the Internet?
Krim: I don't think that is going to drive an economy in a way that business that might locate there can drive an economy. It's hard to imagine that even if there were a substantial number of independent contractors or a significant number of people working from their homes, that it would have anywhere near the economic impact of new technology businesses and the ancillary services that could spring up around them.
James Larcombe '78 is media and public relations coordinator for D.A. Davidson & Co.

---
AROUND THE OVAL• SPORTS • CLASS NOTES • ALUMNI NOTES
FEEDBACK•STAFF • ABOUT THE MONTANAN •ARCHIVES
HOME • CONTENTS


©2000 The University of Montana