That Championship Season Where are the 1995 Grizzlies now?
By Nikki Judovsky
The number of Grizzly faithful grows each year, but there's no stronger bond than the one shared among former players. This fall marks the fifth anniversary of UM's greatest football team, the National Championship team of 1995. Their story is as good as any the University has produced in its storied 103-year gridiron history.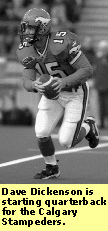 There were legendary quarterback Dave Dickenson, the undersized yet undaunted receiving corps, the staunch defense and, of course, the ultimate players' coach, Don Read.
There also was a second Big Sky title in three years, the record-setting run through the first three rounds of the playoffs, and the unforgettable championship game against Marshall University in Huntington, West Virginia.
The plaques and trophies that line the walls and trophy cases in the Adams Center are virtually the only signs left from that incredible season. Read retired after winning the title; longtime assistant Mick Dennehy took over at his alma mater, only to leave after the 1999 season to become head coach at Utah State. And the last of the players from that roster completed their Griz careers a year ago.
Assistant Bill Cockhill remains the only coach from the '95 team on UM's football staff. "Championships don't come and go. You always remember them," he says. "We're always working toward another one in this business."
"It's hard to believe it's been five years," says Matt Wells, an All-Big Sky Conference selection in 1995 who now works for a brokerage firm in Spokane, Washington. "More than anything, what's amazing is where the time has gone. It's starting to hit me now. At least last year there were some redshirts that were still around, but now everyone's different, even the coaching staff."
Glory Days
The changes, however, don't stop the reminiscing. Players are scattered from coast to coast, but they still take time out of their busy schedules to keep in touch. Inevitably, "The Game" comes up.
"We think about it quite a bit," Dickenson says. "It seems like so much changes every year. The guys I used to hang out with, though, we always have that common story."
Andy Larson will forever be the hero of the game, after his field goal from twenty-five yards out in the waning seconds clinched UM's first-ever Division I-AA National Championship, 22-20. Now living in Boston and working in the control department of a mutual fund company, Larson says he often recollects by either spinning through memorabilia at his home or calling an old teammate.
"I look at my rings occasionally and talk to a lot of the fellas I played with," he says. "It always brings back such good memories. I love The University of Montana. My goal is to someday get back there and be a professor or big booster or big fan. I'd love to do that."
The same sentiment rings true for Sean Goicoechea. The former strong safety graduated from UM's law school this past spring and is working for a Kalispell law firm.
"It seems just like yesterday," he says. "We talk about stuff they're doing and what's going on in our lives now. But we always circle back to when we used to play. Success regenerates itself and everybody in that class found that out."
Success Stories
No success story was greater than Dickenson's. His knack to pull out the close games time and again was second to none. And at 5-11, 175 pounds, he often did it against opponents nearly twice his size.
His uncanny ability to slip past defenders, avoid the sack and then deliver a strike became something of a pastime. That ability shone bright in the Grizzlies' final drive of the title game. With his team trailing 20-19, Dickenson took the Grizzlies seventy-two yards on twelve plays—the biggest coming when he dodged would-be tacklers and completed a twenty-yard pass to Mike Erhardt on a fourth down—to set up Larson's boot with thirty-nine seconds remaining.
By the time his Grizzly career ended, Dickenson had set twenty-six UM records, eight Big Sky marks and four more at the I-AA level.
His efforts earned him the honor of being Montana's first Walter Payton Award winner. The University retired his No. 15 gold and copper jersey and Dickenson continued his career at the next level, signing with the Calgary Stampeders of the Canadian Football League. He now is the team's starting quarterback.
"I've had a chance in my career to coach some outstanding quarterbacks," says Read, who was a head coach for nearly thirty years before retiring to Colorado. " I had Dan Fouts, June Jones . . . . In all of the physical areas those other guys ranked right in there with Dave ... but he was so intelligent, so competitive, so perceptive that he was able to avoid tacklers. He knew the field so well. The mental side of Dave was the best I've been around.
"If there's one thing I keep hearing is he'd play in a minute (in the National Football League) if he could take the punishment."
Dickenson's size may have precluded him, at least for now, from fulfilling his NFL dream. But scouts eyeing him got a glimpse of other Griz they liked as well.
Free Agents & Football Leagues
Eric Simonson (T '95), Blaine McElmurry (FS, '96), Joe Douglass (WR '96), David Kempfert (C '96), Jeff Zellick (G '96), Jason Baker (T' 97) and Jason Crebo (LB '97) all signed free-agent contracts with NFL teams in the years following. Many are still competing.
McElmurry and Kempfert are with the Jacksonville Jaguars, Baker signed with the Billings Bolts of the Indoor Football League, and Douglass is now a rising star of the Arena League for the Orlando Predators.
Quarterback Brian Ah Yat, a backup to Dickenson as a freshman, also is playing in the CFL. Dallas Neil, a freshman punter on the '95 team, earned a tryout this year with the NFL's Atlanta Falcons, and Scott Curry, an offensive tackle and second-year freshman during the championship run, was selected in the sixth round by the Green Bay Packers in 1999.
Professional Lives
"Those were some of the best days of my life," says Crebo, who lives in Missoula and attends a local Bible school. "It was a chance of a lifetime. I had the opportunity to play with some great players."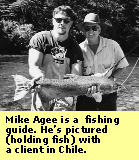 Like Crebo, most have traded in their cleats for another profession. Mike Bouchee (LB '96) completed law school and is working in southern California. Erhardt (WR '96) works for the Chamber of Commerce in a suburb of Portland, Oregon. Corey Falls (DE '96) is a member of the Seattle police department. Brian Toone (DT '96) is taking over his father's jewelry shop in Spokane, Ryan Thompson (DT '96) recently relocated to California, and David Sirmon (LB '96) is moving to Arizona to return to college for his master's degree in education.
Others haven't moved so far away. Mike Agee (G '96) is working in Montana as a guide, Nathan Dolan (WR '96) is in Billings, and Kelly Stensrud (RB '95) is in Missoula. Larry Tofanelli (WR '95), holder for Larson's winning field goal, is a teacher and football coach at Arlee.
No matter where life takes these former Grizzly champions, they all are certain to remain connected by that bond of a national title.
"I just found we had great chemistry," Dickenson says. "I don't think we had the best athletes necessarily, but everyone was playing for each other. We truly were friends away from the field."
Nikki Judovsky '96 is a sports reporter for the Missoulian.
---
AROUND THE OVAL• SPORTS • CLASS NOTES • ALUMNI NOTES
FEEDBACK•STAFF • ABOUT THE MONTANAN •ARCHIVES
HOME • CONTENTS


©2000 The University of Montana