Start-Up Savvy
by Ken Picard
---
UM graduates head up two new Internet companies in Missoula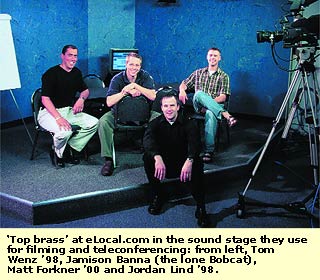 There's a saying in the warp-speed world of information technology that Internet start-up companies have to write their business plans on an Etch-A-Sketch or run the risk of being left in the dust by companies that evolve faster than they do. It's a tenet always on the mind of Jordan Lind, who heads up corporate strategy for eLocal.com, an Internet company launched two years ago by a handful of young graduates from UM's School of Business Administration.
"This business changes overnight," says Lind. "You have to be ready to change your business model and business plan with twenty-four hours' notice."
Lind ought to know. Since the company was founded in Missoula in June 1998, eLocal.com (then known as stateconnect.com) has become one of Montana's few high-tech success stories. From humble beginnings - a handful of UM grads working out of a tiny garage in East Missoula on an operating budget of $2,500 in student loans - the company managed to accumulate $2.5 million in venture capital in less than a year. Today, eLocal.com employs sixty-five people between its three-story headquarters in Missoula and its technology hub in Houston, Texas; a sales staff is scattered throughout the United States.
Like most success stories in the Information Age, eLocal.com identified a unique, untapped niche early on and quickly dug itself in. As its name implies, eLocal.com focuses on providing the most in-depth and comprehensive local content available on the World Wide Web. The company began by offering arts and entertainment information such as movie schedules, concert listings and golf course tee times, but soon expanded into more than 250 categories of advanced local content, including databases on doctors, lawyers and brokerage firms. Today, eLocal.com offers local data on 30,000 communities in more than 44,000 zip codes nationwide and is extending its reach into the global market.
"Local is where it's at," says Lind. "You live locally and so does everyone else. Everything you do on a daily basis is about your local surroundings, whether you're getting your oil changed, going to the doctor or going golfing. So the local space is absolutely huge."
ELocal.com is not a Web destination itself; it's a "business-to-business-to-consumer" provider that is literally creating the infrastructure for Web, wireless and cable platforms to deliver local content to customers. In fact, eLocal.com neither gathers nor sells content. Instead, it gathers the best local content available elsewhere on the Web - for example, the most comprehensive database on pharmacies in a particular community - then processes it through its own proprietary technology and delivers it back to the client.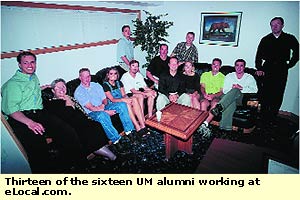 "Our competitors are people we want to turn into partners," explains Lind. "Other local companies don't have the staff or time to do what we do. So we say to them, 'We're not here to compete with you on a local level. We're here to give you the ammo you need to compete at the local level.' That's how we differentiate ourselves."
So what exactly are eLocal.com's people doing most of the time?
"Not sleeping," says Lind, though only partly tongue-in-cheek. Though employees at eLocal.com are paid salaries and benefits that are better than average for the Missoula job market, they earn it, often logging seventy-hour weeks, working nights and weekends and frequently sleeping on the office couch. It's a lifestyle that puts to rest the myth that dot-com companies - and Internet millionaires - are made overnight.
Needless to say, it takes a certain type of person to be successful in this new economy, namely a young one. With twenty-nine being the average age of the eLocal.com employee, it's little wonder the company has tried to create an atmosphere that encourages creativity, energy, innovation and fun, whether it's through company barbecues, basketball games on Fridays or toddlers meandering through the workplace.
"It's kind of like a small family," explains twenty-five-year-old company CEO and UM graduate Kelly Robbennolt. "To tell you the truth, to start a concept like this that constantly grows and changes, it takes young blood. It takes people who haven't been in business for thirty years, and it takes out-of-the-box thinking."
ELocal.com has been able to find plenty of that young blood in Missoula, tapping into an ample pool of UM graduates. Lind recalls the time not too long ago when he graduated from the business school and was handed a list of places to work. Not one of the businesses listed was a Montana company.
"Why should the talent pool of graduates from The University of Montana be leaving here?" asks Lind. "We should be keeping them here, whether in a technology company or some other type of company."
"What The University of Montana needs is companies like us," adds Robbennolt, the originator of the eLocal concept. "We use interns during the summers and evenings who are trained on the new technologies, and they go back to school and teach other people. That's what we've done. We have ten interns right now who will go back [to UM] and teach them what's really happening in the real world."
By most measures Montana has lagged behind other states in the Northwest and the rest of the nation in both its economic growth and its investment in high-tech industry. In 1997 Montana spent $199 million on high-tech research and development, compared with Idaho's investment of $1.2 billion, Oregon's $1.5 billion and Washington's $7.5 billion.
While Montana's average wages in 1998 in the high-tech sector were about 54 percent higher than the rest of the private sector, those wages were still well below the average for high-tech jobs throughout the Northwest.
"The market has changed faster than state governments have been able to change," says Robbennolt. "The problem - or opportunity - for Montana is, can we adapt? California has. Texas has. Utah has. Montana has to catch up."
The news is not all bad. As both Robbennolt and Lind point out, there are plenty of advantages to being a high-tech company in Montana as opposed to, say, San Francisco, Salt Lake City or Silicon Valley, where overhead costs and living expenses have skyrocketed. Competition for talented employees in those places has become fierce. Robbennolt says he's thankful his company resisted the urge recently to move to Silicon Valley because Internet companies there are forced to remain in continual recruitment mode, always watching their backs for whatever new benefits packages their competitors can afford to offer.
"The advantage here is that we're able to be in stealth mode," says Lind. "Nobody knows who we are and nobody knows where we're at, but hopefully we're coming on strong."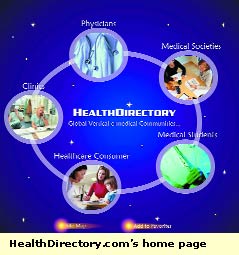 David Todd knows all about the advantages and pitfalls of running a high-tech Internet company in Montana. A self-confessed "computer geek" in high school, Todd founded HealthDirectory.com in Missoula three and a half years ago and has spent the last three years building his Internet firm into one of the premier medical information service providers on the Internet.
Essentially, HealthDirectory.com provides a host of services to educate and empower physicians and patients throughout the United States - from online patient scheduling, billing and prescription information to updates on cutting-edge technologies and ground-breaking medical advances.
HealthDirectory.com has carved itself a unique niche by partnering with about thirty-five medical societies representing 70,000 physicians nationwide. By working through established medical societies, Todd says, HealthDirectory.com can ensure that the information it provides to its clients is accurate, complete and up-to-date, lending it a credibility that can be lacking on other medical Web sites.
HealthDirectory.com, whose founders include UM graduate Dave Skilling ('76, M.B.A. '81), employs thirty-two people in its Missoula headquarters, all of whom were recruited locally. Todd emphasizes that his company is helping to grow the economy of western Montana not just by tapping into the local talent pool, but also by importing wealth into Montana; about 99 percent of the company's revenue comes from out-of-state physicians.
Skilling describes HealthDirectory.com as a "quintessential" Montana company: "We employ people locally. Our revenue comes from out of state, and we don't pollute."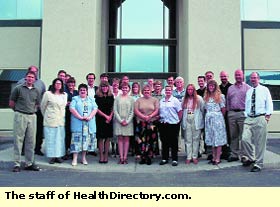 As to Montana's ability to compete with other states in high-tech growth, Todd and Skilling list a few obstacles, many of which they note already are being addressed: the broadband fiber-optic networks that enable high-speed transfer of data, transportation and other infrastructure issues, the state tax structure, availability of a trained work force and - a big one - venture capital.
Todd explains that venture capitalists have many companies to choose from and if things are equal, they are likely to go with a company located nearby. However, like Lind, he believes Montana's quality of life eventually will offset many of the difficulties his company faces today.
Skilling is interested in addressing another need: a skilled work force. He talks of helping to structure business and computer science classes at UM that will better train graduates for work in companies like HealthDirectory.com. And he is quick to laud one UM program - the Small Business Institute, where seniors and graduate students work with local businesses, helping them with everything from business plans to marketing programs.
"We've been involved with that program since we started," he says. "One of our Web developers came from there." Currently HealthDirectory.com employs six UM alumni, most of them graduates of the business school.
Both Skilling and Todd note the large demand for high-tech training in Missoula and are concerned with the "brain drain" when educated people leave Montana. Skilling says that technical classes at a computer-training business that recently opened in Missoula are "crammed full." However, he adds that, once trained, these people are likely to leave the
state to find work.
And as for eLocal.com and HealthDirectory.com, Lind and Todd both say that while there are few certainties in their industry, they have every intention of staying put.
"One of our goals is to grow our business so we could hire more UM graduates," Todd says.
Lind speaks even more ambitiously.
"We've made a commitment that we want to keep our people here, and that's something we plan on doing," he says. "We want to be the No. 1 employer in the state of Montana."
Ken Picard is a reporter for the Missoula Independent.

---
AROUND THE OVAL• SPORTS • CLASS NOTES • ALUMNI NOTES
FEEDBACK•STAFF • ABOUT THE MONTANAN •ARCHIVES
HOME • CONTENTS


©2000 The University of Montana